High-Speed Rails Boost Economic and Social Development in Xinjiang
Written by: Bai Yun
Posted on: November 10, 2016 |

Comments | 中文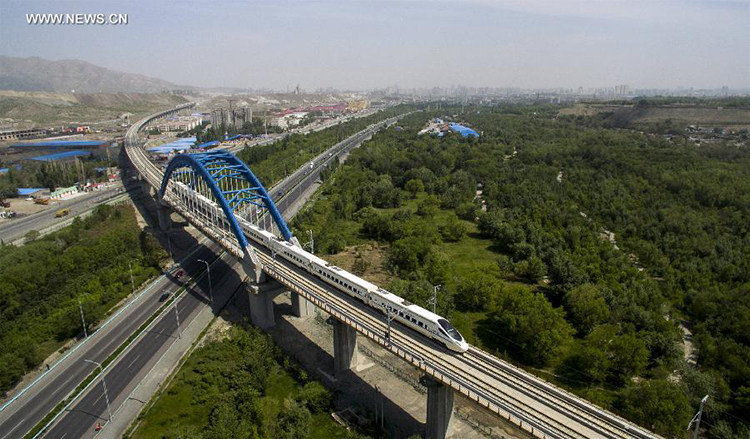 An aerial view of the Lan-Xin High-Speed Railway
On November 16th, 2014, Lan-Xin High-Speed Railway (Lanzhou of Gansu-Urumqi of Xinjiang) opened to traffic, which is the world's longest mileage of once-completed high-speed railway construction. It is this high-speed rail that connects three provinces of West China: Xinjiang, Qinghai, and Gansu.
It's been nearly two years since the first opening of Lan-Xin High-speed Railway. The speeding Lan-Xin High-speed Rail at the foot of Tianshan Mountains has blended quietly into people's lives, becoming the first choice for travel in the area. According to statistics, approximately ten million person-times have been transported by the new trains since its opening. Many people commute by this high-speed rail just like taking a bus to travel between the two cities. Along with the new economic chart formed by the high-speed rail come travelers and logistics. Lan-Xin High-speed Railway provides an important window for the cities along the railway to display their city image, and to expand their influence and popularity.
The New Landmark Opens a New Era
While a high-speed rail leads to a passenger station, a passenger station activates an area where the rails pass by. On August 12th this year, Urumqi High-speed Rail Passenger Station was put into full operation. As an important transportation project on the Silk Road Economic Belt, Urumqi High-speed Rail Passenger Station, in the shape of "Snow on the Tianshan Mountains and Pearl on the Silk Road", is composed of the main station, the platform shelter and the elevated landing platform. The new station has a capacity of 240,000 passengers per day.
As a new landmark building and an important window of image display of Urumqi, the new station is a combination of high-speed railway, general railway, rail transit, public transportation, taxi service and long-distance passenger transportation. It is the largest and best equipped comprehensive transportation hub in Xinjiang, as well as the most important tourist distribution center for railway passengers in Xinjiang.
The facilities in this new station bring a much more comfortable traveling experience for the passengers. "This new station is clean and tidy, and the environment here is so good. There are two waiting halls, section A and B. There are also special waiting halls such as the Infant & Mom Waiting Room and Nursing Room. It feels quite comfortable and warm", said Li Yuan, one of the passengers. "The Central Shopping District is quite special with attractive decorations. There are not only international brands and domestic brands, but also local well-known brands. There are many public water fountains and charging areas for electronic equipment, as well as bookstores. The most important part is that the disabled can also enjoy barrier-free elevators and ticketing services. The ticketing service is also very modern: in addition to the 13 traditional ticketing windows, there are also many ticket vending machines, saving passengers a lot of time", said Feng Qiang, a passenger who was here for the first time.
Today, Urumqi High-Speed Rail District is full of tall buildings. 18 of the 500 World Top companies have settled here, such as Coca-Cola and Volkswagen. This district will become a core area of business and a financial center in Central Asia in the future, with the combination of four major centers: the financial business center, the headquarters business center, the living service center, and the tourist and recreational center. Metaphorically speaking, if Urumqi were the "heart", then the "blood vessels" that connect to this heart would be extended along the Silk Road through Central Asia, West Asia, and so on.
The Speeding Railway Also Benefits People's Lives
Since the beginning of this year, the Railway Administration of Xinjiang has increased a number of paired passenger trains in the region, greatly improving the traveling of passengers. They have also increased the speed of passenger trains in Xinjiang, so that the number of passengers taking trains keeps rising. The launch of Special Tourist Trains and Inter-City Trains has turned the dream of "experiencing Xinjiang by train" into a reality, which has also become the hottest choice for tourists of short-distance traveling in Xinjiang.
"I can use only one word to describe my experience of visiting Xinjiang by train, and that is comfortable. Time flew on the train while we were enjoying the vast frontier scenery and tasting all kinds of delicious food", said Jiang Lihua, a tourist from Chongqing of Southwest China.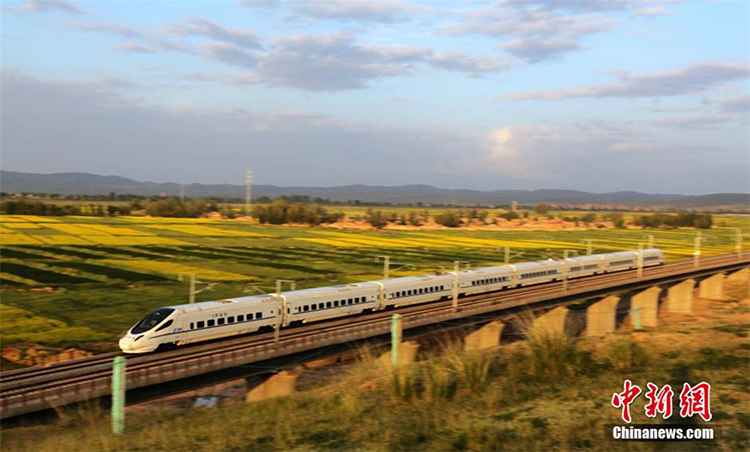 (source: China News)
Since May this year, a series of Special Tourist Trains have opened to traffic in succession; among them are "100,000 Tourists from Jiangsu Province to Yili", "Centenarian Express Train" and "Trains for Great Beauty in Xinjiang". It was these Special Tourist Trains that have promoted the special tourism programme of "Traveling in Xinjiang". Due to increasing passenger flow, the Railway Administration of Xinjiang has repeatedly added tourist trains, meeting the maximum needs of passengers. The special features of railway passenger transport have become even more prominent, which are "quicker, more public and more convenient".
International Railway Accelerates Economic Development
As the core area of the Silk Road Economic Belt, Xinjiang has been developing containerized transport. A number of branch lines of the international railways to Central Asia, West Asia and Europe greatly promoted regional economic cooperation and trade between Xinjiang and these areas.
Relying on the advantages of "railway plus containerized transport", such as its punctuality, its convenience for containerization, and its combined transport feature, several new special railway lines have opened up, among them the "East Union of Container Express Trains", "Westward International Railway Lines" and "Container Express Trains in Xinjiang". These new railway lines provide high-quality transport products to different places, and build a new logistics channel of "East Union and Westward Import-Export Network". There have been more than 60 train rows of "Westward International Railway Lines" in 2016.
With the implementation of the project of "Eight Vertical and Eight Horizontal" high-speed railway network in China, the construction of a transportation hub in Xinjiang also accelerates the construction of the national high-speed railway. On September 26th, a new railway construction project was launched, from Tiechanggou to Tacheng of Northwest Xinjiang, which is a section of Keramay-Tacheng Railway line. This new line will be opened to traffic in 2019, which will further improve the railway network structure in Xinjiang, strengthen Xinjiang's location advantage and transportation hub function, and serve the construction of core areas on the Silk Road Economic Belt and the national strategy of opening to the west.
The rapid development of Xinjiang railway is closely related to the future development and opening to the outside world policies of Xinjiang. The ongoing speeding-up and function expansion further releases the vitality of the development of Xinjiang, more effectively enhancing the livelihood of people of all ethnic groups.
You may also like: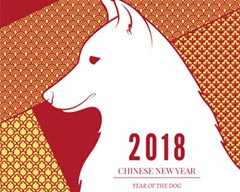 Significance of the Year of the Dog in Chinese Astrology
(February 16, 2018)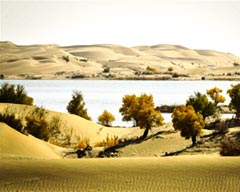 The Restoration of Taitema Lake
(February 13, 2018)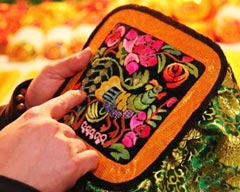 Female Embroiderers of Xinjiang
(February 08, 2018)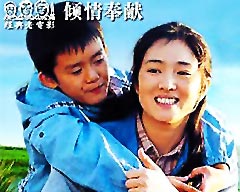 Chinese Film Month begins in Islamabad
(February 08, 2018)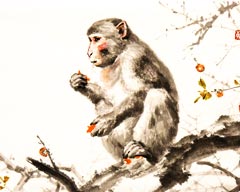 The Monkey in Chinese Culture
(January 31, 2018)
Etles Silk from Tianshan at China Fashion Week
(January 24, 2018)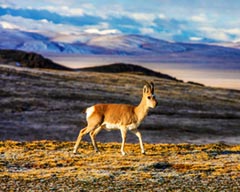 Hoh Xil: Kingdom of Wild Animals
(January 18, 2018)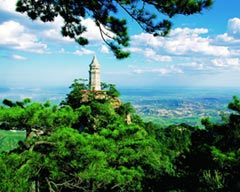 Panshan Mountain of Ji County
(January 11, 2018)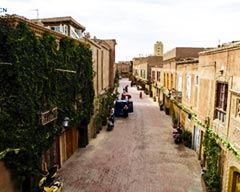 Stories from the Old Town of Kashgar
(January 04, 2018)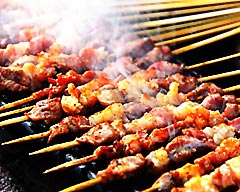 International Cuisine in Urumqi
(December 27, 2017)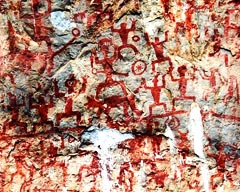 Zuojiang Huashan Rock Paintings, Guangxi
(December 19, 2017)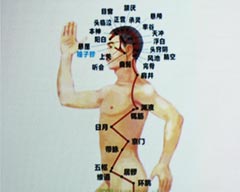 Seminar on Chinese Outlook on Life and Contemporary Value of Chinese Medicine
(December 15, 2017)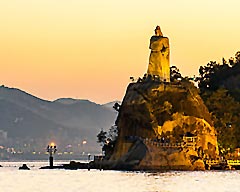 Gulangyu Island: The Island of Music
(December 13, 2017)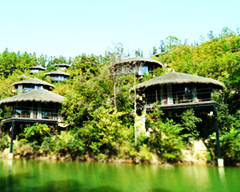 Mogan Mountain Farm Villas
(December 06, 2017)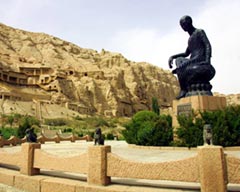 Kuqa: The Old Town on the Silk Road
(November 29, 2017)