ICC Champions Trophy 2017: India vs. Pakistan - Glorious Victory or Painful Misery?
Written by: Mirza Salam Ahmed
Posted on: June 02, 2017 |

Comments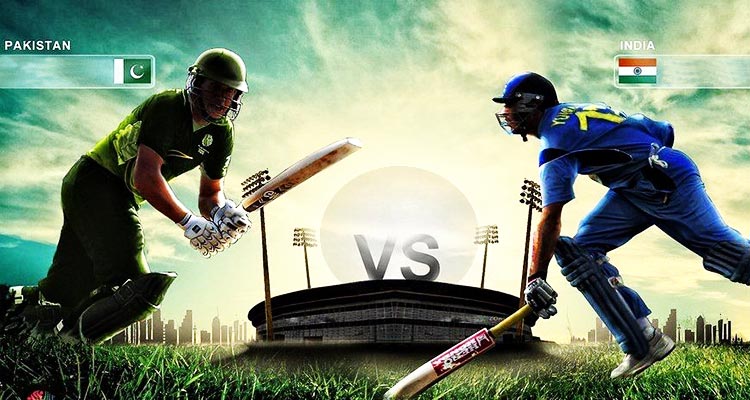 India vs. Pakistan – glorious victory or painful misery? (source: TechJuice)
No two teams in the cricketing world are pitted against each other more than India and Pakistan. The ICC itself confesses that when it comes to these two countries, the draws are hardly random. They are designed to ensure that the arch-rivals face each other in tournaments, and the ICC Champions Trophy 2017 is no exception.
India and Pakistan will lock horns in Birmingham on Sunday, 4th June, 2017 to get crucial points in the tables of the Champions Trophy. The encounter was dubbed the mother of all matches, even before the tournament had officially kicked off.
Pakistan enters the tournament as an underdog, owing to a lacklustre ODI record since the 2015 World Cup and turbulent performances from pivotal players. As a matter of fact, the Shaheens barely made it to the tournament, having been ranked eighth, slightly ahead of West Indies. However, there is a silver lining to all of this: as skipper Sarfraz Ahmed rightly said, we've got "nothing to lose".
The batting department will be heavily reliant on the form of rising 22-year-old star Babar Azam and all-rounder Shoaib Malik, who is no bunny with the bat and useful with the ball too. Azhar Ali can prove to be an asset if he clicks as well. Pakistan's bowling department is missing its outrageously mercurial pace attack, but there is still talent in the lineup. All eyes will be on Mohammad Amir to lead the charge, as the pacer returns to England, where he got stuck for spot-fixing seven years ago.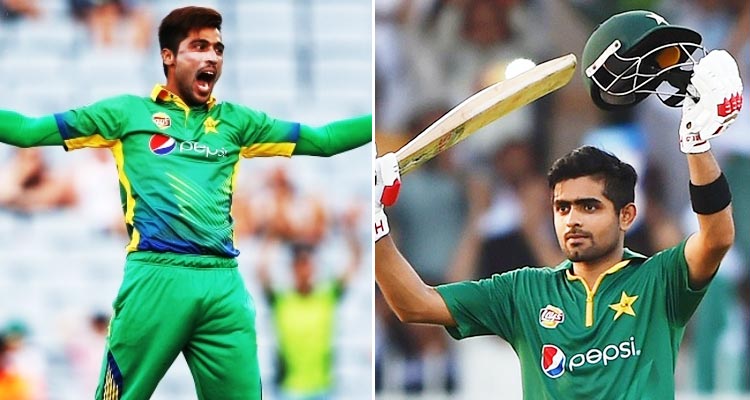 Mohammad Amir (L), Babar Azam (R) (sources: DNA India & ESPN Cricinfo)
The best Pakistan has achieved in the tournament is reaching the semi-finals twice, and in the last edition four years ago in England, the Shaheens lost all of their matches.
The defending champions, India are hot favourites in the ICC Champions Trophy 2017. They traditionally start slow, but are rampantly rampaging towards the end. Their players have been in full action during the tenth season of the Indian Premier League, so expect the Blue Shirts to be in lethal form.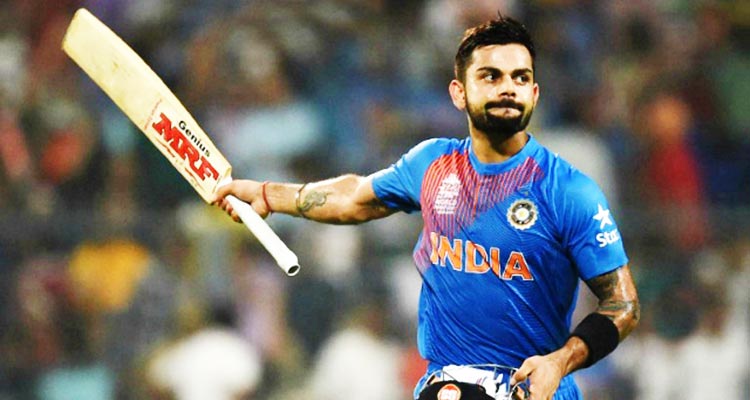 Indian skipper Virat Kohli (source: India Times)
Even though Indian batsmen have a poor Test record in England, they survived the scare in 2013 to go on and lift the Champions Trophy. It is more pertinent that India's batting line-up is largely the same as it was in 2013, and their top three batsmen – Shikar Dhawan, Rohit Sharma and Virat Kohli – have been in good form ever since. While the Indian bowling line-up can't boast much firepower, their arsenal of batsmen runs deep and ready to launch balls out of the park.
Pakistan was hammered by India in 2013, and since then, India has beaten them in all contests to extend their dominance to 11 wins in ICC tournaments. By the looks of it, we may once again have to prepare for painful misery rather than glorious victory, unless 'The Unpredictables' can do their magic with the ball and handle the bat properly!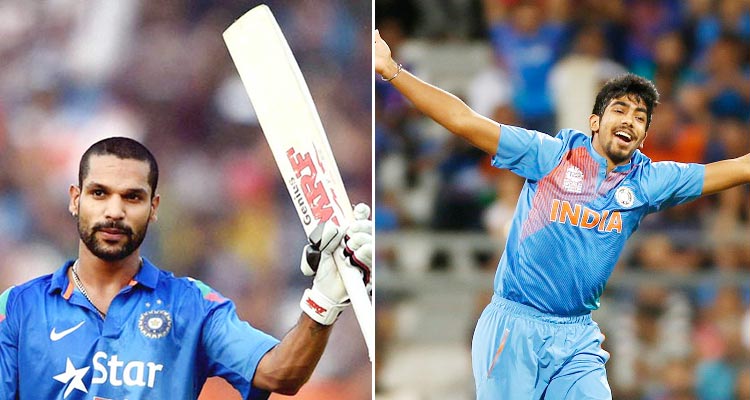 Shikhar Dhawan (L), Jasprit Bumrah (R) (sources: DNA India & TopYaps)
Pakistan's squad: Sarfraz Ahmed (capt/wk), Ahmed Shehzad, Azhar Ali, Babar Azam, Shoaib Malik, Umar Akmal, Fahim Ashraf, Imad Wasim, Mohammad Hafiz, Mohammad Amir, Junaid Khan, Shadab Khan, Hasan Ali, Wahab Riaz, Fakhar Zaman
Predicted starting XI: 1) Azhar Ali, 2) Ahmed Shehzad, 3) Babar Azam, 4) Mohammad Hafeez, 5) Shoaib Malik, 6) Sarfaraz Ahmed (capt/wk), 7) Imad Wasim, 8) Shadab Khan, 9) Mohammad Amir, 10) Hasan Ali, 11) Junaid Khan
India's squad: Virat Kohli (capt), Ravichandran Ashwin, Jasprit Bumrah, Shikhar Dhawan, MS Dhoni (wk), Ravindra Jadeja, Kedar Jadhav, Dinesh Karthik , Bhuvneshwar Kumar, Mohammad Shami, Hardik Pandya, Ajinkya Rahane, Rohit Sharma, Umesh Yadav, Yuvraj Singh
Predicted starting XI: 1) Virat Kohli (capt), 2) Ravichandran Ashwin, 3) Shikhar Dhawan, 4) MS Dhoni (wk), 5) Ravindra Jadeja, 6) Bhuvneshwar Kumar, 7) Mohammad Shami, 8) Hardik Pandya, 9) Ajinkya Rahane, 10) Rohit Sharma, 11) Umesh Yadav
You may also like: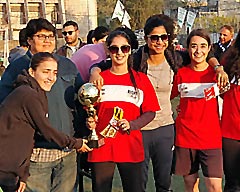 Right to Play & Total Football kickoff Girls Football Tournament 2017
(December 28, 2017)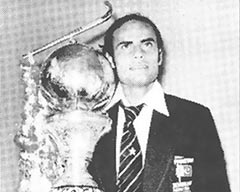 70 Years of Sports in Pakistan: Defying the Odds
(August 23, 2017)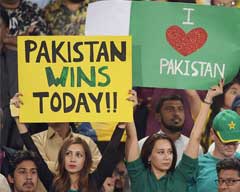 Lahore Rises Like a Phoenix to Hold a Memorable PSL Final
(March 06, 2017)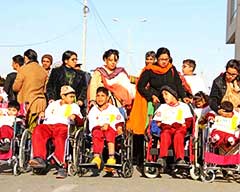 Running for a Cause: 2nd Unified Marathon by Special Olympics Pakistan
(February 06, 2017)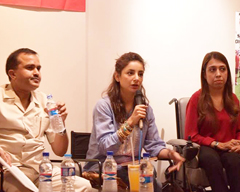 Special Olympics Pakistan at T2F: 'Inclusion Elevates All'
(July 26, 2016)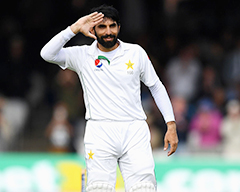 Pakistan Break 20-Year Curse to Become Lords against England
(July 18, 2016)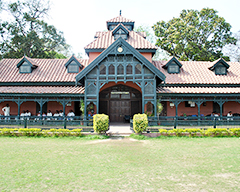 The Long Innings of Lahore Gymkhana Cricket Ground
(June 03, 2016)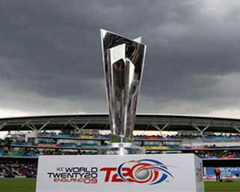 T20 World Cup 2016 – What To Expect?
(March 16, 2016)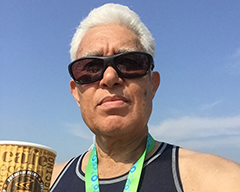 Achieving the Impossible: A Conversation with Saqeb Lone
(March 04, 2016)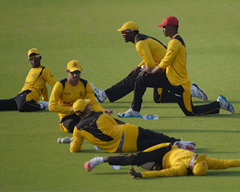 Zimbabwe Braces Itself for Controversy-Plagued Pakistan
(May 21, 2015)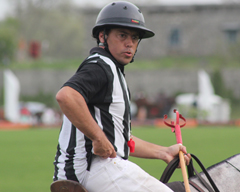 Matias de Olmos: The Life of an International Polo Coach
(April 03, 2015)

Interview With Javed Miandad - Part II
(September 19, 2012)