Islamabad Literature Festival - Day I

Posted on: May 01, 2014 |

Comments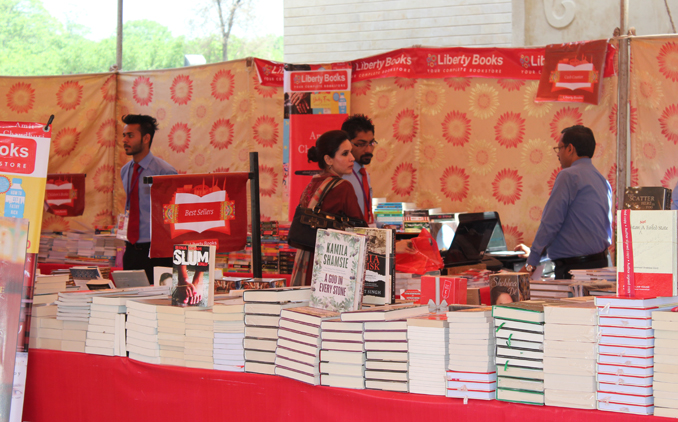 The 2nd Islamabad Literature Festival was held in Islamabad on 26th and 27th April. After the success of the previous year's ILF, this year's festival was bigger and better, not only for the variety and quality of the themes set for various panels, but also for the increased numbers of visiting public. Famous television artists intermingled with the country's academic intelligentsia alongside eminent writers and poets. An international presence was noted as well among the participating panelists.
The Ambassador of China, His Excellency Sun Weidong and Mrs. Sun Weidong, both visited the festival as well. They expressed their appreciation of an event celebrating such tremendous talent and bringing it to the general public.
The De Factor: In Conversation with Shobhaa De – Abbas Hussain
Shobha De seemed to be at her wittiest best at the ILF as she shared her perspectives on a multitude of issues spanning politics, cinema and society. The author and social commentator gave her analysis of contentious Indian leader Modi saying speaking about the dangers of being associated with ethnic and religious hatred for his political career. She mentioned a column that had ruffled quite a few feathers in which she, in her archetypal style, had commented on Modi's personality, saying that he "is not the kind of guy that one takes home to mom". She had also mentioned in a similar vein, "Who would want to marry Gabbar Singh?" The comments had fueled immense criticism but De has always been controversy's favourite child for her relentless, unabashed critique.
Recently when Shobha tweeted about the state of Mumbai having an entity of its own, her tweet was perceived as insinuating that Mumbai should be made into a separate state. What ensued was a huge public backlash which De dealt with, with a pinch of salt.
Shobha De's discussion on politics also veered towards Rahul Gandhi and with her crisp tone and a smile, she termed his recent television interview as a "Montessori interview."
Her unapologetic and bold stance on issues has made her quite popular among people of all age groups, especially on social media. The outspoken leader described her passion of writing and termed the followers of her blog her 'blog dosts' (blog friends). She spoke about the power of social media, adding that sometimes her fans have gotten in touch with her and she has often entertained them at home without any reservations, never regretting her decision later.
The discussion also touched upon the changing face of Bollywood and how doors are opening for different sorts of people. She mentioned Sunny Leone, who has become a national rage recently, post her famous item song "Baby doll'.
When asked about Veena Malik, the Pakistani actress who had crossed the border and raised many an eyebrow in Pakistan for her choice of films and revealing photo-shoots, Shobha said she found her to be more eloquent than most Indian actresses. However she quickly added that when she asked Veena about the possibility of collaborating with her on a book, the Pakistani actress only had money on her mind.
Afghanistan: The Next Chapter – Aiza Azam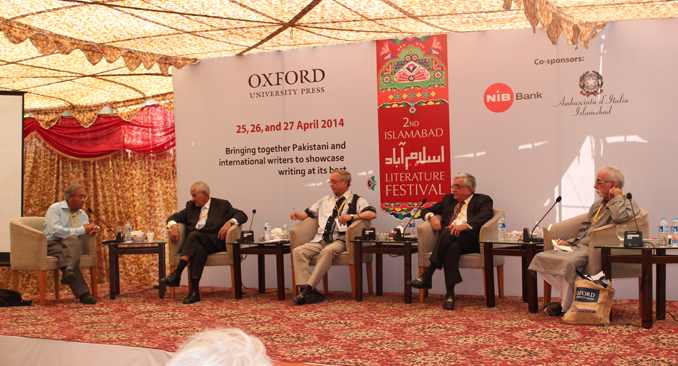 (l-r) Rasul Baksh Rais, Amb. Tariq Osman, Amb. Ali Sarwar, Najmuddin Sheikh and Rashed Rahman
Editor Daily Times, Rashed Rahman, Executive Director of CISS and former Ambassador Ali Sarwar Naqvi, former Ambassador Tariq Osman Hyder and former Foreign Secretary Najmuddin Sheikh convened in a panel moderated by Director General ISSI Rasul Baksh Rais to discuss the way forward for Afghanistan in the wake of the 2014 withdrawal. The panelists were asked to expound their views on four key issues: the Afghan elections, the economic and political transitions, and the question of national reconciliation. Najmuddin Sheikh noted that voter turnout in the Afghan elections, despite documented irregularities, was commendable and registered a rejection of Taliban rule by the Afghan people. He felt that whichever candidate emerged victorious, with both Dr. Abdullah Abdullah and Ashraf Ghani a positive approach towards Pakistan could be expected. He saw difficulties ahead with the economic and security transitions; and if national reconciliation efforts failed, he noted, Pakistan would have to be prepared to receive droves of political and economic refugees, a daunting prospect as "we are now skin and bones". He also pointed out, on the question of Indian influence and favorable Indian perception in Afghanistan, that the former's aid to the latter could simply draw no comparison to the billions each year that Pakistan is according to Afghan refugees from its own coffers.
Rashed Rahman noted that voting patterns in the election manifested a split within the Afghan Pashtuns and a post 2014 push by the Afghan Taliban risked running up against intra-Pashtun conflict. He felt Pakistani policy towards Afghanistan needed to be well defined, echoing Sheikh's views on the strain induced by any further influx of refugees. Amb. Osman felt that the future of Afghanistan was unlikely to deviate from continued conflict and turmoil. He stated that the fundamental question remained that of defining Pakistan's stance, and discussed what he felt were a series of consistently missed opportunities in consolidating Pak-Afghan relations. Amb. Naqvi stated that a review of Afghanistan's history, particularly in the post Soviet withdrawal era, made the next chapter appear unlikely to be promising. He highlighted glaring gaps in areas of domestic concern which had failed to be resolved, citing failure to demilitarize and to establish control over the rampant drug trade. He spoke of the role of regional players and how their interests would impact Afghanistan's future. In addition, he cited the outcome of the Afghan elections and Pakistan policy as tangibles that necessitated focus, emphasizing that a coherent policy from Pakistan was as critical as its efforts to project soft power and establish a "country friendly image".
Drama and the Small Screen – Abbas Hussain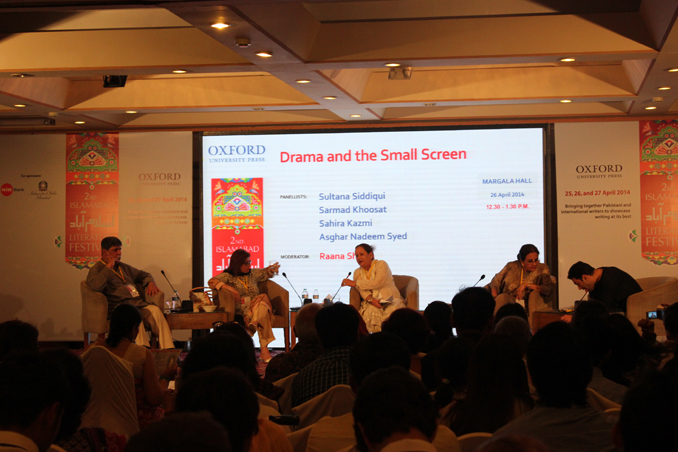 (l-r) Ritu Menon and Aamer Sheikh
The ILF managed to gather an interesting panel for the discussion on television dramas in Pakistan. Rana Sheikh, who has worked for Pakistan Television in the 60's and 70' as a producer and director and now heads a production company, moderated the discussion.
The talk was quite interesting since it brought together the old guard of Pakistani television (Sahira Kazmi, Asghar Nadeem Syed and Rana Sheikh) who have been part of the prime of Pakistani drama, and the representatives of the new wave of television, the head of Hum TV, Sultana Siddiqi and director Sarmad Khoosat.
Rana Sheikh initiated the discussion by highlighting the misogyny that she feels television these days portrays and did not waver in confronting Sultana Siddiqui over the content of television and its negative implications on society.
Sultana Siddiqi argued that her television network has been responsible for producing plays which have shown women in relatively stronger roles.
''I am very particular about not showing immorality in television plays. On my channel you will not see dramas which show the consumption of alcohol and drugs. The women are generally shown empowered; also, even if a woman is abused at the beginning of a story she ends up challenging the injustice inflicted upon her. The play Rehai on child marriages produced in collaboration with Kashf Foundation is a good example of that.''
Rana Sheikh pointed to the way men are shown to have the liberty to engage in polygamy while women helplessly sulk at home at their misery. Sahira Kazmi reminisced how the modus operandi of television was so different in the past and that though television is modernizing in terms of technology, its content is regressing.
"I made a television play in the 90's called Zebunissa in which a woman is a victim of domestic violence. She decides to leave her husband and her brother and father are supportive of her decision. Apart from making women aware of their rights, it's important to educate our men as well.''
She also expressed the need for television to have a variety of genres, a view that Sarmad Khoosat concurred with.
He felt the lack of interaction between writers and directors caused the content to suffer, among other things. Responding to the complaints of his predecessors he indicated that television today has become a business which is why liberties can't be taken like they could be when there was only one channel aired in the country.
"It is unfortunate that the more meaningful dramas I did with the likes of Sarmad Sehbhai and Bano Qudsia went unnoticed while a commercial drama like Humsafar attained an iconic status. I sometimes cringe at the kind of set screenplay I am always given by writers. They describe scenes in which a woman enters the room with quivering lips and shuddering legs, while her mother is sipping tea in the lounge and father is going through a newspaper."
Writer Asghar Nadeem Syed vociferously complained about the drama industry and its alarming trajectory.
'The problem is that almost sixty percent of our country remains untapped in television plays these days. When PTV was the only drama channel, issues pertaining to villages were explored. The television of today has completely ignored the core manifesto of television which underlines the term: public service television.''
He further discussed the lack of credit given to writers suggesting that actors hogged all the limelight which, according to him, has blurred the lines between the fashion industry and drama industry. Cooking shows were also a sore point for him as he alleged that they seem to be designed to torture poor people who cannot possibly afford the ingredients used in the recipes.
Book Launch: 20 Pakistani Painters You Should Know – Eeman Amjad
This year's ILF was as much about art, as it was about the literary traditions in the country. One of these sessions was the launch of Taimur Suri and Tauqeer Muhajir's book titled "20 Pakistani Painters You Should Know." Its orange and grey exterior contained not only the famous artists that one should know, but also a brief account of the history of Pakistani art. The selection, they both emphasized, was not to include the most famous artists, but select different and diverse artists, from the past and present, who have impacted and revolutionized Pakistani art on a national and international scale. The publication was intended not to become another coffee table book, but one that should reach out to those who were uninitiated about art. The discussion commenced regarding the evolving nature of artists in the country. About ten to fifteen years ago the artist was at the bottom tier, art was never considered a profession, but mostly a hobby. There was no advancement or career in being an artist, but gradually this sort of thinking was evolving.
Why did they decide on twenty? Both authors felt that they needed to include artists that encompassed all of Pakistani art, but at the same time defined different genres and narratives in the field. This had no bearing to their success, but to the kind of impact, their work had. Some of the names included Ajmal Husain, R.M Naveen, Iqbal Husain, Jamal Naqsh, and Allah Bakhsh. One of the artists mentioned in the book and also present was Sohail Tassaduq, who spoke of his art as the portrayal of the beauty in women, the love that they personified, and the lack of material concerns that defined him as an artist. Nageen Hyat, Director from Nomad Gallery, however, astutely questioned the lack of female artists in the book, (apart from Anna Molka, who figured as the token female artist in the book). There was further debate on the documentation of art and the need for better record keeping. Nevertheless, the authors emphasized that the book contains profiles that are terse and reader friendly and, a great introduction to those who want to know more about Pakistani art.
Satire: A Sugar-Coated Pill – Eeman Amjad
In perhaps the most whimsical yet incisive session of the day, Asif Noorani began a discussion on satire in the cultural traditions of Pakistan. The form of comedy that serves as a mirror to society, but a kind of wit that Noorani believes is in extinction in the country. There are profound ideas couched in humour that need to peeled and understood in satire. The three panelists ranged from actor Navid Shehzad, to the political cartoonist Fauzia Minallah, and the young satirical musician Ali Aftab Saeed.
Navid Shehzad reminisced about the yester years of "Such Gup", that was one of the initial satirical plays on television, and although the nature of humour has changed, the capacity of the audience to laugh at themselves has not. The purpose of satire, she clarified, was not just to make people laugh, but to push them one-step further to cogitate. Humour has been prevalent in our literary circuit since the 19th century, which seeped its way into music; she cited the satirical rivalry of the Sabri brothers and Aziz Mian. Fauzia Minallah recounted her twenties under the regime of Zia that perhaps was the best time to make political cartoons, because "how could I resist myself, with those kajal filled eyes watching us", she remembered. There was a short trailer from her political cartoon on the recent elections, followed by a reading from Mohammad Hanif's speech at the Indus Valley School. The reading displayed the dual purpose of satire to make you laugh, but at the same time provoke you to think a bit more, and even if there may be no immediate reaction or change, the effects on society will mature over time.
Book Launch: The Swan's Wife by Aamer Hussain – Aiza Azam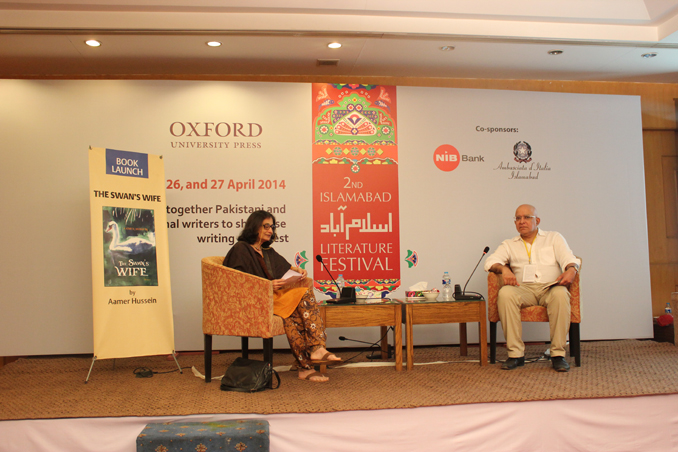 (l-r) Asghar Nadeem, Sultana Siddiqui, Raana Sheikh, Sahura Kazmi and Sarmad Khoosat
London-based Pakistani writer Aamer Hussain sat down with Indian writer and publisher Ritu Menon at the launch of his latest book. The anthology of short stories, some in English and others translated from Urdu, is titled 'The Swan's Wife'. Menon began by discussing Hussain's work over the years. "The success of a good book is how long it endures. And Aamer's books can be read and hold relevant even 10 or 15 years after they come out."
When asked why short stories were his preferred form as opposed to the novel, Hussain explained it had never really been a conscious choice or struggle for him to decide and had "just happened". They discussed a prevalent attitude on part of many publishers who discourage writers from producing short stories in favour of writing novels, which register more favorable sales. Hussain thought readers' preference for the novel might stem from the fact that short story collections, with a multitude of different story lines and characters to deal with, were less enticing than the simpler comfort of a single set of the same in a novel. Commenting on the individual stories in the book, he said 'Love and the Seasons' was closest to his own youth, while 'Two Old Friends on a Stormy Afternoon' was inspired by time, spent with family in his native Karachi, that was marked by "endless political discussions." 'Nine Notebooks' were the thoughts shared by a photographer friend of his, whom he'd asked to send him pictures taken during a visit to Spain.
Menon asked Hussain about the autobiographical and the parable as two consistent elements of his work. Hussain said he felt a lot of his stories could evolve in multiple ways and he would often want to revisit the same material to shape a new account from it, though he didn't necessarily feel all his work was entirely autobiographical. "Nothing really is an autobiography, unless you actually sit down to write one, and then you might end up writing the biggest fiction of your life." Tendency toward the parable, he said, came from his fascination with old stories and legends, their historical and philosophical significance. He admitted he didn't feel he had adopted a particularly new approach with The Swan's Wife, though his interest with the visual image had come very much to the fore with some of these stories. He ended with a reading from, 'The Tree at the Limit' (see Featured Video), which had been occasioned by a Dutch photographer's request for a response to photographs he had sent to Hussain.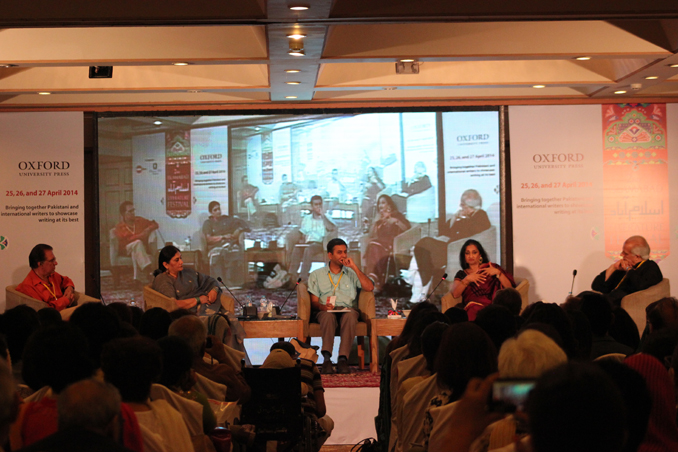 (l-r) Rahat Kazmi, Madeeha Gauhar, Zain Ahmed, Sheema Kermani and Shahid Nadeem
The panelists for a very enlightening discussion on theatre included some of the leading names of the theatre fraternity: Rahat Kazmi, one of the founding members of Karachi's National Academy of Performing Arts, perhaps the only training institute in the country dedicated solely to acting; Madiha Gauhar and her husband Shahid Nadeem who have been the force behind Lahore's Ajoka Theatre; and renowned Kathak dancer and theatre personality Sheema Kirmani.
Theatre actor and director from NAPA Zain Ahmad conducted the discussion in which the panelists traced their journey through the years as theatre performers sharing their perspective on the political and social milieu and the facets of theatre as a craft.
Madiha Gauhar described how thirty years ago Ajoka began as a platform of political dissent to challenge repressive dictatorial rule and performed in private spaces in an environment of constant fear. Over the years it grew from strength to strength and performed numerous productions that shed light on prevailing injustices and human prejudices.
Zain Ahmad observed that many theatre companies had sprung up a few decades ago but only a handful of them lasted over time.
Madiha Gauhar assessed, "Theatre requires a lot of commitment and for it to sustain itself there has to be passion. These days there are numerous shortcuts, for instance television or the social media. The passion has to come from within.''
Shahid Nadeem observed that while many theatre companies were a direct outcome of a particular political regime of a certain epoch and its perceived oppression, it is important to remember that theatre is much more than that.
"If a theatre company's message is only bound to criticizing the political order of a certain time period, it eventually loses its relevance as the political scenario changes.''
He went on to suggest that theatre has to incorporate elements of entertainment like dance, music and comedy in order to retain the interest of people and have a vibrant representation.
"Theatre if used just as a tool will lose its essence. To make theatre beautiful you have to keep its core elements intact. There has to be aesthetic pleasure and cultural enrichment in theatre and not just political speeches. Theatre has to be integrated with society and use indigenous means."
Sheema Kirmani who started a theatre company in Karachi called Tehreek e Niswan which does political plays, stated that Karachi has many small theatre companies that often go unnoticed.
"There are around 30 theatre groups in Lyari. Owing to the adequate means and a lack of funds, they are not able to attract the kind of audience that more mainstream groups are able to.''
An intense discussion followed between Madiha Gauhar and Sheema Kirmani over the obstacles in fostering an environment conducive to theatre in the country. While Madiha Gauhar strongly felt that public schools were least encouraging to theatre, Sheema Kirmani vehemently refuted by saying that in her experience in Sindh at least, small public schools have always welcomed and encouraged her theatre company.
Rahat Kazmi partook in the discussion in a humorous manner, bemoaning the state of theatre in the country while resorting to jokes. He said that not a single original play in Urdu has been made in Pakistan over the last three decades. Shahid Nadeem was quick to refute this claim and named some of his productions in Urdu which have been performed not just locally but also internationally.
Preview of Film on Manto and Launch of Poora Manto, Volumes I and 2 – Eeman Amjad
"Main Manto Pasand Hoon/ I am of a Manto disposition". This phrase by Manto himself was recounted by moderator Sarmad Khoosat, that defines the Manto who has become his own genre. One of the most controversial writers of the twentieth century, who has been excluded and censored from the national syllabus was celebrated at the festival by the launch of OUP's Poora Manto (Complete Manto), Volumes I and II and the preview of the movie Main Manto, written by Shahid Nadeem and directed by Sarmad Khoosat. These simultaneous exhibitions led to the conversation by the panelists on the revival of Manto in today's society. One of the reasons, cited by panelist Zahida Hina, was his relevance in today's society; she mused that he must have had a crystal ball looking into the future. Masood Asher expounded that every generation has its own interpretation, while Asghar Nadeem underscored the need to analyze Manto by examining the intersection of that great writer's life with his work to reveal who the real Manto was.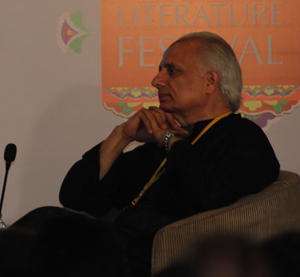 Shahid Nadeem
This was the perfect prelude to the film that was a project by Shahid Nadeem to narrate the life of the "real Manto". The preview of the movie was twenty minutes that circled through the main time period of Manto's life from 1950-55. It explores not just the biographical moments of his life, but delves into his psyche. The narrative moves fluidly from reality to his short stories, exposing the ego rather than the superficial Manto. The movie, artistic in its representation yet real in its setting, juxtaposes the various personas of the Urdu author. It concludes with his violent and unnatural death from alcohol abuse, and the eternal question on Manto's epithet, "Under tons of earth he lies, still wondering who among the two is greater short-story writer: God or He."
RELATED ARTICLES:
You may also like: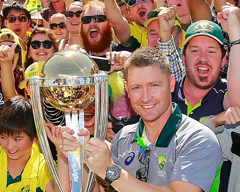 Australia Pulverizes New Zealand to Bag World Cup 2015 Trophy
(March 30, 2015)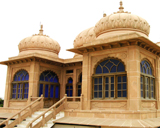 The Undying Grandeur of the Mohatta Palace Museum
(March 29, 2015)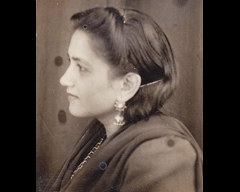 Ada Jafarey: A Tribute
(March 27, 2015)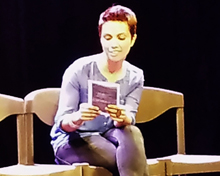 Me, My Mom & Sharmila: Fawzia Mirza and the Brown Woman
(March 26, 2015)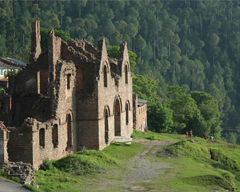 Silk Road: The Picturesque Mansehra and Abbottabad-VI
(March 25, 2015)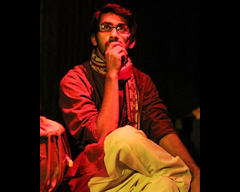 Azeem Hamid and the Independent Theatre Company
(March 25, 2015)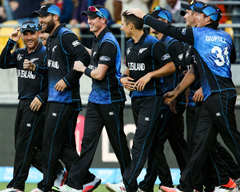 New Zealand to Choke South Africa and India to Overpower Australia?
(March 24, 2015)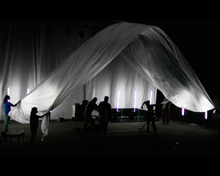 NAPA International Theatre Festival 2015: 'Among Fog'
(March 20, 2015)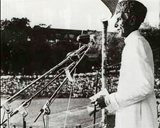 Pakistan Resolution Revisited
(March 20, 2015)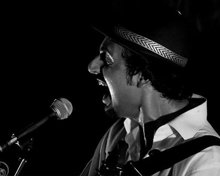 Faizan Tirmizi - The Ideology of an Aspiring Musician
(March 12, 2015)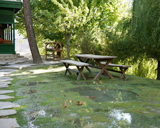 Hunza Valley: A Fine Balance between Tradition and Modernity
(March 10, 2015)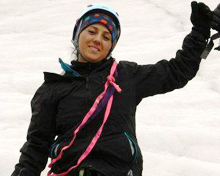 Samina, we are proud of you!
(March 06, 2015)