Karachi Literature Festival 2015 - Day III (Sunday, 8th February)
Written by: Humnah Farooqui
Posted on: February 10, 2015 |

Comments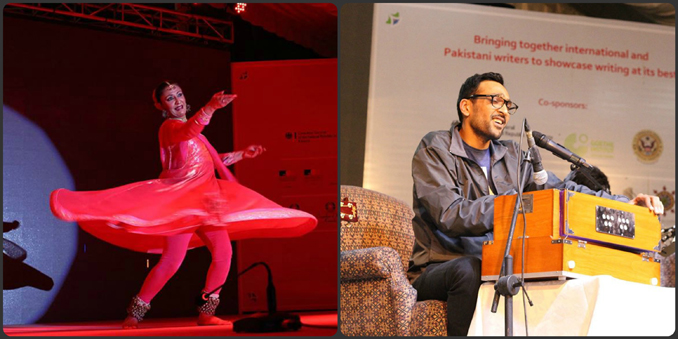 Nighat Chaodhry & Ali Sethi
Day III of the Karachi Literature Festival kicked off on 8th February, 2015 at the Beach Luxury Hotel. Sessions such as "Gul Chandni - In Conversation with Zehra Nigah", "A Celebration of Art and Literature Festivals", "The legacy of Scheherazade: Women and Fiction", "Rang Badaltay Drama", and "The Complete Performer - In conversation with Bushra Ansari", generated a discussion on the role of art in society. Films by Faryal Malik, Alizeh Kohari, Azhar Shan and Ayoub Mallah were screened at the beginning of the day as an expression of hope for the future of Pakistan. The screenings also featured a dramatic rendering of Saadat Hasan Manto and Intizar Hassan's stories by Faryal Ali Gauhar.
Shandhana Minhas, who spoke at the Women and Fiction session, won the KLF Fiction Prize for "Survival Tips for Lunatics". Celebrities such as Bushra Ansari, Haseena Moin, Sajid Hassan and Ali Saleem pulled large crowds. Towards the end of the day, Nighat Chaodhry's kathak dance performance stunned audiences yet again, and the festival concluded with a brilliant performance by accomplished ghazal singer Ali Sethi.
"PTV aur Aaj ka Drama"
The panel for this session, moderated by Raju Jamil, consisted of Haseena Moin, Sajid Hassan, Amina Shaikh, Sania Saeed, Sameena Fazal and Neelofar Abbassi. Since Samina Ahmed was unable to attend the session, Adil Wadia (the star of TV show "50-50") replaced her on the panel.
The session began with a discussion on the origin of PTV and the glorious years of Pakistani drama, when renowned screenwriter Haseena Moin started her career. The panel reviewed the dynamics of new TV production and agreed that there was renewed competition between media groups, not only on the national level, but also on a global scale. Aamina Sheikh commented, "Our dramas are competing for viewers' attention with J-Lo and Beyoncé. There is a different audience for television serials now, as technology has made access to everything easier." Aamina expressed her view that there are greater opportunities for an actor to develop in Telefilms as compared to TV serials, as the complex storytelling techniques and challenges that an actor faces while working in a Telefilm allow them to grow artistically.
The discussion then touched upon the issue of commercialization of the television industry, with producers unwilling to experiment or take risks and instead only following the tried and tested formulas. The discussants opined that generally, competition paves way for better quality products, but that the opposite has happened in Pakistan's case; channels have multiplied but the quality of dramas has deteriorated significantly and the shows have started competing only for the ratings.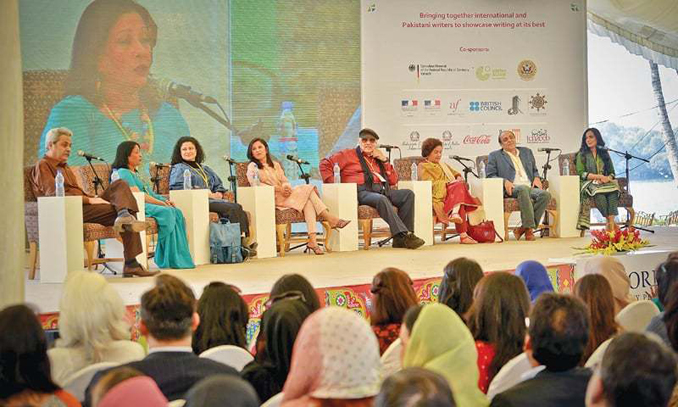 'PTV aur Aaj Ka Drama'
Sameena Fazal remarked that taking risks does not always pay off; therefore the producer's attitude is justified, because in such an industry, money is of the essence. However, the other panelists disagreed with her, and held that during the '80s, censorship posed problems for artists, whereas now it is the sponsors and producers who opt for similar stories and choose artists who are "marketable".
Sajid Hassan added, "It it is not possible to compare different generations of dramas; there are good and bad dramas in every generation. The bigger question is: Are we exploring every subject, or are we just limiting ourselves to a very narrow topic range?" He went on to assert that, rather than deterioration, there has been an evolution in acting and dramas, since television is a different medium now. To this, Sania Saeed added, "But we still cannot take up subjects that are considered taboo. The channel's policy is invisible, but we are conscious of its demands while producing content."
Although the participants discussed the bleak situation of PTV and our dramas, the session ended on a positive note, where the panelists agreed that all hope is not lost.
"Transaction or Transformation in Film and TV"
"We need something new," was the sentiment expressed by Omer Saiyyed at the beginning of a session on "Transaction or Transformation" within the film and television industry. He remarked, "That which is transformational alters needs and wants, and that dynamism within a film industry can change social perceptions." His fellow panelists, who included Sanjay Iyer, Ali Saleem, Gia Ali and Farooq Menghan, also agreed.
Sanjay Iyer stated that movies and television are transactional, but stage and theatre is transformational in the sense that no one makes money, but they work for transformation. He explained that the stage actor can also "rebel" in a sense; that is, once the curtain is raised, the director cannot control anything. In film, however, the director controls everything. Therefore, the actor can generally be more transactional and transformational in theatre. Nevertheless, he added, art films are not meant to sell, but to offer a new perspective; hence, films can also serve this purpose.
The panel went on to discuss whether changing perceptions through roles is possible in Pakistan, and whether a movie like 'PK' could be made here. Gia Ali expressed optimism about the future of Pakistani cinema, and pressed for industry patrons to take a lead role in changing the current situation. She urged that we need to foster a culture of tolerance, and in order to keep our pace with the world, we should also make complex and controversial films. Omer Saiyyed agreed by stating, "A film like PK does not cause change immediately, but it dents society in such a way that some change may occur after its release".
Ali Saleem (more commonly known as Begum Nawazish Ali) took up the bulk of the conversation that followed. "Transaction and transformation can happen at different levels of the creative process, and in different ways. The ideas for filmmakers may be politically or commercially motivated," he stated. Independent media, free from restrictions, means that more nuanced content is generated. Back in the day, PTV, even with high censorship laws, produced better quality entertainment than what is presented today. Saleem reiterated, "No one is willing to take a risk or tread down a less travelled path. The focus is primarily on visuals, as they play a vital role in attracting viewers; however, there is no emphasis on the storyline".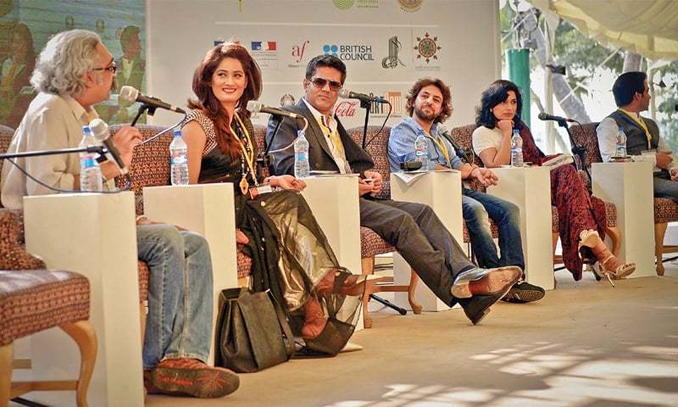 'Transaction or Transformation in Film & TV'
The panelists then proceeded to discuss whether or not the artist's life is public. Ali Saleem argued that artists have public as well as private lives, but the two should be kept distinct. However, on the whole, an actor has a persona that can inspire others and drive social change. As the discussion continued, film star Meera appeared on stage as a surprise guest. However, after some diversion, the attention of the panel turned towards Ali Saleem once again, who stressed the importance of having strong characters and storylines in films, which can help transform public opinion. "Begum Nawazish has sparked debates about religion, transsexuals, and homosexuality. It is not just a character, but also an iconic figure," he said.
The panelists concluded that producers and audiences who are afraid to take risks need to let go of their fears and embrace change in order to promote creativity as well as to allow the making of diverse films and television programs.
RELATED ARTICLES:
You may also like: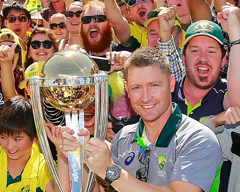 Australia Pulverizes New Zealand to Bag World Cup 2015 Trophy
(March 30, 2015)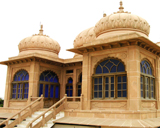 The Undying Grandeur of the Mohatta Palace Museum
(March 29, 2015)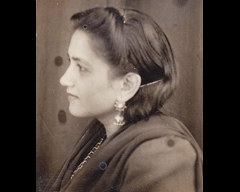 Ada Jafarey: A Tribute
(March 27, 2015)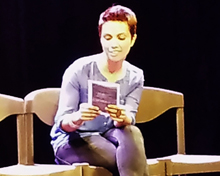 Me, My Mom & Sharmila: Fawzia Mirza and the Brown Woman
(March 26, 2015)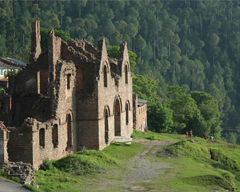 Silk Road: The Picturesque Mansehra and Abbottabad-VI
(March 25, 2015)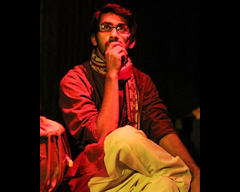 Azeem Hamid and the Independent Theatre Company
(March 25, 2015)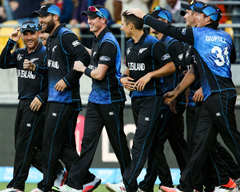 New Zealand to Choke South Africa and India to Overpower Australia?
(March 24, 2015)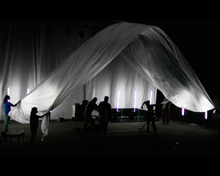 NAPA International Theatre Festival 2015: 'Among Fog'
(March 20, 2015)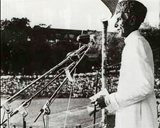 Pakistan Resolution Revisited
(March 20, 2015)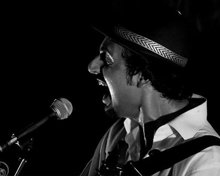 Faizan Tirmizi - The Ideology of an Aspiring Musician
(March 12, 2015)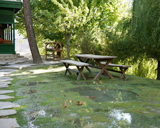 Hunza Valley: A Fine Balance between Tradition and Modernity
(March 10, 2015)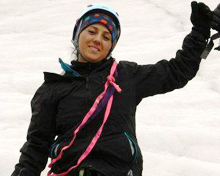 Samina, we are proud of you!
(March 06, 2015)