Karachi Literature Festival: Bigger and Better Each Year!
Written by: Zahrah Mazhar
Posted on: February 11, 2014 |

Comments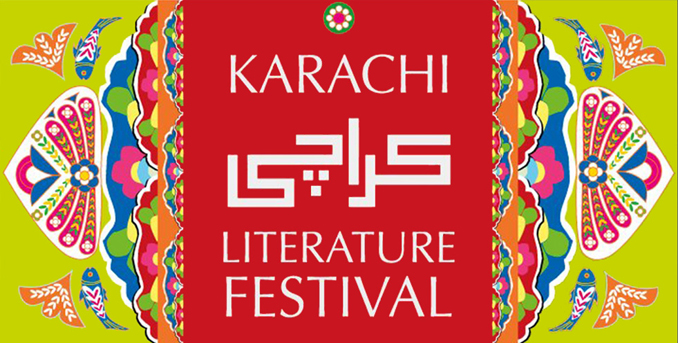 "Hurry before all of Rajmohan Gandhi's books finish", "I just spotted Mohammed Hanif, must get my copy signed by him", "The Habib Jalib session was definitely the best one!" The Beach Luxury Hotel in Karachi was abuzz with thousands of such conversations during the three-day 5th Karachi Literature Festival (KLF) which started on February 7.
The sprawling gardens of the hotel, against the backdrop of the water, served as an ideal location for the literati, socialites, and avid book readers to rub shoulders with each other and have engrossing discussions over chai and bun kebab – easily the most popular food item at the venue.
Within only five years, the KLF has become one of, if not the most, anticipated events in the city, one that no one wants to miss, as proven by the high number of visitors on Saturday despite the strike called by a leading political party. The sessions at this year's event featured panelists ranging from well-known names in Urdu and regional language literature, in addition to names from television and the performing arts. Panels had been convened on more academic and political themes as well this year, touching on topics of social concern and regional geopolitics. Children's interests were taken into account as well, with daily storytelling sessions, musical performances and theatre catering specifically to young ones' tastes.
Session: On Stage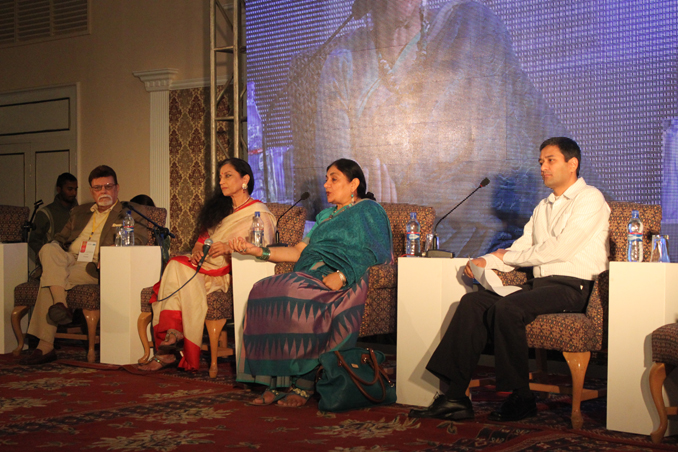 Panel for On Stage - Photo by Tooba Masood
All theatre gives a message, only the technique differs, said Madeeha Gauhar, actress and playwright. Accompanied by veteran television actor Shakeel and dancer and social activist Sheema Kermani, Madeeha told the audience at KLF that theatre in Pakistan started as a form of protest. "Theatre is all about storytelling and is also subversive," she said, adding that one has to find a way to get the message across in a creative yet impactful manner.
While Madeeha spoke about the preserving the cultural spaces and pulling more people towards theatres, Sheema was in favour of taking theatre to the community. "Tehrik-e-Niswan wants to bring people's stories to the fore through theatre. We hold workshops with residents of restive areas in Karachi, such as Lyari, Korangi and Hijrat Colony, get their stories and then perform for them. This way, we want to empower the people in taking their plays [stories] forward, almost like a theatre movement." For her, dialogue with the audience at the end of the play was one of the most important parts of the process. "It clearly tells you what is going through the people's mind, giving us more themes for theatre."
Speaking about the importance of street and community theatre, Shakeel credited his fame and evolvement as an actor to his humble beginnings in the streets of Karachi. "Community theatre is where I started and I believe it is the purest form [of theatre] as the audience and the performers are directly communicating, and the message is conveyed without a medium."
Session: New Voices in Sindhi Poetry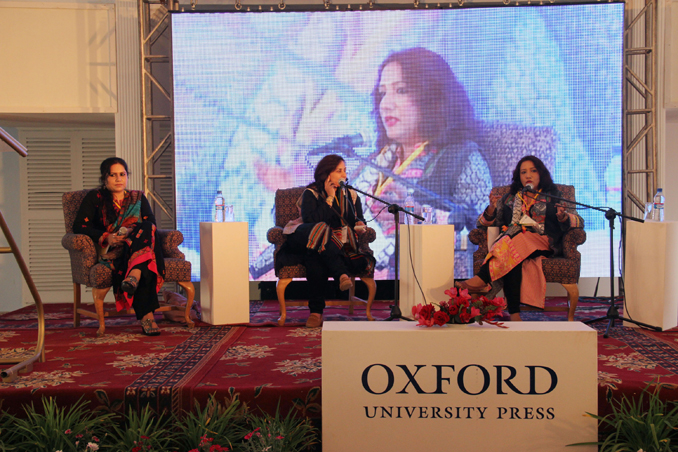 Panel for New Voices in Sindhi Poetry
For Rukhsana Preet and Rubina Abro, the most challenging task when writing poetry in Sindhi wasn't finding the words to express themselves but trying to make sure their work wasn't trivialised due to being a female's point of view. "The presence of women in Sindhi poetry up till the time of Sheikh Ayaz has been scarce and when they are mentioned, the poet never goes beyond their physical attributes – her curves, her eyes, her hair and more," said Amar Sindhu, writer and professor. "It was worrying that no poet bothered to look into a woman's heart and she remained only an object of love. But these two women, Rukhsana and Rubina, through their poetry finally started speaking about a woman's emotions and her will to love, instead of only being loved."
Amar read out a line from Rukhsana's poetry, which loosely translated as, "I have the desire to love but I also have the ability to think."
When women write, their work is personalised, whereas with men, it is not, said Rukhsana. "One of our biggest challenges is making sure people don't read into our personal lives through our work."
Session: Baloch Literature and Landscape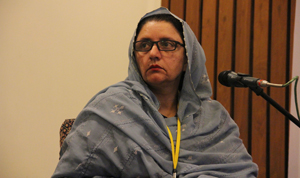 Zobaida Jalal Khan
It is a mistake to belittle Balochistan and its rich culture. These were the words which set the tone for the session which spoke about the Baloch landscape and its uniqueness. Accompanied by Zobaida Jalal Khan, who "promotes her culture with the way she dresses and looks", and Tari Luni who used sculptures to tell the story of his hometown, Sibi, Ayub Baloch told the audience that the earliest settlements of nomads was in Balochistan. "They are a sophisticated group of people, who are known for their creativity and hospitality, yet we disregard them by brushing them off as nomads."
Baloch's presentation on the landscape of the "forgotten" province was poignant - on and off he'd talk about how little the rest of Pakistan knew about their culture. "We've saved it [our heritage and traditions] for you too; it's not our fault you don't know about them."
Session: Wapsi ka Safar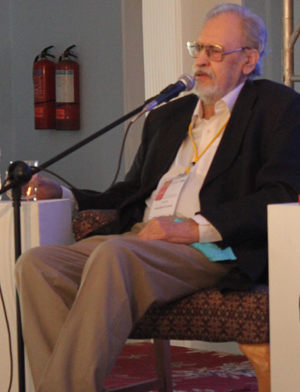 Abdullah Hussain - Photo by Tooba Masood
Urdu novelist Abdullah Hussain told a riveting story of how his 50-year-old debut novel 'Udas Naslain' went from being an accident to winning one of the most prestigious literary awards. "I was working in a cement factory in Mianwali and one day, I was utterly and completely bored and so, I picked up the pen. I started writing for myself and before I knew it, my writings had started taking a shape in front of me."
Abdullah candidly admits that during the writing process he thought of giving up altogether but then decided to see his book to the end. Two or three years after finishing the book, he moved to the United Kingdom where he bought a bar. "Journalists, writers and other literati used to come there. In fact, one of my short stories on illegal Pakistani immigrants in the UK was made into a screenplay for BBC 2 through a person I met at the bar."
It was titled 'Wapsi Ka Safar' and was given the name 'Brothers in Trouble' in English.
Going back to 'Udas Naslain' Abdullah spoke about the extensive research for the book, but most of all, he spoke about what a grand love story it was. "A real love story is about what one is willing to do and willing to sacrifice for their love, and my book was just that – a fight against the world in the name of love.
Although this year's KLF did not boast of as many international speakers as it has before, the panelists that had been invited were more diverse.
Keynote speaker, Rajmohan Gandhi, was flanked by fans wherever he went with booksellers confirming that his book was soldout at the end of each day. Among the most popular sessions, or at least the most talked about, were those featuring Moni Mohsin where she read out excerpts from her books as the witty and politically incorrect 'Butterfly' and, of course, the session on Faiz which featured his daughter, Muneeza Hashmi. And in what has become a KLF tradition, In conversation with Mohammed Hanif on the third day brought to the audience to their feet. The journalist and novelist, read out a speech that he had given at a convocation as the chief guest, which left the audience not only with plenty to laugh about but also to think over in terms of socio-cultural norms and being responsible citizens.
Now in its fifth year, the KLF continues to grow stronger as evidenced by the increase in turnout with every cycle. And Karachi audiences have not been disappointed.
Additional Images of KLF for the slide show were taken from http://www.dawn.com/in-depth/karachi-literature-festival-2014
RELATED ARTICLES:
You may also like: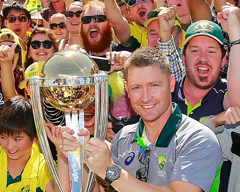 Australia Pulverizes New Zealand to Bag World Cup 2015 Trophy
(March 30, 2015)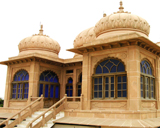 The Undying Grandeur of the Mohatta Palace Museum
(March 29, 2015)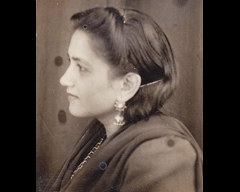 Ada Jafarey: A Tribute
(March 27, 2015)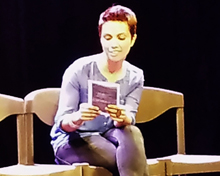 Me, My Mom & Sharmila: Fawzia Mirza and the Brown Woman
(March 26, 2015)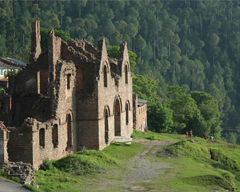 Silk Road: The Picturesque Mansehra and Abbottabad-VI
(March 25, 2015)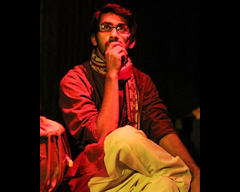 Azeem Hamid and the Independent Theatre Company
(March 25, 2015)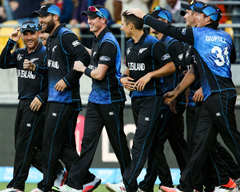 New Zealand to Choke South Africa and India to Overpower Australia?
(March 24, 2015)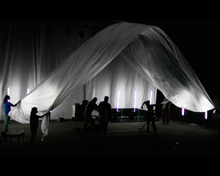 NAPA International Theatre Festival 2015: 'Among Fog'
(March 20, 2015)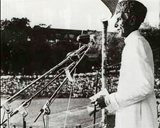 Pakistan Resolution Revisited
(March 20, 2015)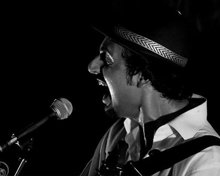 Faizan Tirmizi - The Ideology of an Aspiring Musician
(March 12, 2015)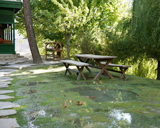 Hunza Valley: A Fine Balance between Tradition and Modernity
(March 10, 2015)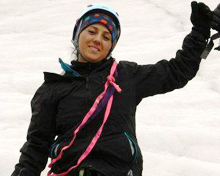 Samina, we are proud of you!
(March 06, 2015)