Cakes or Art? Rabiya Faisal & Redolence Bake Studio
Written by: Aleeza Rasool
Posted on: October 03, 2014 |

Comments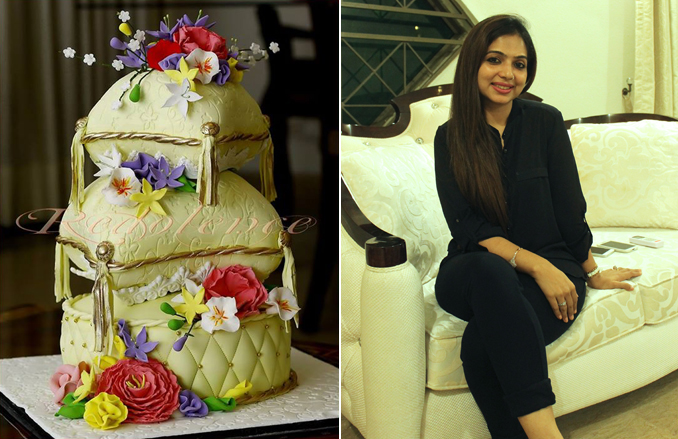 Rabiya and her creations
A few years ago, food connoisseurs such as Kitchen Cuisine or Masoom's were the prime locations for satiating one's cravings for cakes and pastries. However, in recent years these pioneer bakeries have been greatly affected by the establishment of numerous designer and specialty cake makers that offer customized cakes using ingredients, flavours and decorations of the customer's specification. Though more expensive, these cakes are aesthetically more pleasing, elaborate and personalized.
Perhaps, it was due to high demand that it did not take many years for this business niche to get filled up with competing brands. However, only some names within it stand out due to their unmatchable quality and taste. Rabiya Faisal's 'Redolence Bake Studio' is one of these. Established in the year 2009, it has risen like a star in the designer cake industry. From pirate themed cakes, to cakes fit for the brand conscious, Rabiya has the skill to please everyone.
Looking at Redolence's cakes, one is filled with awe, as each cake is not just a cake, but also an art piece. Once cut and tasted, it pleases one even more with its freshness and flavour. "Every cake is made three to four hours before it is due. None of my cakes are made and kept overnight. If a cake is due at 4 p.m., we start making it at 1 p.m.".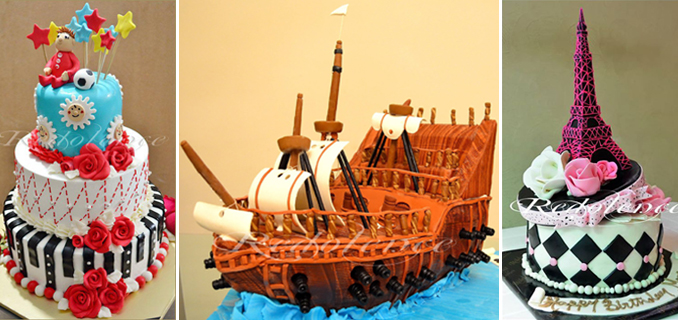 Redolence offers a wide range of flavours from caramel, to chocolate, to fresh fruit such as peaches and strawberries, etcetera. "I make my own chocolate, for if I was to acquire something ready made from the market, why would people buy cakes from me?" Her cakes come in all sizes be they 2 pounds or 250. In fact, one of the largest cakes Redolence has baked to date was a 250 pounds cake for an engagement party. Cakes are decorated using fruit, fresh cream, chocolate, fondant 3D figures, toys and even fresh flowers. "I am here to give my customers whatever they want, be it any design, any flavour. I am ready to make any kind of cake for them provided that I am sure about it myself. I know what flavours would go nicely together and which won't. My experience and education in food and nutrition largely helps me in this regard."
Rabiya Faisal belongs to a family of food lovers. She says, "Everyone in my family loves to eat and their palate is not limited to any one kind of food. Rather, they eat everything." This may be one of the reasons why Rabiya's mother and then she herself graduated from the College of Home Economics in Lahore with a BSc degree in Food and Nutrition. "Since childhood, I have been fascinated with baking. I remember that during my summer vacations, instead of playing with my toys, I used to be found in the kitchen trying to bake," Rabiya recalls. "Eventually I managed to bake my first cake at the age of six; an effort greatly appreciated by the rest of my family especially my father who asked all of his friends to come over and taste it. He is one of the main people in my life, besides my husband, who are behind my success today."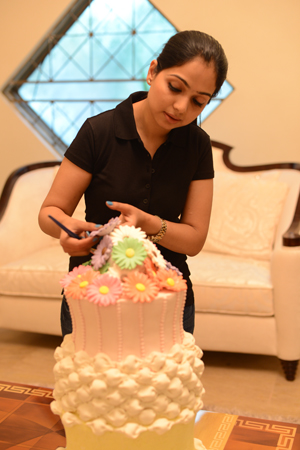 Rabiya decorating a cake
On asking about her training Rabiya stated that she acquired half of her skill in baking during her educational years at Home Economics. However, 'trial and error', have been her biggest teachers. "I have learnt much of my craft through continuous effort and out of trying new things and experimentation", she adds candidly. "Initially, one always gets things wrong. One encounters dead ends and failures, but one must keep trying and never give up!"
Initially, Rabiya's were the only hands working on creating each cake at Redolence. But now she has an entire team working with her to be able to meet the high demand. "I have a baking team, a décor team and a team for packaging," she explains. "I have trained my team fully; however, one always needs to be there in order to supervise."
Being a mother of three, she says there are days when she is too busy to be able to give her children time. But with additional help, things are much easier. The decoration and packaging of the cakes takes place at her residence in Gulberg, but the baking takes place at another site. She gives her husband most of the credit for being where she is, "Were he not fully supportive of me, I would never be able to handle this venture. I think the cliché 'behind every man is a woman' needs to be reversed in my case."
On asking her about the secret behind her success, Rabiya stated that she does not depend on anyone, relying on a 'do-it-yourself' policy. In addition, she adds that constant effort and improvement are key to progress in any field. Moreover, unlike most people in her filed, she never denies an order to a customer. She elaborated on this point by saying, "If I have committed myself to providing a service, I have to provide it regardless of anything. I therefore hardly take any days off or go for vacations."
Her future plans are to open up a bakery in Gulberg, Lahore, where ready to eat treats would be available for her customers along with a relaxing and soothing environment. "My dream," she says, "is to take Redolence to that point where a person craving for cake will simultaneously crave for Redolence!"
You may also like: