'Lahore Will Not Cower Down to Terrorists': Lahore Literary Festival 2017
Written by: Syed Abbas Hussain
Posted on: February 28, 2017 |

Comments | 中文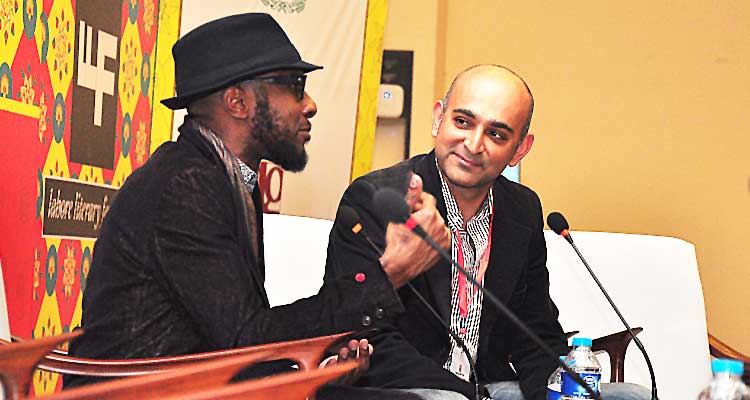 Teju Cole with Mohsin Hamid at LLF 2017 (source: Pakistan Today)
In the words of French artist Henri Matisse, "Creativity takes courage." Following the recent wave of terror that unleashed in the country, the city of Lahore seemed to have risen from the ashes with resolute bravado on the fifth edition of the Lahore Literary Festival. The fate of the event was hanging on a tight rope till the very end – its venue being finalized just on the eve of the festival. The modestly attended event saw a mix of notable local and international speakers who graced the immaculate halls and canopies of the Faletti's hotel with panache.
The lineup of guests included: Michael Palin, Ayesha Jalal, William Dalrymple, Zehra Nigah, Teju Cole, Mohsin Hamid, Daniyal Mueenuddin and Kamila Shamsie, among others.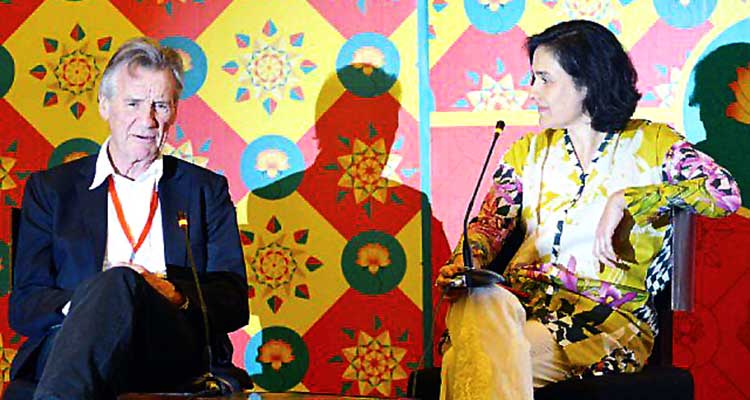 Michael Palin and Kamila Shamsie (source: Express Tribune)
Digging Deep: Crossing Far was a morning session led by a panel consisting of artists who discussed a project that captures the various dimensions of World War I. The panel of artists consisting of Risham Syed, Elke Falat, Julie Tieke, Muzammil Ruheel and Ali Usman, discussed in particular the plight of war prisoners and their personal experiences. The artists discussed their individual installations via pictorial slides and the angle they had focused on in the context of the War. Risham Syed talked about her interest in the Kaala Paani prison, based on the stories she had heard as a child which propelled her to dig into visceral archives that helped shape her work. Muzammil's work, on the other hand, personified a passionate romance between a prisoner and his love interest and the ordeal surrounding their means of communication.
Award-winning Pakistani author Mohsin Hamid, who is a regular presence at the perennial event, joined two sessions; one with Nigerian writer Teju Cole and another with Dwight Garner as part of the launch of his new book. Hamid's first session with Cole on Who Belongs Where treaded on identity and race in light of the trajectory of global politics. The session was peppered with references to the writers' works and explored the ramifications of the post-Trump world – seemingly a running theme which surfaced in most of the sessions. Cole's unabashed irreverence and punchy one-liners made the session a treat to attend as he described in bold assertions, how Trump's victory is a triumph of white supremacy in America. Contrasting Obama with Trump, he referred to the former black president as "expanding the American imperial project, but in an elegant manner." He also went on to underscore in his tongue-in-cheek manner, how the white male has a penchant for the idea of 'identity': "White people love identity. Most of the books you see in the library on identity are written by white males!" The conversation also ventured into the dynamics of cities as entities, a topic that often resonates in Mohsin Hamid's work and interviews.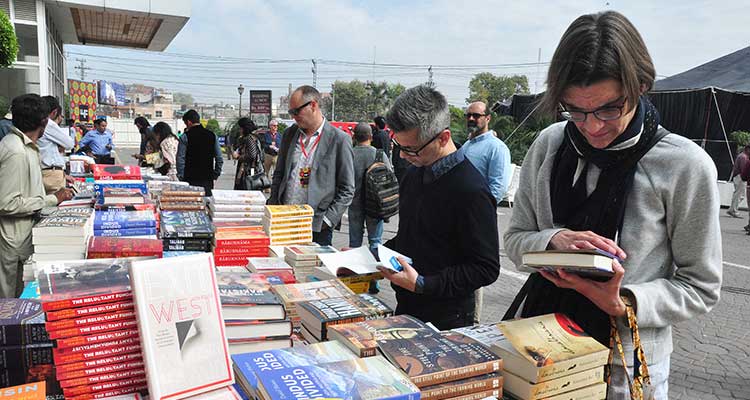 Books on display at the festival (source: Pakistan Today)
The much celebrated Urdu writer Zehra Nigah's session, Zehra Aapa Ke Saath, encapsulated a poignantly articulated introspection on different spheres of life: the personal, social and the political. Noted historian and Professor, Arfa Sayeda Zehra shed light on Zehra Nigah's indelible contribution to Urdu literature and discussed historical anecdotes, while alluding to the latter's poetry in varying contexts. Although the narration meandered into different realms of human nature, it flowed seamlessly, intermittently folded in rousing poetry which kept audience members in thrall. Two memorable recitals by the writer were "Suna Hai Jungalon ka bhee koi Dastoor Hota Hai" (We hear that even the jungle lives by a certain code) and a gut-wrenching poem told from the perspective of an aborted female child called "Main Bach Gayee Maa" (Mother I am saved). Beghum Zehra Nigah's demeanour exuded an old-world charm as she sat gracefully in her signature style – draped in a simple, elegant sari with her cream-coloured hair wrapped in a bun. Her warm-timbered voice boomed through the hall as she shared her deep reflections. A striking facet of Beghum Zehra Nigah that stood out during the discussion was her hope in the youth. Given that the older generation of artists and literati often harken back to an era of glory in the past and dismiss the new generation's frivolities, it was heartening to hear her positively describe the youth's thirst for knowledge and self-awareness. "No matter how much they converse in the English language, young people are curious about their history and the country's true ethos," she emphasized, recalling how young people used to gather around her at the T2F space in Karachi (during the slain activist Sabeen Mahmud's lifetime), quizzing her about pieces of Urdu literature.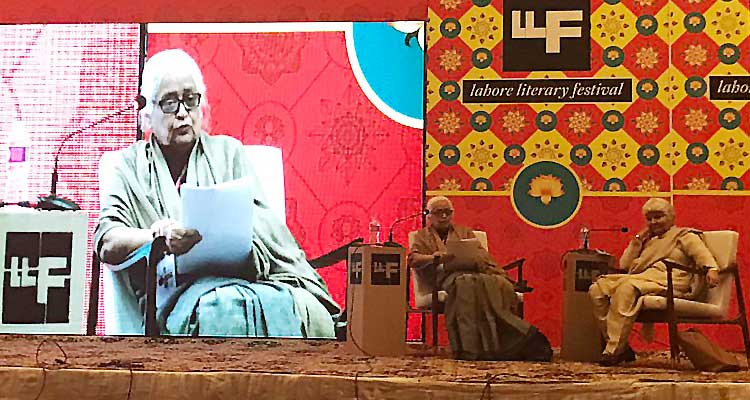 Zehra Nigah with Arfa Sayeda Zehra (source: LLF Twitter)
Shabnam Ghosh had created waves in the Karachi Literature Festival (KLF) this year, and her second innings in Lahore at the LLF evoked a similar reaction. Audience members, many of them her fans from the older generation, sat wide-eyed with excitement as she chronicled her journey as an actress in her Bengali-accented Urdu. The moderator – notable drama writer Asghar Nadeem Syed – was well versed in Shabnam's films and her era of cinema, and thus posed specific questions about the life and times of her acting. "The film industry was like a family back then", Ghosh asserted, "we all got together to help if any one of us got into a crisis." Such was her demand in Lahore's film industry that she left Dhaka to move to Lahore following the creation of Bangladesh. In the question-and-answer session, attendees urged her to come back to Pakistani films, with one writer even suggesting that she would pen a script especially for her. The yesteryear actress appeared teary-eyed during many moments of the session while talking about the adulation that she has received in Pakistan, and the ailment and eventual death of her father, which was a precursor to her retirement.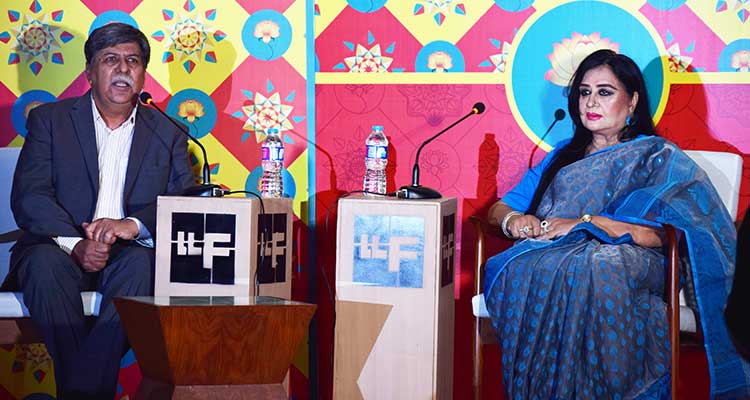 Writer Asghar Nadeem Syed with legendary actress Shabnam Ghosh
One hopes for greater normalcy to return to the city of Lahore in terms of security, so that next year's event exhibits the grandeur of the earlier festivals, with a more extensive line-up of speakers spread across three days. However, this year's event, albeit truncated, has been symbolic as it sent out a clear message: Lahore will not cower down to terrorists.
You may also like: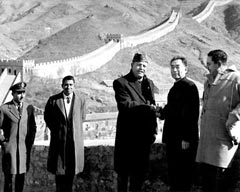 From People to People, Pakistan-China Relations since 1965
(December 12, 2017)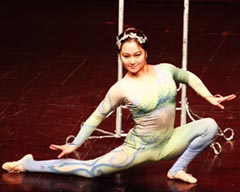 Rhythm of Liaohai Gala at PNCA, Islamabad
(December 08, 2017)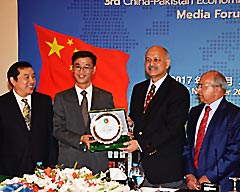 3rd CPEC Media Forum, Islamabad
(November 28, 2017)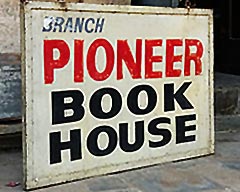 Pioneer Book House, Karachi
(November 24, 2017)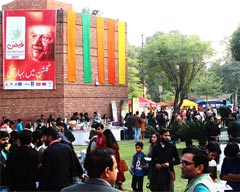 Faiz International Festival 2017
(November 22, 2017)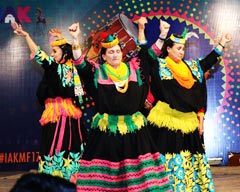 Lok Mela comes to Karachi
(November 17, 2017)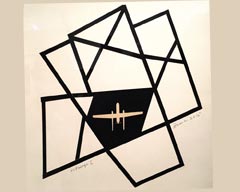 Writing Partition in Urdu
NYU's Urdu Conference
(October 13, 2017)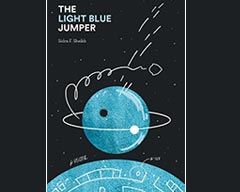 Book Review: The Light Blue Jumper by Sidra F. Sheikh (First Pakistani science fiction novel)
(October 02, 2017)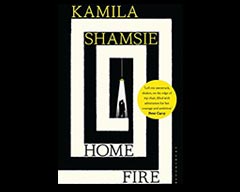 Book Review: Home Fire by Kamila Shamsie
(September 07, 2017)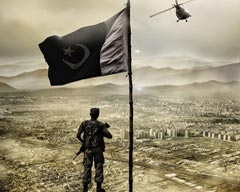 Pakistan's Armed Forces face challenges in 2017 with a New Confidence
(September 05, 2017)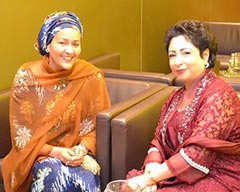 August 14 celebrations at the UN with the Sachal Orchestra
(August 15, 2017)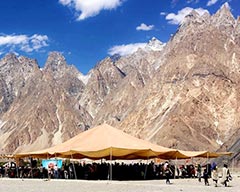 FACE Mela 2017, Passu
(August 10, 2017)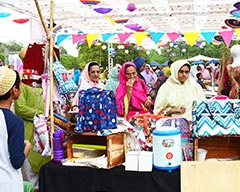 The Bohra Bazaar, Karachi
(August 07, 2017)