LAHORE LITERARY FESTIVAL 2014 - DAY I

Posted on: February 26, 2014 |

Comments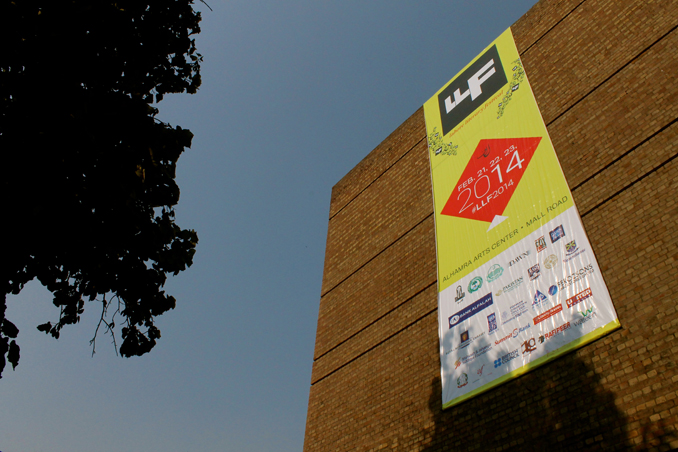 (photo by Aleeza Rasool)
After the monumental success of the Lahore Literary Festival 2013, expectations had been sky high from the festival this year which kick started on Friday, the 21st of February. It boasted names of renowned international authors and moderators from global media giants like the BBC and the New York Times; social media was abuzz with talks of what was being hash-tagged as #LLF2014. Lahore's historic Mall Road had been lined with promotional posters shaped like kites - a pertinent cultural symbol of the city.
The festival opened with an impressive line-up of speakers and every session was full to the brim, with a noticeable crowd outside the main entrance trying desperately to convince the ushers to grant them entry. For three days, enthusiasts of literature and art gathered under one roof for stimulating discussions conducted by the crème de la crème of the region's literary circuit. Since the time slots had various sessions coinciding with each other, the audience was often left in a conundrum about which session to attend. A variety of food-stalls had been set up at the venue for people to partake of refreshments, and major book stores were also represented, selling recent publications and classics alike.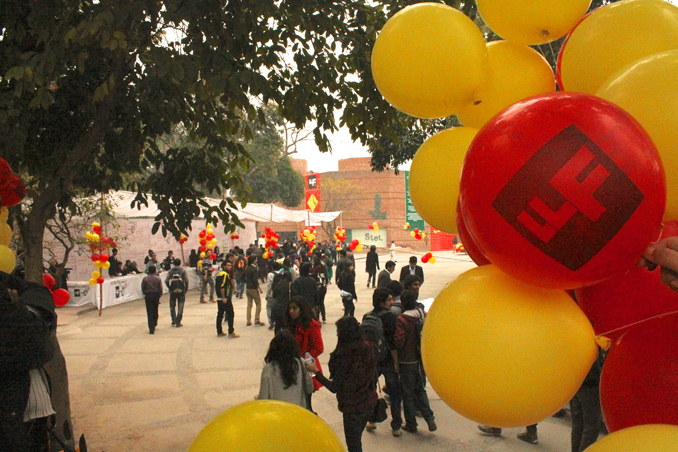 The venue abuzz with an eager public (photo by Aleeza Rasool)
The Lahore Literary Festival is a heartening reflection of the public's keen interest in intellectual activity. Lahoris are known for being frivolous foodies but it was pretty evident from the sheer size of the enthusiastic crowds at the festival that when it comes to literature and art, their appetite is equally if not more pronounced.
'The Suitable Duo' – Abbas Hussain
Vikram Seth's session titled 'A Suitable Duo' was conducted by musicologist and writer Nasreen Rehman and centered predominantly around his book, 'A Suitable Boy' as well as his upcoming novel 'A Suitable Girl'. During the session, Nasreen Rehman requested him to shed light on the special bond he had with his parents. Seth read out a poignant poem he had written about his father, after which he confessed to carrying his father's shaving kit whenever he travelled, since his father's accessories signified his presence. Upon request from an audience member he read out a poem of Mir, in a slightly anglicized but eloquent manner. Post the discussion he was asked questions by audience members regarding his books, post-colonial literature and the various themes of his books.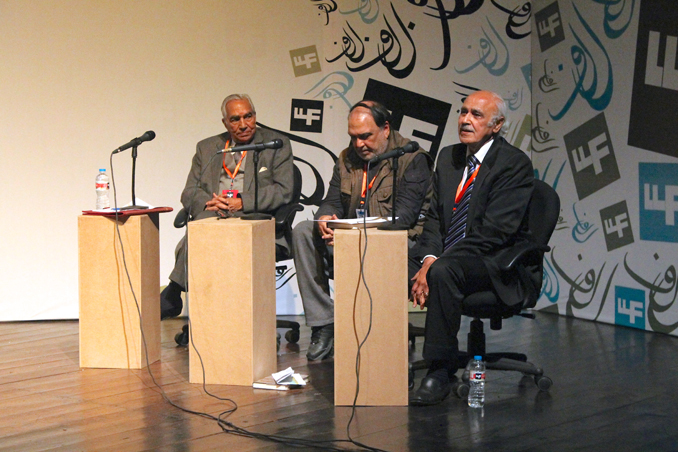 Pran Neville, Khaled Ahmed and Fakir Syed Aijazuddin
'Lahore, Literature and Longing' – Aleeza Rasool
Moderated by Majeed Sheikh, the session was aimed at highlighting the memories and recollections the guest speakers had of the Lahore of their youth and that of their forefathers. The engaging discussing made one feel the urge to be able to step back into time and become a part of 'the Lahore' which had once been a great center of culture, embodying literature, art, music, theatre and poetry, and playing host to artists, musicians, writers and publishing houses etcetera. Famous Indian author Pran Neville, who belonged to Lahore prior to Partition related that, "Even during British rule… Lahore was the centre of culture, art and literature just as it had always been in history. I remember that writers from Lucknow used to come to Lahore and get their books published here." He further added that one of the things that he vividly remembered about Lahore was its thriving music industry. Khaled Ahmed, a Pakistani political analyst reminded the audience that Lahore as the hub of writers such as Intezar Hussain, Manto and Askari whose writings he regarded as being significantly progressive as well as revolutionary. According to Ahmed, one of the biggest losses that Lahore had incurred was a loss of its 'open heartedness', "I still remember that women used to freely frequent the Mall (road) on foot and non- Muslims were employed in all sectors. But now this is not the case."
On a similar note, Lahore signified "a tragedy" for Aitzaz Ahsan. He was of the opinion that extremism and intolerance had led Lahore to losing its distinguishing characteristics of religious plurality and cultural diversity and affluence. He said there had been a time when the shrines of Lahore used to be frequented by all, irrespective of their religious affiliations but now due to the various spells of ethnic cleansing, this had been reduced to just a memory. For Fakir Syed Aijazuddin, however, there was still hope. He said that cultural activities such as the Lahore Literary Festival and Shahzia Sikander's work, which had led Lahore to being regarded as the crucible of the new approach to miniature paintings, made him optimistic about his city's future. He said that the younger generation needed to channel in its full effort in order to be able to restore Lahore to its previous glory.
'Book Launch: This Side, That Side: Restorying Partition' – Aleeza Rasool and Abbas Hussain
Rafay Alam's session with Vishwajyoti Ghosh and Saba Naqvi presided over the launch of an anthology of graphic narratives on Partition from India, Pakistan and Bangladesh.
Activist and environmentalist Rafay Alam spoke about the perspective of the young generation regarding the Partition of the subcontinent, citing his personal experience of understanding the event from history books which, according to him, were coloured with prejudice. He contended how, while the Partition of the lands that took place in 1947 garners all the limelight, the partition of the rivers does not get the kind of attention it should be getting, considering the grave implications it has had on the people of Pakistan where an alarming number are deprived of clean drinking water and where livestock and crops require large amounts of water for sustenance. He also highlighted the variety of Partition stories contained within the book, highlighting how his own focused on how he had made a friend during his student life in the U.K. and discovering that the man's ancestors had been the original owners of his own family home in Lahore. Alam remarked how he hoped that the narrative of antagonism that India and Pakistan had for each other could change through the efforts of the new generation.
Saba Naqvi talked about some of the cultural differences she observed between Indians and Pakistanis during her trips to Pakistan, saying how once when she visited a village which, before Partition, had been the home of Prime Minister Manmohan Singh, she was always fed Nihari, Kebabs and Chicken. The meat delicacies would not be offered to her in the same way in India, she joked.
According to Ghosh, graphic novel-'ism' was still a new concept within the sub-continent. "At a majority of the book stores in India, I find my book sitting in the children's section next to Tin Tin." He pointed to the variety of narratives by saying that the majority of the Bangladeshi contributors did not regard 1947 to be the year of their independence, rather they related their liberation to 1971. Hence, "To everyone Partition meant something different. For some it was celebration and liberation. However for some others it was a tragedy."
Book Launch – The Dispensable Nation – Aiza Azam
Vali Nasr
Possibly the largest crowd for the day had gathered for the launch of Vali Nasr's latest book, The Dispensable Nation, moderated by Ayesha Jalal. During the first three quarters of the session, Jalal's discussion focused on the main themes in Nasr's book and juxtaposed them against developments that had since taken place; she touched upon the United States' foreign policy towards Iran, the challenge posed by a rising China and the U.S. rebalancing towards Asia Pacific, the outstanding issues in Afghanistan particularly in light of the impending withdrawal and the upcoming elections, relations with Pakistan and what had been the major failings on both ends, the mistakes that had been made in Iraq after the 2003 invasion, and the question of Turkey as a major regional player bridging the two halves of the Eurasian continent. On the Arab Spring and the subsequent developments in the Middle East, Nasr stated that it would be a mistake for American foreign policy makers to assume that focus on the region could be de-emphasized and that the Asia-Pacific region would displace the Middle East as the major area of foreign policy focus; he linked the emphasized importance of the Asia-Pacific in world affairs to how policy would be enacted in the ME. A lively debate with the audience followed and the questions raised centered largely on the theme of the future of Pak-U.S. relations, the Syrian uprising and China-U.S. relations in the wake of the Asia pivot.
RELATED ARTICLES:
You may also like: