LLF New York 2017
Written by: Staff Report assisted by Zeba Hyder
Posted on: May 09, 2017 |

Comments | 中文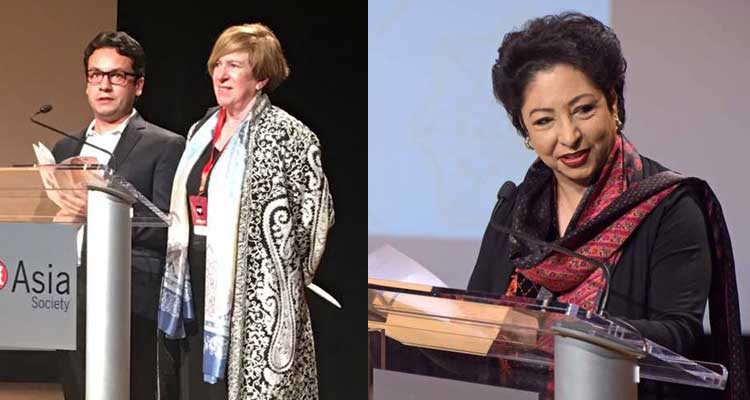 (L-R) Razi Ahmed, Rachel Cooper and Ambassador Dr. Maleeha Lodhi at LLF New York 2017
The Lahore Literary Festival, or the LLF, pulled off another successful event in New York on May 6. It is the combination of the LLF trio led by Razi Ahmed (Nuscie Jamil and Anila Shah being the other members) with Rachel Cooper at the Asia Society as their hosts, which has given this event gravitas and a presence in New York. Dr Maleeha Lodhi, Pakistan's Ambassador to the UN, not one to miss an opportunity to project Pakistan's soft image, has proactively ensured that the event is given all possible support and prestige.
It was a one-day event, but separate tickets for the two sessions were sold out. What made the short and sweet Lit Fest vibrant was its mixture of topical themes, and a delectable offering of culture and heritage: from a discussion of how vacuous, if not misleading, Pakistani media can be, to the rise of the phenomenon of right-wing populism; from ragas, qawwali and Mughal art to Sufism. New Yorkers were offered this cornucopia of cerebral and sensory celebration and they soaked it in joyously. Some connected to their roots, others discovered a different culture; barriers, ethnic, national and religious, simply melted away.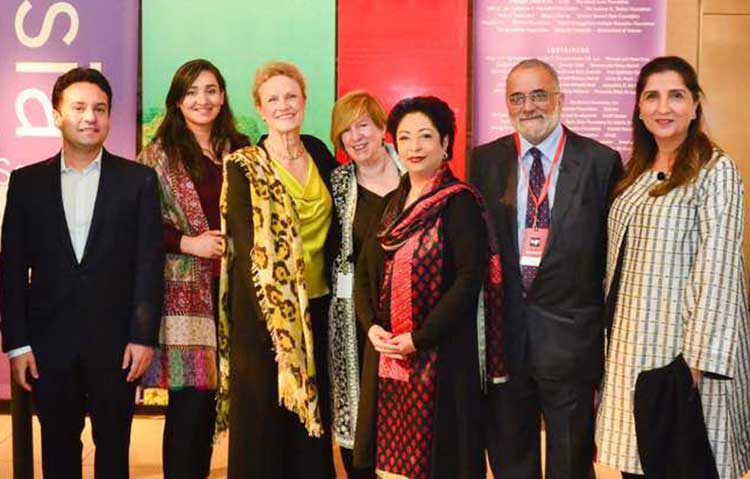 (L – R) Razi Ahmed, Sabeen, Robin Raphel, Rachel Cooper, Dr. Maleeha Lodhi, Ahmed Rashid and Aneela Shah
The Lit Fest drew some of the best names, and that was the advantage of holding it in New York. Ahmed Rashid, of the bestseller Taliban fame, Robin Raphel and Tom Freston, with Amna Nawaz of ABC News as the moderator for Is Fake News Crowding Out Real News. This topic could not have been more relevant for Pakistan with its cacophony of 24 + channels obsessed by ratings and therefore sensationalism. In a recent scandal, a stage with two and a half thousand people on it collapsed, but the news was blacked out both in the electronic and print media. Free media or fee media!
For Imagination as Imagery, the list was even more interesting: Shazia Sikander, one of the most internationally celebrated Pakistani artists, Du Yun, a Chinese born international composer, Ali Sethi and Rachel Cooper as the moderator. Du Yun is a multi-instrumentalist performance artist, whose music has been described as "cutting edge" by the New York Times, that also hailed her as a leading figure in China's new generation of composers.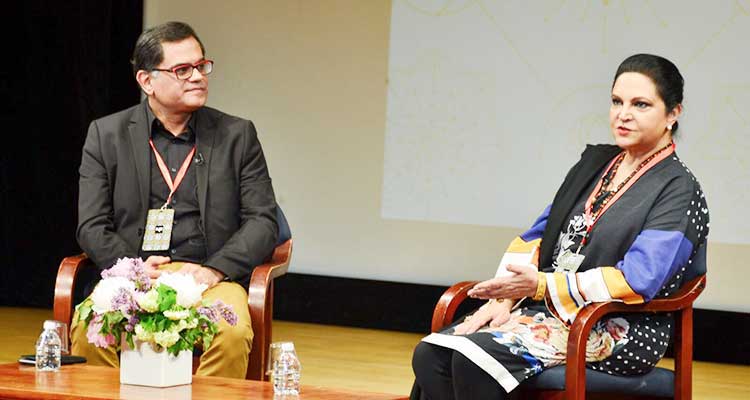 Raza Rumi and Tahira Syed
Lahore was the focus in both the sessions on The Sound of Data Durbar and in Lahore: Of Kings and Commoners. Raza Rumi, the journalist-turned academic with the excellent Delhi by Heart to his name, and Tahira Syed, Lahore's nightingale in the tradition of her mother, Malika Pukhraj, took the audience into an exploration of the Sufi heritage of Lahore and its musical and poetic roots. F.S. Aijazuddin, the author of a plethora of books on the art and architecture of Lahore, especially during the Sikh period, was the discussant with Navina Najat Haider, the curator at the Metropolitan Museum of Art in New York. Haider has been curating the Islamic galleries at the Met for more than a decade, and brought her perspective to Aijazuddin's knowledge of Lahore.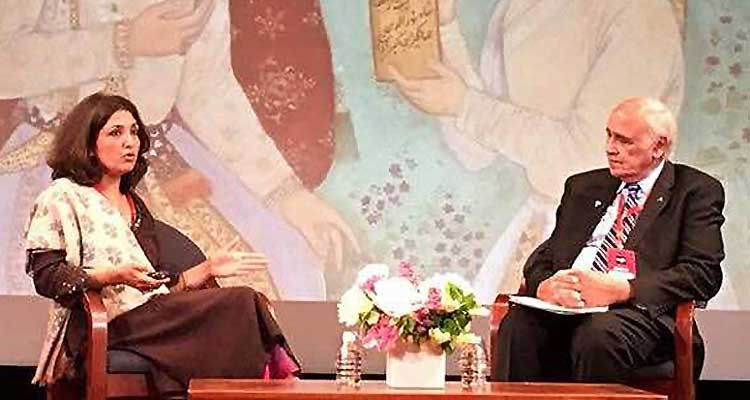 Navina Najat Haider with F.S. Aijazuddin
For Populism and the Global Rise of Strongmen, a challenging topic, the line-up was very distinguished: Basharat Peer, an eminent Indian-Kashmiri journalist, now an Associate Editor with the New York Times, a supporter of his homeland's independence, and author of A Question of Order: India, Turkey and the Return of Strongmen; Bernard Haykel, Professor of Near Eastern Studies at Princeton University and a scholar on Islam, and Saskia Sassen, Co-Chair of Columbia University's Committee on Global Thought.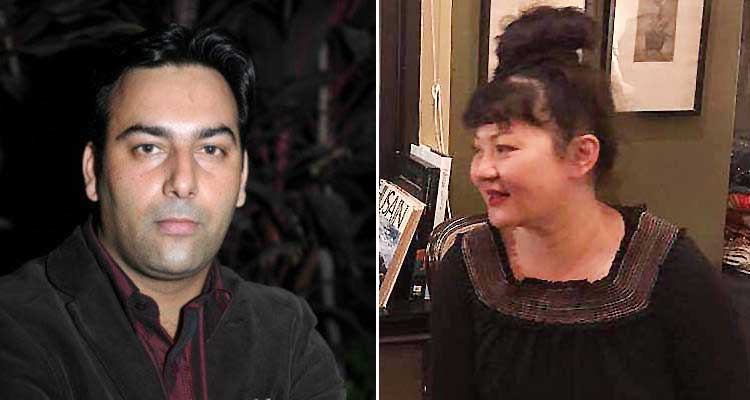 Basharat Peer (L), Du Yun (R)
This was followed by a discussion on Where Conspiracies are a Pastime: Satire and Escapism in Fiction and Beyond. The acclaimed fiction writers Mohammed Hanif (A Case of Exploding Mangoes) and Nadeem Aslam had the audience entertained by their sharp wit and humour.
The most innovative was the session on Notes from the Raga. It interspersed music and discussion. There were performances by the melodious Siddharta Mukherjee (an oncologist and Pulitzer Prize winning author of Emperor of all Maladies), the sitar maestro Ikhlaq Hussain, and moderated by the talented literatus and oncologist, Dr Azra Raza. The discussion explored the meanings within each raga and crossed the boundaries of science and music. The audience gave this session a befitting tribute with a standing ovation.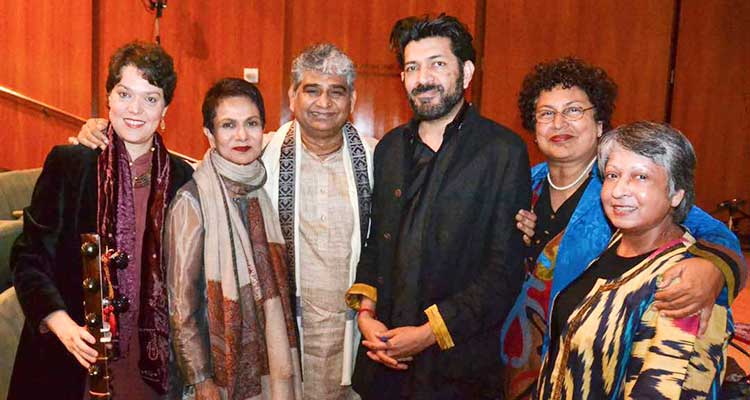 Judit, Dr. Azra Raza, Ikhlaq Hussain, Dr. Siddhartha Mukherjee, Durdana Rizvi and Zeba Hyder
The evening was capped by an uplifting performance by Fareed Ayaz, Abu Muhammad Qawwal and Brothers, who brought the house down with such classics as Chaap Talak and Man Kunto Maula.
LLF is beginning to attract an interesting and eclectic audience which this time included Tom Freston and Marie Brenner, amongst others. The LLF has raised its bar by drawing for its sessions intellectuals and professionals, although not Pakistani, but experts on issues and cultures of this part of the world.
Highlights from LLF New York 2017
You may also like: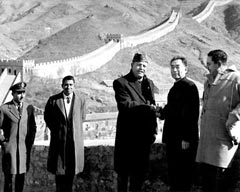 From People to People, Pakistan-China Relations since 1965
(December 12, 2017)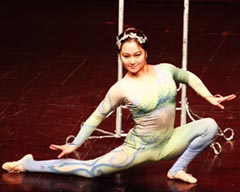 Rhythm of Liaohai Gala at PNCA, Islamabad
(December 08, 2017)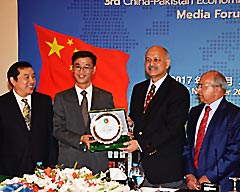 3rd CPEC Media Forum, Islamabad
(November 28, 2017)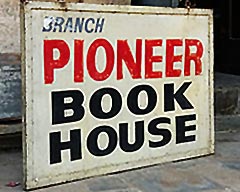 Pioneer Book House, Karachi
(November 24, 2017)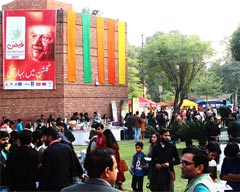 Faiz International Festival 2017
(November 22, 2017)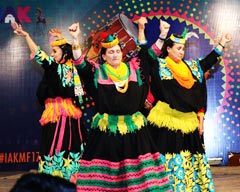 Lok Mela comes to Karachi
(November 17, 2017)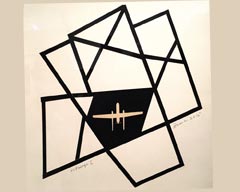 Writing Partition in Urdu
NYU's Urdu Conference
(October 13, 2017)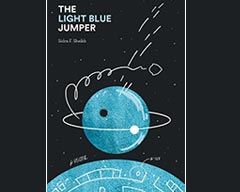 Book Review: The Light Blue Jumper by Sidra F. Sheikh (First Pakistani science fiction novel)
(October 02, 2017)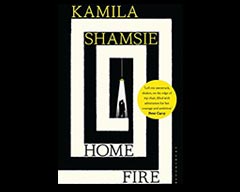 Book Review: Home Fire by Kamila Shamsie
(September 07, 2017)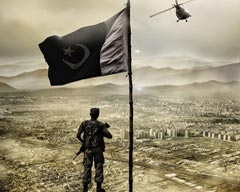 Pakistan's Armed Forces face challenges in 2017 with a New Confidence
(September 05, 2017)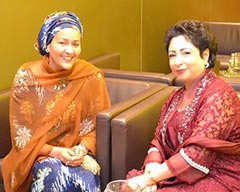 August 14 celebrations at the UN with the Sachal Orchestra
(August 15, 2017)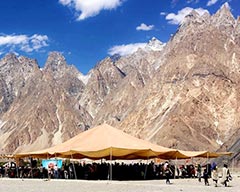 FACE Mela 2017, Passu
(August 10, 2017)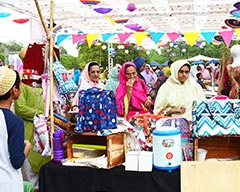 The Bohra Bazaar, Karachi
(August 07, 2017)