Art Review: 'Manuscription' by Mohsin Shaikh at Tanzara Art Gallery
Written by: Sana Shahid
Posted on: May 22, 2017 |

Comments | 中文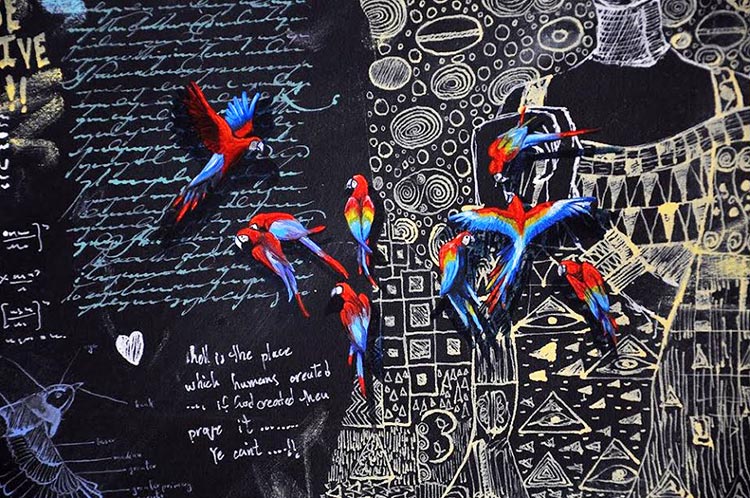 An exquisite colour palette and composition by Mohsin Shaikh
The celebration of art contributes to a healthy society that endorses and appreciates the creativity of artists in a country. This act of celebration not only helps to inspire change, but also benefits the artists by strengthening their confidence and conviction. Tanzara Art Gallery celebrated an amazing talent, Mohsin Shaikh, with a solo show that opened on Friday, 19th May, 2017. Credit goes to the Gallery for promoting emerging artists and providing a platform to showcase their skills.
The title 'Manuscription' explains the core of the exhibition, with self-explanatory artworks on the walls. All of the works are thought-provoking, and it is difficult to take your eyes off them without getting lost in their intricacies. Mohsin has composed visual imagery and text together on life-sized canvases to portray his mantra on life. His depiction of the war between truth and deception has a subtle approach to it, but is still perceptible. He believes that the actual truth is the opposite of what is being perceived by the human mind.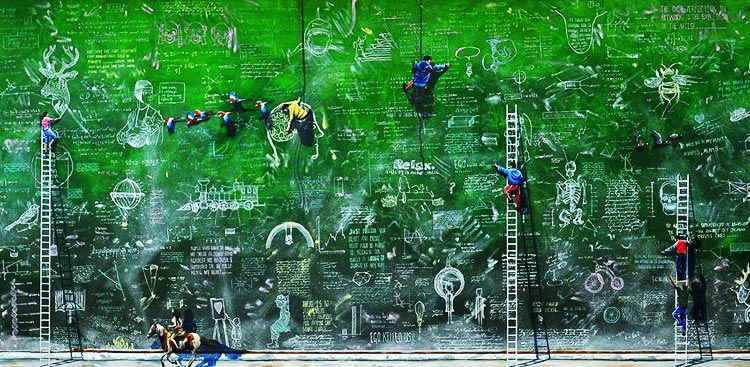 A replica of a chalkboard with human figures and ladders
A young talent like Mohsin Shaikh has stolen the spotlight and marked his territory in the art world through this exhibition. His skill of converting life-sized canvases into chalkboard drawings is admirable, with symbols, scripture and references defining his concepts and experiences. The idea of showing the figures smaller than the scripture is well-balanced, and it highlights the importance of theory, especially in a time when hand-written text has become obsolete. The concept is intriguing, with spot-on execution. The depiction of monumental figures like Marilyn Monroe and Mona Lisa with her iconic smile revives ancient stories associated with them, and one begins to reminisce just by looking at them.

The artist has followed a somewhat surrealistic approach with an exquisite colour palette, with tones and shades ranging from greens to sepia and blue, and ending up in black. Some paintings seem like actual chalkboards with tiny figures climbing up and writing on the boards, while others are in the foreground, facing the board in the same way that a viewer looks at a painter to comprehend what is being shown on the canvas.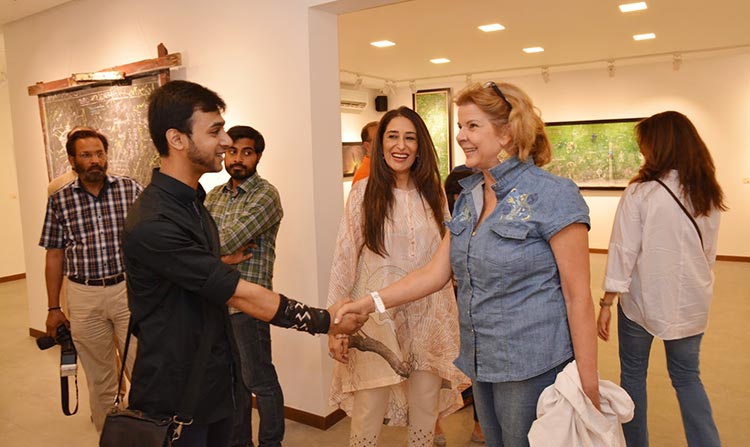 (L-R) Artist Mohsin Shaikh, Gallery Director Noshi Qadir and Cristina Afridi
Mohsin Shaikh's work leaves multiple interpretations. That is the beauty of a true work of art, which possesses innumerous meanings without having one exact definition. Having a specific concept is an artist's job, but simplifying that concept for the viewers is a challenging task. An exhibition is truly successful if people not only understand and appreciate the artist's work, but also relate to it on a personal level.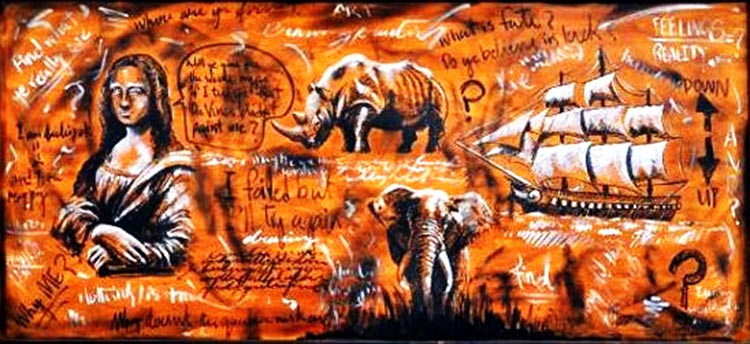 Earlier this month, Tanzara put together an outstanding exhibition featuring 30 big names with the news of its reopening in the capital city, and a second show of this calibre proves that the Gallery is growing stronger by the day. The exhibition continues till 9th June, and the originality of this young artist's work would be of great interest to Islamabad's art lovers.
You may also like: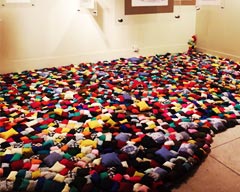 NCA Rawalpindi Degree Show 2017
(January 17, 2018)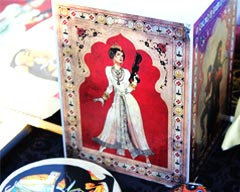 Winter Fete, Islamabad
(January 09, 2018)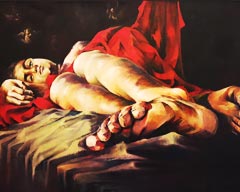 Review: 9th National Exhibition at PNCA
(January 02, 2018)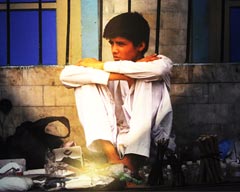 Yeh Hai Karachi 2: Photography and Film Exhibition
(December 20, 2017)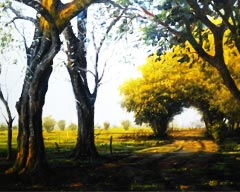 Art Review: Punjab Romanticism by Zulfiqar Ali Zulfi at Tanzara Gallery, Islamabad
(December 18, 2017)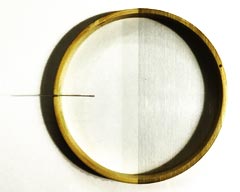 Art Review: Reading Between the Lines at Sanat Initiative, Karachi
(December 05, 2017)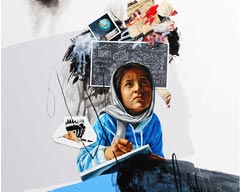 Art Review: The Onrushing 2 at Gallery 6, Islamabad
(December 04, 2017)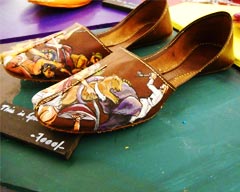 Daachi Arts and Crafts Exhibition 2017
(November 13, 2017)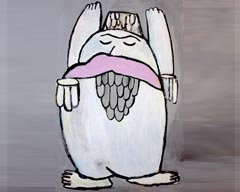 Art Review: 'Loompaland' at Studio Seven, Karachi
(November 09, 2017)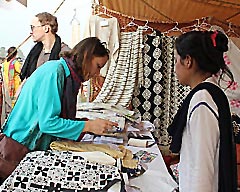 The Behbud Bazaar, Islamabad
(November 07, 2017)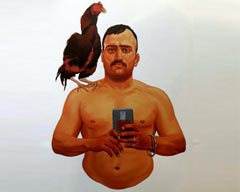 The Karachi Biennale 2017 (KB17)
(October 27, 2017)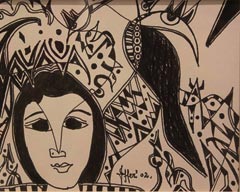 Wahab Jaffer Exhibition Opens at Tanzara Gallery, Islamabad
(October 20, 2017)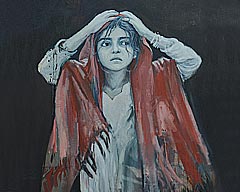 Art Review: Socio-Domestic at O Art Space, Lahore
(October 11, 2017)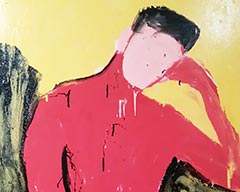 Art Review: 'Insta Loves II,' by Abdullah Qureshi at Satrang Art Gallery
(October 06, 2017)