The Lion City: Diving into Multi-Ethnic Singapore
Written by: Zara Qaiser
Posted on: June 05-2017 |

Comments | 中文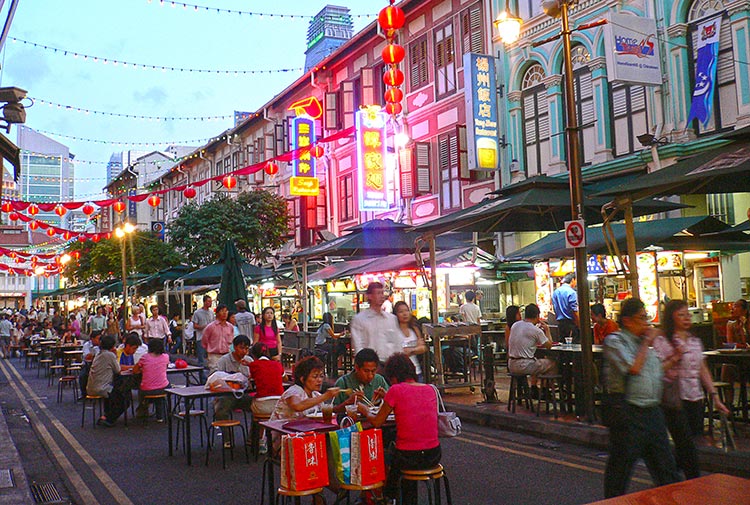 Chinatown Food Street
From becoming a British colony in 1819 to celebrating its 50th year of independence in 2015, Singapore has come a long way to become the Asian tiger that it is today. Despite the rapid economic growth that has changed the fate of this tiny island-state known for its high-rise buildings, one thing that it continues to boast of is the diversity in culture, language, religion and race. I will walk you through several famous tourist attractions representing the major ethnic groups living in Singapore.
When the various ethnic groups were allocated different localities during the British era, the ethnic Chinese settled in the Chinese Kampong (village), located southwest of the Singapore River – present-day Chinatown. The best way to experience the historical as well as modern significance of Chinese culture is to take a walking tour of the cluster of Chinatown streets. Stepping out of the Chinatown MRT station, you will enter the bustling Pagoda Street, a colourful lane filled with pre-war shophouses that were once opium dens, coolie houses and factories, still radiating the Chinese heritage with their characteristic wooden shutters and hanging red lanterns. Cute little shops on both sides of the street sell all kinds of souvenirs at 3 or 5 for S$10!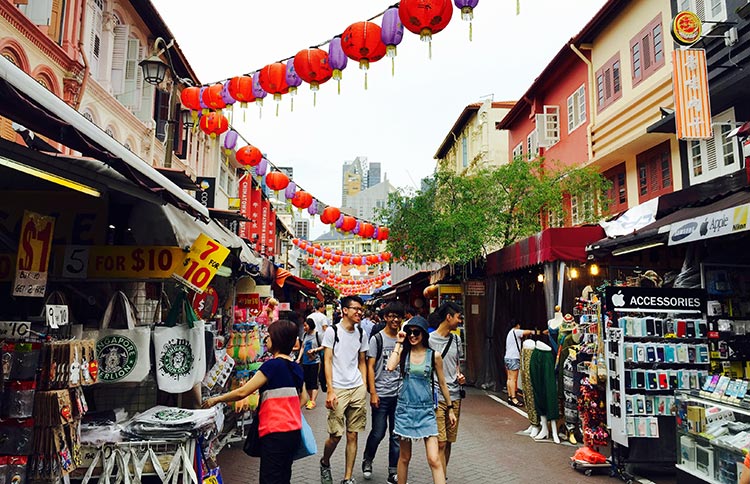 Pagoda Street in daylight
Located nearby is the Chinatown Food Street that has hawker stalls lined up on both sides, with hawkers calling out to try out their local delights like Char Kway Teow (stir-fried noodles) and Satay (barbecued meat on skewers), served with an amazing peanut sauce. For those who have a sweet tooth, the local dessert Ice Kacang is not only a treat for your taste-buds, but for your eyes as well – shaved ice drizzled with bright-coloured syrups, and topped with red beans, sweet corn and grass jelly. Chinatown Food Street opens onto South Bridge Road, housing a number of Chinese, Buddhist and Hindu temples, notably the Buddha Tooth Relic Temple and the Sri Mariamman Temple.
Geylang Serai is one of the oldest Malay settlements, which stands out from its adjoining areas due to the presence of shophouses, foreign workers' quarters and karaoke lounges along Geylang Road. At the heart of this Muslim community is the Geylang Serai Market and Food Centre, which attracts locals and tourists alike through its architecture built as a simulation of the typical Malay Kampong (village) houses. Walking through the wet market on the ground floor, you will bump into Malays doing their weekly grocery shopping, from Halal meat and spices to live seafood, tofu and noodles, used to prepare traditional Malay food. If you are too lazy to cook your own food, the mouth-watering aroma will take you one level up where you can have a taste of popular Malay dishes like Beef Rendang (spicy beef) with boiled rice and Nasi Goreng (fried rice).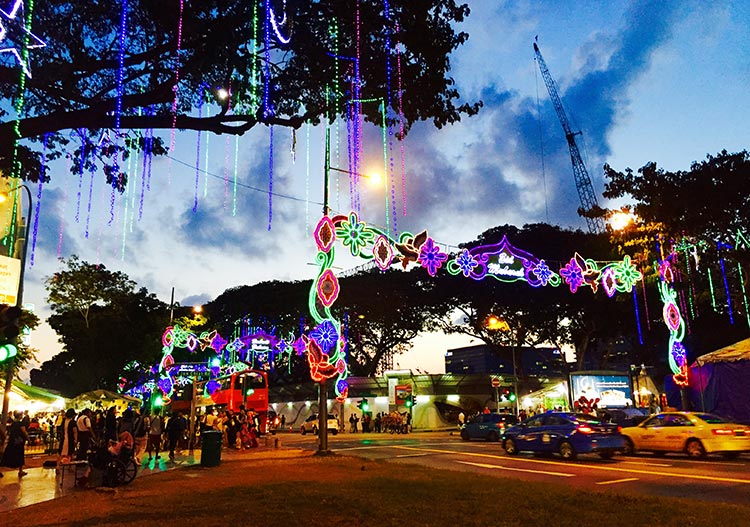 Bazaar Ramadan at Geylang Serai
Bazaar Ramadan in Geylang Serai is an experience like no other. Starting from the first day of Ramadan and running till Hari Raya Puasa (Eid-ul-Fitr), the bazaar is open daily from 4 pm till late night, offering a wide variety of stalls that line both sides of Geylang Road, selling everything from food, clothes, cosmetics and jewellery to curtains, bedding, artificial flowers and batik items. An interesting mix of all ages, races and religions can be seen queuing up at the food stalls, with some holding onto portable fans to fight the humid weather, sipping on cool beverages like Honeydew Lava, Salted Caramel Thai Tea and Volcano Watermelon, not commonly available elsewhere in Singapore.
Local Malay delicacies at Bazaar Ramadan
The Little India, which once had cattle herders, brick kilns and a racecourse, is now home to a large community of South Asian migrant workers, and is a destination for tourists who are keen on exploring South Asian life. Strolling down Serangoon Road and its neighbouring streets, you will come across boutiques with mannequins wearing Indian sarees, shops selling colourful bangles and jewellery, flower garland sellers, vegetable vendors, and a mix of worship places including Hindu and Chinese temples, mosques and churches.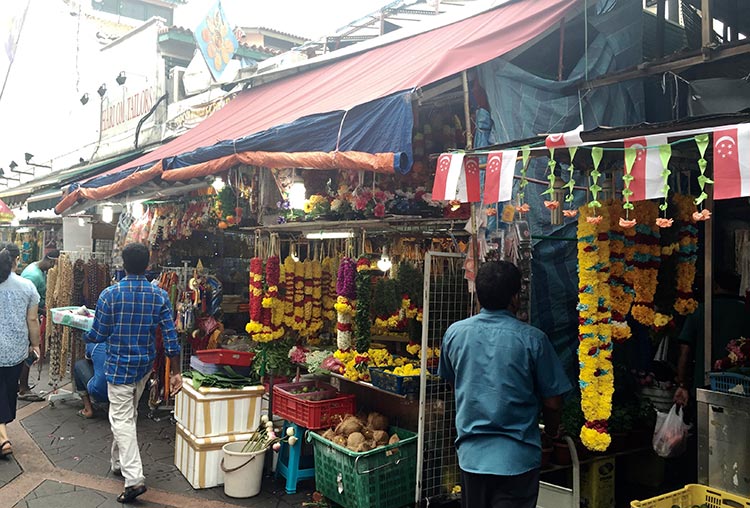 Flower garland vendors at Little India
Tekka Centre and Little India Arcade are a feast for the eyes. While Tekka Centre is similar to the Geylang Serai Market Place and Food Court, Little India Arcade will leave you awestruck, with shops overflowing with the fragrance of tasty Indian sweets like jalebi and the sound of upbeat Bollymood music playing in the background. Slip into one of the connecting streets and you will find Mustafa Centre – a 24-hour shopping mall that is starkly different from the modern malls found elsewhere in Singapore – selling everything from electronics to groceries. For adventurous foodies, there are a variety of North and South Indian restaurants along Serangoon Road where you can enjoy mouth-watering Biryani, Roti Prata and Teh Tarik (tea).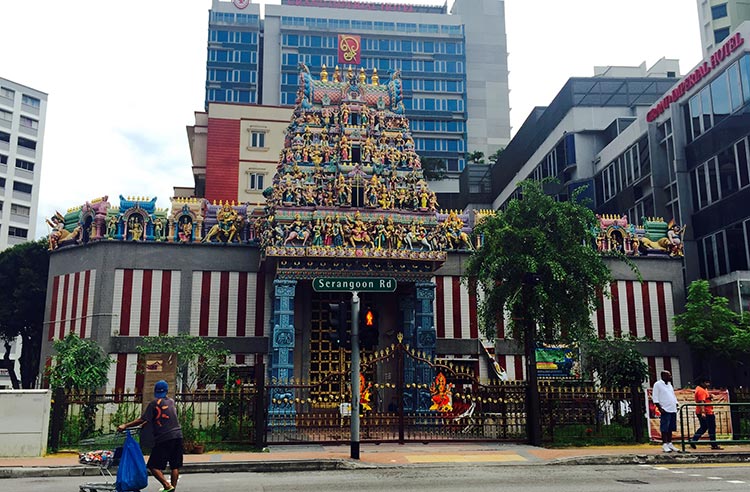 Sri Veeramakaliamman Temple at Serangoon Road, Little India
It would be a shame not to visit the Arab Street locality in Singapore, named after the 19th century Arab merchants. The main attraction here is the 200-year-old Sultan Mosque located on Muscat Street, with its huge golden dome and white minarets. Arab Street and the adjoining Bussorah Street and Haji Lane are lined with restored shophouses selling bright-coloured fabrics, hand-made Turkish carpets and lamps, and items such as prayer mats and Qurans. This locality is also well known for the variety of cuisines it offers, including Lebanese, Turkish, Indian and Malay food.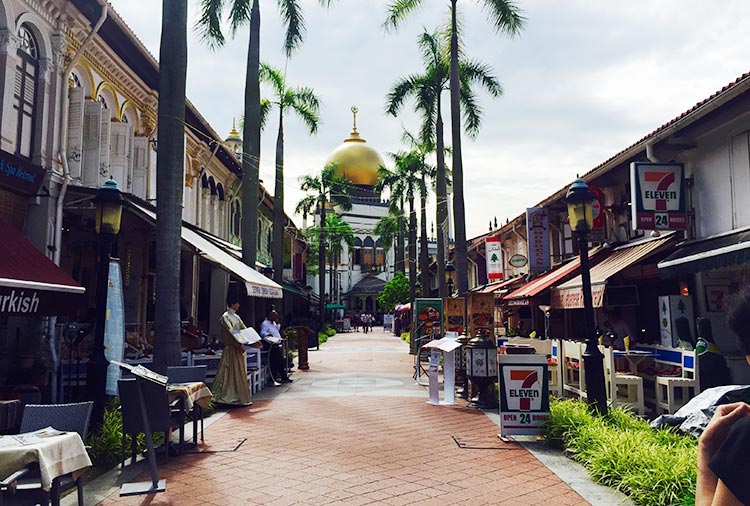 A captivating view of Sultan Mosque from Bussorah Street
Cosmopolitan Singapore gives one the opportunity to experience a diversity of races, religions and ethnic groups coexisting in harmony. This diversity is reflected in a variety of celebrations such as Chinese New Year at Chinatown, Eid at Geylang Serai and Diwali at Little India. Thanks to its welcoming and multicultural atmosphere, Singapore often features in the list of top ten cities in the world. It is indeed a place you must put on your travel bucket list, if you haven't already.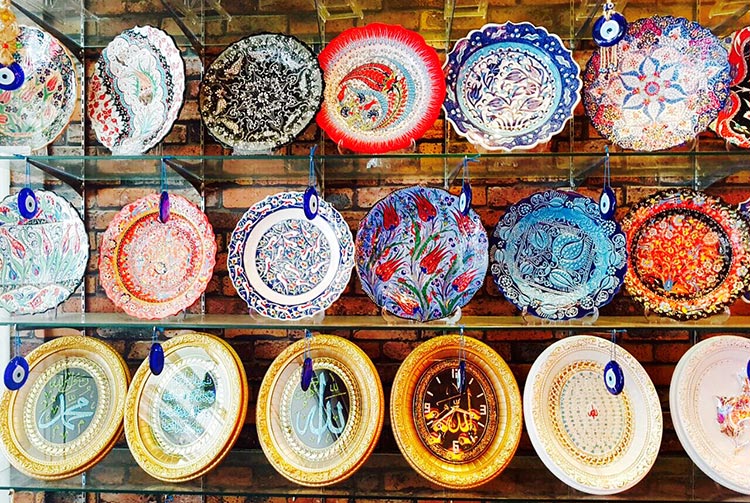 Turkish hanging plates on sale at Arab Street
You may also like: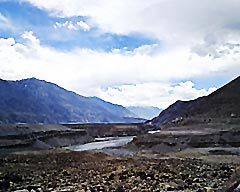 The Stunning Haramosh Valley and Kutwal Emerald Lake
(January 05, 2018)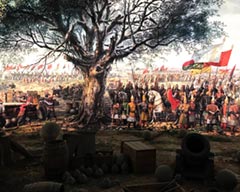 Istanbul's food streets resonate with history, culture and cuisine
(November 27, 2017)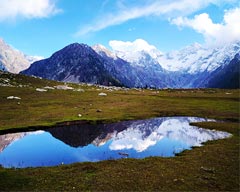 Trekking to Jahaz Banda
(November 03, 2017)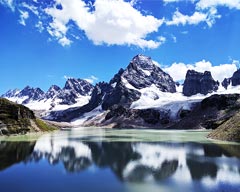 Diary of a Trekker: Arang Kel & Chitta Katha Lake
(September 27, 2017)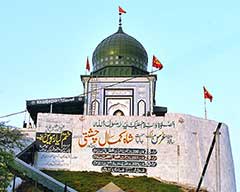 Kasur: A Day in the City of Shrines
(January 16, 2017)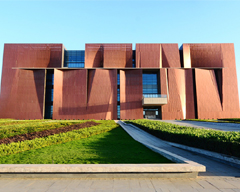 Yunnan Provincial Museum
(September 27, 2016)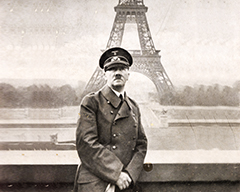 Nazi Legacies: Eagle's Nest and the Warsaw Uprising
(August 31, 2016)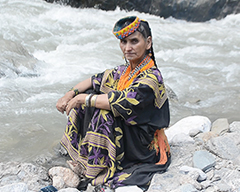 Experiencing Kalash: The Dwindling Pagan Tribe of Pakistan
(August 25, 2016)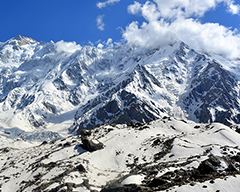 Meeting the Mammoth Part II: Nanga Parbat Base Camp
(July 11, 2016)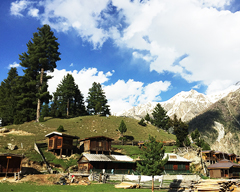 Meeting the Mammoth Part I: Trekking Up to Fairy Meadows
(July 05, 2016)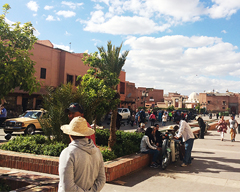 Marrakech Part II: A Walk through the Moorish and French Eras
(June 10, 2016)
Marrakech Part I: Getting a Feel of the City
(June 10, 2016)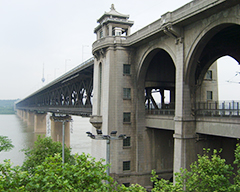 Wuhan: The Political, Economic and Cultural Center of Hubei Province
(March 08, 2016)