'One World' Brings a Multicultural Festival at PNCA
Written by: Sana Shahid
Posted on: May 08, 2017 |

Comments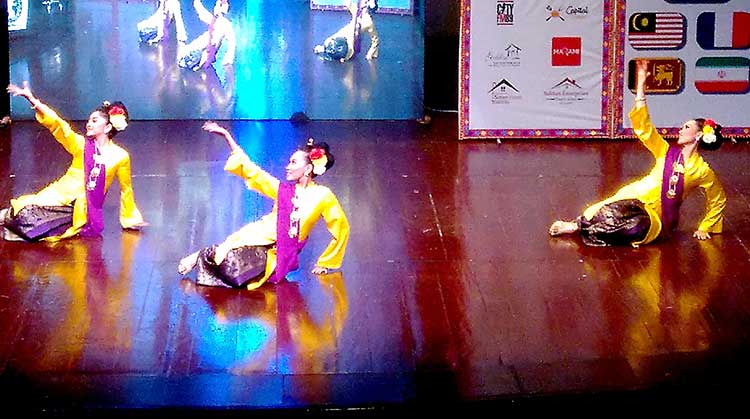 The event featured a marathon of performances by Malaysian groups
Cultural activities strengthen the roots of a nation by providing a platform for skilled and creative people to reveal their talent to younger generations, and bring them closer to their heritage. 'Cultural Diplomacy' was an event organized by One World at the Pakistan National Council of Arts (PNCA) from the 5th to the 7th of May, 2017. The event showcased the cultures of various countries under one roof, including Iran, Sri Lanka, Malaysia, France and the United States. As suggested by the title, the aim of the event was to create an inclusive platform for in-person interaction, peace and harmony among people from nations all over the world.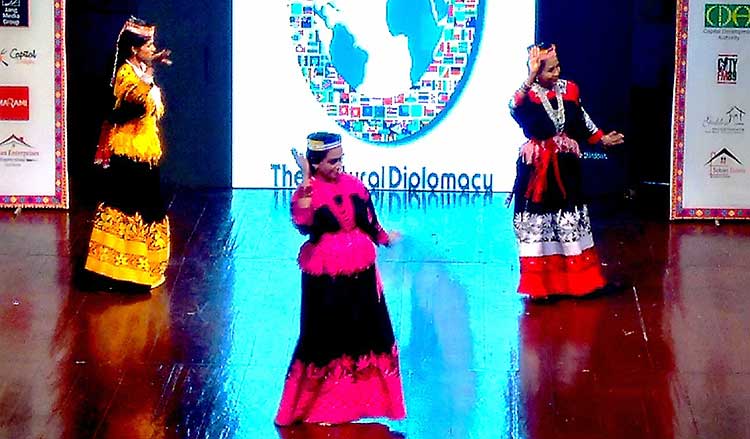 Kalash dance performance by Lok Virsa
The event spanned a weekend full of traditional festivities in Islamabad. The participating countries not only set up stalls exhibiting their food, culture, dresses, music, handicrafts and local products, but also entertained visitors with several musical and dance performances. The Malaysian and Iranian stalls were particularly impressive as they displayed their beautiful and intricate craftwork, while those of other counties followed more of a minimalistic approach. The exhibits were complemented by live Pakistani folk music that kept playing in the background throughout most of the festivities.
An Iranian stall featuring traditional crafts
The third day of the event was particularly memorable, as it included a grand closing ceremony of traditional musical and dance performances by representatives from Malaysia, France and Pakistan. The ceremony kicked off with the Pakistani National Anthem. Soon afterward, one of the organizers, Syed Muhammad Mehdi Kazmi, CU Match-Box, One World and Deputy Mayor of Islamabad, Syed Zeeshan Naqvi paid their respects to the honourable guests and acknowledged the valuable contributions of the High Commission of Malaysia, Iran, Sri Lanka and France. The celebration continued with a dance performance by young students of Roots School International on a melodious song, 'Shukria Pakistan', while a video documentary about Pakistan's progress and prosperity played in the background.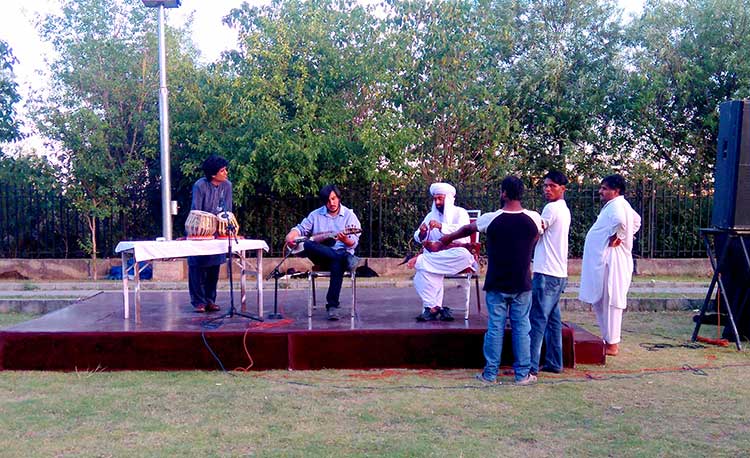 Melodious traditional music performance by Lok Virsa
The 6th anniversary of the friendship between Malaysia and Pakistan was celebrated with a marathon of mesmerizing performances by Malaysian troops. Although many of them performed in large groups, their movements, dresses and steps remained completely synchronized and harmonious. Their enthralling performances were concluded with the national song, 'Malaysia, Truly Asia'. It was one of the highlights of the entire event, and it received thunderous applause from the crowd.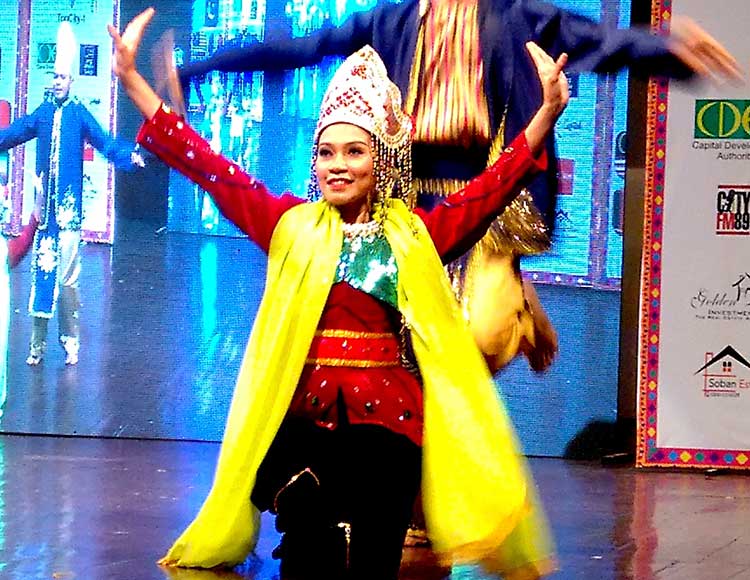 One of the various performances by Malaysian groups
"No matter what you do, always do your best", Sameera Shah addressed the audience, who is in charge of the European Desk at COMSATS Institute of Information Technology. Sameera, who completed her schooling in France, encouraged everyone to visit the country at least once in their lifetime.
Near the end, the night turned even more melodious with Pakistani folk dance performances. While Punjabi and Balochi folk dances were quite enjoyable, the Sindhi performers took the crown with their energetic and hypnotic ludi on the evergreen song, 'Hay Jamalo'.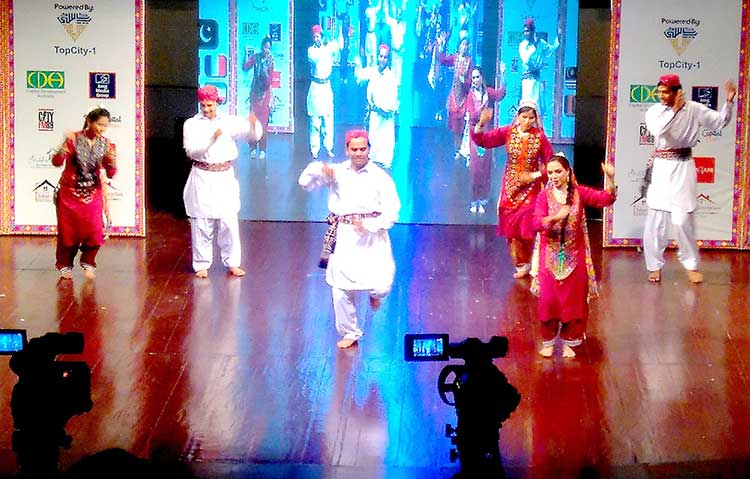 Sindhi dance performance on 'Hay Jamalo' by Lok Virsa
The three-day festival was a well-balanced mixture of a plethora of cultures from around the world. The event concluded with the Chief Guest, Dr. Tariq Fazal Chaudhry, Federal Minister of CADD (Capital Administration and Development Division), appreciating the performances and presenting souvenirs to the organizers and sponsors of the event.
You may also like: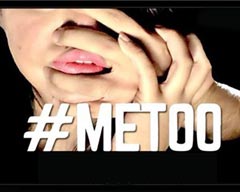 Theatre Review: #MeToo by BlankPage Productions
(January 12, 2018)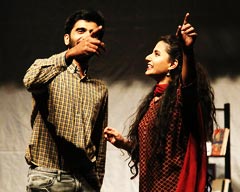 Theatre Review: Bol Kay Lubb Azad Hain Teray
(December 21, 2017)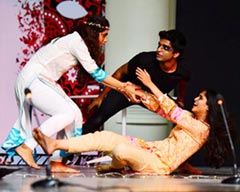 The Fringe 2017 – Intra-IBA Theatre Competition
(December 15, 2017)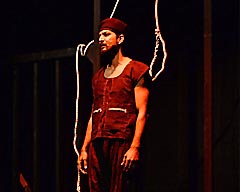 Theatre Review: Ajoka Theatre's 'Intezaar'
(November 30, 2017)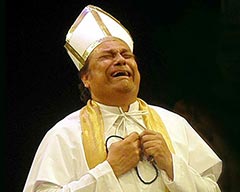 Theatre Review: 'Yahudi ki Larki' by NAPA at National Theatre Festival 2017
(November 02, 2017)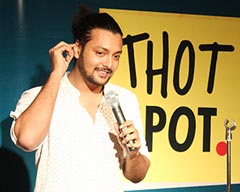 Bachay Panch Hi Achay (5 Kids are Enough) - A Saturday Night Comedy Show
(October 17, 2017)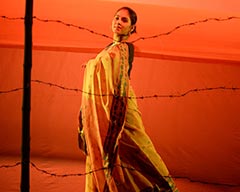 Ajoka Theatre's 'Shehr-e-Afsos - A City of Sorrow'
(October 13, 2017)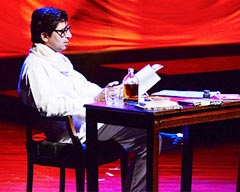 Theatre Review: 'Kaun Hai Yeh Gustakh' - Ajoka's Play about Manto
(October 12, 2017)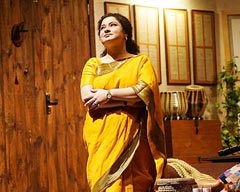 Theatre Review: 'Mushk - Fragrance' in Lahore
(October 10, 2017)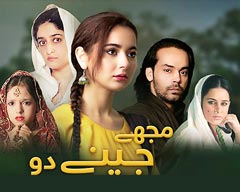 Drama Review: 'Mujhay Jeenay Doh'
(September 22, 2017)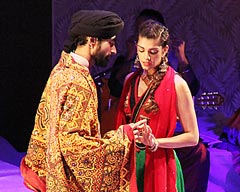 Heer Ranjha – Retelling Kaifi Azmi's Script in an Urdu Musical
(September 11, 2017)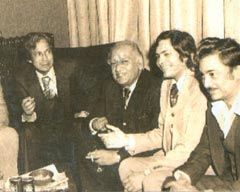 70 Years of Theatre: A Flashback Through the Ages
(August 30, 2017)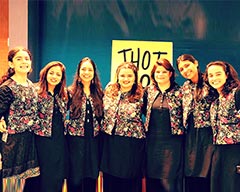 'The Khawatoons' Celebrate their First Anniversary!
(August 02, 2017)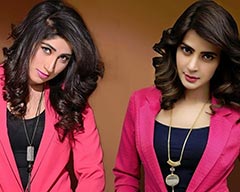 'Baaghi', a serial inspired by Qandeel Baloch
(July 31, 2017)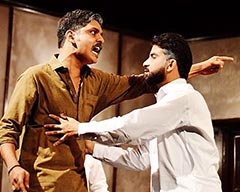 'Mulzim Ya Mujrim' – A Theatrical Production
(July 25, 2017)