NCA Thesis Display 2016 - The Budding Talent of Young Pakistani Artists
Written by: Mashal Imran Sadiq
Posted on: January 18, 2016 |

Comments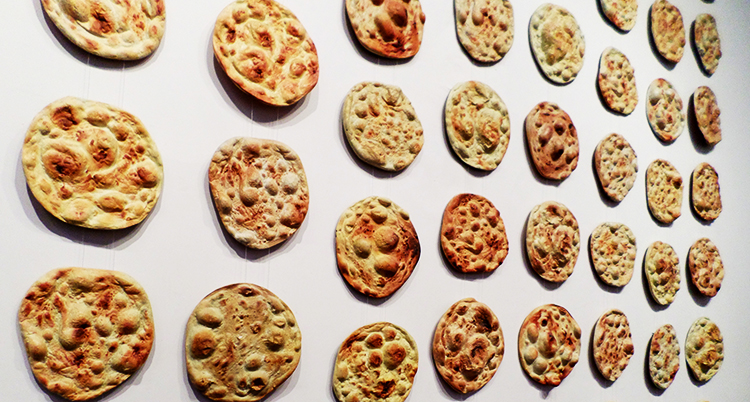 'Rotis' on fiberglass (Fine Art)
From the 10th to the 22nd of January 2016, the National College of Arts (NCA) offers the residents of Lahore the perfect antidote to the freezing winter air, as its Annual Thesis Display has proved to be a heartwarming experience for anyone with an appreciation for art and aesthetics. Arguably the biggest and most spectacular art extravaganza in the country, this year's event features the works of over 150 students from the graduating batches of the Fine Art, Design (Communication, Textile, Product and Ceramics), Architecture, Film & TV and Musicology departments. By surpassing all comprehensible standards of creativity and excellence, these young artists have succeeded in captivating the attention of the public, as hoards of visitors have been making their way to NCA to get a taste of what they have to offer. By serving as the perfect podium to launch these promising individuals onto the market, this thesis display has also secured the interest of reputed fashion labels, designers and professional institutions, with guaranteed jobs and contracts awaiting several outstanding students before they have even graduated.
Outmatching almost every other department in terms of quality and inventiveness, the works showcased under the banner of 'Fine Art' attracted the most audience and praise. Predominantly, artists incorporated elements from their everyday lives into their displays, inviting the audience to be a part of their stories. From rotis made on fiberglass to a visual representation of a student's own experiences at NCA, the Fine Art department put up work that could be proudly featured on any international forum. A standout mention belongs to Muhammad Mohsin Shaikh, whose pieces 'Repeat After Me' and 'Important Lessons' used oil-on-canvas to recreate blackboards and chalk, with the goal of critiquing the narrow-minded education system he has grown up in, where art is not accorded the value it deserves. Another brilliant effort is by Jahanzaib Akmal, whose works 'Shahi Farmville', 'Round 2, Fight' and 'Bird Hunt' blend the old and the new by using gouache-on-wasli to feature the Mughal Sultanate onto frames of 8-bit video games.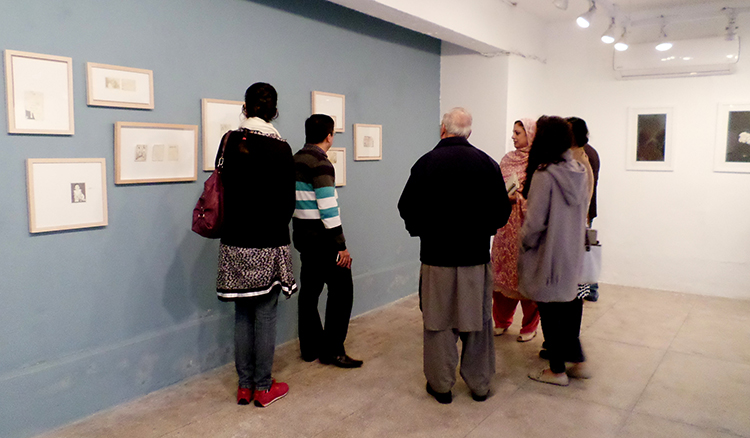 Visitors at the Miniature Studio
Among the most extraordinary were the displays put up by the Miniature Studio, where unfathomable degrees of precision and attention to detail resulted in pieces that are truly spellbinding. While one artist chose to travel back in time and recreate old photographs and postcards with ink, another used the symbol of a teddy bear on fire as a portrayal of his inner self against the world. Among the standout works was Nerda Waqar's intricate rendering of herself onto real-life photographs of her mother's life. "I wanted to use elements of my mother's life, such as her singing and dancing, to not only pay a tribute to her through art, but also build a connection with her and identify my own self better as a result", she explained to a group of observers marveling at her project. Within the Fine Art department, Sculpture served as another visual delight, with works like Sarwat Shafqat's series on acrylic leaving the audience mystified and thoughtful at the same time. As for Painting, Anum Liaqat singlehandedly stole the show for her redefinition of 'still life'; her huge display reminded one of Miss Havisham's abandoned mansion, as an air of antiquity uniformly enveloped different household items, only to be broken by the ticking of a cleverly placed clock.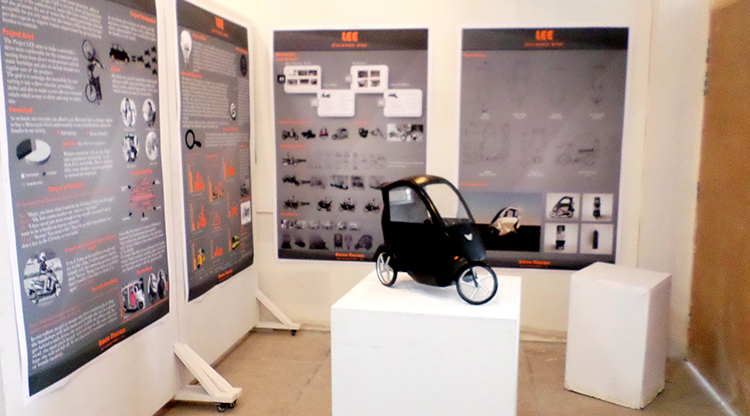 Product Design
Within Designs, Communication and Textile fell short of the exceedingly high expectations generated by past annual thesis displays, but Product and Ceramics featured works that redeemed the department's standard and quality. In Product Design, new heights of creativity were touched by students like Syed Ali Aadil, who presented an idea desperately needed in Lahore; his thesis was called 'Temar: First Responder', featuring a stretcher attached to a motorbike for the sake of offering first aid services in congested areas. Similarly in Ceramics, distinction-holder Sania Naveed highlighted the unnecessary costs involved in the making of tiles in the cement industry, and proposed a solution through her thesis – a new kind of paver tile she calls 'Ossifi'. Her idea has quickly caught the attention of the media, so much so that she has filed a provisional patent application to claim intellectual property rights for her product. Another distinction has been awarded to Rehan Rizvi for his thesis 'Acoustic Control Ceramic Tile Solutions – A.C.C.T.S', based on soundproof ceramic tiles that are able to reduce reverberations without compromising on the quality of sound.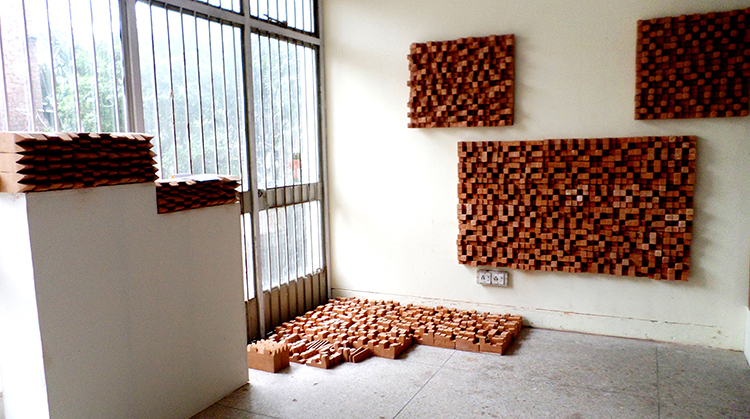 Rehan Rizvi received a distinction for his thesis, 'A.C.C.T.S'
A visit to the Architecture department left no curiosity as to why these students are the most sought-after graduates in the professional sphere; they managed to put up fully functional maps of different buildings, from the construction of hotels on the bank of River Ravi to prisons in Haripur. As for Film & TV and Musicology, one was left wanting more, apart from a couple of works that were laudable, such as Diyach Thebo's film Wesaah and Qumarosh Abbash Khan's detailed work on the 'Rabab'.
Taking all the different departments together, this year's thesis display has taken NCA's already existing reputation of brilliance and ingenuity one step further by showcasing some rather brilliant talent. Taking a walk through the historically rich campus and conversing with students about the thought processes that went into their projects makes for a truly memorable experience. All in all, the level of creativity showcased by these artists promises to seed a love for art even in the most apathetic Lahori, and commands a visit as soon as possible!
You may also like: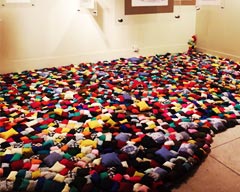 NCA Rawalpindi Degree Show 2017
(January 17, 2018)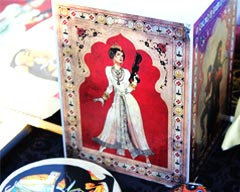 Winter Fete, Islamabad
(January 09, 2018)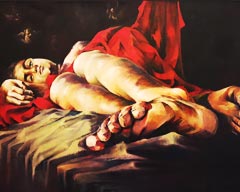 Review: 9th National Exhibition at PNCA
(January 02, 2018)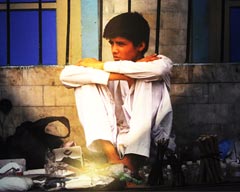 Yeh Hai Karachi 2: Photography and Film Exhibition
(December 20, 2017)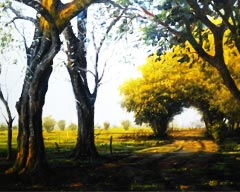 Art Review: Punjab Romanticism by Zulfiqar Ali Zulfi at Tanzara Gallery, Islamabad
(December 18, 2017)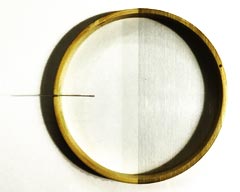 Art Review: Reading Between the Lines at Sanat Initiative, Karachi
(December 05, 2017)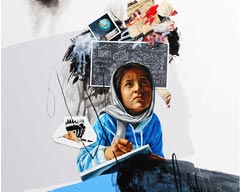 Art Review: The Onrushing 2 at Gallery 6, Islamabad
(December 04, 2017)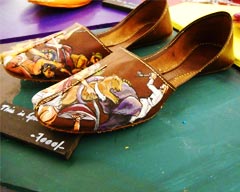 Daachi Arts and Crafts Exhibition 2017
(November 13, 2017)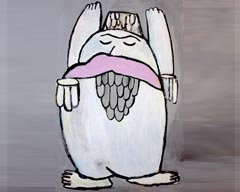 Art Review: 'Loompaland' at Studio Seven, Karachi
(November 09, 2017)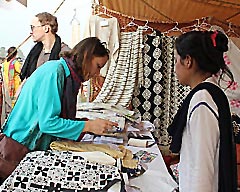 The Behbud Bazaar, Islamabad
(November 07, 2017)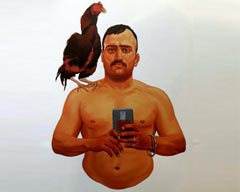 The Karachi Biennale 2017 (KB17)
(October 27, 2017)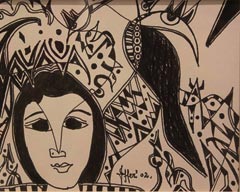 Wahab Jaffer Exhibition Opens at Tanzara Gallery, Islamabad
(October 20, 2017)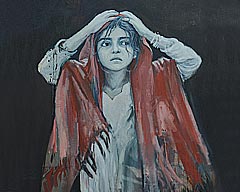 Art Review: Socio-Domestic at O Art Space, Lahore
(October 11, 2017)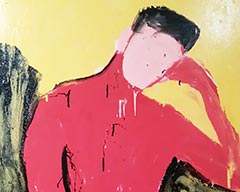 Art Review: 'Insta Loves II,' by Abdullah Qureshi at Satrang Art Gallery
(October 06, 2017)