'Kaun Sunta Hai' - Acting Out the Unspoken on Stage
Written by: Farheen Abdullah
Posted on: October 13, 2015 |

Comments | 中文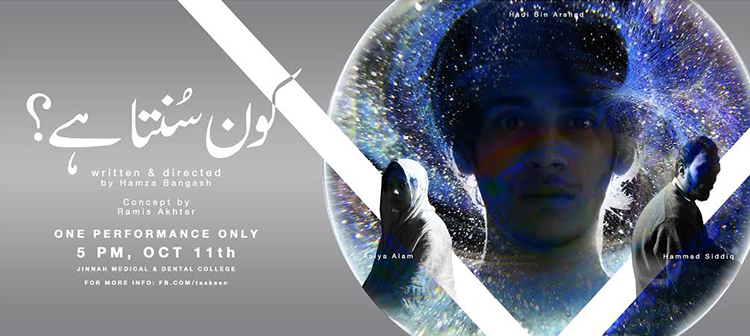 'Kaun Sunta Hai' aims to eradicate the social stigma associated with mental illness
While Sunday, 11th October, 2015 might have been just another end to a regular week for the residents of Karachi, it provided an altogether unique experience for the audience that gathered at the Jinnah Dental and Medical College that evening; one that was both awakening and moving.
As part of an initiative for mental health and emotional well-being, Taskeen, a Karachi-based mental health NGO, set out to eradicate the stigma associated with mental illness in society, on the weekend of World Mental Health Day. Written and directed by Hamza Bangash, a talented artist who has repeatedly excelled in the making of documentaries and short films, Kaun Sunta Hai tells the story of Gulzar, an 18-year-old boy suffering from Bipolar Disorder, who makes his way from the shackles of mental illness and self-doubt to an open world of hope and empowerment.
Sharing the journey of Ramis Akhtar, one of the students at Aga Khan University (AKU), the short play aimed to highlight the role of the individual's family in accepting the mental condition as just another pebble in the shoe and eventually fighting it off. "Through Sohail's (the father) character, we wanted to highlight the stigma attached to mental illness. By overcoming his own beliefs, Sohail was finally able to reunite with Gulzar (the son) and work towards a brighter future together. For people suffering with mental illnesses, the support of the family is crucial in the treatment process, and we want to encourage a Pakistan where that happens", Hamza Bangash explained.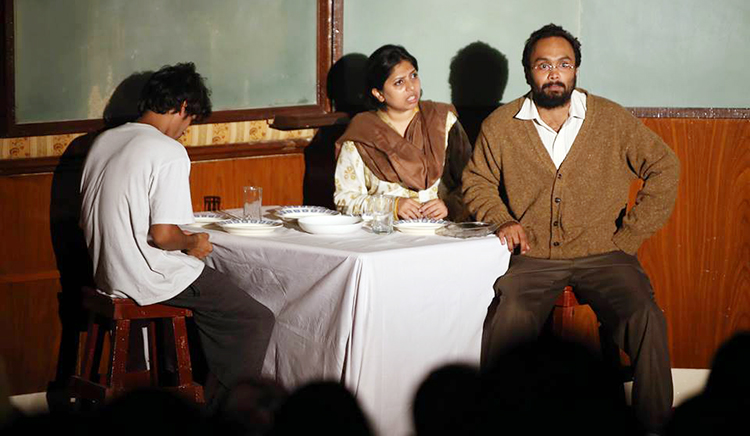 (l-r) Hadi Bin Arshad, Asiya Aslam and Hammad Siddiq did a phenomenal job with each of their characters
In an increasingly commercialized world, the play was performed free of cost for an audience of about a hundred and fifty people in a humble setting. However, with the correct placement of props, the loud and clear delivery of dialogues, and the impressive stage lighting, Kaun Sunta Hai proved to be a brilliantly executed performance. Sticking to his stance of "I'd rather work with one really good actor than with twelve really bad actors", Bangash chose to assign multiple characters to the three lead actors, a technique that has been witnessed in his previous projects as well. Needless to say, Hadi Bin Arshad, Asiya Aslam and Hammad Siddiq did a phenomenal job with each of their characters, and the transition from one role to the other was made clear through visible differences in their speech and behavior. Hadi's acting, especially, sent chills through the spectators as he became victim to his bipolar personality in some unsettling sequences.
Concluding with an interactive session between the viewers and the organizing team during which ideas and suggestions were exchanged, the evening gave the audience a chance to indulge in voluntary activities after the show and visit stalls set up at the venue to spread awareness regarding World Mental Health Day.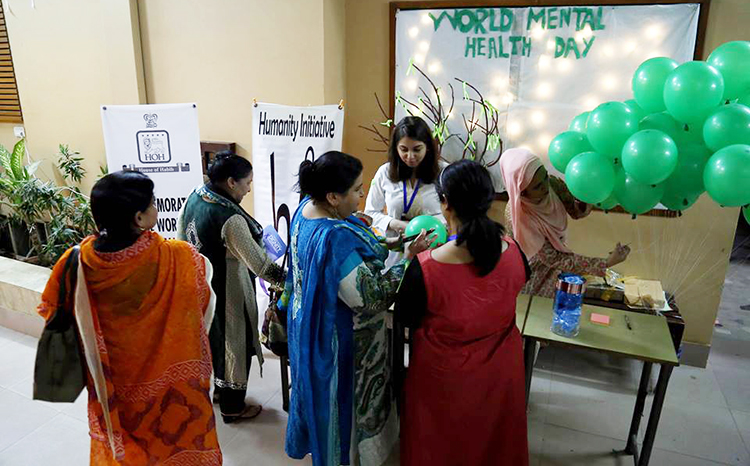 Spreading awareness on World Mental Health Day after the play
The show may have ended in one hour, but the impact it left on the audience will certainly be long-lasting. In a society where mental illness is still looked down upon, one can only hope that more forward-looking individuals are able to contribute towards removing the prevalent stereotypes, the foundation for which has already been laid by Taskeen and Hamza Bangash Films.
Images provided by 'Taskeen' and Hamza Bangash
You may also like: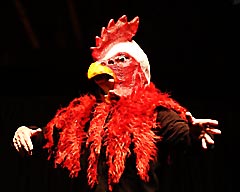 Rafi Peer International Puppet Festival 2018
(January 23, 2018)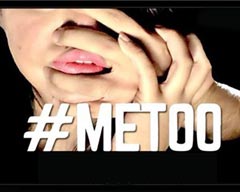 Theatre Review: #MeToo by BlankPage Productions
(January 12, 2018)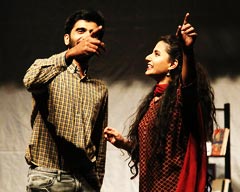 Theatre Review: Bol Kay Lubb Azad Hain Teray
(December 21, 2017)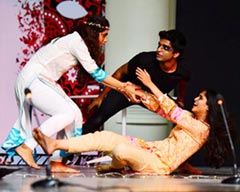 The Fringe 2017 – Intra-IBA Theatre Competition
(December 15, 2017)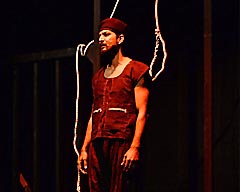 Theatre Review: Ajoka Theatre's 'Intezaar'
(November 30, 2017)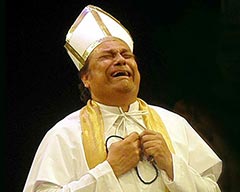 Theatre Review: 'Yahudi ki Larki' by NAPA at National Theatre Festival 2017
(November 02, 2017)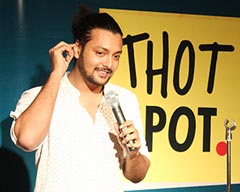 Bachay Panch Hi Achay (5 Kids are Enough) - A Saturday Night Comedy Show
(October 17, 2017)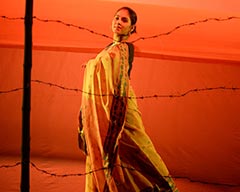 Ajoka Theatre's 'Shehr-e-Afsos - A City of Sorrow'
(October 13, 2017)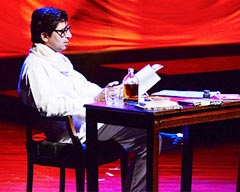 Theatre Review: 'Kaun Hai Yeh Gustakh' - Ajoka's Play about Manto
(October 12, 2017)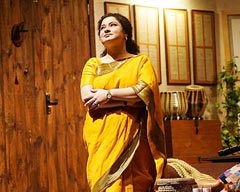 Theatre Review: 'Mushk - Fragrance' in Lahore
(October 10, 2017)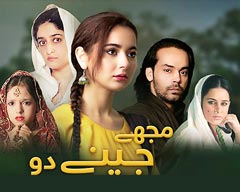 Drama Review: 'Mujhay Jeenay Doh'
(September 22, 2017)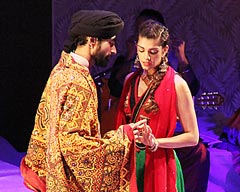 Heer Ranjha – Retelling Kaifi Azmi's Script in an Urdu Musical
(September 11, 2017)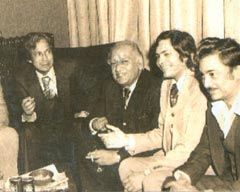 70 Years of Theatre: A Flashback Through the Ages
(August 30, 2017)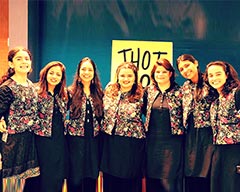 'The Khawatoons' Celebrate their First Anniversary!
(August 02, 2017)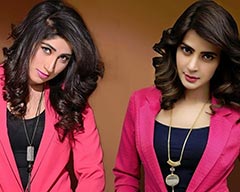 'Baaghi', a serial inspired by Qandeel Baloch
(July 31, 2017)