'Mulzim Ya Mujrim' – A Theatrical Production
Written by: Farheen Abdullah
Posted on: July 25, 2017 |

Comments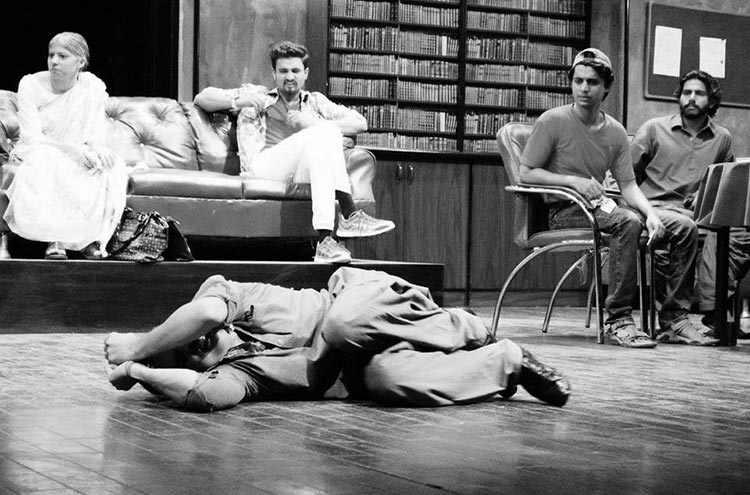 Mulzim Ya Mujrim - A Theatrical Production
Stage Nomad Productions are putting up their third play, Mulzim Ya Mujrim, at the Karachi Arts Council this July. With back to back shows from 14th to 30th July, the drama has been directed by Meesam Nazar Naqvi. An adaptation of the Golden Bear winning American Motion Picture 12 Angry Men, the story follows 12 jurors who need to reach a unanimous decision regarding an individual accused of killing his father. While most of them are adamant on declaring him guilty, one female juror, Juror 8 (Kulsoom Fatmi), brings in an argument of reasonable doubt, and spends the remaining play trying to convince her fellow jurors.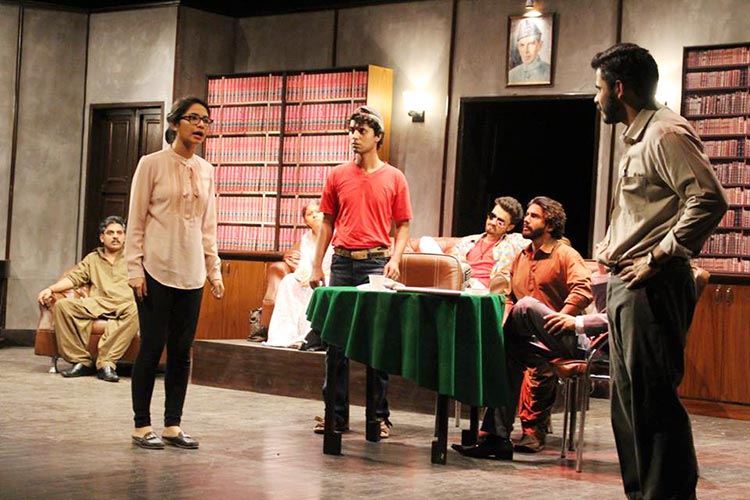 Juror 8 (Kulsoom Fatmi on the left) tries to convince Juror 3 (Yogeshwar Karera on the right)
"An artist's work should reflect his own beliefs and I subscribe to the principle of innocent-until-proven-guilty. Mulzim Ya Mujrim reflects the concept of reasonable doubt, an essential element of the Western judicial system, which entails that only evidence which is beyond reasonable doubt can be used for a conviction. The play aims to situate the concept within a Pakistani context," shared Meesam Naqvi.
Beyond the innocent versus guilty debate, the play delves into several other themes. While the original film only had male characters, Mulzim Ya Mujrim adds two female characters to the cast. The interplay between the men and women highlights the patriarchal nature of Pakistani society. Furthermore, allocating the characters numbers (such as Juror 8), instead of giving them names, strips them of their distinct identities. The emphasis is on everyone being equal before the law and the jurors' personal lives becoming insignificant in the court room. Another interesting element is the absence of the individual whose case is being discussed. The subject never appears on stage which keeps the audience in constant suspense. This technique proves that a significant character does not necessarily have to be onstage to make his presence felt. What initially comes across as a rather simple play ends up being an eye opener, revealing how much power one person can hold over another person's fate, and emphasizing the importance of concrete evidence for life-altering judgments.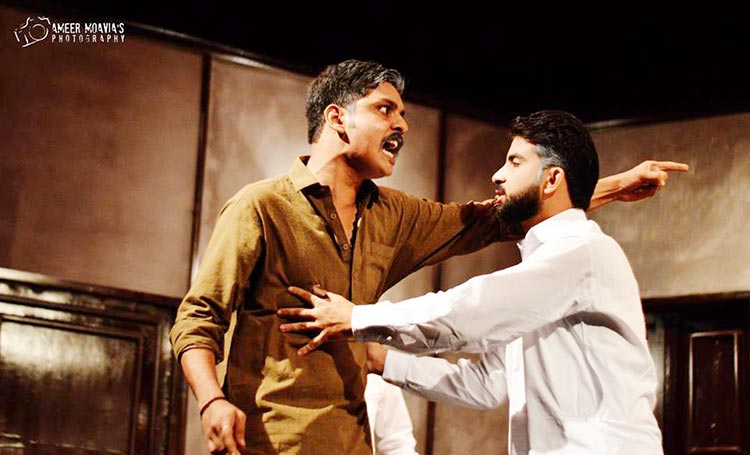 Juror 10 (Faraz Ali on the left) and Juror 11 (Malik Jibran Tariq on the right)
What is truly remarkable is the usage of a single set for the entire duration of the play, without the lights going off even once. This shows the confidence of the team, which pulls off a nearly two-hour long performance in one stretch.
Those who have previously watched performances put up by Stage Nomad Productions will definitely recognize a few familiar faces including those of Osman Sheikh, Shah Hasan, and Yogeshwar Karera, all of whom are final year students at IBA. However, the cast has new faces as well, such as the few final year students from NAPA, and this is in line with Stage Nomad's promise to deliver fresh talent.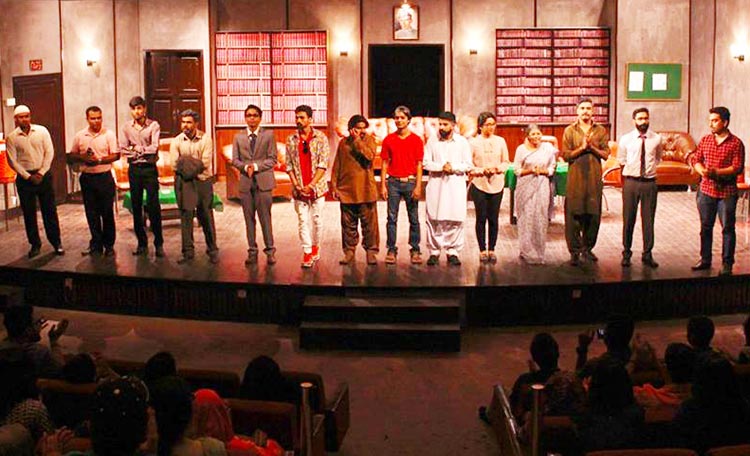 Team Mulzim Ya Mujrim
However, despite all its strengths there are certain areas of the production which could be improved. One element which lacks finesse is the use of comic relief. On some occasions, the comedy plays out quite well but is often distasteful in serious situations. To add to this, the audience also displayed inappropriate behaviour, such as when they laughed because a female character was being put down due to her gender. Moreover, Stage Nomad Productions has only been functioning as a platform for theatre enthusiasts since 2016. Perhaps, this is why the management haven't done a good job at marketing and public relations. Despite their noble aims, can Stage Nomad succeed in the long-run, if they cannot pull together as a team? Only time will tell.
All photography by Ameer Moavia and Hamza Khan
You may also like: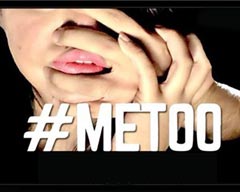 Theatre Review: #MeToo by BlankPage Productions
(January 12, 2018)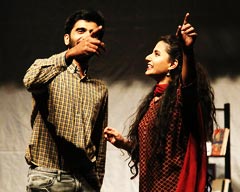 Theatre Review: Bol Kay Lubb Azad Hain Teray
(December 21, 2017)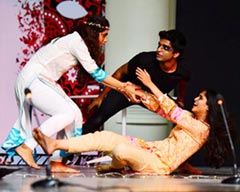 The Fringe 2017 – Intra-IBA Theatre Competition
(December 15, 2017)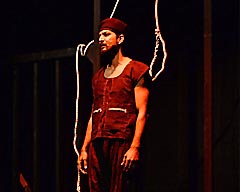 Theatre Review: Ajoka Theatre's 'Intezaar'
(November 30, 2017)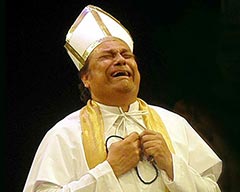 Theatre Review: 'Yahudi ki Larki' by NAPA at National Theatre Festival 2017
(November 02, 2017)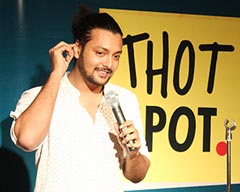 Bachay Panch Hi Achay (5 Kids are Enough) - A Saturday Night Comedy Show
(October 17, 2017)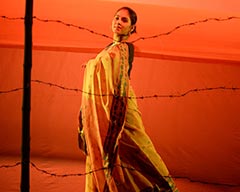 Ajoka Theatre's 'Shehr-e-Afsos - A City of Sorrow'
(October 13, 2017)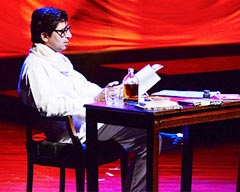 Theatre Review: 'Kaun Hai Yeh Gustakh' - Ajoka's Play about Manto
(October 12, 2017)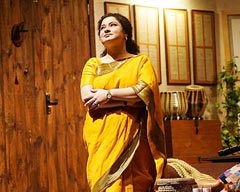 Theatre Review: 'Mushk - Fragrance' in Lahore
(October 10, 2017)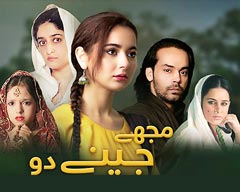 Drama Review: 'Mujhay Jeenay Doh'
(September 22, 2017)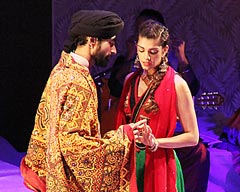 Heer Ranjha – Retelling Kaifi Azmi's Script in an Urdu Musical
(September 11, 2017)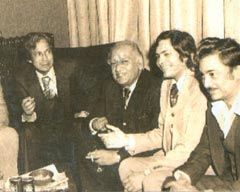 70 Years of Theatre: A Flashback Through the Ages
(August 30, 2017)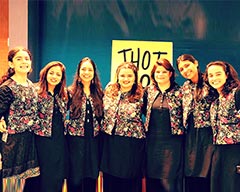 'The Khawatoons' Celebrate their First Anniversary!
(August 02, 2017)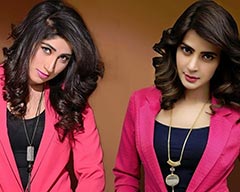 'Baaghi', a serial inspired by Qandeel Baloch
(July 31, 2017)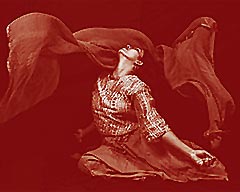 'Goonj – Echo': A Solo Dance Performance by Suhaee Abro
(July 18, 2017)