President Xi Jinping: A Man of Vision
Written by: Aiza Azam
Posted on: April 18, 2015 |

Comments | 中文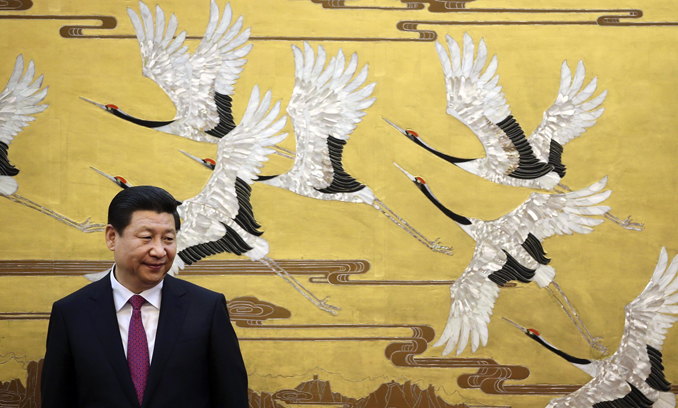 President Xi Jinping of China
President Xi Jinping of China is largely recognized as the most powerful and influential leader in the country since recent times. Comparisons have been drawn with revolutionary leaders Mao Zedong and Deng Xiaoping, drawing on Xi's first two years as President. These comparisons reflect not only his leadership style and authority, but are also a nod to his greater sense of connectivity with the common Chinese man than was shared by his immediate predecessors.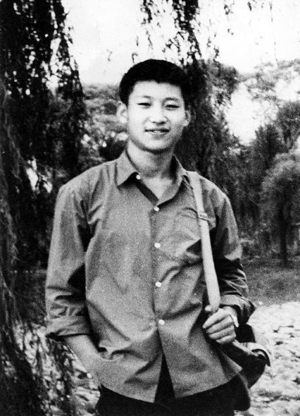 Young Xi Jinping, 1972, during the time he was serving in the countryside
He is the son of Xi Zhongxun, a founding member of the Communist Party. As a 15 year old, Xi Jinping was sent to the countryside like many of his contemporaries, where he would labour for 8 years, working alongside the local villagers. They remember him as a sincere and honest man, very much one of them. After returning to Beijing, he pursued a degree in Chemical Engineering from the prestigious Tsinghua University, and in 1974 he joined the Communist Party, beginning with a post as local party secretary in the province of Hebei. In 1985, he spent some time living in the United States, on an agricultural research trip in rural Iowa. Rising through the party ranks, he served in senior positions in the provinces of Fujian and Zhejiang before finally being appointed as Party Chief of Shanghai in 2007. Subsequently, he was promoted to the Standing Committee, and in 2008 he became the Vice President of China.
Possessing a nationalistic outlook centered on a belief in Chinese greatness, President Xi, since his ascension to power, has overseen a number of important initiatives, both internally and in the international sphere. One of the most prominent examples is an energetic anti-corruption campaign, bringing down 'tigers' and 'flies' in the government and armed services. While previous governments have carried out similar exercises, the difference this time around is visible, not only for the sharp increase in the number of cases being pursued but also for the surprisingly high profiles of some of the targets. The message is clear: one rule applies to all.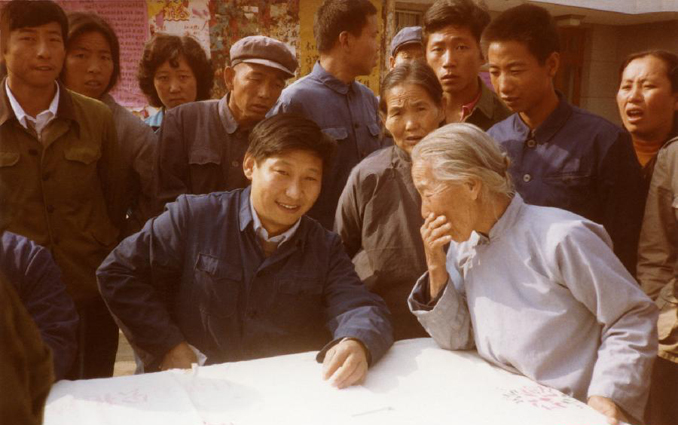 Xi Jinping then secretary of Zhengding County Committee of CPC in Hubei porivnce, talks to villagers 1983
Critical voices have pointed to the emergence of a governing structure in which authority is increasingly centralized. The President serves as Head of the Communist Party, the CPC, the Central Military Commission, the National Security Commission, the Leading Group for Deepening Reform on National Defenseand the Leading Group for All-around Deepening Reform. However, many are viewing this as conducive to a return to core Party values and the preservation of the Party itself, noting that President Xi's assumption of his country's leadership came at a time when the Party found itself in crisis and faced with a growing sense of public disillusionment.

President Xi Jinping (middle) with the Politburo Standing Committee
This view is supported by President Xi's advocacy of a return to Confucian values and the revival of the Chinese nation. He has articulated his vision of a 'Chinese Dream' aimed at reclaiming national pride in parallel with achieving individual socio-economic well-being.
In the last two years, Chinese foreign policy has taken a more assertive tone. China is arguably doing no less than aligning its diplomacy with its global economic and political status. If viewed in the context of President Xi's domestic measures to revitalize Chinese society and the Party's role, this new diplomacy aims at affording China the role of regional and global leadership that falls naturally to it, different from previous years where it was punching well below its weight.
Alarmist voices are easily discredited when the broader regional context, with China at its core, is taken into view. At a time in history when political power is shifting inexorably to the East, ushering in an 'Asian century', no other country is better positioned than China to play a positive leading role, whether by virtue of its economic might, its political prowess, its geographical positioning or its historical legacy.
Critical to note is that the Chinese style of leadership manifested through President Xi's policies, which emphasizes a 'win-win' formula aimed at mutual progress and benefit, is in stark contrast to a traditionally Western mode of 'partnership' where decision making is skewed, where aid or assistance is laced with a disproportionate number of conditions, and which often manifests shocking disregard for domestic considerations and interests.
For Pakistan, which has long enjoyed a partnership with China based on a solid foundation of friendship, trust and mutual respect, this moment in history affords the former an unprecedented opportunity for positive change - both in terms of domestic socio-economic uplift as well for carving out a revived international image – and for fully cashing in on the geo-strategically advantageous position it holds. Through the China-Pakistan Economic Corridor, part of the Silk Road initiative which President Xi has undertaken, Pakistan will be able to lift itself from the quagmire that is stalling its development. It is significant that the working relationship in this project is built on monetary conditions that are very favorable to Pakistan and have few parallels beyond Sino-Pak bilateral ties.
President Xi Jinping's China continues to consolidate itself in a leadership role that will usher in regional stability and prosperity. Pakistan, for one, welcomes the promise of progress.
You may also like: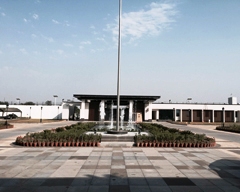 The Opening of the New Chinese Embassy Compound
(June 17, 2015)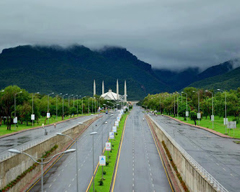 Silk Road: Discovering Taxila and Islamabad-VII
(April 10, 2015)

Chinese Embassy Hosts National Day Reception
(October 01, 2012)

Chairman PCI, Senator Mushahid Hussain Sayed, hosts delegation from China Foundation for International Studies
(September 19, 2012)

Pakistan-China Institute at China-Eurasia Expo: Mushahid terms Xinjiang as 'bridge between Asia and Europe'
(September 10, 2012)

Gwadar: From Slumber to Strategic Hub
(July 30, 2012)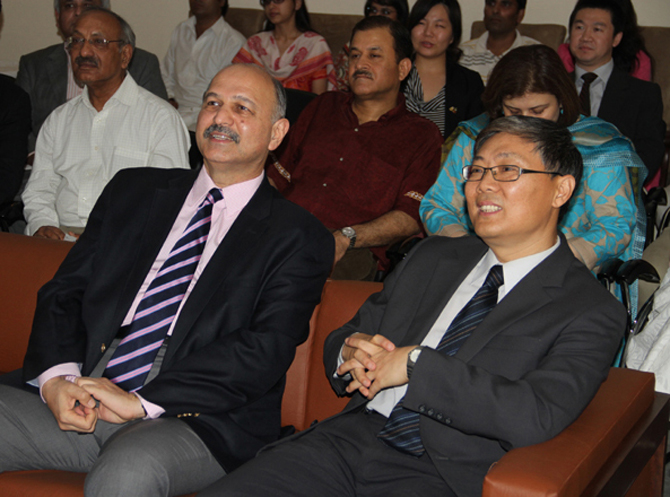 How I dream of a Pakistan
(July 25, 2012)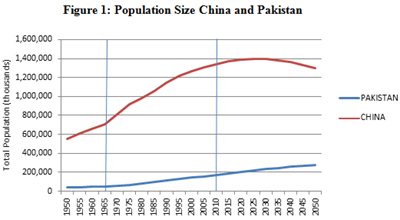 Pakistan and china: demographic opposites that could attract!
(July 10, 2012)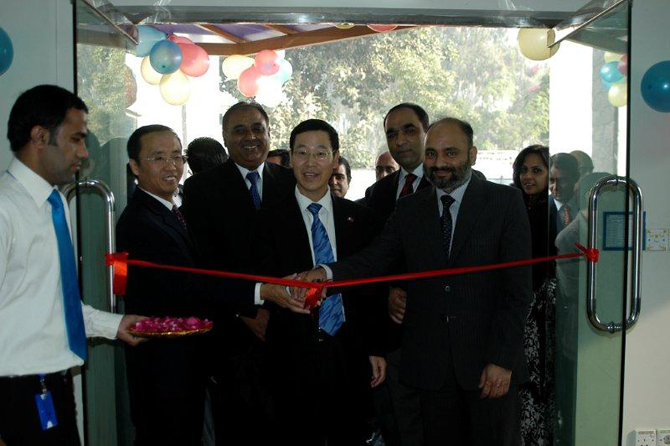 Zong: China Mobile in Pakistan
(July 10, 2012)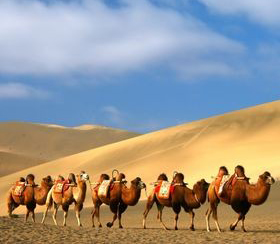 The Ancient Silk Road: A Channel that Linked the West and East
(July 10, 2012)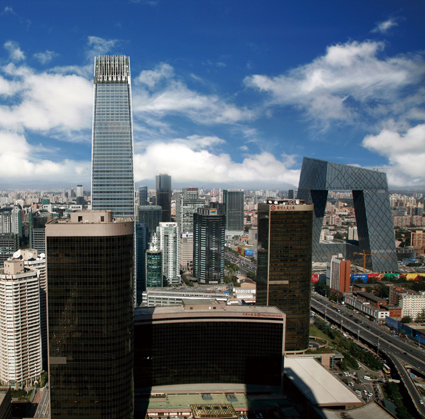 Guide to Visitors of Beijing
(July 10, 2012)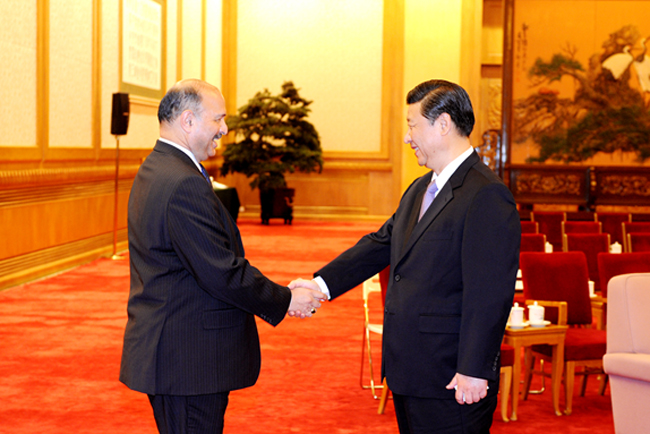 Pakistan-China Relations: Strategic Partners in The 21st Century
(July 29, 2012)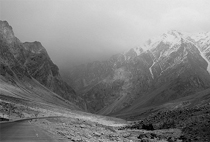 The Karakorum Highway: A Friendship Channel
(July 28, 2012)