The Music Will Live On: Reference for Amjad Sabri at Lok Virsa
Written by: Sana Shahid
Posted on: July 01, 2016 |

Comments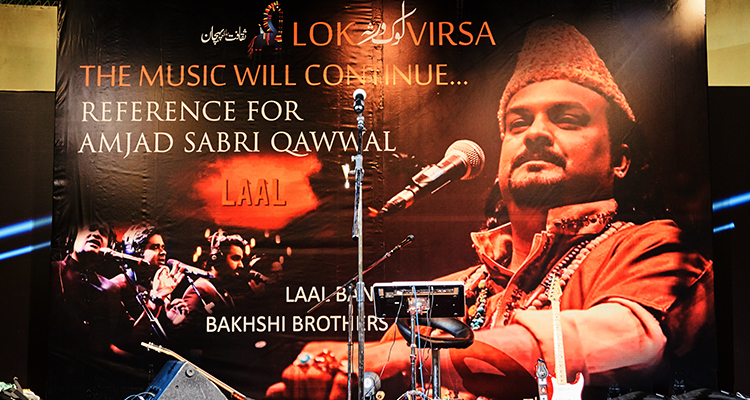 Stage Backdrop at the Lok Virsa Media Centre
Musicians never truly die; a part of them lives on through their music. Lok Virsa, one of the premier creative spaces in the capital city, took the initiative to pay tribute to the late Amjad Sabri Qawwal on Friday, 30th June, 2016, at the Lok Virsa Media Centre.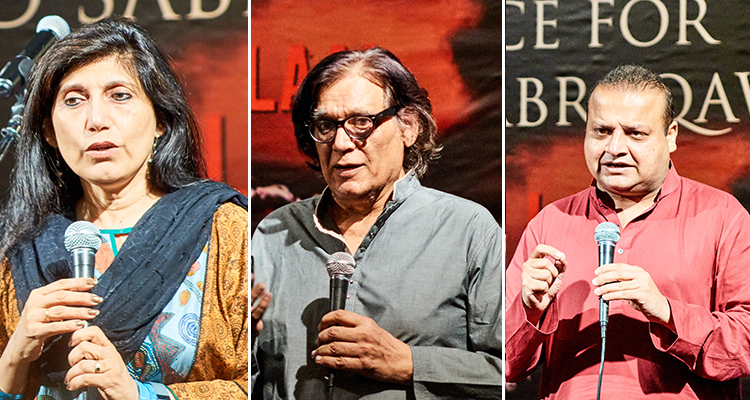 (l-r) Dr. Fouzia Saeed, Farooq Qaiser and Ammar Masood
The event took off with a speech from Farooq Qaiser, one of the board members at Lok Virsa, who gave a warm welcome to the guests and highlighted the importance of Qawwali as "one of our religious and cultural Virsas". The organizers invited Laal Band from Lahore and Bakshi Brothers from Islamabad to perform and pay their respects to Ustad Sabri's music.
Amjad Sabri's musical genius was showcased through a playback of his various performances, while members of the audience sat captivated by his voice. Various people, including the hosts and valued guests, came up on stage and spoke of their experiences with Ustad Sabri.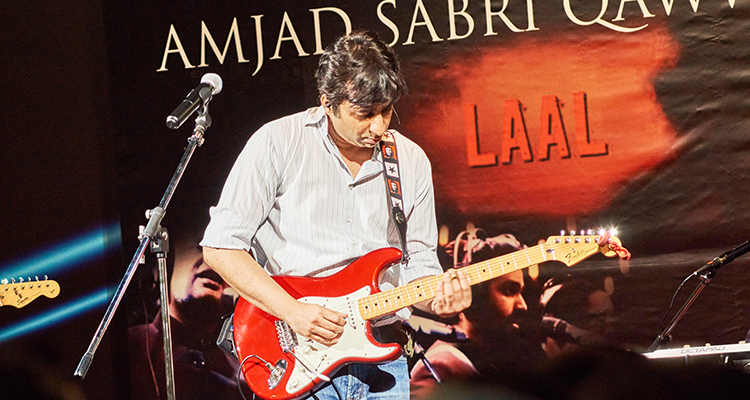 Taimur Rahman of 'Laal Band'
Laal Band kicked off the musical performances with a modern rendition of Bhar Do Jholi, which was received with multiple rounds of applause. They performed many of Ustad Sabri's songs in their own unique way, creating a fusion of pop and classical as a way to immortalize his music among today's youth. The performance of Menay Uss Se Yeh Kaha was especially well-received. People could be seen clapping in sync with the music and singing the chorus lines. The remix of Dum Mast Qalandar was one of the highlights of the event, leaving the audience enthralled. When the band decided to sing their song Dehshat Gardi Murdabad, one could see the sentiments of the people reflected in their reactions. The hall echoed with the chorus Dehshat Gardi Murdabad, followed by a loud chant of Pakistan Zindabad from all over the auditorium. Laal Band left the stage to a standing ovation and thunderous applause.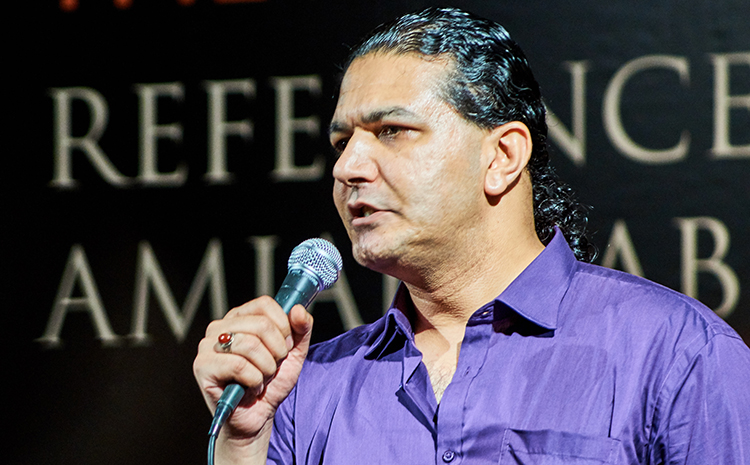 Arieb Azhar
Next, musical sensation Arieb Azhar was invited on stage to say a few words. He stated that we have been blessed with a treasure in the form of our qalaam, which is in our regional languages such as Siraiki, Punjabi, and Pushto. He explained how this qalaam has been kept alive through our qawwals, even though it is not taught to us in school. He ended his speech with an important message: "The world is safe as long as we have people who cherish their roots and convey the messages through their poetry, raqs, and music."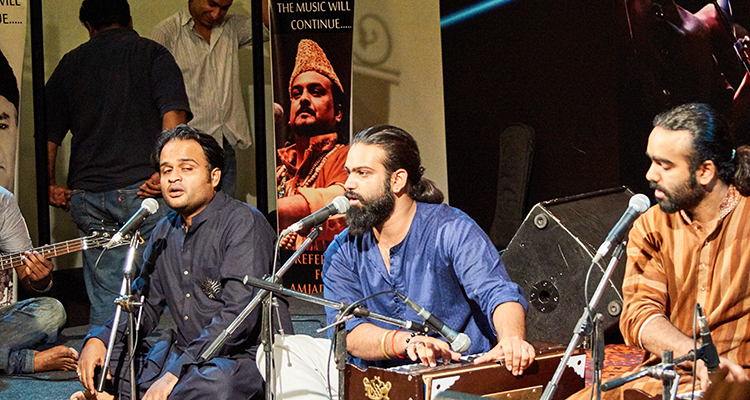 Bakhshi Brothers performing 'Tajdar-e-Haram'
Recent participants of Coke Studio, Islamabad's own Bakhshi Brothers took the stage after these heartfelt words. They strictly followed their roots and paid tribute to the late qawwal by performing one of his most famous musical pieces, Tajdar-e-Haram, which captivated the audience.
Witnessing young musicians carry on the legacy of the great Ustad Sabri warmed the hearts of the audience. Most people sat with their eyes closed, letting the music take over. Dr. Fouzia Saeed, the Director of Lok Virsa, must be commended for organizing an event that served as the perfect way to honour the passing of a national legend, and one of the most gifted qawwals to have come out of Pakistan.
You may also like: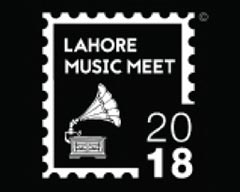 Lahore Music Meet - 4th Edition
(January 10, 2018)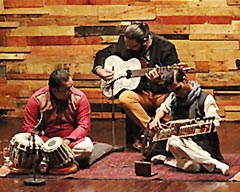 'Likhay Jo Khatt Tujhay' - An Olomopolo Media & Qissa Khwaan Production
(November 21, 2017)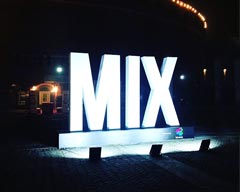 The MIX – Pakistan's First Tech Centered Festival
(November 15, 2017)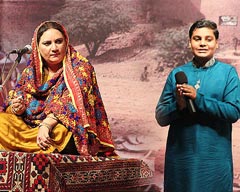 Bali Jatti Rooftop Theatre Opens in Lok Virsa, Islamabad
(October 16, 2017)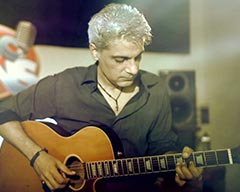 Tribute: Aamir Zaki
(June 03, 2017)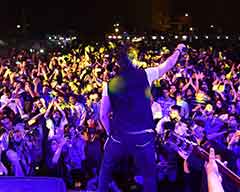 FACE Music Mela 2017: Promoting Diversity and Harmony through Music
(April 24, 2017)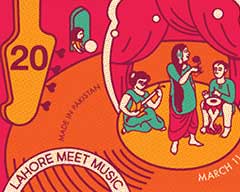 LMM 2017: More Than Just Music!
(March 13, 2017)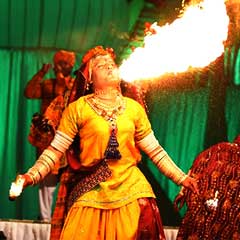 The Mystic Music Sufi Festival 2017
(February 14, 2017)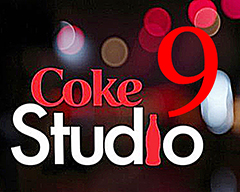 Coke Studio: A New Season of Melodies
(August 18, 2016)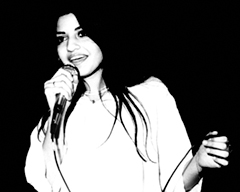 The Unforgettable Nightingale: Nazia Hassan
(August 12, 2016)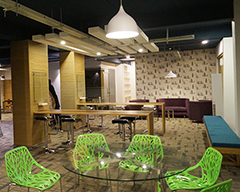 The Hive: Blending Work with Entertainment
(May 30, 2016)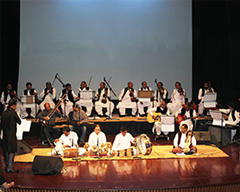 'Sachal Studios Orchestra' Performs at PNCA, Islamabad
(May 09, 2016)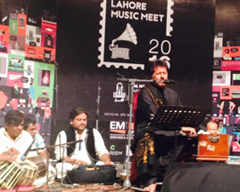 Lahore Music Meet - Pakistan's First Ever Music Symposium
(April 04, 2016)