The Sabeen Mahmud I Knew
Written by: Yusra Hayat
Posted on: April 30, 2015 |

Comments

Sabeen Mahmud, the woman behind T2F
T2F or The Second Floor was actually the first floor of the building on Sunset Lane 5, Defence Karachi. It was a space that Sabeen Mahmud created using $9,400, which one of her uncles from abroad had sent for her grandmother's health fund in case of any emergency. Growing up in Karachi, where there were no coffee shops or open spaces for dialogue and appreciation of art and the humanities, and with only Rs. 12,000 in her bank account, Sabeen assured her grandmother that creating T2F was a necessary step. "If the situation gets bad, we'll give you three shots of espresso that would either cure you or kill you", she told her grandmother and received her blessings.
T2F began and flourished. It was a space for endless possibilities. It was a space for free expression and creative ideas. It was a space for espousing liberal views comfortably. It was a safe haven for people who longed for a space to display their talents, abilities and passion without any money. It was a space for dozens of people who are famous today; well-established in their careers and grounded in their zeal, to initiate that journey and live their dreams. It was a space for all kinds of students who wanted to relax and study. It was a space for people to enjoy Qawwali for free. It was a space for cross-cultural interaction and un-silencing the silenced. It was space to breathe, watch inspiring documentaries and eat some great banana bread. It was a space for anyone who wished to purchase some unconventional t-shirts, posters, funky notebooks and hand-painted lights while enjoying a cup of coffee. It was a space where scores of young individuals found the meaning of life. It was a space for anyone who wished to distract themselves and escape the relentless fears of Karachi for a little while.
But most of all, it was Sabeen. When I walked into T2F for the first time, more than the ambience of the place, and the absolutely wonderful things it offered to people, Sabeen drew me in. She caught me looking at the price tag of the book "Letters to Eliot" and smiled. When I placed it on the discount bookshelf again, she smiled again. After a little while, she came and handed me the book, saying, "Pay me when you're rich one day." That was my first interaction with her – a gift from a total, smiling stranger. In the course of the next twenty-five minutes, Sabeen's energy and excitement glided through the space and enveloped me: her contagious laughter, her brutal honesty of expression, her grippingly witty and humorous sarcasm, and her treatment of me as an absolute equal left me marvelously intrigued.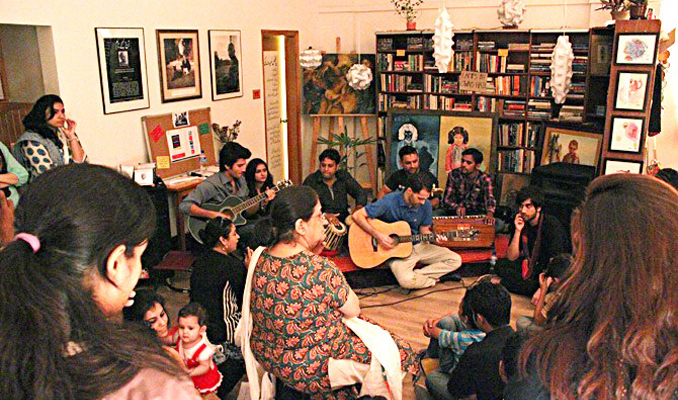 I began to go to T2F more often. There was always something incredible waiting there: a stand-up comedy, a musical performance, a tragic play, a writing workshop, a poetry reading, a coffee and storytelling evening, an art exhibition or a talk about some ailment in society that needed to be addressed. The highlight of the visit, however, would be the time and conversation I would have with Sabeen later. She would listen to my rants and problems and conclude, "Well, Yusra, you're quite the little rebel, you know." She would read my ridiculous poems and tell me "that there were flashes of brilliance somewhere." She would make fun of me when I rolled the alphabet "r" or when I would pretend that I was actually good at horse-riding. But apart from being an amazing friend, she was a true mentor. If I ever had a good idea about anything, (Sabeen would call this "spring-in-December times"), she was always encouraging and would facilitate its implementation. She didn't believe in abstractions – if there was something that could be done, it had to be done. She always took the leap of faith, always did what she wanted to do, always took risks and always hoped for the best.
I guess this is why she held the talk on Balochistan too. She would never be able to live with herself knowing that she could have provided the platform to give the suppressed voices the space and opportunity they needed and did not. I am sure that she was fully aware of the repercussions as well but then again, it was Sabeen and she always saw the best in people and situations. Even if she was not naïve enough to not foretell the tragedy that befell her, she would have thought it was all worth it. To her, this is what a satisfactory and purposeful life meant – putting her beliefs, ideologies and principles before everything in life, even life itself, to bring about a change and make this world a more peaceful and tolerant place.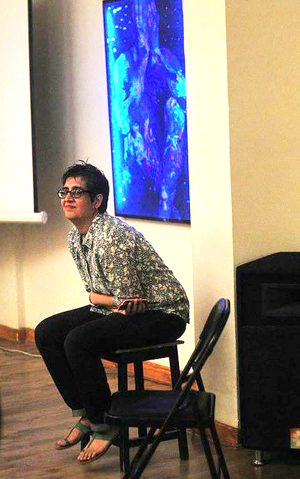 Sabeen followed her heart and nurtured her drive with such religious fervor that she inspired hundreds of people like myself. Her death has un-silenced thousands of people, not just because her cause was so great, but because she achieved it with an unflinching desire. Her ambition provided everyone she met with an unparalleled motivation to emulate her and do their part to make the world slightly better. The confidence and belief she instilled in her friends and acquaintances was thoroughly uplifting. The utter humility and fearlessness she demonstrated when meeting strangers was so genuine that it would surprise them too. A few years ago, Sabeen had started getting threatening messages on social media. She replied to one of them saying "Why are you so angry? Come, let's have chai together and we'll talk." The person not only went on to become a regular visitor at T2F but also a close friend of Sabeen's.
The last time I spoke to Sabeen was during the summer of 2014. I had gone to pay her a visit and watch the documentary on breaking gender stereotypes where a woman rode a motorbike in Karachi. I had to rush home afterwards and did not get to talk to her for a long time. We talked about Laura Prepon's transformation from Donna on That '70s Show to Alex on Orange is the New Black. Sabeen felt she was losing me to Lahore, and said we needed to "chat soon." I was under the illusion that there was enough time for that.
T2F was a success because Sabeen worked extremely hard to hold it together, despite its financial straits. Whenever anyone would ask her to charge people or change its not-for-profit status, she'd laugh and reply, "Well, you can either make money or make sense." In the intellectual and cultural life of strife torn Karachi, she leaves a void that will be difficult to fill.