Sajid Hasan's Play 'Chiragh Bali' Unravels a Story of Crime and Deceit
Written by: Javeriah Farrukh
Posted on: November 11, 2015 |

Comments | 中文
The play features memorable performances by Ayub Khoso, Zara Tareen and Adil Murad
Sajid Hasan is certainly not a new name in Pakistani television. From classic TV serials such as Dhoop Kinaray (1985) and Sitara Aur Mehrunnissa (1992) to more recent hits like Daddy (2010) and Hum Tum (2011), his acting talent has never failed to impress. In the last decade, he's also had significant involvement with the big screen, appearing in the 2007 Hollywood film A Mighty Heart starring Angelina Jolie, and most recently in the 2015 crime drama film, Jalaibee.
However, it seems that acting is not this man's only forte. He has written a number of critically acclaimed dramas in the past, including Kachua Aur Khargosh and Gum. His latest attempt at writing is a stage play titled 'Chiragh Bali', which centers on crime, infidelity, and the hypocrisy of human nature. Currently being performed at Karachi's Southend Club, the play is a comical representation of some of society's most repulsive moral perversions. Directed by Iqbal Lateef and starring the legendary Ayub Khoso in an exhilarating role, it epitomizes the corruption and deception by those in possession of power and wealth under the guise of service to humanity.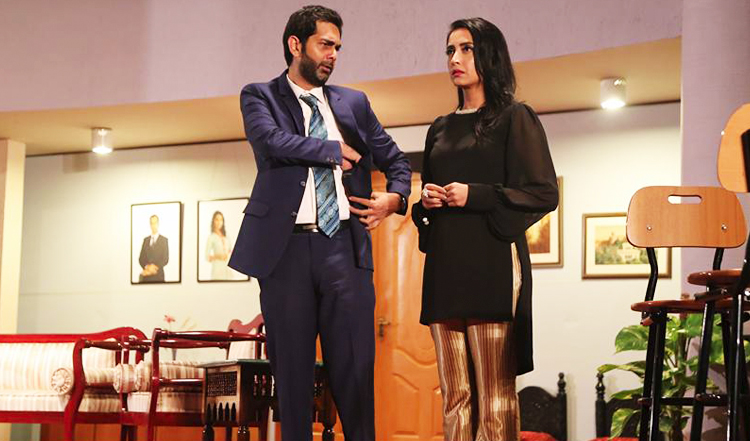 Set in a contemporary household of a rich, celebrated politician, the play revolves around Noor Jehan (played by Zara Tareen, sister of model Hira Tareen) and Sharjeel (played by Adil Murad, son of renowned actor Waheed Murad), a young couple living an enviable life in an upscale neighborhood of Karachi. Depicted as the quintessential eastern wife and mother, Noor Jehan dotes on her husband and decides to give up her career and ambitions for his love and their children. Sharjeel is depicted as a power-hungry, status-conscious politician with little care or use for a moral conscience.
On the night of their wedding anniversary, their decade-long marriage is brought to a sudden halt by some perturbing discoveries and events that change the course of their lives forever. Noor Jehan learns that her husband, whom she so blindly trusted, has been cheating on her with another woman whom he is about to marry. She decides to confront him, and while they are in the midst of a screaming contest, spewing words more acrid than acid, a group of dacoits led by Chiragh Bali (played by Ayub Khoso himself) break in and hide inside the house, silently observing the scuffle between the two.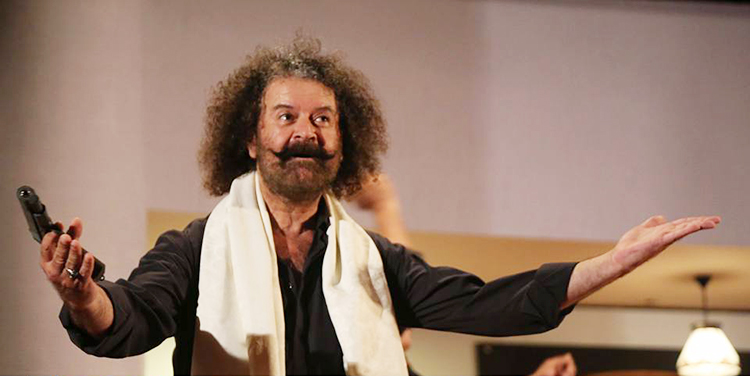 Chiragh Bali, the protagonist, is quite an eccentric character. Although he is a dacoit and murderer, he vows to bring Sharjeel to justice for his corrupt politics and unscrupulous character. Chiragh Bali and his confederates take the couple and their maid hostage, leaving Noor Jehan with the difficult decision of keeping her husband alive or wiping her slate clean of his moral transgressions.
Through the characters of Sharjeel and Chiragh Bali, Sajid Hasan has tried communicating the importance of siding with justice, no matter how difficult the choices one has to make. In a morally depraved society dictated by corruption, those in power usually play a dangerous game of stealth.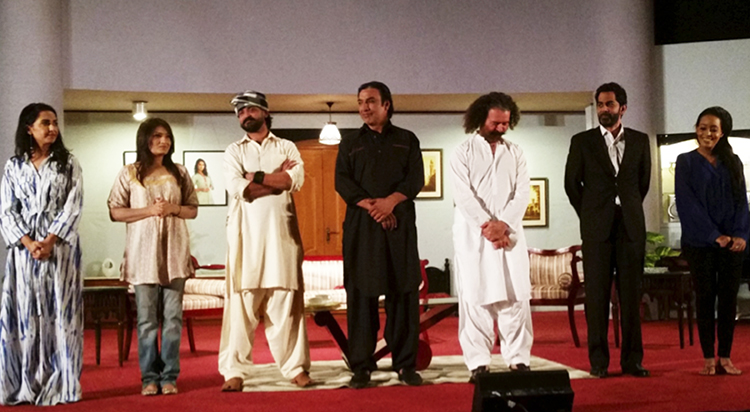 (l-r) Zara Tareen, Kausar Siddqui, Alie Shaikh, Mehboob Sultan, Ayub Khoso, Adil Murad and Zainab Haider Ali
The most interesting theme of the play was Ayub Khoso's paradoxical character, who was a Dark Knight of sorts in a Gotham City of corruption. The underlined message is simple: perpetrators of deception, hypocrisy, and corruption are as culpable, perhaps even more, than the perpetrators of other, more obvious crimes. Through powerful imagery, crisp direction and effective delivery, the director and actors did justice to a story that was entertaining yet thought-provoking and had the audience gripped from start to finish.
Photo credits: M. Yousuf and Javeriah Farrukh
You may also like: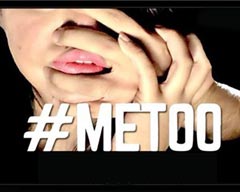 Theatre Review: #MeToo by BlankPage Productions
(January 12, 2018)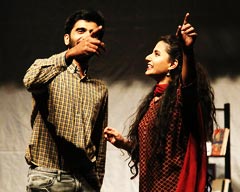 Theatre Review: Bol Kay Lubb Azad Hain Teray
(December 21, 2017)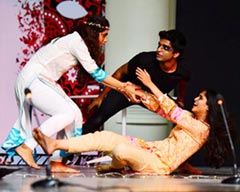 The Fringe 2017 – Intra-IBA Theatre Competition
(December 15, 2017)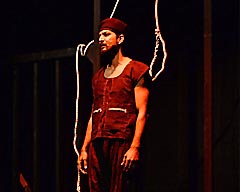 Theatre Review: Ajoka Theatre's 'Intezaar'
(November 30, 2017)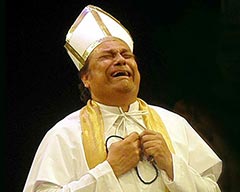 Theatre Review: 'Yahudi ki Larki' by NAPA at National Theatre Festival 2017
(November 02, 2017)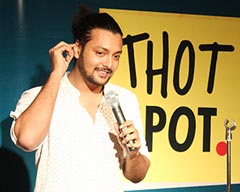 Bachay Panch Hi Achay (5 Kids are Enough) - A Saturday Night Comedy Show
(October 17, 2017)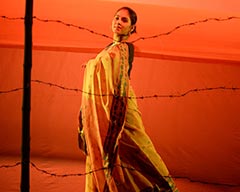 Ajoka Theatre's 'Shehr-e-Afsos - A City of Sorrow'
(October 13, 2017)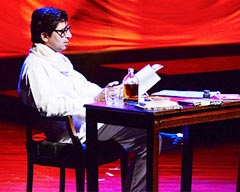 Theatre Review: 'Kaun Hai Yeh Gustakh' - Ajoka's Play about Manto
(October 12, 2017)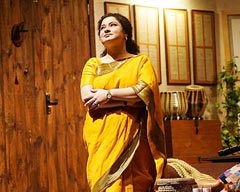 Theatre Review: 'Mushk - Fragrance' in Lahore
(October 10, 2017)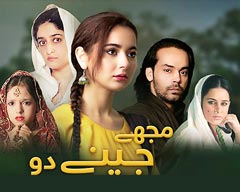 Drama Review: 'Mujhay Jeenay Doh'
(September 22, 2017)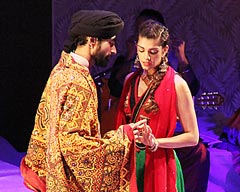 Heer Ranjha – Retelling Kaifi Azmi's Script in an Urdu Musical
(September 11, 2017)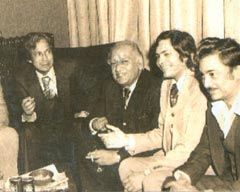 70 Years of Theatre: A Flashback Through the Ages
(August 30, 2017)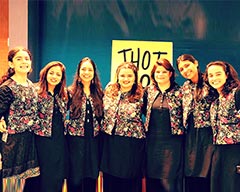 'The Khawatoons' Celebrate their First Anniversary!
(August 02, 2017)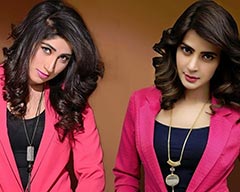 'Baaghi', a serial inspired by Qandeel Baloch
(July 31, 2017)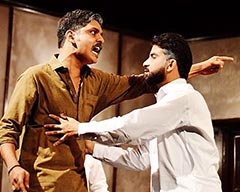 'Mulzim Ya Mujrim' – A Theatrical Production
(July 25, 2017)