Improvised Theatre: The Platoon and Ten Thousand Million Love Stories
Written by: Farheen Abdullah
Posted on: March 29, 2016 |

Comments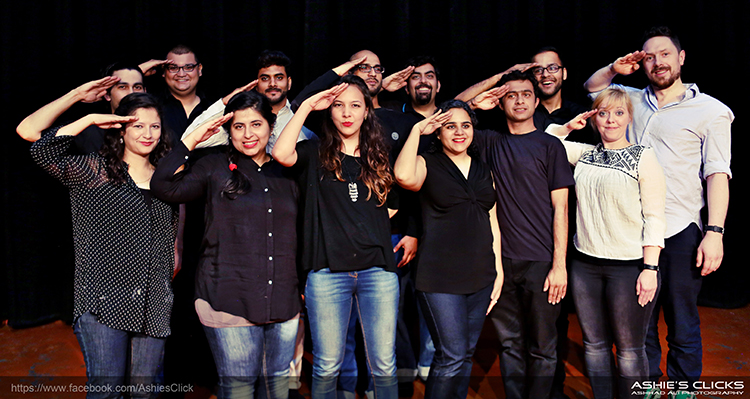 The Platoon and Ten Thousand Million Love Stories
While there are few drama schools around us and theatre continues to be a less popular form of entertainment in Pakistan, it is refreshing to see that our local theatre groups keep innovating and finding new ways to entertain audiences. The Platoon, Pakistan's first long-form improvisational theatre troupe, is made up of a group of young individuals – Hassan Bin Shaheen, Annie Shamim, and Yelmaz Mujtaba, to name a few – who felt the need to showcase their love for improvised theatre to the Pakistani audience.
With Ayesha Tariq serving as the Artistic Director of the group, The Platoon have performed a series of improvised acts at the MAD school, Karachi, such as 'Reporting for Duty' and the Halloween-themed performance of 'A Murder of Dreams and Other Stories'. This past Sunday saw their first performance in collaboration with British improvisers, Jules Munns and Heather Urquhart. 'Ten Thousand Million Love Stories' is a series based on love and the effort it takes to keep the connection between two people alive. As part of this series, the two performers plan on singing and acting their way into people's hearts by basing their acts on true stories from around the world, with Pakistan as their first stop.
As the audience began to file in on Sunday, the auditorium of the Pakistan American Cultural Centre (PACC) witnessed a mix of age groups assembling to witness the show. While some had come to enjoy the act with their friends, many were seen with their families. From the very start of the show, the audience was in for a little surprise in the form of an original song performed by Ali Hassan and Rachel Viccaji, the latter also being a member of The Platoon.
Heather Urquhart Jules Munns
Jules and Heather were then welcomed on stage, and they explained the flow of the program. While the evening was to be divided into three categories, all situations were to be suggested solely by the spectators, and all acts to follow were completely spontaneous. An unorthodox ice-breaker was also initiated by the two performers: the viewers were asked to exchange names with strangers and then shout them out along with the phrase "I am so glad you're here!" Jules and Heather seemed to be constantly amused by how much louder the Pakistani audience was as compared to the British.
The first act commenced with The Platoon acting out scenes based on words proposed by the audience, followed by Jules and Heather acting out real-life experiences of individuals in the crowd. Sohaib Ali Khan provided melodic piano music to suit every situation. Love stories of a couple who had met back in high school (and have now been happily married for 23 years), and a lady who confessed to have approached her crush in front of a group of people back in school – only to have him walk away – were beautifully acted out by the improvisers. Using different voice tones and postures to depict various characters, Jules and Heather played numerous roles spontaneously. The transition from one character to another and from one story to the next was so smooth that it almost looked rehearsed.
The third act was location-based, where The Platoon acted out everyday scenarios from Sunday Bazaar, as suggested by the audience, and in a showcase of spontaneity, went to the extent of momentarily adopting the role of insects! At the end of 90 minutes, the audience was in for another surprise performance in the form of an improvised song based on the word 'freedom'.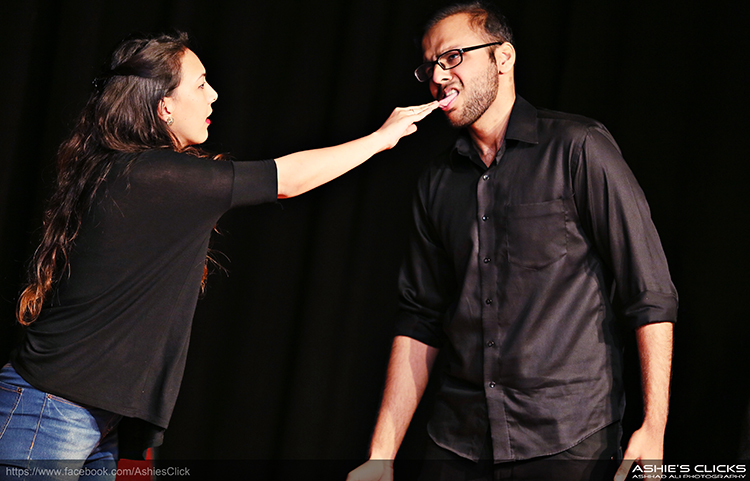 Rachel Viccaji and Hassaan Bin Shaheen
Independent, innovative initiatives such as these provide hope that improvised theatre – and theatre in general – can thrive in Pakistan. Although a large part of the audience had never experienced live improvised theatre before, The Platoon and Ten Thousand Million Love Stories provided an excellent introduction to it and made sure no that individual left the auditorium feeling disengaged or uninterested, no matter what their age, gender, occupation, or level of interest in the performing arts.
All images have been provided by Ashhad Ali.
You may also like: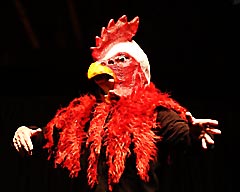 Rafi Peer International Puppet Festival 2018
(January 23, 2018)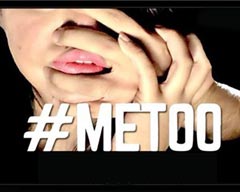 Theatre Review: #MeToo by BlankPage Productions
(January 12, 2018)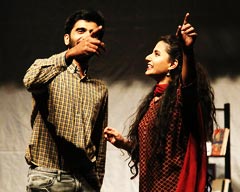 Theatre Review: Bol Kay Lubb Azad Hain Teray
(December 21, 2017)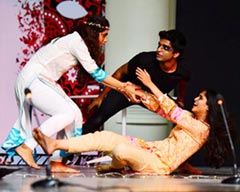 The Fringe 2017 – Intra-IBA Theatre Competition
(December 15, 2017)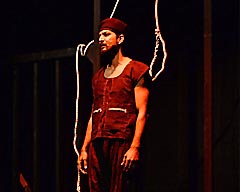 Theatre Review: Ajoka Theatre's 'Intezaar'
(November 30, 2017)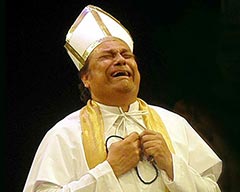 Theatre Review: 'Yahudi ki Larki' by NAPA at National Theatre Festival 2017
(November 02, 2017)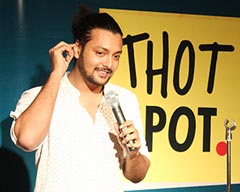 Bachay Panch Hi Achay (5 Kids are Enough) - A Saturday Night Comedy Show
(October 17, 2017)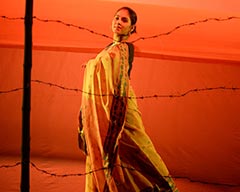 Ajoka Theatre's 'Shehr-e-Afsos - A City of Sorrow'
(October 13, 2017)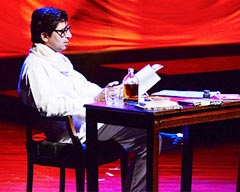 Theatre Review: 'Kaun Hai Yeh Gustakh' - Ajoka's Play about Manto
(October 12, 2017)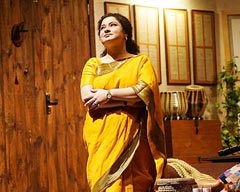 Theatre Review: 'Mushk - Fragrance' in Lahore
(October 10, 2017)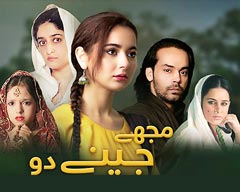 Drama Review: 'Mujhay Jeenay Doh'
(September 22, 2017)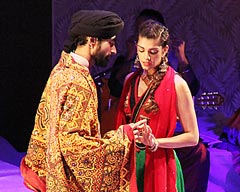 Heer Ranjha – Retelling Kaifi Azmi's Script in an Urdu Musical
(September 11, 2017)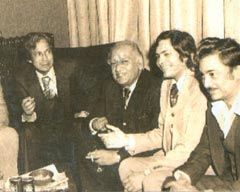 70 Years of Theatre: A Flashback Through the Ages
(August 30, 2017)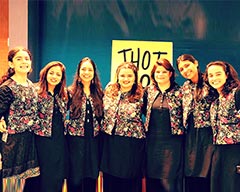 'The Khawatoons' Celebrate their First Anniversary!
(August 02, 2017)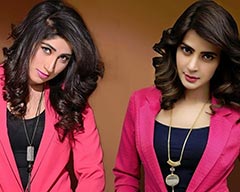 'Baaghi', a serial inspired by Qandeel Baloch
(July 31, 2017)