Food Review: Wild Thyme - A Taste of Hunza!
Written by: Aiza Azam
Posted on: April 21, 2017 |

Comments | 中文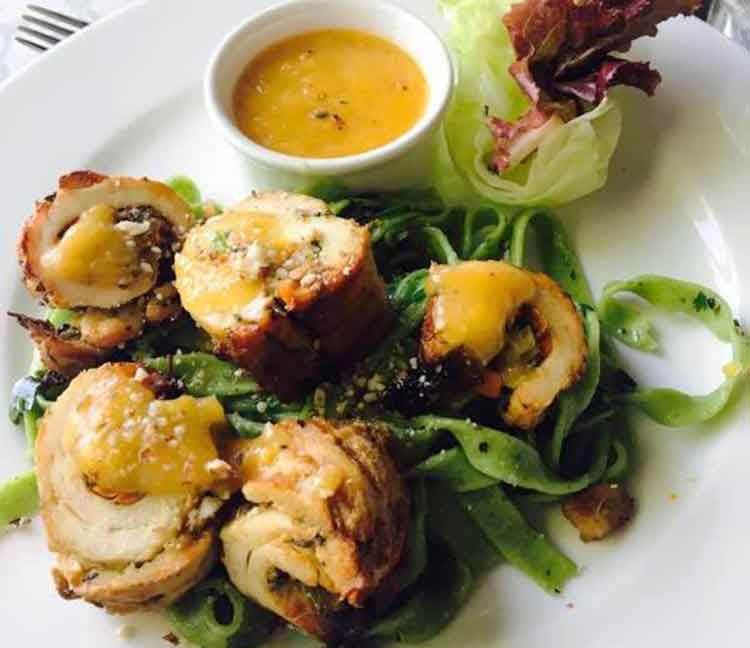 Guuh Chay Qarqamuch - Apricot Chicken
The name 'Wild Thyme' doesn't instantly conjure up images of cuisine from mysterious hamlets that lie far up north. But a quick glance at their Facebook page was enticing enough to have me champing at the bit for a taste of authentic Hunza fare. Three days later, visions of quroot filled parathas in my thoughts, I went with a group large enough to ensure maximum tasting from the wide and varied menu.
The restaurant is nestled in Shaheen Market, a quiet little pocket in Islamabad's picturesque E-7 sector. A few tables are laid outside, which would be lovely to take advantage of in cooler weather. The inside can seat about thirty or so diners at a time. From my window seat, I took a few seconds to inspect the interior. Wood features heavily, attempting to create the sense of being inside a traditional Hunza house; but the effect is slightly spoiled by what appear to be exposed wooden beams in the ceiling at first glance, but are only thin planks clubbed together. Framed black-and-white pictures of faces and scenes from the valley cover an entire wall, adding an interesting note. The décor overall is tastefully understated, but rather than being thoroughly authentic, it interweaves a bistro feel with elements of the traditional north.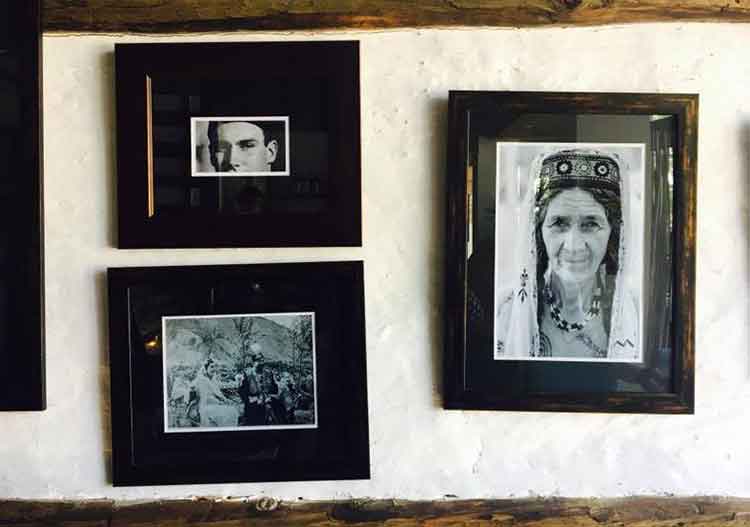 Our menus came with complementary plates of wispy fried pastry that you dip in apricot kernel oil, the latter being a welcome change from the traditional olive oil and balsamic vinegar with bread that most places serve. The menu features an enticing array of starters, sides, mains and dessert. We began with the Chicken Dumplings, which were hard to find fault with. The spring rolls, however, with wraps fashioned from the traditional chapatti, felt quite heavy; the veggies inside did not feel quite julienne.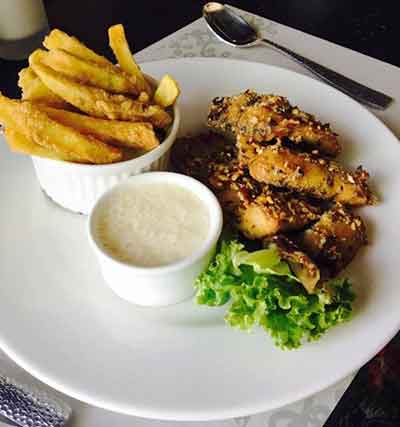 Nut Battered Fish with Hunza Fries
For mains, each entry looked far too delicious to pass up. The Hoi Gama or Spinach Ravioli was a good choice. Stuffed with spinach, crushed walnuts and quroot (a soft cheese made from goat's milk), the ravioli lay nestled in generous clouds of spinach sauce that was seasoned just right. The Guuh Chay Qarqamuch, Apricot Chicken served with herb pasta and a small pot of apricot sauce, had good flavor but was slightly dry. While the Baliyen Lo Daichiurum Qarqamuch, Walnut Chicken smothered with a creamy sauce and crushed walnuts was quite tasty, the Silk Route Pasta left much to be desired, the taste being rather ordinary after the buildup in the description. The Battered Fish, though, was a winner; especially since it was served with Hunza fries, made from thick cut potatoes dipped in what appeared to be a light cornmeal batter before frying.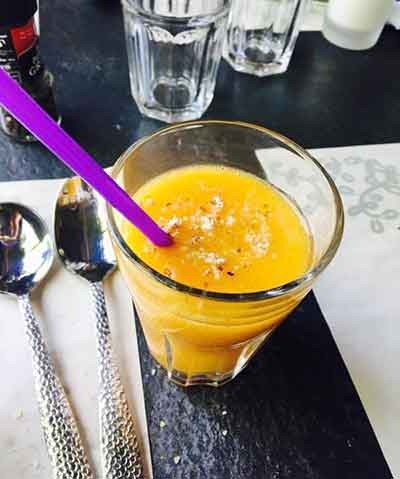 Chahmus - apricot juice
Half the table ordered Chahmus, a traditional drink made from Hunza's famous dried apricots. Although delicious in taste, most of us ended up diluting our servings with cold water so it felt more like the juice it was labeled as, and less of a puree. For dessert, we were again spoilt for choice. The offerings included Haniza Oyam, a tart filled with walnuts, almonds, maple syrup and apricots; Sultan Qoq, morsels of mixed nuts and mulberries dipped in Dark Lindt Chocolate; and Hosar Chay Halwa, a Hunza take on the classic South Asian dish, replacing semolina with boiled pumpkin, nuts and butter. However, we finally settled on the Walnut Cake, a traditional dessert we had heard of before. A generous slice of pastry stuffed with walnuts, honey and cream was served with a scoop of ice cream. The flavor could not be faulted, but the filling cried for a touch more honey, being a little too dry.
Walnut Cake
In the end, while we felt there was a lack of finish in terms of some of the dishes, Wild Thyme still has a lot going for it, and we knew we would come back for another round. The service is excellent, and the ambience is quite relaxing. Plus, there's still that ample breakfast menu to explore, promising such treats as a Walnut Omelet, Hunza doughnuts and buckwheat crepes. It definitely merits a visit if you haven't already been.
You may also like: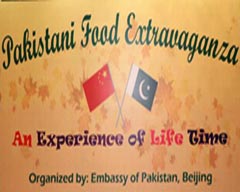 Pakistan Food Extravaganza in Beijing
(January 30, 2018)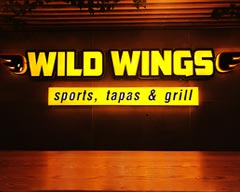 Food Review: Wild Wings, Islamabad
(January 26, 2018)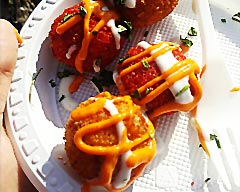 Karachi Eat 2018: The Good & the Bad
(January 16, 2018)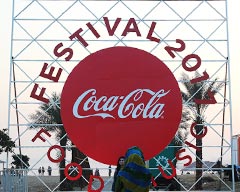 Coke Festival 2017 comes to Islamabad
(December 11, 2017)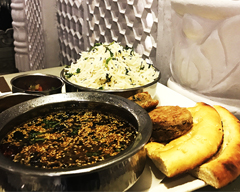 Food Review: Rahdaari
(December 07, 2017)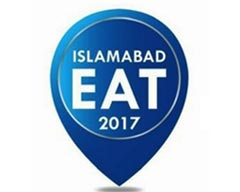 Islamabad Eat 2017: Don't Speak, Just Eat
(November 14, 2017)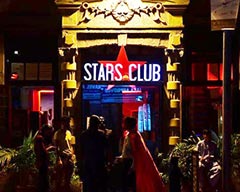 Stars Club: Karachi welcomes its first film-themed café
(November 06, 2017)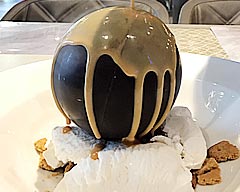 Food Review: Browns, Islamabad
(October 19, 2017)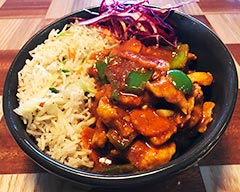 Wok Fusion Café
(October 09, 2017)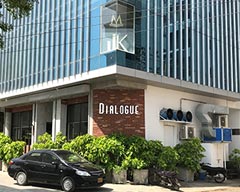 Food Review: Dialogue Restaurant, Karachi
(September 29, 2017)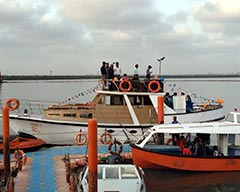 Savor Boating and Restaurant: A Unique Experience
(September 08, 2017)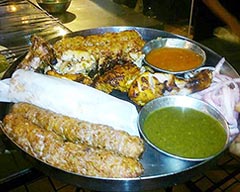 Boat Basin Food Street, Karachi
(August 25, 2017)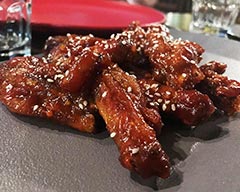 Food Review: #EAT, Islamabad
(August 11, 2017)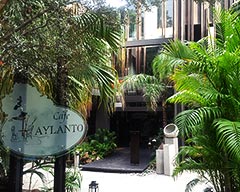 Food Review: Café Aylanto, Islamabad
(August 04, 2017)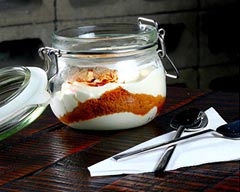 Food Review: Soi Asian Bistro, Karachi
(July 28, 2017)