Xinjiang Cuisine Earns Fame at Home and Abroad
Written by: Kang Ruiqin
Posted on: April 06, 2016 |

Comments | 中文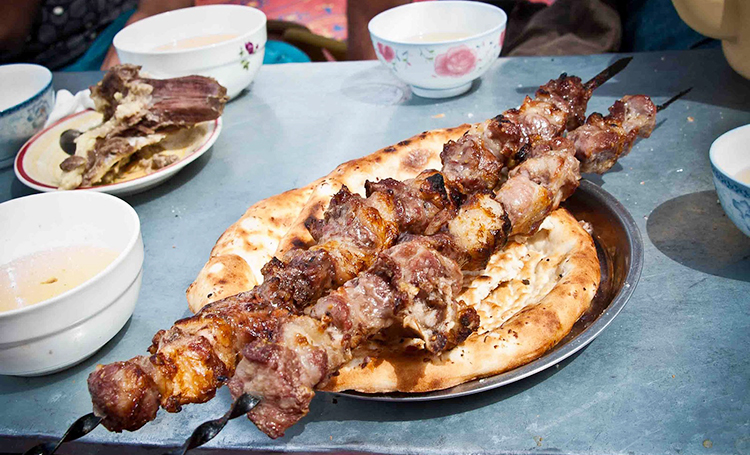 Xinjiang Lamb Kebabs
Once you fall in love with Xinjiang cuisine, you will fall in love with this entire region.
The 13th National Winter Games in Xinjiang give another chance for visitors from home and abroad to taste the wonderful cuisine of Xinjiang.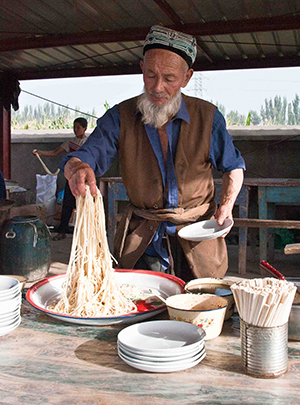 The large-plate fried chicken and potato, stewed mutton, shish kebabs, roast whole lamb, smoked horse-meat sausage, bean jelly with lamb and vegetable soup, crisp steamed roll...all the delicious Xinjiang cuisines added a special feature to the 13th National Winter Games. The unique Xinjiang flavor has won fame through this popular national sports event.
The Diversity of Cuisines Reflects the Integrated Culture
"Come on, my friends – come and taste the freshly stewed mutton. It is so delicious that it will surely make your money count", those hospitable words, peddling with a strong Xinjiang accent, really attract tourists from home and abroad.
Today, every city in Xinjiang has its own special cuisine. For example, the Snack Street of Hui Ethnic Group in Changji, the Kazakh flavor snack in Ili and Altay, the Uyghur style food in Kashgar and Hotan, and so on.
The Arman Silk Road Food Plaza on Yan'an Road in Urumqi is busy and bustling with loud music and peddling. "The reason why I take my friends to eat here is that I want them to feel the hospitality of the local people. Xinjiang cuisines are another unforgettable aspect in addition to its wonderful natural scenery", said Shi Hui, who is entertaining friends from other provinces in China with the local diet.
In the 1980s, foods from other provinces came flooding into Xinjiang, adding new ingredients to the Xinjiang diet. The valuable cooking skills from afar were fully applied here, and added even more variety to Xinjiang cuisine.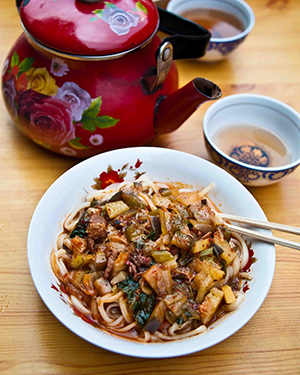 Uyghur Laghman (noodles)
Rozitam, who lived in Kashgar, told the reporter that many years ago, there was no green vegetable for local people to eat. The only choices were qamgurs (a local turnip), carrots, pumpkins and onions, which were generally used for cooking pilaf, stewing lamb and making steamed buns. In the 1980s, some Han Chinese moved to Kashgar and planted green pepper, eggplants, tomatoes, leeks, celery, and cabbage in their greenhouses. All of a sudden, local people had numerous choices in fresh vegetables. At first, Uyghur residents were curious about them, but they accepted them gradually. Uyghur chefs became interested in learning new cooking techniques, introducing and inventing dishes such as Fried Mutton with Celery, Cucumber in Sauce, Cabbage Noodles Lamb, and Twice Cooked Beef with Green Pepper.
Nowadays, people from other provinces not only get to taste the authentic Xinjiang food, but can also enjoy food from everywhere else in the world, including Pizza, Brazilian barbecue, Japanese cuisine, and seafood of Thailand. Visitors have a variety of choices, from local snacks to international cuisine.
You don't have to go to Beijing to eat traditional Beijing Duck, and you don't have to go to Hangzhou to eat West Lake Vinegar Fish, because you can find them all in Urumqi. Xinjiang people can enjoy a diversity of delicious and authentic cuisines with fresh ingredients in local restaurants.
A number of Western restaurants with obvious Uyghur features have emerged in many places in Xinjiang. All the elegant Uyghur waitresses, beautiful environment, exquisite decorations and refined cooking, together with individual serving style and ethnic background music, have made ethnic cuisines into a new trend of food culture combining Chinese and Western styles.
Traditional Cuisines and Cultural Communication of Diet
The year 2010 witnessed an important opportunity for the development of Xinjiang Cuisines. The 20th Chinese Cuisine Festival was held in Urumqi that year, and Xinjiang cuisines finally found a promotion platform, that is, the first Muslim Food Cultural Festival in China.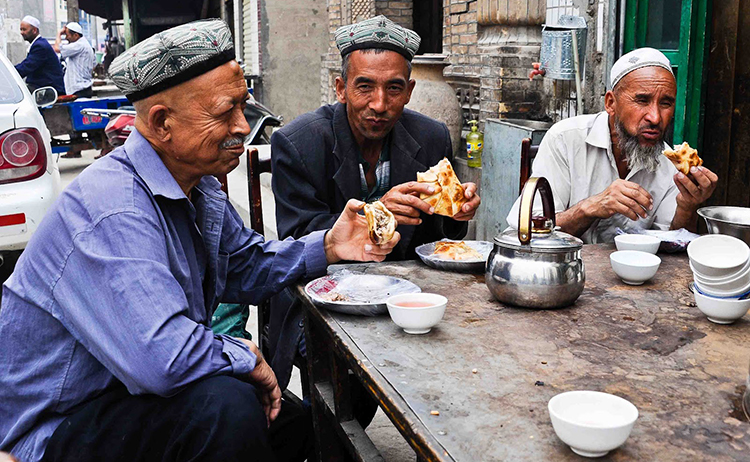 Men having Xinjiang Samsas
In 2012 and 2013, Urumqi successfully held the 2nd and 3rd Muslim Food Cultural Festivals and the Xinjiang Food Expo.
In 2014, the "Food Cultural Festival" was replaced by the "Food Trade Fair". In the "Silk Road International Food Trade Fair and the 4th Muslim Food Cultural Festival, well-known food enterprises from 27 foreign countries and many domestic food businesses conducted 4-day exhibitions and trade activities in Urumqi. 39 projects were signed up at the fair and total investment reached 1.225 billion Yuan.
With the promotion of international expos, local restaurants in Xinjiang now have more opportunities for development.
A wide variety of products and crowds of customers in Arman supermarket on Lingguan Road of Urumqi show the lively scene of the holidays. As the first food enterprise in Xinjiang specializing in Muslim food, Arman Muslims' Food Company combines research and development, cultivation of green food, Muslim food processing, and chain store operations. There are more than 3,000 Arman supermarkets and chain stores in Xinjiang. The Arman products are sent all over Xinjiang, and some of their products are even exported abroad, e.g. to West Asia, the Middle East, and Southeast Asia.
IHLAS Supermarket near Xinjiang International Grand Bazaar set up souvenir sections specifically for tourists. The unique and special Xinjiang souvenirs deeply attract foreign customers from Turkey, Uzbekistan, Russia, South Korea, and so on.
Xinjiang Herembag Restaurant in Erdaoqiao Business Circle in Urumqi is always popular with customers from home and abroad. In the five restaurants of the four-story building, people can enjoy all kinds of foods such as Turkish cuisine, Chinese food, Western food, and other Xinjiang specialties including noodles with spiced vegetable, Uyghur pilaf, and Uyghur Monte (a kind of baked pie).
With the implementation of "One Belt and One Road" Strategic Initiative, Xinjiang further plays its role as a bridgehead of the Silk Road and serves as the raw materials resource of green food. Xinjiang is committed to the setting up of the platform of economic and trade negotiations, exchanges and cooperation, as well as publicity and promotion of the Silk Road Economic Belt. With the new system of wholesale purchases and great fusion, Xinjiang is promoting cooperation and development with foreign food industries in Central Asia, West Asia and the European Union.
Food is the easiest and fastest way to attract people, as well as to establish close contact between diverse individuals. Xinjiang cuisines are gradually reaching the rest of the world too, and gaining international fame due to their unique charm.
You may also like: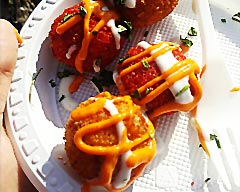 Karachi Eat 2018: The Good & the Bad
(January 16, 2018)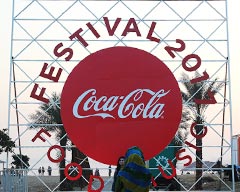 Coke Festival 2017 comes to Islamabad
(December 11, 2017)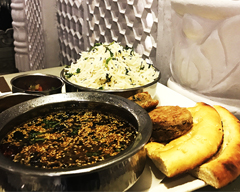 Food Review: Rahdaari
(December 07, 2017)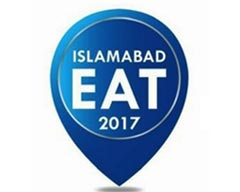 Islamabad Eat 2017: Don't Speak, Just Eat
(November 14, 2017)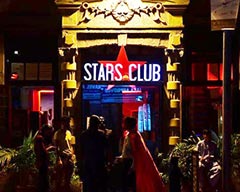 Stars Club: Karachi welcomes its first film-themed café
(November 06, 2017)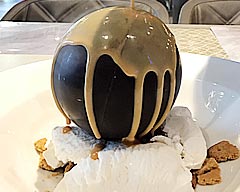 Food Review: Browns, Islamabad
(October 19, 2017)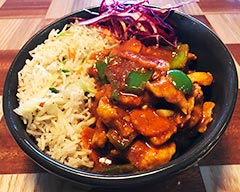 Wok Fusion Café
(October 09, 2017)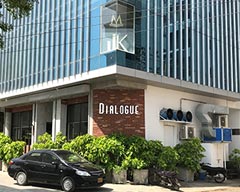 Food Review: Dialogue Restaurant, Karachi
(September 29, 2017)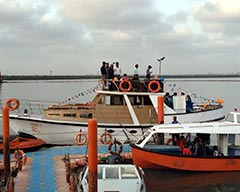 Savor Boating and Restaurant: A Unique Experience
(September 08, 2017)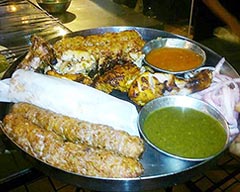 Boat Basin Food Street, Karachi
(August 25, 2017)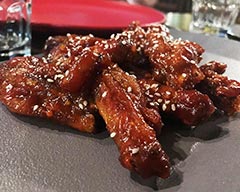 Food Review: #EAT, Islamabad
(August 11, 2017)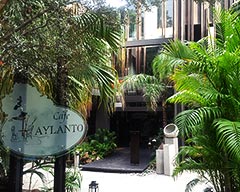 Food Review: Café Aylanto, Islamabad
(August 04, 2017)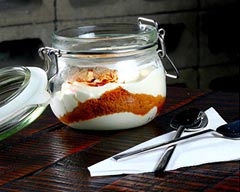 Food Review: Soi Asian Bistro, Karachi
(July 28, 2017)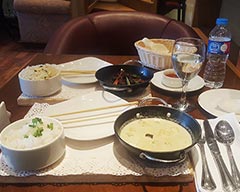 Food Review: The Chinese Café
(July 21, 2017)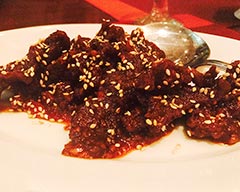 Food Review: Yum Chinese and Thai Restaurant
(July 14, 2017)