GALLERY CHANGEZ: WHERE ART MEETS NATURE
Written by: Alia Bilgrami - Posted on: July 18, 2013 |

Comments
Google Translation: اُردو | 中文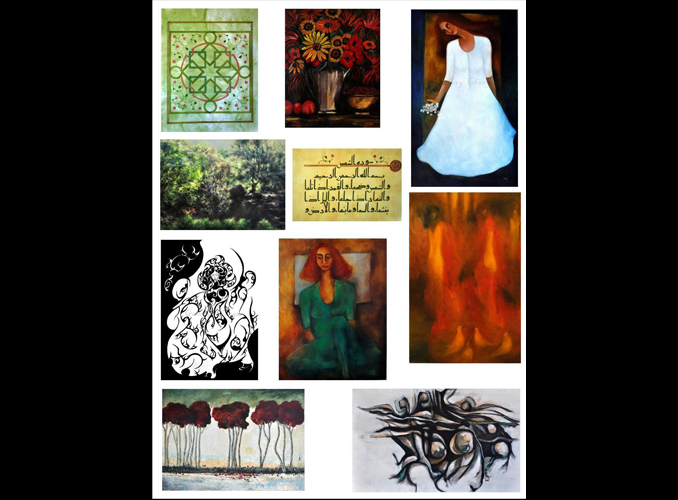 Nestled on the outskirts of Islamabad in Tumair, near Simli Dam, Gallery Changez opened its doors for the first time on the 10th of November 2012. In its inaugural exhibition that Saturday afternoon, eight local artists were engaged to showcase their work.

Getting to Tumair was a bit of a trek and I wasn't sure what to expect. As I entered the grounds I suddenly felt as though I was in a very festive environment. There was quite a crowd in the garden and the artists and art-lovers all seemed to be socializing over luncheon, a refreshing variation to the regular cup of tea and sandwiches that is usually served at an exhibition opening. This was actually an opening of the gallery itself in addition to the exhibition.

I entered the first space on the ground floor and met Sara Sultan, Raja Changez Sultan's daughter who manages the gallery. Her artwork is usually monochromatic and upon closer inspection, contained unexpected detail. She said, "I enjoy exploring the relationship between positive and negative spaces. In life sometimes what is not said is more important than what is. Similarly in my drawing the empty spaces between the lines, at times, say more than the lines themselves." After I interviewed her she introduced me to the rest of the artists in the show.

It was interesting to see so much variation in style under one roof. The show continued throughout the hallway where there was mostly Raja Changez Sultan and Mobina Zuberi's work adorning the walls. As you walked up the stairs, the artwork seemed to follow you. The next space was a large room with plenty of natural light. The remaining artists were showing in this room.

It is always worth reading or hearing what each artist has to say about his/her artwork to better understand where he or she is coming from. Of course at the end of the day, it often boils down to individual tastes or an inexplicable feeling that draws you in. In this particular show, the artists were kind enough to explain their work in person.

Nafisa Athar's Islamic Calligraphy was mostly in watercolours and her palette is inspired by natural colours in her environment, certainly very suitable for a setting like Tumair. She is an accomplished self-taught artist who has worked hard all her life taking courses to improve her skills. She has many international shows under her belt. Her husband, Athar Mahmood has been an ambassador for many years and was also part of the show. He says, "I can't explain what I paint. It begins with a blank canvas and ends with the excitement of creating a piece of art over which I have no control. I paint according to the moment, without following any particular style or technique. I have always been fascinated by colors more than themes, objects and ideas."

Shahla Rafi recently moved back to Pakistan from Paris. She is a highly skilled landscape painter and describes her practice quite poignantly: "Painting a landscape, not its vastness but the intimate details, boulders washed with light, an isolated village mosque nestled in the hills or a grove of trees swaying in the wind, gives my life a balance, an internal harmony and peace." Nusratji's bold canvasses really stood out. She loves nature and "the cultural aspects" of her country and perseveres to capture their spirit in her artwork.

Mobina Zuberi has been painting since the 1970's. She says that she paints because she feels "incomplete without it." She is one of the few artists I have come across who can visualize a complete image in her mind's eye and then translate it onto a canvas immediately. She has many hidden treasures in her studio that very few people have seen. The work she does for herself is in stark contrast to her commercial artwork. She worked closely with Raja Changez Sultan to organize the exhibition in question.

Sultan has been painting since the age of 19. His continuing quest has been to produce at least 10 "good paintings" and 10 "good poems" in his lifetime. Not knowing whether this lies behind him or ahead of him, he continues to produce artwork at a lightening speed. At the time of the exhibition he had produced over 1,000 paintings (only a selection were on display). The fact that he has never actually worked in the field of art and comes from a completely different background is quite interesting considering his achievements.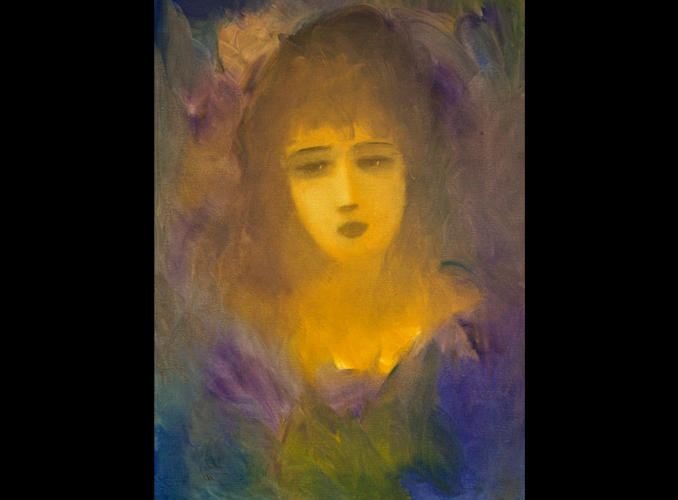 Artist - Raja Changez Sultan
Naeem Pasha is a well-known architect and art-lover. He owns the Rohtas Gallery in Islamabad that has been holding exhibitions for the past 30 years. He also dabbles in fine art from time to time. His work could be classified as abstract figuration and the works displayed here were definitely leaning towards that style. When asked about his practice he says, "My desire is to paint the concerns of man and his/her commitment to the times, not in terms of Munto or Chughtai but more in a Faizian sort of way – more hopeful in the possibilities than lost in the predicament of impossibilities. But I find myself forever closer to Munto; I find solace in the confirmation that there is a place in life for lesser men."
While each artist had their own distinctive style, if all eight artists were to exhibit together in future, it would perhaps be more exciting to form an artist's collective in the true sense. Interacting with one another while the work is actually being created would certainly make a marked difference in each artist's practice. The possibilities are endless and working in a studio environment really expands the work and opens up much needed critical dialogue.
To conclude, Sultan generously opened his home to artists, art-lovers and friends on that crisp and sunny November afternoon and the approach was more of a free-flowing exhibition rather than a formal one. The artists were not brought together through concept, style or media. The idea that tied them all together was the fact that they all happened to come to live and work in or around Tumair Village. For so many artists to form a cluster in the same location was definitely something that needed to be taken advantage of. Although, perhaps it would have stood in their favour to complement each other's styles further or have more in common conceptually.
Undeniably, Gallery Changez stands out as one of the first exhibition spaces to open on the outskirts of Islamabad as well as probably being the most rustic art gallery in Pakistan due to its natural setting. The farmland environment is what really sets it apart from the norm.
Click to view picture gallery
You may also like: