HUNZA WOMEN WEAR BEAUTIFUL PETIT POINT CAPS - THE SKEETH, PARSING AND KHOL
Written by: Shahida JJ - Posted on: December 19, 2013 |

Comments
Google Translation: اُردو | 中文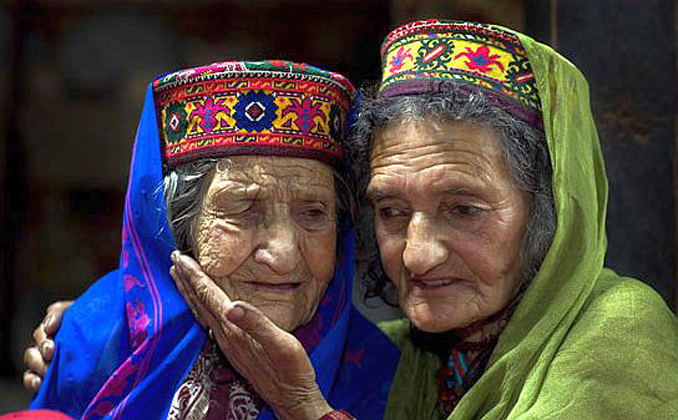 Hunza is a mountainous valley in the Gilgit–Baltistan region of Pakistan. It is situated northwest of the Hunza River, at an elevation of around 2,500 metres (8,200 ft). The territory of Hunza is about 7,900 square kilometres (3,100 sq mi). Aliabad is the main town while Baltit Fort is a popular tourist destination because of the spectacular scenery of the surrounding mountains, Ultar Sar, Rakaposhi, Bojahagur Duanasir II, Ghenta Peak, Hunza Peak, Passu Peak, Diran Peak and Bublimotin (Ladyfinger Peak), all 6,000 metres (19,685 ft) or higher.
1972
I received a gift of a bright coloured Hunza woman's cap, exquisitely hand embroidered in silken floss thread, from Mrs. Bilquis Nasruminallah, wife of Mr. Nasruminallah, who was the Resident Commissioner of Northern Areas, Gilgit.
A piece of art - hand worked by local women in very fine cross stitch, Petit Point like. I loved the piece, admiring the bright colours, the floral pattern, and extremely beautiful embroidery, intricately done by the women of Hunza; these caps are created for their personal use.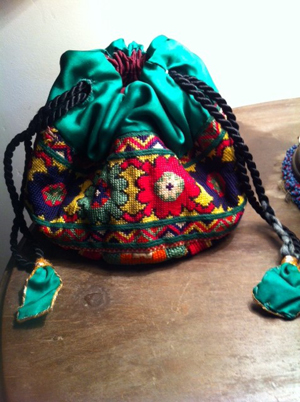 The gift cap by Bilquis that I converted into an evening bag
I treasure that piece; converted the cap into a small pouch, attaching pure silk fabric to make it larger, and have used it as an evening bag for the past 41 years.
Hunza women still wear a cap and on top of it they drape a dupatta or light shawl; it is now usually worn by older women onlt. Their dress is the shalwaar - the baggy pant and a long loose shirt or kameez.
Hand embroidered caps are also worn by the women of, Gilgit, Punyal, Ghizar, Oshkaman, most of Gilgit Baltistan.
Chitrali women do not wear a cap, but the Kalash have a head dress decorated with fossilized kauri shells and beads; indicating that the land was once under the sea.
Central Asian women wear hand embroidered caps also.
When I joined the AKRSP in 1990, we worked with the rural people, visiting their homes, and all the women of Gilgit and Gizar districts wore a beautiful head dress. The embroidered caps are known locally as Skeeth in Upper Hunza, Parsing in Central Hunza, and as Khol in Gilgit, Gojal and Yasin.
Younger unmarried women did not wear them. Today, 23 years later, unfortunately, even older women do not wear the head dress, just covering their heads with dupattas or shawls; with modernization, education and exposure, younger women have given up the use of the beautiful cap as a head dress; they use dupattas as a head covering or do not cover their heads. Soon this treasure will become extinct.
Allah had so willed that I arrived in Gilgit in 1989 and have spent the past 24 years very involved with the lives of the people of the Northern Areas, with whom I have a very special affinity.
November 2013
I am in Gilgit, living in my very beautiful cottage, constructed with white marble like local stone, each painstakingly hand chiseled by the local stone carver. It is located in the fan like formation that lies between two high mountains, in close proximity to Gilgit Serena. The sun sets for me at 2.30 pm when it goes behind the high mountains, leaving us residents in darkness and cold.
It is snowing on the high mountains; power is erratic, and to keep me warm, I have my metal Quetta stove/Bokhari, lighted using wood from my home grown forest that my Chilasi caretaker chopped for me. Am very comfortable.
My room has Hunza embroideries on all of the walls, consisting of Hunza women's caps and embroidered stretches of fabric that I got from local women 23 years ago, and put up on the walls - I felt I should write about them.
Gilgit Serena Hotel began its renovations in 1992 and the designers decided to go indigenous, especially with interior decor. Hunza cap motifs and colours were used as the primary theme.
Designers organised workshops where local women received training to create large and small pieces of hand embroidery, using local designs and patterns and bright colour threads with which to decorate the walls and furniture.
Serena Hunza Baltit Inn Karimabad, also use the embroideries on their walls and furniture; even the upholstery, curtains and carpets carry the same motifs.
Islamabad Serena has used beautiful cross stitch pieces that are framed and decorate the walls of several of their meeting rooms. They have been embroidered by women from Hunza; the designs and colours are modified, adding a Western touch to Hunza embroideries.
Local initiative in preserving Hunza crafts
KADO - Karakoram Area Development Organisation - is a local community based non-profit NGO registered in Gilgit in 1998, and based in Aliabad, Hunza. Some enlightened and development oriented people laid the foundation of this organization in 1995 as the Karakoram Handicraft Promotion Society (KHPS) to protect and promote handicrafts and to empower women and people with special needs.
Today this organization is one of the active, well established, renowned and responsible civil society organizations in the Northern Areas of Pakistan. It is preserving, promoting and projecting local crafts, and provides livelihood to hundreds of local artisans.
Their exquisite intricately embroidered products are sold in their outlet as well as through stalls at exhibitions and the Lok Virsa Mela, and are in great demand.
Anthropological research on the Use of Caps and Ceremonial Headdress by Women of Gilgit-Baltistan Region, by Dr. Shabnam Bahar Malik; she writes: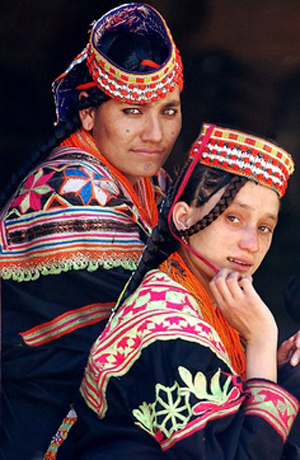 Kalashi girls
"It is one of the most eye-catching experiences to see women wearing beautiful colored headdress as part of their clothing in Gilgit-Baltistan (G-B) region. The custom of wearing intricately embroidered and lavishly ornamented caps and headdress by women is a unique feature of the cultural heritage of this region. These include traditional Iraghi phartsun [s] and Qalami phartsun (popularly known as Hunza Caps) and also the modern new style phartsun, called modern Hunza Cap. A less known and almost disappeared is the beautiful and ornate ceremonial Perak headdress, the serpent style headdress studded with turquoise and silver jewelry, reported in use in remote areas like Punial and Ghizer, and in rural areas of Gilgit-Baltistan. Perak is no more seen nowadays in urban centers. The practice of wearing caps and serpent like ceremonial headdress Perak is unique to Gilgit-Baltistan and neighboring Tibet and Ladakh region. Similar practices extend to Chitral where Kalasha Women also wear traditional headdress daily, called shushut and more ornate ceremonial serpent style headdress kupas.
"The use of popularly known Hunza caps and Perak head dress among women of Gilgit-Baltistan region is slowly disappearing and needs to be preserved through research and documentation before it totally disappears from this region. In this regard the contribution of some local organizations like Karakoram Area Development Organization (KADO) a Civil Society Organization established in 1998 has been instrumental in preserving and promoting the culture and traditional crafts, including embroidery of the Gilgit-Baltistan Region".
Women's Headdress of Gilgit-Baltistan - according to Dr. Shabnam, are known as Phartsun, Iraghi and Qalami,
I took photos of my personal collection, which is presented here.
Click to view picture gallery
You may also like: