ONE STOP SHOPPING ... AND EATING!
Written by: Salma Chaudhry - Posted on: November 29, 2013 |

Comments | 中国 (Chinese)
Google Translation: اُردو | 中文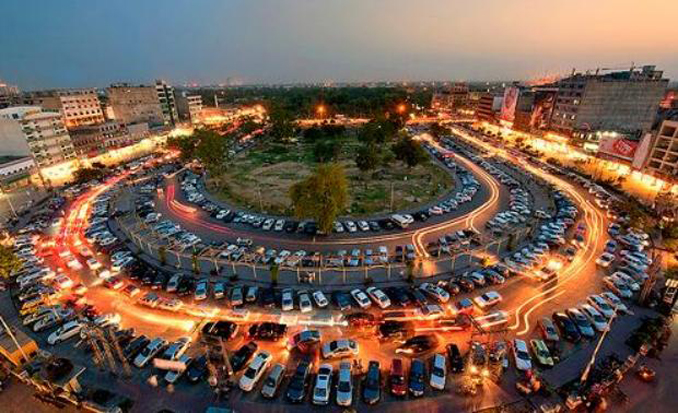 To catch a fine peek into Lahore's culture, you really need to visit this one place – the Liberty Market. From multihued, capricious food spots to the archetypal classic pathan market, Liberty depicts the local every day verve of the city and lets visitors submerge themselves into the true Lahori spirit. The market has something for everyone. Whether you are searching for fine traditional cloth, want to enjoy desi burgers, chaat or chips in the Liberty courtyard, or want to go window-shopping, a visit to this bazaar, is undeniably exhilarating for all shopaholics. The U-shaped market is just a few yards from Liberty Square, known to be the center of Lahore.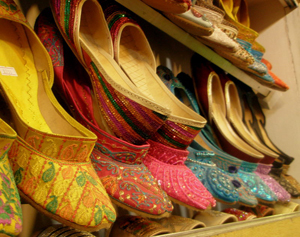 Intricately made khussas at Khussa Mahal, Liberty
The day at the bazaar begins around brunch time when the roads begin to get crowded with vehicles; by afternoon, the entire market is crammed with women and sometimes men too. As you start navigating your way through, you'll find jewelry shops at the beginning selling pricey gold items in a variety of designs; treasured metals and expensive stones are combined with gold to craft exquisite ornaments These lead on to a cornucopia of clothing and shoe stores, a treasure trove for women. The market boasts the most up-to-date designs in daily wear as well as traditional wedding pieces. Women are always found spending hours and hours surfing through the bazaar packed with not only conventional gotakinari and silk pieces but also vibrant ornaments to match the dresses. Liberty has many shoe outlets, each heaving with exclusive styles in western wear as well as the traditional khusas. Women's cosmetics make an appearance here and there as well.
But after spending a while loaded with shopping bags, you'll be getting hungry. There are countless places offering light fare and traditional street food that are wonderful to dive into on a hectic shopping day; here are the four best bites you can enjoy at Liberty:
Lahori mornings are incomplete without halwapoori and Capri at Liberty offers one of the finest halwapoori in the city. Those planning a day of shopping can begin the adventure with a perfect local breakfast. Make sure you order halwa separately as Capri only offers channay with a regular poori unless given a special order.
Premium desi premium burgers is what every Lahori craves for and the famous Liberty Burger is particularly gratifying; loaded, chunky, spicy, moist, it is everything a desi burger should be. These burgers present local flavors way more appetizingly than the average desi street burgers. If you're looking for an inconspicuous local fast-food arrangement then this is the place to be.
For post-shopping refreshers, look for Hafiz Juice Corner, the shop with colorful fruit hanging outside. They offer the best on the go nourishment, being a healthy and filling alternative to junk or oily food. Your body will thank you after the onerous shopping experience.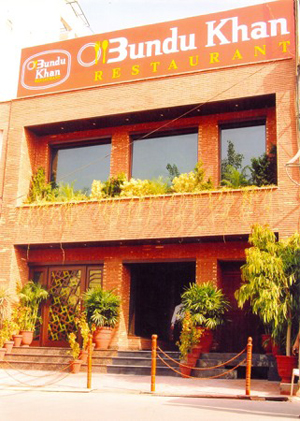 Bundu Khan
Bundu Khan, one of the oldest food chains in Lahore, offers some delicious desi meals but their behari kababs with poori paratha are the best if you are planning to have a proper lunch or dinner, during or post-shopping. Bundu Khan is a casual eatery serving mostly conventional Pakistani food in a lively location. The ambience might not be very good but the food, particularly the kebabs, are scrumptious. A variety of snacks are also a special feature of the restaurant to complement desi curry and tikkas.
You can opt for roll parathas, gol gappas, french fries and channa chaat from various smaller shops in Liberty if you're not looking for a proper feast.
The bazaar remains open throughout the year, with its concoction of intriguing products for customers and interesting places for a quick bite. Be sure to bring in some extra money when you plan to visit, for one often ends up eating or buying stuff they didn't come to get in the first place. Also, be prepared for some haggling as the shopkeepers are smarter than you think!
You may also like: