HOUSE OF LIGHT - PART III
Written by: Aiza Azam - Posted on: December 18, 2012 |

Comments | 中国 (Chinese)
Google Translation: اُردو | 中文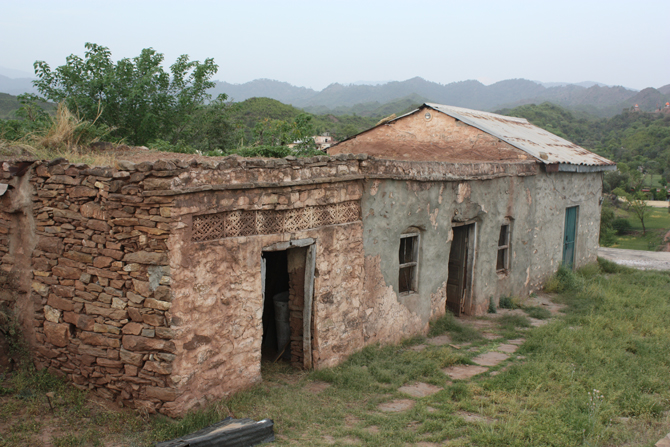 Currently the school only offers classes from the first grade to the sixth. But the Qaisers are intent on providing higher education for the children. "One day," says Sadia, "we want to build a university for these children. It is an important objective we hope to achieve."
While the land for a school is already available, what is lacking are the funds to construct a building. The building the school is currently administered in is full to capacity. Not only does it mean that it is difficult to expand to higher classes and to accommodate new students (students of two classrooms have to have their classes in a makeshift tent on the school grounds), it also means that there is no room for other necessities, such as a library.
The lack of funding has also meant that the school has had to cut back on the food they used to provide daily to the children. "If we continue that, we have to do so by taking away from their educational expenses." The monthly expenditure of each child amounts to Rs. 2000, and it encompasses tuition fees, uniforms, transportation, educational material (textbooks, etc) and field trips.
Initially, the Qaisers, along with their family and friends, established the Horizon International Trust to help generate and maintain funds for the school. Donors may contribute with either a single donation, or regular donations on a monthly, quarterly, half-yearly or yearly basis. Students can also be sponsored individually via the Child Support Program (currently, the major source of funds). All donations are tax-deductible.
Interested individuals may also contribute with skills or knowledge they believe the school can benefit from, by sending in their CVs, along with a letter of motivation, explaining how they believe they can contribute.
(For further information on the Horizon International Trust and means to contact them, please visit http://www.horizon-pk.org/en/horizon.html)
The school also has a Zakat fund, which is utilized exclusively for the students' individual needs and expenses. Interested donors may also contribute by donating a room to the building that will constitute the official premises of the House of Light.
For all contributions made to the school, there is an extensive and fully transparent check and balance system, whereby donors may request and will be provided with information as to how their funds have been utilized.
The House of Light, true to its name, is bringing hope to the Pind Bhagwal region. It is changing the lives of the children and opening doors for them to an opportunity to lift themselves and their families out of dire circumstances such as most people can only imagine. A cause as noteworthy as this needs support to be able to continue. Please contribute generously, with the means you have at your disposal.

Interested donors may use the contact information below:
Pakistan
House of Light School
Pind Begwal, Simly Dam Road, Islamabad
Phone: (0092) 51-255 04 78
E-mail: hol.school@gmail.com
Horizon
Office #7, G-D Arcade
Fazal-ul-Haq Road, Blue Area, Islamabad
Phone: (0092) 51-227 08 09
E-mail: info@horizon-pk.org

Europe
Horizon
c/ M. de Campo Sagrado, 16, entlo 1a
E-08015 Barcelona / Spain
Phone: (0034) 93 441 36 01
E-mail: info@horizon-pk.org

RELATED STORIES:
You may also like: