THE FORTUNATE CONTAGION OF HOPE
Written by: Shahana Shah - Posted on: October 22, 2013 |

Comments | 中国 (Chinese)
Google Translation: اُردو | 中文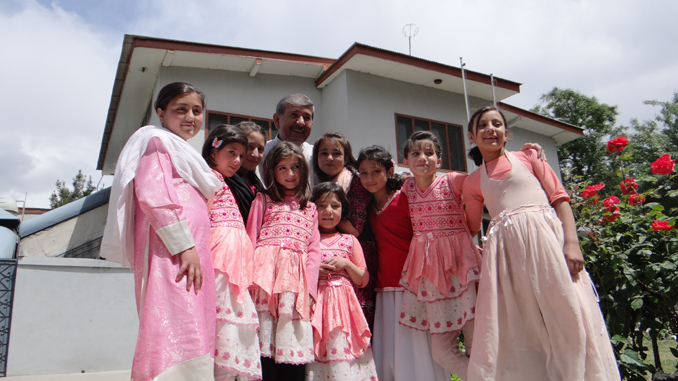 Kids with Chairman CEENA
Sadaf Khan was only a year old when her father learnt, on a visit to the hospital, about a young woman dying there from excessive bleeding because her husband, whose blood group matched with hers, refused to donate. Saddened and determined to do something about such waste of life, Sher Baz Khan started a volunteer group to register donors and arrange for blood in emergency cases. Little did he know at that point in 1990 that the informal initiative would keep growing until it became CEENA Health and Welfare Services, Gilgit. Sadaf is 24 now and a volunteer at CEENA, often participating in fund raising efforts. Her father has, in a way, brought up her and the organization together, so much so that of his 4 children he chose her to take over from him as Chairman when the time comes; as training for that she is currently studying NGO Management at SZABIST, Islamabad.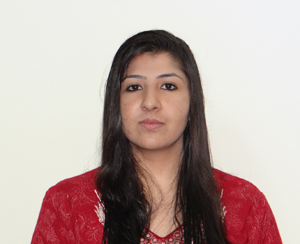 Sadaf Khan
CEENA's story is one of growth, optimism and determination all originating in a humanist compassion that refuses to give in to the luxury of indifference. It had continued arranging for blood donations when one day in 1997, an abandoned newborn was left outside Sher Baz Khan's house. There was no option other than to take the baby in. The unforeseen challenge was eventually met by contacting the Edhi Foundation which arranged for the baby's adoption. This event, followed by several more babies found in garbage dumps, graveyards and outside the CEENA gate, made it clear that more areas of welfare and support needed attention. With time, a Transition Shelter for Abandoned Babies came into being where the abandoned children could be kept for up to 6 months until suitable adoptive homes could be found for them. One obstacle was the social stigma, strong in Pakistan, attached with children born out of wedlock and abandoned because of that. CEENA found a solution by finding suitable parents in countries like Canada and the United States, though making sure that the babies were going into Muslim homes, as they would have been brought up Muslim had their own parents kept them. "There is another advantage of finding homes abroad for the children," says Sadaf, "and it is that adoption in those countries is much more thoroughly official, whereas in Pakistan we only have a guardianship system. First we get Home Study Reports from concerned authorities to make sure the babies are going into safe and suitable households. And also, we are able to get regular feedback about their adjustment and wellbeing." Babies have also been adopted by families in Uganda, the United Kingdom and Pakistan.

Sudair Sultana and Kehkashan
There was yet another need that CEENA adapted itself to meet. Whereas they have to provide shelter to 1 to 3 abandoned babies every year, there is a much bigger number of orphan children in need of long-term support. There were some whose fathers had died to leave them in destitute circumstances and others whose parents were mentally challenged and incapable of providing them either sustenance or education. CEENA opened its doors to these children. Its Empowerment Center for Disadvantaged Children provides them shelter, education in the best available institutions in the Gilgit-Baltistan region and, when it can, it also employs their mothers as cooks at the orphanage. But even more important than all these basic needs and rights, the most significant gift CEENA gives to these children is an atmosphere of hope and optimism which moves them to contribute to society. They want to help as they were helped.
Nazakat Hussain, currently studying at SZABIST, is the model of this spirit of giving and achievement. He was the General Secretary of the Student Council at his high school in Gilgit and credits the CEENA family for the support he received after the death of his father. "This was a paradigm shift in my life," he says. Like him, some of the other youngsters have also started university. Fozia Abbas is at the National College of Arts and Nyla Rahim and Seema Bano are both at Iqra University. Liaqat Ali is at the Pakistan Naval Academy in training to become part of the Aviation Squad. Sajjad Hussain is fond of acting and had the chance to perform at age 12 before the then President Musharraf in 2006, during an exposure visit to Islamabad; he plans to study at the National College of Arts. Not only are the CEENA children ambitious for their professional careers but also have the spirit of volunteerism, and 90% of them are part of the Boy Scout and Girl Guide organizations. Some youngsters have chosen unusual career paths and are training as chefs and in the gemstone cutting industry. Since most children at CEENA arrived there very young, the oldest have only now reached their late teens or early twenties but it is heartening to see their plans to participate not just in the growth and expansion of the organization but also to become fully integrated members of society at large and contribute to the nation's progress. They are the encouraging result of transforming charity into human investment.

Nazakat Hussain, a student of Szabist Colors Day Celebration at CEENA Fozia's (student of NCA) Work
CEENA receives support from groups and individual philanthropists whose hearts have been touched by the work done there. The Hashoo Group, run by philanthropist Sarah Hashwani, has agreed to pay for university education of the children while CEENA funds the school education. The generation of funds, however, remains one of the biggest challenges as more and more children and other disenfranchised individuals are seeking help. On average, a boarder's annual expenses amount up to $1100 to $1300, used to cover accommodation, healthcare, education, clothing and recreation. The number of children currently supported by CEENA Welfare Services is 110. Donations are sought and welcomed but Sadaf mentions that the long term plan is to initiate a self-sustaining income generating project. It is suggested to be a training or vocational center that will provide both learning and earning opportunities to the beneficiaries. CEENA also aims to establish an educational institution parallel to the empowerment center.

CEENA family visiting the Parliament House of Pakistan Visit of Shehzad Roy to CEENA
Over the years CEENA has extended its support to women escaping forced and abusive marriages, physically challenged babies who were thrown away because of deformities and widows unable to support their children. It even found a loving home for an abandoned baby whose face had been partially damaged by frost bite due to exposure to the harsh Gilgit weather. So far 49 babies have found the care of well-off, educated households. Sadaf was glad to meet some of these children again at re-unions in Canada arranged by families who had adopted them. The shelter and the empowerment center are part of her family. She will help run the organization one day with the support of her friends among the CEENA children who are more than eager to join her. As Nazakat says, "There are a hundred of us. We should together be able to make at least one more CEENA." And it is this sense of duty and responsibility which makes CEENA unique. It is enabling young people to help themselves and others. The message Nazakat gives is simple and effective: "Strive hard and stay hopeful."
"CEENA provides various opportunities for individuals who are interested in participating in its mission, in the form of volunteer services or monetary support. Different membership options can be availed, such as CEENA Patron (contribution of USD 5000/year), CEENA Circle (USD 1200/year) and the Sponsor a Child Program (USD 912/year). Monetary donations are used on the education, boarding, health and other expenses of children at the CEENA Empowerment Center for Disadvantaged Children. Donors are provided progress reports on the well-being and academic performance of their sponsored child. Individuals wishing to provide volunteer services can get registered on the CEENA website and can help by promoting the cause or providing services according to their particular skills. For further details, please visit http://www.ceena.org/getInvolved.php"
For further information about CEENA, visit: http://www.ceena.org/
For detailed information on how to contribute to the organization, visit: http://ceena.org/ceena.html
You may also like: