OF TEACHING AND LEARNING IN THE LAND OF THE PURE PART I
Written by: Aiza Azam - Posted on: May 09, 2013 |

Comments | 中国 (Chinese)
Google Translation: اُردو | 中文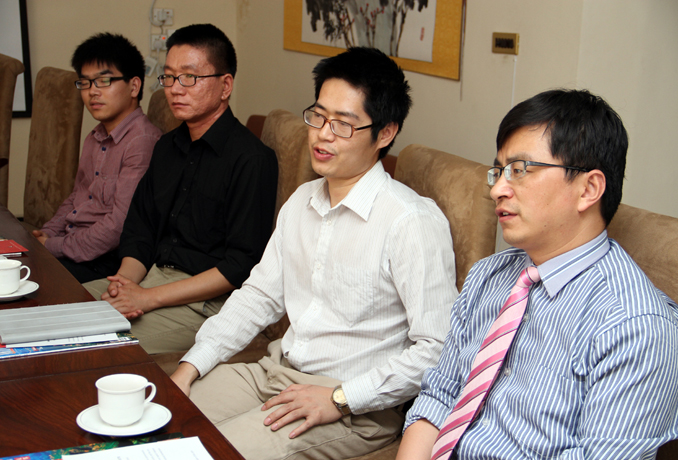 Confucius Institute Team
Students of the Chinese language will be familiar with the plethora of Confucius Institutes that have been established in a number of countries over the past decade. With over 300 centers worldwide, these non-profit institutions work in tandem with the Chinese government's Ministry of Education and have emerged as the primary bodies promoting the learning of the Chinese language, the dissemination of Chinese culture, and the facilitation of cultural exchanges between China and their host countries.
The Confucius Institute in Islamabad opened in 2007. While headquartered on the campus of the National University of Modern Languages, the Institute has set up 13 teaching points in various other institutions as well, including the National University of Sciences and Technology (NUST), the University of Central Punjab, City School and Aitchison College. With the importance of learning Chinese having picked up exponentially in recent years, the Institute quickly acquired a solid student body, currently over 2000 in number.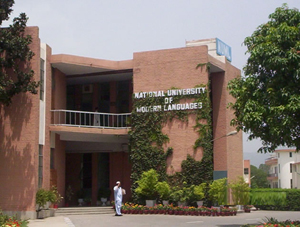 Numl Islamabad
While the much older Chinese department at NUML is a well-recognized and accomplished faculty at the university, the Confucius Institute is not limited to a 'one curriculum fits all' approach in language teaching. It breaks down its courses into Basic Chinese learning, Business Chinese, a course that is tailored specifically for elementary and middle school students, and preparatory classes for the HSK (Chinese Proficiency) test, which it is also authorized to conduct. In addition to language classes, the Institute began twice weekly classes for learning Kung Fu.
Pertinent to note, a critical part of the curriculum is learning about Chinese culture and society, which is as important as linguistic knowledge.
The strength of the Institute lies in its faculty, all of whom are committed to the dissemination of the Chinese language and culture around the world. The current Director of the Confucius Institute in Islamabad is Dr. Zhang Daojian, and his core faculty members are constituted by Zhang Haiwei (Head of Chinese Language Education Center), Zhang Tiejun (Head of Chinese Teacher Training Center) and Shen Xinmin (Lecturer), all of whom hail from the Beijing Language and Culture University.The Director and Shen Xinmin arrived here together last October, while Zhang Tiejun and Zhang Haiwei have already been here for two and a half years.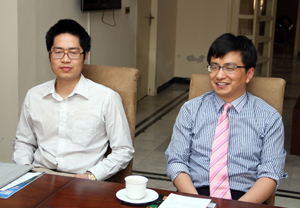 Zhang Tiejun and Dr. Zhang Daojian
They give varying reasons for deciding to teach Chinese as a foreign language: An interesting lifestyle. Opportunities for interaction with various foreign cultures. The influence of belonging to a family of teachers. National pride.
Working in Pakistan resulted from less surprising reasons, largely curiosity and friendly Pak-China relations. But it is interesting because employees of the Confucius Institute are only assigned to countries of their own choosing.
For Dr. Zhang, the decision was shaped by his extensive study of Pakistan, its culture and history, and Sino-Pak ties in general. The limited media coverage, however, did not afford him an in-depth view of what it was that truly constituted the real Pakistan, and it gave rise to some apprehensions about living here. He was aware that the image he was able to construct with limited information was not the complete picture. Some of the research he carried outdid very little to help and presented a rather distorted picture. "I did a lot of reading on the traditions and taboos of the country. And then discovered that facts were very different. Some of the books related very odd ideas, things like 'Pakistani people do not like the colour yellow'! But some of it cautioned against Don'ts which do have bearing in fact; for instance, a book stated that you mustn't stare at the local girls and women when you are out in public."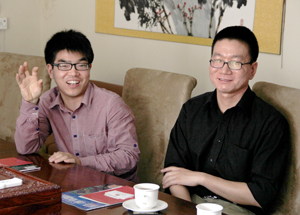 Shen Xinmin and Zhang Haiwei
Not that our own men have any such hang-ups.
"Fact is," he says, "you can't get an accurate feel of things as they are until you have lived here."
The other three relate that their families weren't exactly thrilled at their choice of country, due to the security environment. "My parents were very worried about me when I first moved here," says Shen Xinmin. "But they trust my judgment, so they supported my decision. I make sure I call them and tell them about the situation every day or so; it helps ease their mind and now it's not so bad." He grins, "In fact it's good in another way too, because I call them much more often from here than I did when I was in Beijing!"
Zhang Tiejun points out something you've probably never heard before, being a Pakistani: "We envy your capacity for living at ease."
He looks at my expression and is prompted to explain.
"Pakistani people are much more laid back than Chinese people. We are in an almost constant state of being busy, running around in pursuit of success, always aiming at an ever higher standard of living, putting career above most other things. You, on the other hand, are so much more relaxed. We don't know what that's like," he says in earnest, "and we envy you for it."
I let him in on the fact that when we want to encourage someone to work harder, we cite the example of our Chinese brethren.
RELATED STORIES:
You may also like: