Hurouf at Satrang
Written by: Saman Shafiq - Posted on: July 17, 2014 |

Comments
Google Translation: اُردو | 中文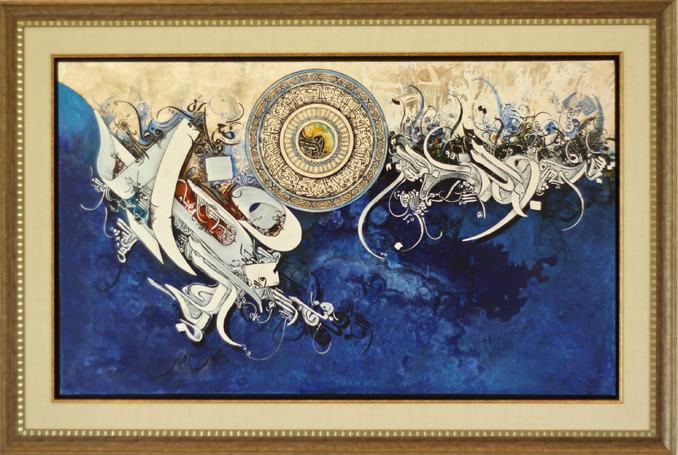 Bin Qulandar
Serena Hotel's Satrang Art Gallery opened its doors to an outstanding calligraphy exhibition on the 5th of July. The exhibition showed the work of four artists which included Rasheed Butt, Ahmad Khan, Arif Khan and the upcoming Bin Qulandar. The annual exhibition "Hurouf" was in junction with the spirit of Ramadan and is being held for the third year running. The medium of the art work was mixed and the artists used vibrant colors as well as gold and silver pigments which enhanced their work further.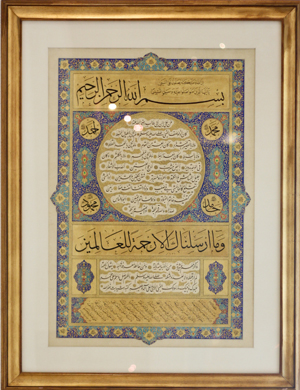 Rasheed Butt
Calligraphy is an extremely complex and diverse form of artwork. The grammar, aesthetics and devotion are the three pillars on which calligraphists have been erecting the whole edifice of beautiful art pieces. Presenting the Quran as a calligraphic art piece is extremely challenging. Moreover, calligraphy is not limited to writing the Holy Quran only; it has embodied so many other forms of expression such as handicrafts and architecture. Therefore, the purpose of the exhibition was to promote this art form. The coordinator there told us that the exhibition had received an enthusiastic response and most of the pieces had been sold on the opening day. Bin Qulander, who represented the most popular artist of choice, had mostly presented the Surah Rahman in his calligraphy. His art pieces were extremely colourful and the pigments were very vibrant. Rasheed Butt, also a notable calligraphist, featured artwork that was mostly done in gold.
The exhibition continues for one month.
All images provided by author
You may also like: