Iftaris around Islamabad
- Posted on: July 26, 2013 |

Comments
Google Translation: اُردو | 中文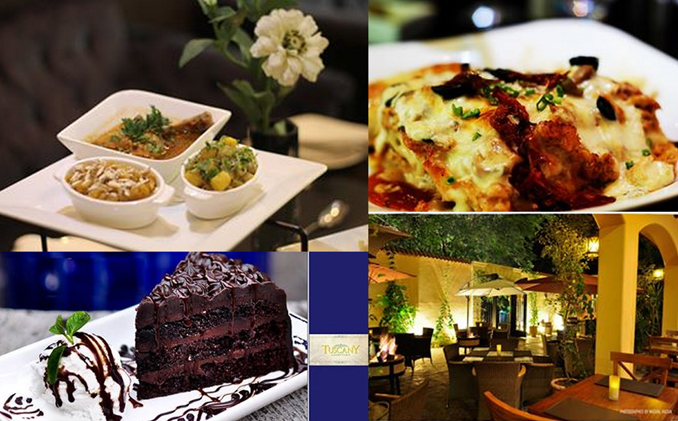 Read through Youlin's round-up of some of the best - and worst - iftaris around the twin cities, to guide your dining plan this Ramadan!
Tuscany courtyard:
Tuscany Courtyard hosts a buffet for iftari priced at Rs. 1295+tax, offering a wide range of dishes including appetizers, main course and dessert.
The buffet is offered both outdoors and indoors, and though you might be inclined to sit inside- don't. The outdoor courtyard has an amazing ambience- like a little part of Tuscany itself.
Following the call to prayer, appetizers, water and orange juice are served on your table so there is no hassle involved at iftari time. The buffet includes the restaurant's most popular dishes: Pasta, Chinese, and not to forget their fish and chips! Thin crust pizza is served on your table as part of the buffet. The main course is followed by a selection of desserts including bread pudding, tiramisu and chocolate dishes. The sweets, however, are not up to their usual standard of excellence.
Table Talk:
Located in Kohsar Market, table talk has always been a favorite with its loyal clientele. Their assorted thaalis were a welcome addition to Islamabad's palate when it opened over 10 years ago and they are still just as popular! The Ramzan thaali does justice to the concept behind fasting, laden with their most prized items. Our reviewer loved the lemonade which is absolutely necessary after a long day's fast especially in this excruciating summer. A must visit if you're a Table Talk fan!
Street 1 café:
The iftari at Street 1 café, Kohsar market, is priced pretty heavily at Rs 1750, inclusive of all taxes. The menu here changes every day, bringing in a new variety of fresh juices; cocktails are served as part of the buffet-per person. Some of their really good dishes include shrimps, which are spicy and saucy- the perfect appetizer. If you like lasagne, then do not miss it on the buffet. Their desserts are however not at par with their main courses. You will not be disappointed when it comes to comfort as the café is well air conditioned and fans are also arranged for outdoor seating. Essentially, Street 1 café is a paradise for gastronomic people who value good food.
Monal:
Just the view of Islamabad from Monal is enough to beckon people to it, despite the half and hour drive-up the Margallas. It is priced reasonably at Rs. 1050 per person for the continental menu and rounding up to Rs. 1300 for the Italian/Chinese menu. The food isn't something to write home about, claims our reviewer, very basic and not too fresh. The service lacks efficiency as is the case with most eateries caught up in the Ramzan rush hour. Yet, Monal is a staple on everyone's 'eat out' list and an Iftari up in the mountains is absolutely necessary. So if you're ready to compromise on the food (who eats much in Ramzan anyway?) and want to enjoy the beautiful monsoon sunset from the Margallas, Monal is the place for you.
Pearl-Continental Hotel:
One reason why this features on our review is that it is less pricey as compared to other five star hotels around the twin cities. At a very inexpensive Rs. 699 per person, the Marco Polo Lounge in PC offers a heavy iftari, catering to most appetites with its large variety. No dinner is served and for those who like to have a lighter iftari and indulge afterwards, this may not be the best place to go to. Yet with all dishes being replenished from time to time one may eat however much at their own pace. The Rooh Afza, our all-time favorite Ramzan drink, however was a disappointment.
Des Pardes:
"Enough of western food, we want desi food!" - If you feel this way, then Des Pardes is the ideal place to break your fast! Not only is it reasonably priced (at Rs. 1200+tax), but it also offers deliciously fresh desi food and excellent service -an oddity in Ramzan- with waiters coming to your table after every five minutes asking if you need anything. There may be one drawback: the congestion due to the popularity and lack of space. It's not advisable for anyone who has the slightest inclination to claustrophobia. However, for those of you who are in the mood to eat tikkas and kababs, heavy naans and lassi; indulge yourself at Des Pardes. Tea and green tea are on the house, so you can drink as much as you want.
You may also like: