Islamabad's First Braille Art Library
- Posted on: October 11, 2013 |

Comments
Google Translation: اُردو | 中文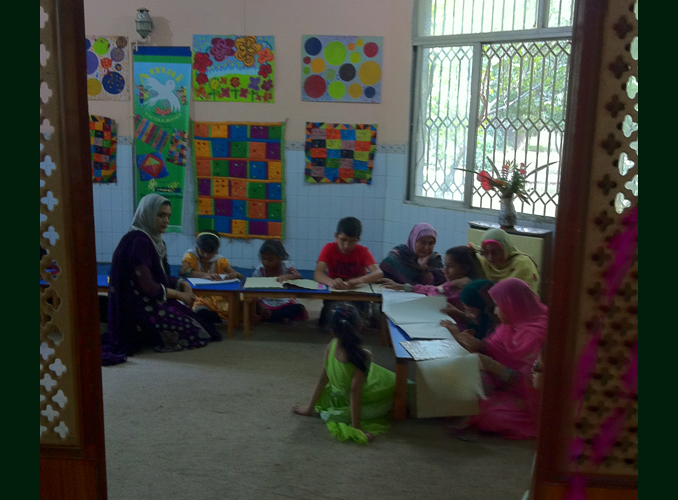 The claps and cheers of little children to the melody of the keyboard, rabab, flute, and dhol reverberated through the entire building. It could have been any other school concert with talented children beautifully playing a range of musical instruments, but what made this orchestra different was that these young children were all visually impaired.
The Al Maktoom Center for the Visually Impaired celebrated White Cane Safety Day on 10 October. A day commemorated all over the world to remind society that even those who cannot see are still citizens of this world and that their white cane is a symbol of their movement and independence. The Center, tucked away in one of Islamabad's small neighbourhoods, celebrated the day by inaugurating their first library, the "Braille Art Library".
Artist, activist and author Fauzia Minallah designed special "Amacai Tactile Books". Alluring and colourful, these cloth bound tactile books with buttons are the first steps towards lifting those who cannot see into a world of visuals and narratives. Even before the opening of the library, children of all ages sat on the blue carpet, reading to themselves, sometimes guided by a mentor or teacher. Those who were more proficient with the braille system read on white sheets of computer braille paper. Nazima, a former student of the institute used to read to the children at the school and recognized the love and appreciation they had for storytelling. Their enthusiasm motivated her to dedicate her summer to transcribing books that her niece read out to her. She proudly pointed to the large wooden shelf where her transcribed books had finally found a place.
The Braille library is another white cane, a sign of independence for those who are often left behind by society. If you peaked through the wooden carvings of the entrance to the library, you could see children across the floor, using their hands to read and visualize. This library was their space; where they could imagine, create and intellectualize.
You may also like: