Spring on a Stage: Celebrating Chinese New Year at PNCA
- Posted on: February 14, 2013 |

Comments
Google Translation: اُردو | 中文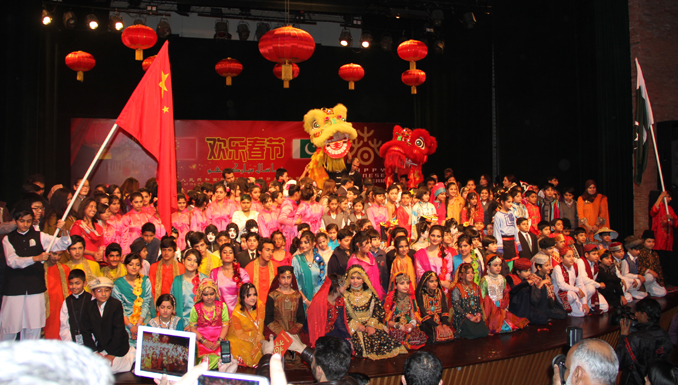 The stage was set. Framed in the middle of the black curtains were red tanglungs that hung from the ceiling, a red drum in the middle and two flags printed on the backdrop. It was four days since the Chinese Spring Festival had begun with a new year. The Embassy of the People's Republic of China in collaboration with the Pakistan National Council of Arts and the Confucius Institute had invited the crowd in Islamabad and Chinese expats for an evening highlighting the courage of the dragon that had made way for the wisdom of the snake.

It was an event in two languages; reminding the two people, and two nations that the year ahead was for progress, not only in economic and strategic ties, but also friendship. This sentiment was echoed in the words of the Chinese Ambassador Liu Jian and embodied in the two national anthems that were harmonized by the students of Roots and Headstart. The event maneuvered through the fast beats of Uygur pop music, stunning hand acrobatics, Kung Fu, and the dance of a furry costumed Chinese lion. Interwoven with the Chinese customs were the Pakistani traditions of Punjabi dance and national dresses showcased by the students of City School. Little children greeted the audience a happy new year in Chinese, English and Urdu, while a Pakistani and Chinese student from NUML sang a duet in English and Chinese. The evening ended with a skit on the Karakoram Highway, the epitome of Pak-China friendship and diplomacy.

The crowd cheered, prizes were distributed, schoolchildren danced, and the tone of friendship spread throughout the packed hall. The year of snake had begun, many performances had taken place, and many had yet to come.
You may also like: