Feeling Like Royalty? Try Homa Qamar's Chic Abaya Collection!
Written by: Zahrah Mazhar
Posted on: September 19, 2016 |

Comments | 中文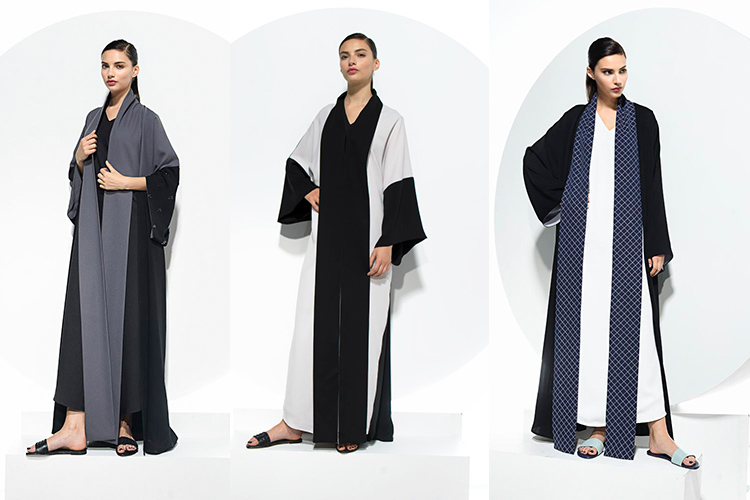 Homa Q Dailywear Latest Collection
When it comes to designing abayas, Homa Qamar has a clear-cut vision: to make women feel like royalty. "The draping, the cut, the fabric—they all contribute to how a woman feels about herself," said the UAE-based Pakistani designer, while showing me her mood board for a recent collection. Pictures of Old Lahore, next to Dubai's imposing skyline with snippets of Arabesque patterns, serve as an inspiration for her structured capes and flowy abayas.
Born and raised in the UAE, Homa comes from a Punjabi family and is the eldest among four siblings. Creativity and fashion run in the family, with Homa's sisters pursuing shoe and fashion design in Italy. "Being the eldest, I laid the groundwork for them," she said with a chuckle. "My father wasn't open to the idea of a career in the fashion industry, but eventually, he understood my passion for designing." After spending four years in Pakistan to study Fashion Design, Homa came back to the UAE and started working for a ready-to-wear (RTW) boutique of abayas and sheilas (scarves). "Dubai was very different 10 to 15 years back. There was nothing for designers at that time, and I struggled with the lack of professionalism in the industry."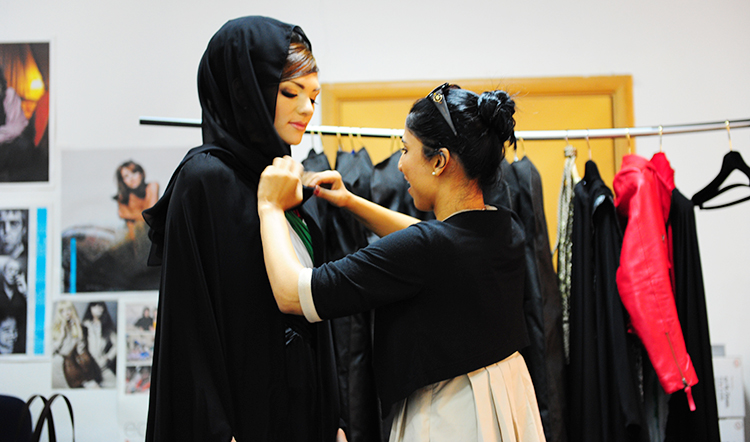 Homa styling her abaya on a model for a photo shoot
This was Homa's first time designing abayas. "It wasn't something I had thought about; it happened more or less by chance. My boss told me to take it as a challenge." Soon, Homa fell in love with the abaya and the different ways it can be styled. Having lived in the Middle East all her life, Homa had seen the religious garment evolve into a fashion statement among the khaleeji (Gulf) women. "Abayas are worn at weddings, in mosques, to work—they serve more than one purpose and should be easy to carry."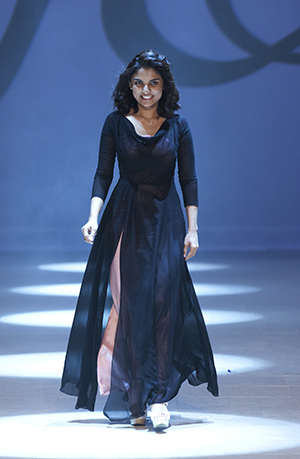 Homa takes to the ramp at Dubai Fashion Week
Homa tapped into her entrepreneurial side in 2008 and decided to branch out on her own. Two years later, the brand 'Homa Q' made its debut at Dubai Fashion Week. "That platform kick-started my career as an abaya designer." By that time, Homa had already amassed a loyal clientele, but after the glowing reviews from Fashion Week, she really knew she had arrived. "Most of my clients are based in the Middle East—some in the USA, UK, and even parts of Africa—and they are all looking for something different." Keeping in mind that one style does not fit all, Homa Q offers custom-made designs alongside its RTW collections. Homa is personally on hand to help her customers from the time of conceptualization of the design to its delivery.
Naming Queen Rania of Jordan and Hollywood icon Grace Kelly among her style inspirations, Homa says that her clients are strong, elegant, and stylish women. "For me, each client is a princess, and I want them all to feel like royalty, from the touch of the fabric to their reflection in the mirror." Keeping the same aesthetics in mind, the designer is currently working on the brand's line of dresses, set to launch this year. The Homa Q designs range from chic casual capes to elaborate fancy abayas featuring lace, pearls, and embroidery. "I'm a fan of Grecian draping, as it gives a royal allure – so you'll see that in some of my designs." Apart from classic black, she uses shades of brown, grey, blue, pink and other colors to give her pieces a contemporary spin, not to mention a cooling effect for daytime. Her latest collection has been designed with the workingwoman in mind, relying on clean and simple cuts.

Ready to Wear Collection 2014
When asked if she'd ever dabble in the lawn mania of Pakistan, Homa said, "Maybe some years down the line. I'm very particular about prints; I feel if a person isn't wearing the right one, the outfit can become a disaster." At the moment, Homa doesn't have any clients in Pakistan, but was surprised to learn that copies of her designs are available in the Pakistani market. "I'd definitely like to see how they've made it," she said laughingly.
Homa wants to keep an open mind for her future. By the end of the interview, we'd discussed a number of possibilities awaiting the gifted designer: studying haute couture in Paris, opening an atelier in New York, debuting at an international Fashion Week, setting up her office in the heart of Dubai—nothing is off the table.
All images have been provided by Homa Qamar.
For more information about the latest designs, follow Homa Q on Instagram.
You may also like: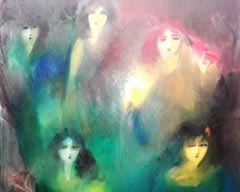 Art Review: Raja Changez Sultan at Tanzara Gallery
(January 19, 2018)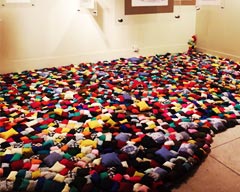 NCA Rawalpindi Degree Show 2017
(January 17, 2018)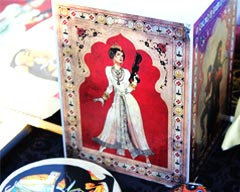 Winter Fete, Islamabad
(January 09, 2018)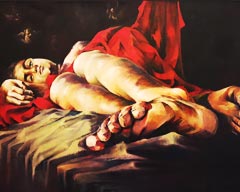 Review: 9th National Exhibition at PNCA
(January 02, 2018)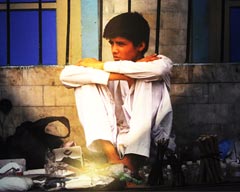 Yeh Hai Karachi 2: Photography and Film Exhibition
(December 20, 2017)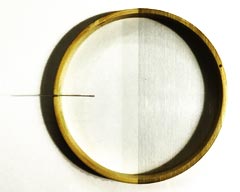 Art Review: Reading Between the Lines at Sanat Initiative, Karachi
(December 05, 2017)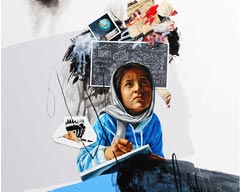 Art Review: The Onrushing 2 at Gallery 6, Islamabad
(December 04, 2017)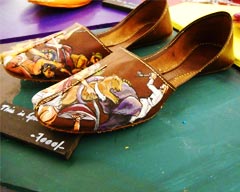 Daachi Arts and Crafts Exhibition 2017
(November 13, 2017)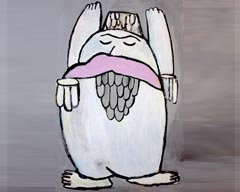 Art Review: 'Loompaland' at Studio Seven, Karachi
(November 09, 2017)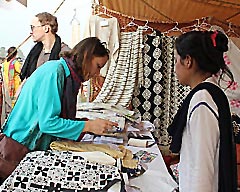 The Behbud Bazaar, Islamabad
(November 07, 2017)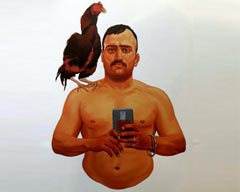 The Karachi Biennale 2017 (KB17)
(October 27, 2017)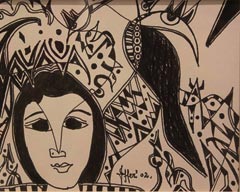 Wahab Jaffer Exhibition Opens at Tanzara Gallery, Islamabad
(October 20, 2017)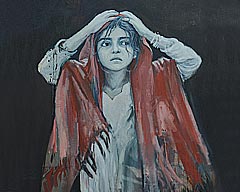 Art Review: Socio-Domestic at O Art Space, Lahore
(October 11, 2017)