Kaleidoscope at Asia House London: A New Perspective on Contemporary Pakistani Art
Written by: Samar F. Zia
Posted on: November 25, 2016 |

Comments | 中文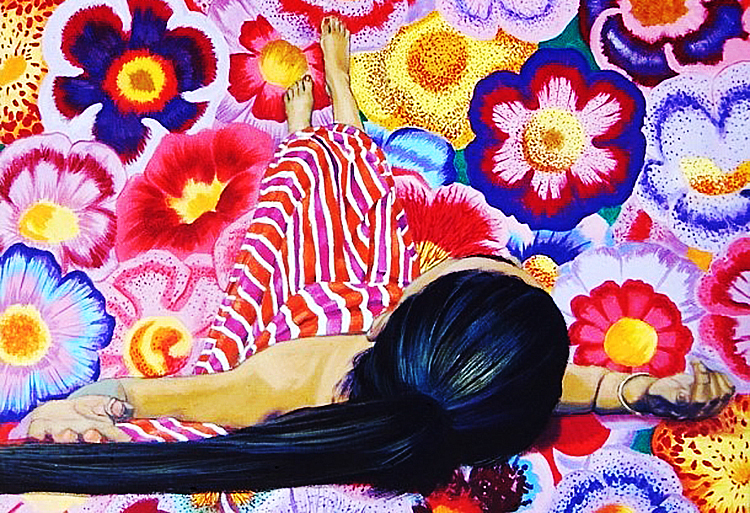 Saqiba Suleman - Oil & Acrylic on Canvas
Kaleidoscope: A New Perspective on Contemporary Pakistani Art, inaugurated recently at London's Asia House, exhibited to its credit paintings by a variety of Pakistani artists. Curated by Sophia Chaudhry and presented in collaboration with Lahore's 'The Collectors Galleria' and Philanthropie Limited, the proceeds from the show will be used to aid mental health care and education for the youth of Pakistan.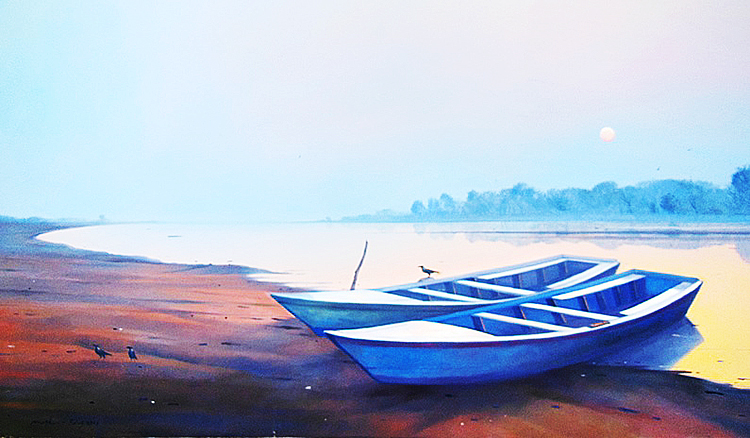 'Boats at River Ravi' by Mughees Riaz
Although the exhibition only showcased paintings, each artist's work represented a different style and genre within the medium. Some paintings that outshone others did so either because of their original subject matter or their technique. Artist Mughees Riaz falls in the latter category. Much like his other works, the subject of his paintings, i.e. the River Ravi and its surroundings was constant in the work included in this exhibition. That being said, his painting titled Boats at River Ravi showcases his exceptional skill and beautiful rendition of the Punjab skyline and waterbody. Riaz's interest in painting reminds one of the impressionists, who also studied the effect and play of light on the same scenes and subjects.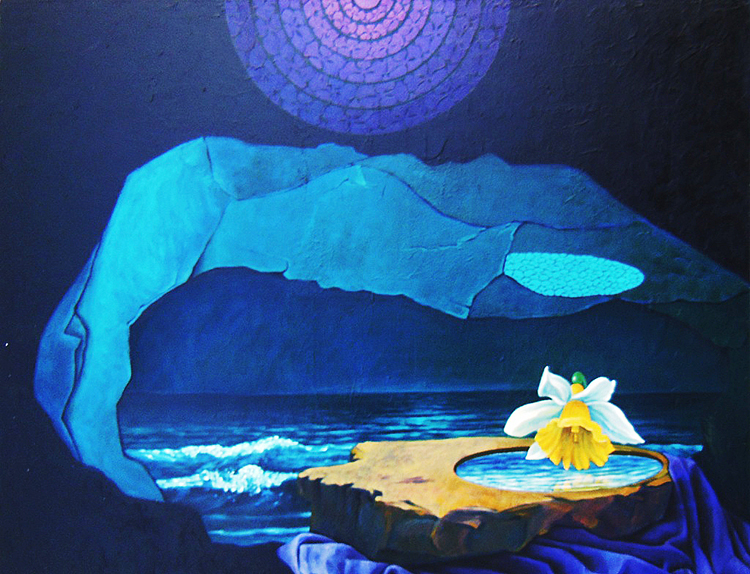 'Self to Self' by Aqeel Solangi
Aqeel Solangi, a graduate of NCA, Pakistan, has four paintings in the exhibition. A complete contrast to the works of artists such as Mughees Riaz, Solangi brings mystery and vibrancy to the show with his surreal works. The painting Self to Self is a seascape of sorts, with a very Dali-like feel to it. Painted mostly in hues of deep blue, it relays a sense of mystery associated with late hours of dark nights. With water waves covering a large part of the canvas, one is unable to decipher the space or location of the painting. It seems as though the seascape has been viewed and painted from within a cave, as is suggested by the rugged framing of the water. Solangi's fascination with the sublime elements of nature is quite evident in this painting, be it the waterbody, the cave or the larger-than-life flower on the right, which seems to be observing its own reflection in a small pool of water. Deciphering Solangi's work is a task most exciting and inviting.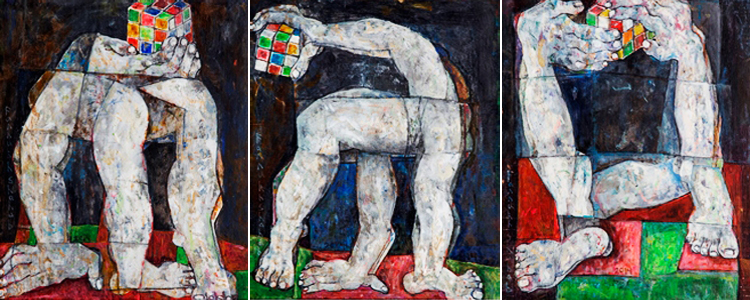 'Conundrum II' by Farrukh Shahab
Farrukh Shahab is a portrait artist based in Karachi. He has three very dynamic and attractive works included in the show. Each piece seems conceptually balanced, with careful consideration given to composition, visuals and concept. To exemplify, his painting Conundrum II is a cross between the Cubism movement and the work of the great Sadequain. It comprises three small paintings on board that come together to make a whole. It is a figurative piece that lacks portraits, but illustrates disjointed limbs and the Rubik's Cube. The division of colours in the background as well as the Cubist break in the painting's surface reinforces the Rubik's Cube, marking the piece as a wholesome success that grabs the viewer's attention.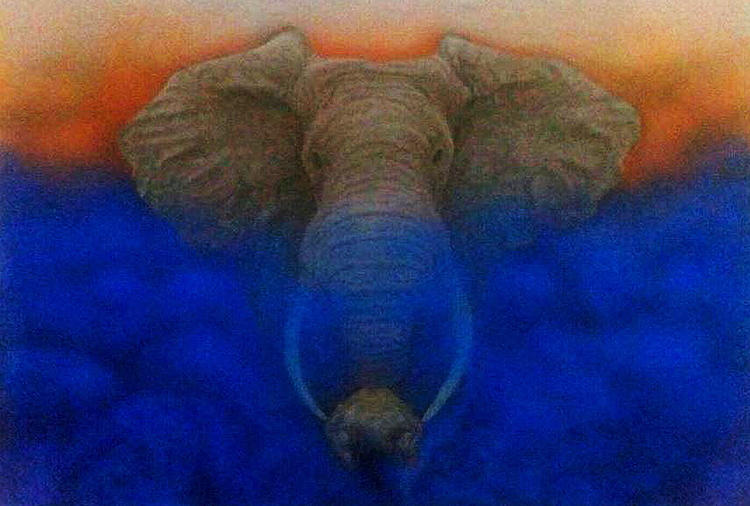 'Silence I' by Mudassar Manzoor
Mudassar Manzoor, the only miniaturist in the exhibition, uses the medium and technique of miniature painting to a certain extent; however, his final visuals are nothing like a typical miniature painting. That's not to say that his works aren't good, but like many neo-miniaturists he has experimented with the historic medium and developed his own personal style. He uses the traditional medium of Gouache, but it is his use of pigment that is captivating. Silence I depicts an elephant emerging from a haze of bright aquamarine blue and orange pigment. The detail in the elephant's face is noteworthy and represents Manzoor's skills – probably gained when training as a miniaturist. Manzoor endeavours to create mystic images with a strong spiritual underpinning. The bold colours, combined with the elephant's almost sad expression, evoke contradictory feelings in Manzoor's audience.
Another artist whose visuals are a complete take-off from the above mentioned works is Ahmer Farooq. Following a very abstract style of art-making, Farooq's work is reminiscent of British-based Pakistani artist Anwar Shemza. Not only does Farooq's work bewilder, but the titles of his paintings add further suspense to one's interpretation of his artworks. At first glance, I was convinced that Farooq's paintings titled It's Not What It Looks Like – I & II, depicting geometric shapes, were actually Urdu letters stylised to make a pattern – an unrecognizable calligraphy of sorts. However, it takes one good look at the title to undermine your thought process and assumptions about the artist's work. Undoubtedly, this play of words is even more inviting than his brightly hued geometric patterns.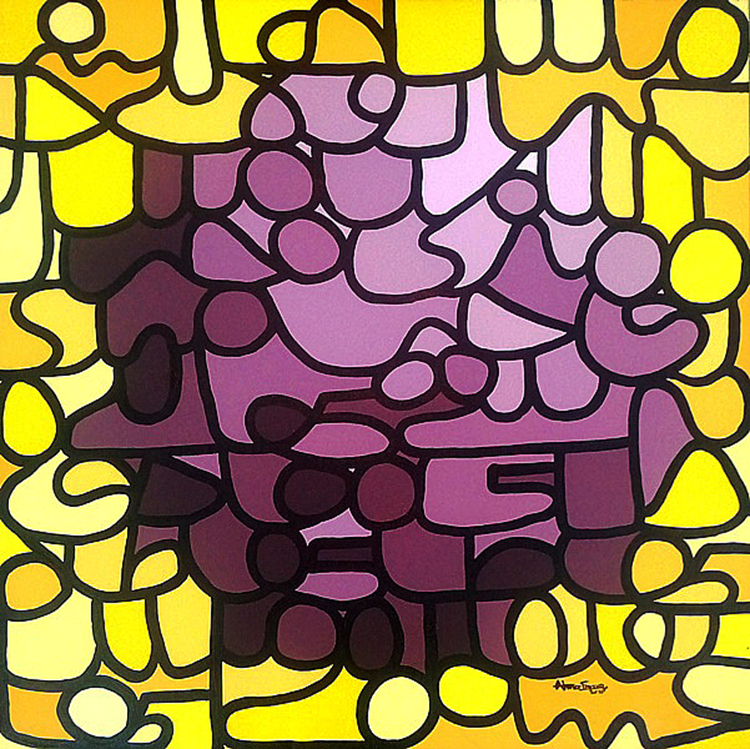 'It's Not What It Looks Like' by Ahmer Farooq
Also part of the exhibition are artists Abrar Ahmed, A.Q. Arif, Muniba Mazari, M.A. Bhatti, Qamar Siddiqi, Salman Farooqi, Sara Khan, Saqiba Suleman and Zahid Saleem. If you're currently in London, the exhibition is up at Asia House till November 26th and provides a wide lens to look through and understand the diversity and development of paintings emerging from Pakistan.
You may also like: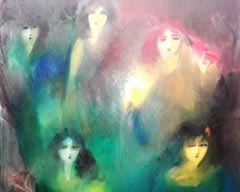 Art Review: Raja Changez Sultan at Tanzara Gallery
(January 19, 2018)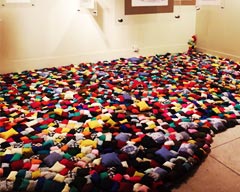 NCA Rawalpindi Degree Show 2017
(January 17, 2018)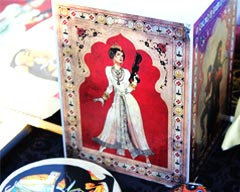 Winter Fete, Islamabad
(January 09, 2018)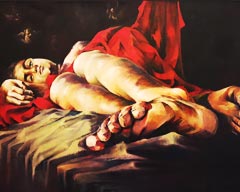 Review: 9th National Exhibition at PNCA
(January 02, 2018)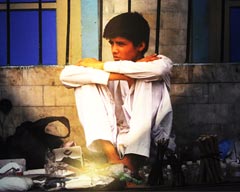 Yeh Hai Karachi 2: Photography and Film Exhibition
(December 20, 2017)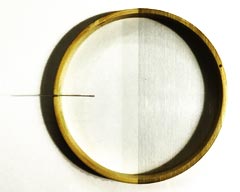 Art Review: Reading Between the Lines at Sanat Initiative, Karachi
(December 05, 2017)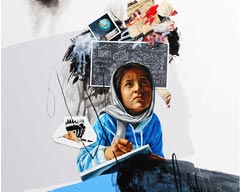 Art Review: The Onrushing 2 at Gallery 6, Islamabad
(December 04, 2017)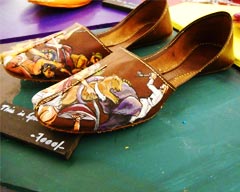 Daachi Arts and Crafts Exhibition 2017
(November 13, 2017)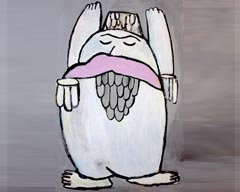 Art Review: 'Loompaland' at Studio Seven, Karachi
(November 09, 2017)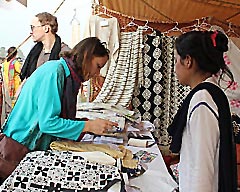 The Behbud Bazaar, Islamabad
(November 07, 2017)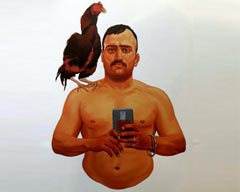 The Karachi Biennale 2017 (KB17)
(October 27, 2017)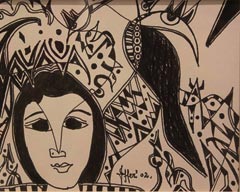 Wahab Jaffer Exhibition Opens at Tanzara Gallery, Islamabad
(October 20, 2017)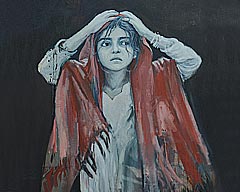 Art Review: Socio-Domestic at O Art Space, Lahore
(October 11, 2017)