Lahore Literary Festival 2015: Day III

Posted on: February 22, 2015 |

Comments
---
Harf-e-Man-o-Tu (The Long Lost Art of Literary Conversations)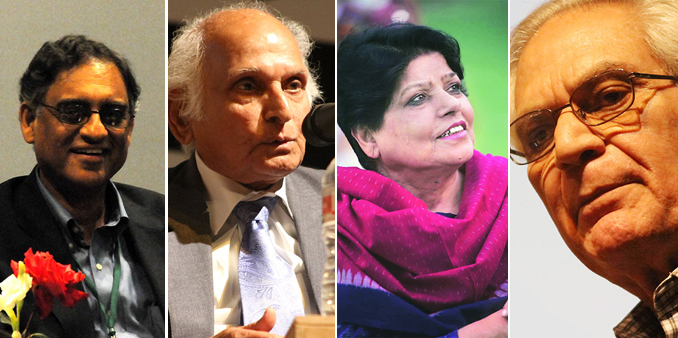 (l-r) Asif Farrukhi, Intizar Hussain, Kishwar Naheed and Masood Ashar
There was a time when writers and intellectuals would have endless discussions over small cups of tea and young aspiring authors would just sit with them and ask questions. More than just conversations, these meetings would also be utilized to launch writings and celebrate literary achievements. Places like Pak Tea House signified freedom of thought and provided an ambience for creative work. The Progressive Writers' Association and the Halqa-e-Arbab-e-Zauq would have literary conversations which would serve many purposes, from celebrating literature to criticizing it. In fact, the Pak Tea House's claim to fame was that it served as the watering hole for countless eminent names: Faiz Ahmad Faiz, Saadat Hasan Manto, Amrita Pritam, Munshi Premchand, Munir Niazi, Habib Jalib, Ashfaq Ahmad and many others.
Today, we don't find these traditions enduring, despite many great writers and poets still producing excellent pieces of writing. The session titled "Harf-e-Man-o-Tu – The Long Lost Art of Literary Conversations" included Intizar Hussain, Kishwar Naheed, Masood Ashar and Asif Farrukhi on the panel. Kishwar Naheed recalled old times, saying that she grew up listening to Faiz Ahmad Faiz and Sufi Tabassum, who would have frequent discussions on literature. "Once they were discussing the location of Koh-Kaaf, and Faiz said it is located in Russia, to which Sufi Sahib responded amusingly in Punjabi, 'Hey, you've even given Koh-Kaaf to Russia, that's so unfair!' Those were the kinds of sessions we grew up attending and learning from. Today, there seems to be some disconnect," Kishwar related. Talking about the promotion of Urdu, Intizar Hussain said that very few of today's interviewers have any knowledge of literature. "Mostly they just ask me about what I like to eat, and how many books I have written so far". He lauded the tradition of literary festivals, saying that the presence of youngsters at such events is an encouraging sign.
Asif Farrukhi, who interviewed many writers for Herald, said that he started conducting these interviews because there was a need to take the message forward, and conversations were the best possible way to do that. "I would always interview someone after reading their books and internalizing their work,' he said.
The panel had a consensus that Urdu newspapers had fallen prey to commercialism, and it was in fact a few English newspapers that were still promoting Urdu Literature. The talk concluded with Farrukhi encouraging everyone to play their role in resuscitating a culture of literary conversations, as it is a healthy practice for any culture that desires to flourish.
---
Cricket: Pakistan's Greatest Game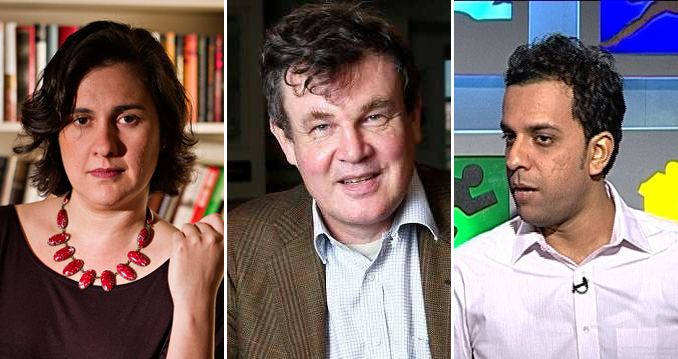 (l-r) Kamila Shamsie, Peter Oborne and Osman Samiuddin
Most of us are quite familiar with the undying passion Pakistanis evince for the exhilarating sport of cricket. The session titled Cricket: Pakistan's Greatest Game at the Lahore Literary Festival, provided the perfect opportunity for all such enthusiasts to come pouring in through the gates of the Alhamra. In the words of moderator Kamila Shamsie, the panelists included renowned "cricket historians" Osman Samiuddin and Peter Oborne, considered experts in the history of cricket in Pakistan.
The hour-long discussion revolved around the rise of cricket in Pakistan, with Samiuddin's The Unquiet Ones and Oborne's Wounded Tiger used as primary reference texts in the session. The talk was embedded with humorous anecdotes, historical narrations and personalized examples of the fabled roles of cricketers such as Abdul Hafeez Kardar, Fazal Mehmood and Imran Khan in creating a synchronized, passion-ridden identity of a newly founded nation through the idolized sport of cricket. As Shamsie and Oborne adamantly stated, most modern Pakistanis are only familiar with the "rebirth" of cricket in Pakistan in the 1970s. The books, however, explore a much earlier time in Pakistani cricket. Around the time of partition, Pakistan had very little cricket infrastructure. However, through what Samiuddin termed as "jazba" ("passion"), dedicated individuals such as Kardar and Mehmood led Pakistan to victory against England at the Oval in 1954. This was among the major events that brought Pakistani cricket as well as the country out of the ill-formed, paralyzed and inefficient state it found itself in after partition.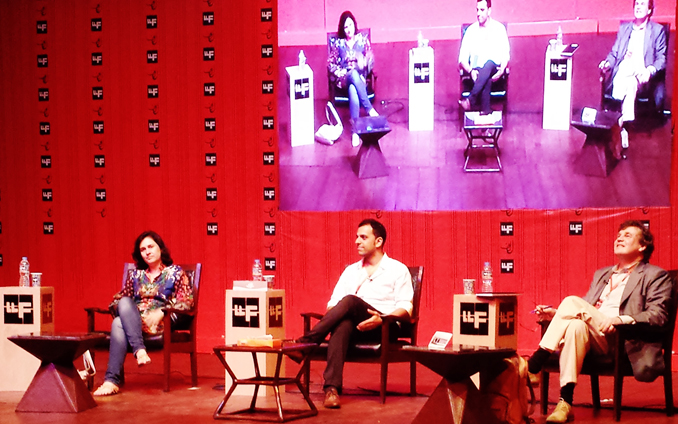 Oborne's reason to write on Pakistan, as opposed to any other country, was that "Pakistani cricket was considered a revolution", which gave it such a prized and unique history. In his words, Pakistani cricketers, born amongst the poorest of the poor, were some of the most intelligent players of all time. They essentially subverted the rules of the game, created new bowling techniques of what is now called leg-spin, and obliterated conventional norms to help mold cricket into a revolutionary sport. The effects of this revolution protruded into the political, social and cultural realms of nationalist existence as well.
Other topics discussed at the session included the Imran Khan – Javed Miandad captaincy comparison, female cricket in Pakistan, and contemporary cricketers such as Shahid Afridi and Shoaib Akhtar, all accompanied by uproarious comments by the panelists. Samiuddin and Oborne both fancied Miandad over Khan, principally due to the former's better captaincy rate and his ability to intimidate opponents on the field. At the end of the session, each panelist was asked to list down their all-time favorite Pakistani players; among the most popular names were Imran Khan, Abdul Kardar and Wasim Akram.
RELATED ARTICLES:
You may also like: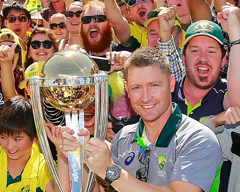 Australia Pulverizes New Zealand to Bag World Cup 2015 Trophy
(March 30, 2015)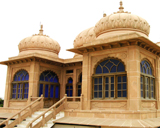 The Undying Grandeur of the Mohatta Palace Museum
(March 29, 2015)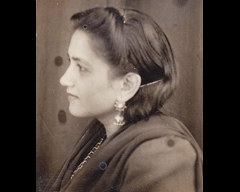 Ada Jafarey: A Tribute
(March 27, 2015)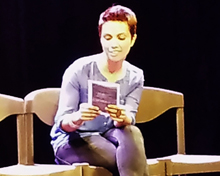 Me, My Mom & Sharmila: Fawzia Mirza and the Brown Woman
(March 26, 2015)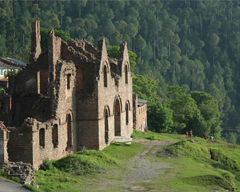 Silk Road: The Picturesque Mansehra and Abbottabad-VI
(March 25, 2015)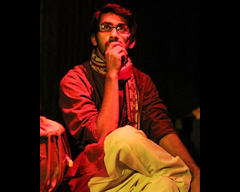 Azeem Hamid and the Independent Theatre Company
(March 25, 2015)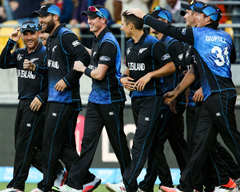 New Zealand to Choke South Africa and India to Overpower Australia?
(March 24, 2015)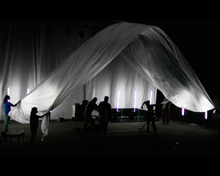 NAPA International Theatre Festival 2015: 'Among Fog'
(March 20, 2015)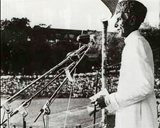 Pakistan Resolution Revisited
(March 20, 2015)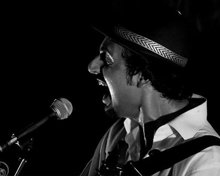 Faizan Tirmizi - The Ideology of an Aspiring Musician
(March 12, 2015)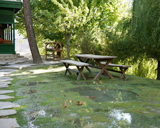 Hunza Valley: A Fine Balance between Tradition and Modernity
(March 10, 2015)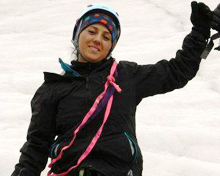 Samina, we are proud of you!
(March 06, 2015)