LOLLYWOOD MEETS CRICKET
Written by: Syed Abbas Hussain
Posted on: December 24, 2013 |

Comments | 中文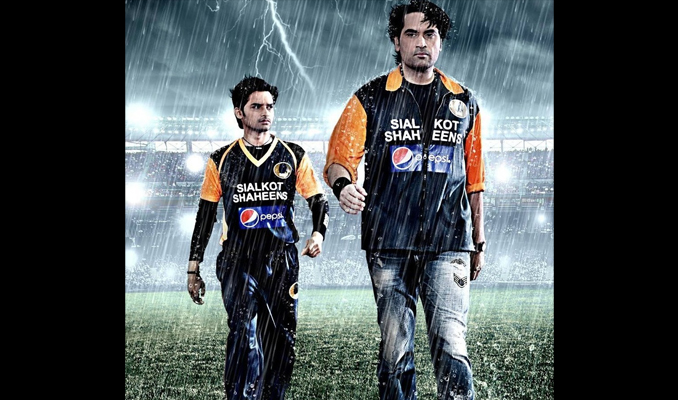 A film whose title flaunts the name of one of Pakistan's sports icons is sure to arouse interest. Add prominent film and TV stars to the picture and you surely have reasons to get excited.
Main Hoon Shahid Afridi (I Am Shahid Afridi) released earlier this year with clouds of controversy wafting around it. Shahid Afridi aired his grievances before the media regarding certain scenes in the film which he deemed 'obscene.' His name being associated with the film, therefore, was a matter of angst for him.
The film finally released and to euphoric audiences at that. It lived up to its hype. One of the reasons to look out for Main Hoon Shahid Afridi was that it diverged from Pakistani cinema's recent trend; the recent string of films which have presided over the ''revival'' of Pakistani cinema, as many like to call it, have all had a political slant.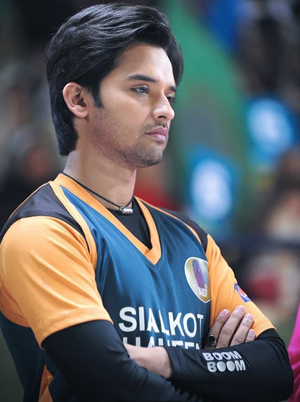 Noman Habib
MHSA, on the other hand, unabashedly thrived only on entertainment. There is a new generation of filmmakers who are veering towards the idea of making subtle and thought-provoking films to create a new identity for a cinema that was caught in a cobweb of vulgarity and substandard presentation for the longest time.
However, music and melodrama defines our popular culture and hence has stuck to local cinema from its onset. There are industry people who believe in providing wholesome entertainment through films while retaining the commercial elements that have defined South Asian cinema, but in an aesthetic and tasteful manner. Writer Vasay Chaudhry is from that school of thought and strongly believes in using cinema as a medium of entertainment for the masses; determined with that belief, he scripted this project with great sincerity.
First things first: those who thought that the story was a biopic of Shahid Afridi were completely mistaken! The story revolves around a boy named Shahid, who hails from a village in Punjab and dreams of becoming a star cricketer like his idol Shahid Afridi. He is a member of a small club in his village where cricket enthusiasts get together to indulge in their favourite sport.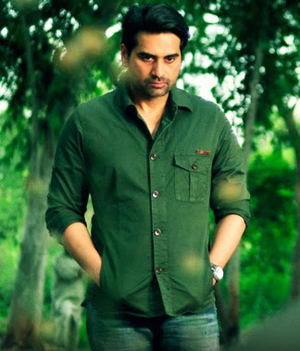 Hamayun Saeed
Hamayun Saeed plays a former cricketer who is disillusioned with cricket, owing to a personal mishap and is coaxed by the village residents to put together a team and coach them to try out for the national under-nineteen team. While the younger lot of actors display their histrionics, Hamayun Saeed is pleasantly understated. He looks quite suave in his appearance and every bit the mainstream 'hero.'
Main Hoon Shahid Afridi is a feel-good film about good triumphing over evil, determination in the face of adversities, having sportsman spirit and rising from the ashes. Suffice it to say, it has the ability to hit a nerve. The plot is one to connect with both the grassroots and the classes, which does not come as a surprise since cricket is a national obsession in Pakistan. The screenplay is gripping and makes for a thrilling viewing experience that keeps you hooked to your seat.
The scenes which are shot in the village take us on a heartwarming excursion through the picturesque countryside of Punjab with vast, lush green fields and vibrant cultural traditions of cockfights, carnivals, street cricket and gaudy wedding ceremonies. It also sheds light on the pressures of rural life - of poverty and regressive customs which humanizes the journey of the protagonist, whose hardships stoke his resilience.
Actor Noman Habib, who plays Shahid, has a lot of energy and acts with intensity and vivaciousness. His innings on television have not been anything to write home about but with this film he hits a sixer and shines.
His teammates, played by Gohar Rasheed and Hamza Abbasi, stand out for bringing something unique while fleshing out their characters. Gohar plays a hyper cricket enthusiast whose tacky mannerisms and hysterics entertain, and how. He looks every bit of his character and, like Noman, mouths an authentic Punjabi village accent. Hamza Abbasi is one of the most memorable characters in the film as the aggressive, religious pathaan. His unique character sketch and the humorous and intense moments he has in the film will have viewers eating right out of his palms.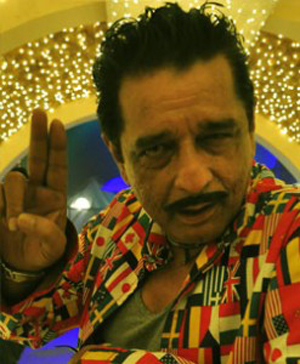 Ismail Tara
The film has a lot of comedic sequences and caricatures are effectively employed in them. Veteran comedian Ismail Tara (of 50-50 fame) as the ditsy head of the village cricket club has, as expected, brilliant comic-timing and lights up the screen.
The film of course does have the clichés that are reminiscent of vintage Lollywood flicks, such as a semi-crippled sister who awaits her ideal groom and a frazzled mother who is unable to meet the overwhelming demands of her daughter's suitors for dowry. Yet, everything still falls into place in the film and does not look crass due to its execution. Kudos to director Syed Ali Raza Usama for that! Main Hoon Shahid Afridi boldly embraces the formulas of our cinema and incorporates them in a larger story that has a lot of gut.
Directorially, for the most part the film was robust and handled sensitively but where it faltered was in the post-production department. The team used one of the most high-powered cameras available (RED), yet some of the scenes still appeared slightly fuzzy. The RED camera is meant to shoot raw footage and it is the colour-grading and other post-production treatment that allows the final image look visually stunning. There are a lot of scenes though which did appear quite crisp, but in the song Hasraton Ka Malal, for instance, one could see a lack of consistency. An amateurish jump cut is an example. What appeared to be raw footage in a sequence of the song, suddenly transitioned into nicely treated footage in the same scene that broke the continuity; a rookie mistake indeed.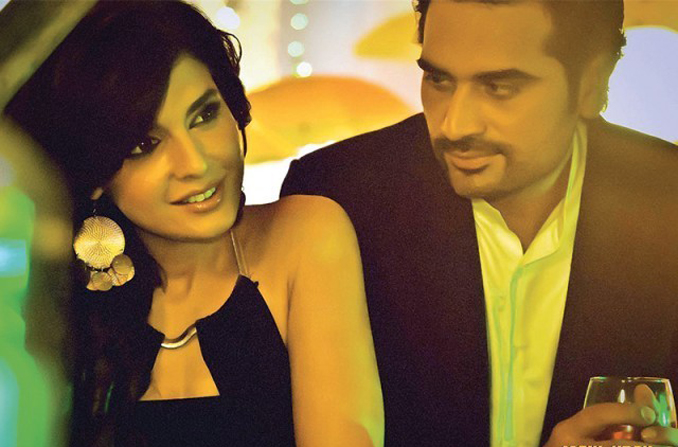 Mahnoor Baloch and Hamayun Saeed
The film's music (by Shani and Kami) is hummable and Rahat's soul stirring track Hasraton Ka Malal is perhaps the most haunting one from the album. The visuals do justice to the song and both Hamayun Saeed and Mahnoor Baloch look sizzling together. It is perhaps one of the few Pakistani film songs that has been shot so artistically on picturesque locations like a beautiful sandy beach, a desert and elaborate sets, with the camera panning out to give a vast sense of space that appears surreal.
Mahnoor Baloch looks beautiful in the film and indeed looks half her age! However in the catchy item song Bus Teri Hee Kami Hai, with Mathira's revealing belly-dance, Mahnoor Baloch seems a bit stiff while doing her dance moves. Moreover, many of Mahnoor's frames in the song seem highly inspired by Indian actor Katrina Kaif's popular dance number, Zara Zara Touch Me.
The supporting cast boasts some very accomplished names like Javed Sheikh and Nadeem. Javed Sheikh dons the role of an immaculate and forbidding millionaire with ease and never goes overboard in reflecting the negative shades of his character. His confrontations with Hamayun Saeed are to look out for and his vitriolic demeanour is sure to win him accolades. Nadeem as the distraught father of a fallen cricketer is quite apt and his explosive reprimands resonate some of his dramatic portrayals back in the day.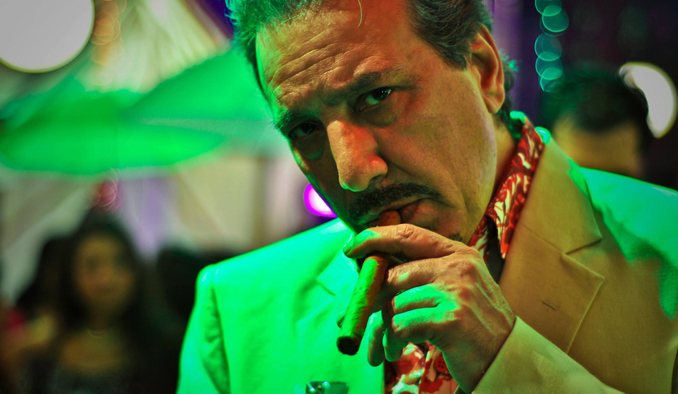 Javed Sheikh
Main Hoon Shahid Afridi was perhaps the first sports film to have come out of Pakistan and is one that our cinema should be proud of. It could generate immense business if released worldwide since it has the potential of being a crowd-puller. Even with all its loopholes it stands as an entertaining fare that is surely your money's worth.
You may also like: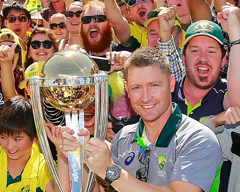 Australia Pulverizes New Zealand to Bag World Cup 2015 Trophy
(March 30, 2015)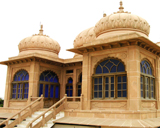 The Undying Grandeur of the Mohatta Palace Museum
(March 29, 2015)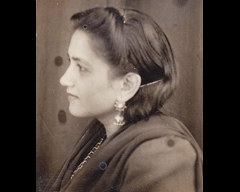 Ada Jafarey: A Tribute
(March 27, 2015)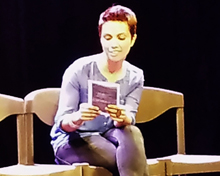 Me, My Mom & Sharmila: Fawzia Mirza and the Brown Woman
(March 26, 2015)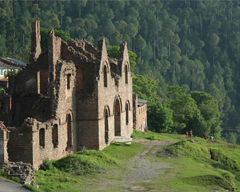 Silk Road: The Picturesque Mansehra and Abbottabad-VI
(March 25, 2015)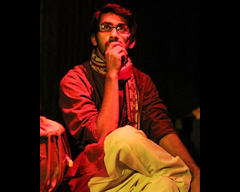 Azeem Hamid and the Independent Theatre Company
(March 25, 2015)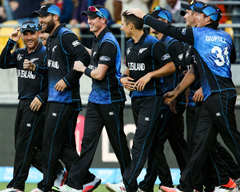 New Zealand to Choke South Africa and India to Overpower Australia?
(March 24, 2015)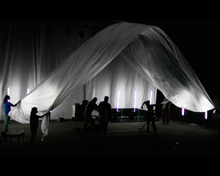 NAPA International Theatre Festival 2015: 'Among Fog'
(March 20, 2015)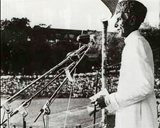 Pakistan Resolution Revisited
(March 20, 2015)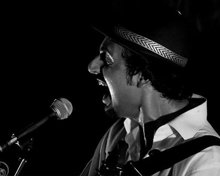 Faizan Tirmizi - The Ideology of an Aspiring Musician
(March 12, 2015)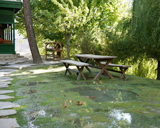 Hunza Valley: A Fine Balance between Tradition and Modernity
(March 10, 2015)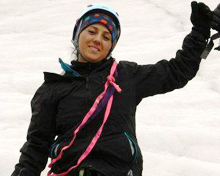 Samina, we are proud of you!
(March 06, 2015)