Peetal (Brass) Makes a Comeback
Written by: Uzma Nawaz
Posted on: October 24, 2016 |

Comments | 中文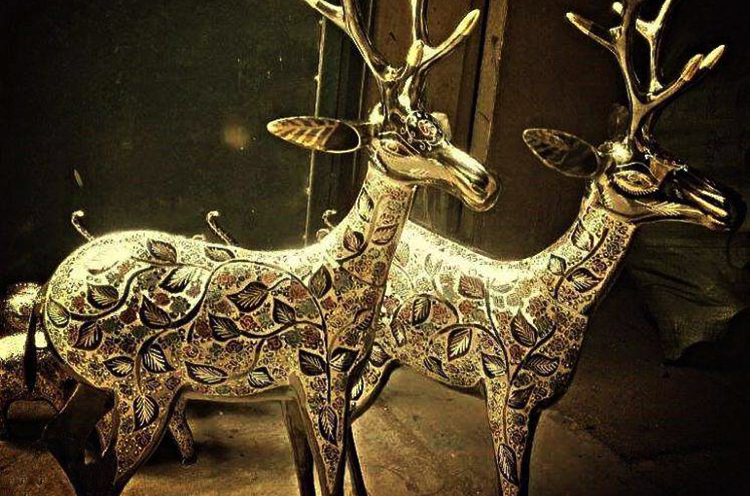 26 inch high exquisite brass deers (source: imgrum)
Delicate fingers work on the intricate pattern. In the sweltering hot workshop, fragments of Peetal (brass) are scattered around him. Unaware of time and surroundings, he works diligently on the elaborate woven petals and flowers. He creates a jewelry box with a touch of gold, a gleaming object that resembles the majestic allure of bygone days.
Many such artisans continue to unfold magnificent and impressive objects that are hand-made to perfection: the paandans* that dadijan (grandmother) proudly carries to show their rich heritage, a set of measuring spoons that seem to belong to the early 1900s, and the traditional matkas or big milk buckets that are commonly used in Old Lahore.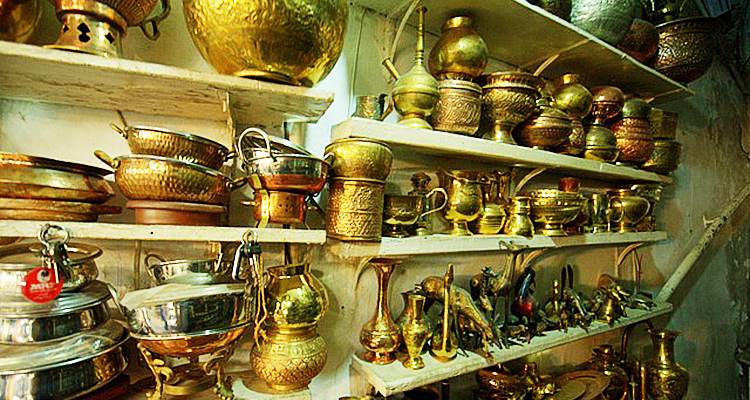 A brass shop in Old Lahore (source: Pakistan Today)
Peetal has not only become popular in Pakistan, but is globally considered one of the finest metals to make decorative memorabilia and utensils. Peetal Gali in Karachi is one place where connoisseurs can saunter across the long narrow stretch of the winding lane to discover many treasures within. Located near Golimar, this obscure area is unknown to most residents of the city. The market here wakes up by mid-day, to turn everything to gold when the blazing sun is at its peak.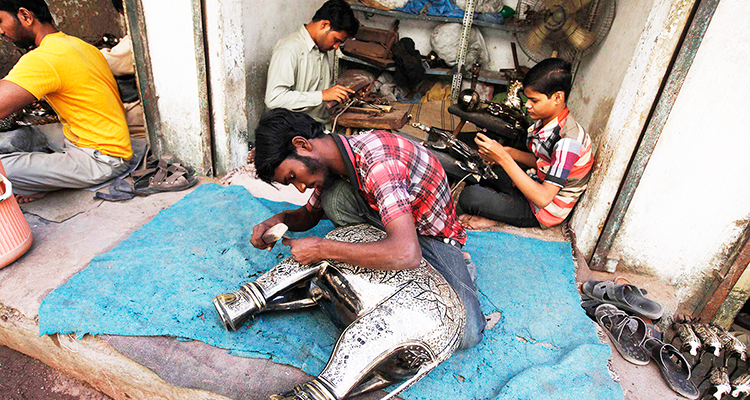 Brass workshop in Karachi (source: Kamran Shafiq, Flickr)
Similar to other markets, Peetal Gali contains an amalgam of flashy outlets coupled with old, unkempt ones. Some present a gaudy, typical façade with glitters of Peetal items displayed to the hilt. These are run-of-the-mill candelabras, ashtrays, spoons, animal figurines and the like. Interestingly, the ones that appear run-down from the outside reveal a magical workshop within, that produce spellbinding products. Designers frequently visit the Gali to order the wares of their choice, and exporters come here to get the best bargains on bulk purchase. Other similar markets are located across the country in Lahore, Peshawar, Hyderabad and Sukkur.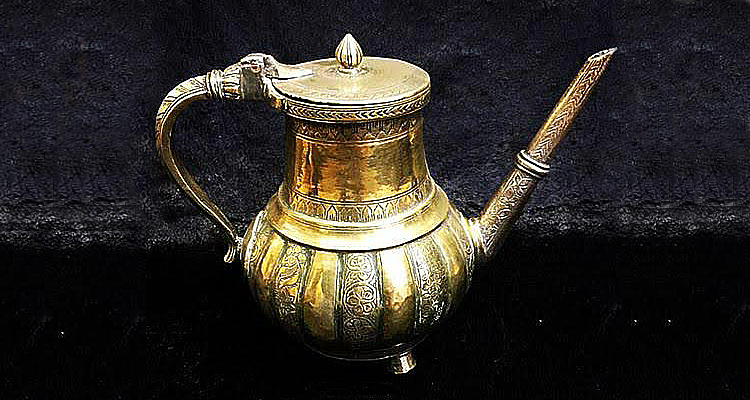 18th century Mughal ewer (source: ahmadalugaily, instagram)
The demand of Peetal has steadily increased over the years, as more and more home décor and furnishing houses are now exploring this enchanting metal to create contemporary lampshades, frames and bathroom accessories. Exceptional decorative floor tiles, entrance door borders, flashy table mats, napkin rings and wall are some of the items in demand. Hakim, one of the artisans opines, "Gone are the days when people demanded ashtrays and candle holders made of Peetal. Many designers now come with unique ideas and get their items tailor-made as per their needs."
Since Peetal is a metal that can be formed into desired shapes and forms while retaining high strength, many designers buy sheets of Peetal in bulk to create their own designs in their workshops. One of the rising trends among young artists is the use of Peetal to create outstanding designs in statues, abstract art structures, vehicles and monuments. "Peetal is a highly diversified metal, used extensively to create art pieces and sculptures. It can be forged or cast into almost any shape to get the end result", says Amin Gulgee, a seasoned sculptor who has created a variety of Peetal art structures in the past.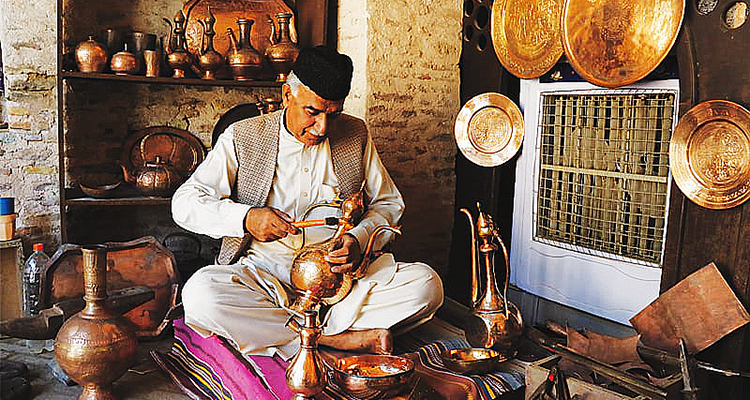 A Peshawar brass shop (source: Peace Pak)
Being a good conductor of heat and electricity, Peetal is fast finding its way into the realm of architecture as well. Many architects and interior designers alike are exploring the use of Peetal for building façade tiles, floor tiles, wooden embedded motifs within tiles and outdoor garden ornaments.
A much-desired medium for the expression of art, the glamorous Peetal is here to stay.
* A small container of betel leaves traditionally chewed after a meal
You may also like: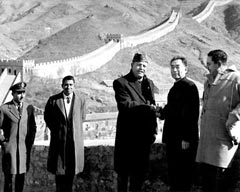 From People to People, Pakistan-China Relations since 1965
(December 12, 2017)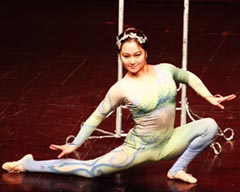 Rhythm of Liaohai Gala at PNCA, Islamabad
(December 08, 2017)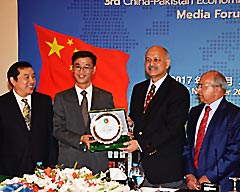 3rd CPEC Media Forum, Islamabad
(November 28, 2017)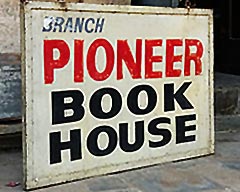 Pioneer Book House, Karachi
(November 24, 2017)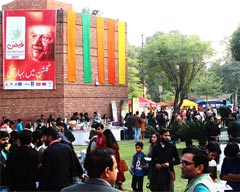 Faiz International Festival 2017
(November 22, 2017)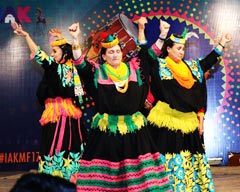 Lok Mela comes to Karachi
(November 17, 2017)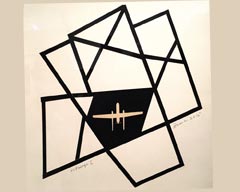 Writing Partition in Urdu
NYU's Urdu Conference
(October 13, 2017)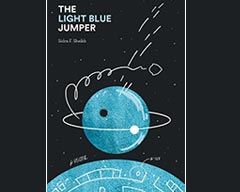 Book Review: The Light Blue Jumper by Sidra F. Sheikh (First Pakistani science fiction novel)
(October 02, 2017)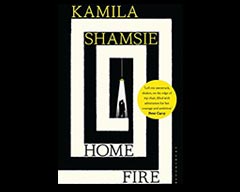 Book Review: Home Fire by Kamila Shamsie
(September 07, 2017)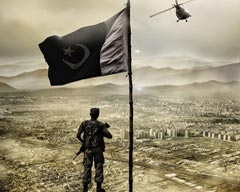 Pakistan's Armed Forces face challenges in 2017 with a New Confidence
(September 05, 2017)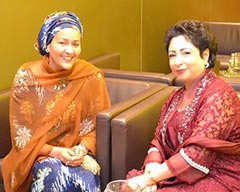 August 14 celebrations at the UN with the Sachal Orchestra
(August 15, 2017)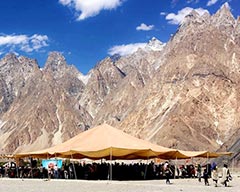 FACE Mela 2017, Passu
(August 10, 2017)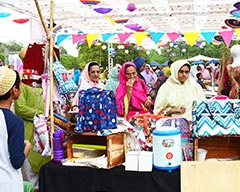 The Bohra Bazaar, Karachi
(August 07, 2017)