THE LEGACY OF LITERATURE COMES ALIVE AT ILF- PART I
Written by: Eeman Amjad and Salma Chaudhry
Posted on: May 07, 2013 |

Comments | 中文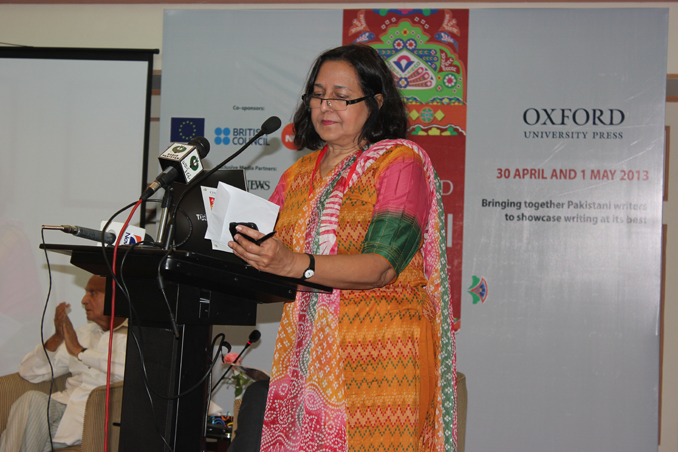 Ameena Saiyid (Founder of KLF and ILF)
The Oxford University Press (OUP) held the first two-day Islamabad Literary Festival (ILF) on April 30 and May 1, featuring debates, discussions, interviews, talks, a mushaira, dastan-goi, a book fair, book launches, a play, readings and a book signing. The aim was to provide people with a forum to interact, exchange ideas and to form a scholarly space in which the multiplicity and pluralism of the Pakistani society could be expressed by writers and poets belonging to all four provinces.

Naal Mere Koi Challe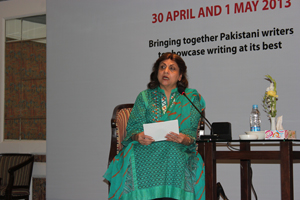 Sarwat Moheyuddin
Punjab is the land of sufis and saints where Waris Shah, Bulleh Shah, Shah Hussain, Baba Farid and many others knitted folk legends with their characters of Sohni-Maheewal, Heer-Ranjha and Mirza-Sahiban. The land of five rivers has been home to sufi poets and mystics for more than eight centuries, whose poetry reflects a deep concern for human development incorporating equality, love-of-the-beloved, tolerance and co existence. The faith people follow or the dress they wear may be different but there is one thing that binds them together, their language. Sarwat Moheyuddin speaking on "Shah Hussain and Sufi Classical Poetry in Punjabi," highlighted that Punjabi Sufi poetry is not stagnant but 'action oriented', and is primarily concerned with transience of life. Shah Hussain, the great Sufi poet always composed in Raag and Ragni, she said. The speaker reciting Shah Hussain's divine poetry and the listeners so deeply engrossed created a splendid atmosphere inside the Margalla Hall. Sarwat captivated the audience with Shah Hussains's story, narrating that he was still young when, while taking a lesson on tafseer, he heard the phrase "This world is a place to play" and ran out, totally abandoning the path of ordered religion. After that he was always seen dancing in the streets wearing a red dress with a surahi and a piala in his hand. He had transcended and reached the level of Ishq where society did not matter anymore, the speaker elucidated with the lyrics 'Main bhi jhok ranjhan di jana, naal mere koi challe.'

The Case of Alice Bhatti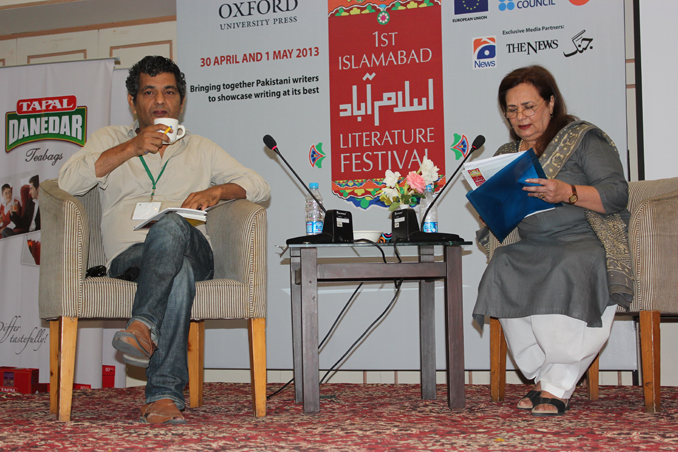 Mohammad Hanif and Navid Shahzad
An anchor, a playwright, a filmmaker and a journalist who has the ability to write a book in English, a play in Urdu and the script for a film in Punjabi, Mohammad Hanif, an author who can mock the relationship between a dictator and super power and that too, only for fun in his famous book "A Case of exploding mangoes", Navid Shahzad's introduction of Mohammad Hanif earned repeated applause from the crowd. The audience broke into rapturous praise at Nivi's (as Hanif would like to call her) witty questions and Hanif's smart answers. On a question about "Our Lady of Alice Bhatti" , he explained that the nurse who looked after his mother in her last days left him wondering that how can somebody do their job with such kindness and sincerity? This very thought led him to develop the character of Alice Bhatti. Hanif introduced his latest book "Ghaibistan main Baloch" to the audience and noted: "The writer's main responsibility is to the page and the plot of the story."

Is Banning Really the Solution?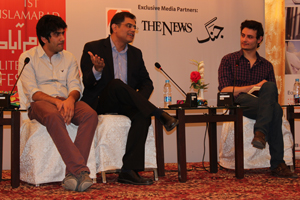 Ali Aftab, Raza Rumi and Osman Khalid Butt
It's been several months since the online video sharing website 'Youtube' was banned in Pakistan following posting of a blasphemous film. Youtube is by far the most popular video sharing website owing to its wide range and easy accessibility. The arbitrary ban was a big jolt to not only media but to internet users all across the country. With the evolution of media in Pakistan, it is almost impossible to ban any newspaper or TV channel for that matter; then why is the banning of social media such as Youtube and Facebook so trouble-free and met with such little resistance? Omayr Saiyid posed this question to the panelists in the session on "Youtube: Supporting the Electronic Media." Osman Khalid Butt, while sharing his experience, responded that Youtube gives an incredible exposure and is the best form of free advertising. To a question about the effectiveness of Vimeo and Daily motion, Butt said candidly, "That's like comparing Facebook to MySpace." Raza Rumi was of the view that Youtube has the largest footprint on the web". He asserted that "Pakistan has gone through a narrative construction and social media is the voice challenging this hegemony of narrative, a resistance tool to be precise." The crowd erupted in laughter when Ali Aftab, the lead singer of the nascent rock band named as 'Beghairat Brigade' shared the concept behind their latest song Dhinak Dhinak. Taimur Rahman highlighted the fact that Youtube is also a site which can be used for learning and informational purposes, as many research institutes, news media and universities have their own specific channels on the site. Afterward, Ali Aftab and Taimur Rahman thrilled the audience with their latest tunes, including the legendary Faiz's optimistic poem 'Umeed-e-Sehar ki baat Suno'.

New Millennium, New Writers
Muneeza Shamsie and Ahmed Rashid
The famous literary critic Muneeza Shamsie while doing a presentation on "Pakistani English Novels in the New Millennium" said that Pakistani English fiction is coming into its own and there are some brilliant writers our country has seen after the 1980's. She remarked that this pool of writers does not include only young writers, as an 80 year old Jamil Ahmed is also amongst them, whose novel "The Wandering Falcon" has gained much popularity lately. On the perception that most English writers in the country belong to the elite class, Ms Shamsie mentioned Nadeem Aslam, a young writer who belongs to the small city of Gujranwala and went to England at the age of 14. His novel 'Season of the Rainbirds' is an imaginary piece talking about religious bigotry and intolerance during Zia's regime. Mohammad Hanif's "A Case of Exploding Mangoes" is again a satirical commentary on Zia's relationship with the American CIA. Shamsie also spoke highly of Mohsin Hamid, Uzma Aslam Khan and Roopa Farooki. Kamila, Shamsie's novels are a merger of art and traditions including 'Burnt Shadows' and 'Broken Verses' said Muneeza. She also appreciated Musharraf Ali Farooqi's novel 'Between Clay and Dust' which has a storyline linked to the old Urdu classic 'Umrao Jan Ada.'
RELATED ARTICLES:
You may also like: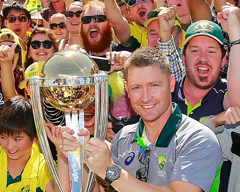 Australia Pulverizes New Zealand to Bag World Cup 2015 Trophy
(March 30, 2015)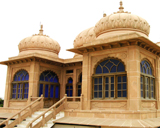 The Undying Grandeur of the Mohatta Palace Museum
(March 29, 2015)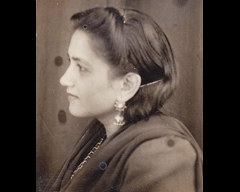 Ada Jafarey: A Tribute
(March 27, 2015)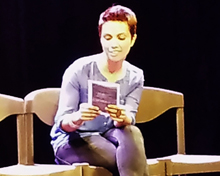 Me, My Mom & Sharmila: Fawzia Mirza and the Brown Woman
(March 26, 2015)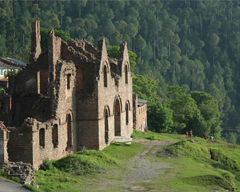 Silk Road: The Picturesque Mansehra and Abbottabad-VI
(March 25, 2015)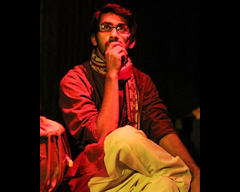 Azeem Hamid and the Independent Theatre Company
(March 25, 2015)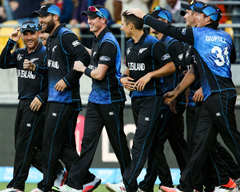 New Zealand to Choke South Africa and India to Overpower Australia?
(March 24, 2015)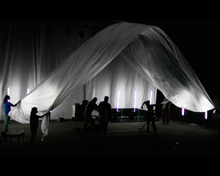 NAPA International Theatre Festival 2015: 'Among Fog'
(March 20, 2015)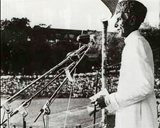 Pakistan Resolution Revisited
(March 20, 2015)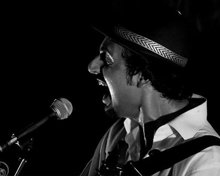 Faizan Tirmizi - The Ideology of an Aspiring Musician
(March 12, 2015)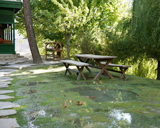 Hunza Valley: A Fine Balance between Tradition and Modernity
(March 10, 2015)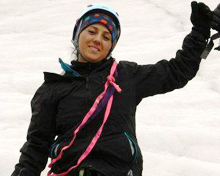 Samina, we are proud of you!
(March 06, 2015)