Yeh Hai Karachi 2: Photography and Film Exhibition
Written by: Sania Ahmed Khan
Posted on: December 20, 2017 |

Comments | 中文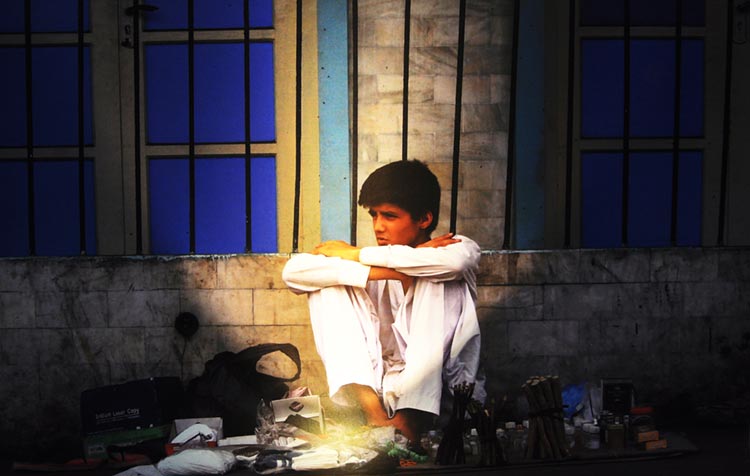 On Saturday, the Arts Council opened its doors to the people of Karachi, allowing them to witness their city through the eyes of aspiring film and media students. The two-day exhibition titled 'Yeh Hai Karachi 2,' displayed works of over 250 students, handpicked and trained from six districts of Karachi, under The School of Writing (TSW) and Karachi Youth Initiative. The first cycle of this program occurred in 2016, and featured the work of 372 students. The goal has been to engage youth from low income communities in peace building activities, and in this case the students worked tirelessly over the past few months to capture the beauty and diversity of Karachi.
Photograph by Tooba Nasim
In May 2017, The School of Writing opened applications for 'Yeh Hai Karachi 2,' and invited students to explore Karachi on foot, interact and engage with locals, capture their stories, and present their findings creatively. This was a valuable opportunity to see places in Karachi they hadn't seen before, all the while attending workshops to hone their skills and ultimately publishing their work through a reputable platform. All photos and films would be published online and in print, and TSW can be credited for providing these aspirants a gateway to recognition.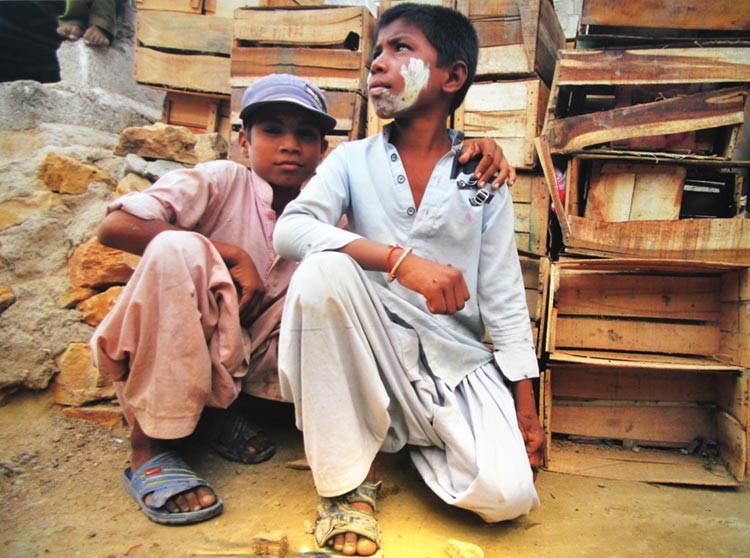 Photograph by Maira Khan
This time the selected students were grouped together according to their place of residence, and became responsible for reclaiming their assigned district. The photographs were thus displayed according to the district they were taken in, along with the photographer's name. There were photographs of fruit vendors, shopkeepers, artists, street children, unfamiliar activists and just about every person who has contributed, in his own way, to the hustle and bustle of Karachi. Upon speaking with the students, I learnt that mostly candid photographs were taken, since they did not want the stories to be fabricated, and so they let their subjects go about their usual course of business. There were photographs of buildings and landscape from South, East, West, Malir, Korangi and Central districts of Karachi, and fascinating shots of people who on an ordinary day, one would not give a second glance.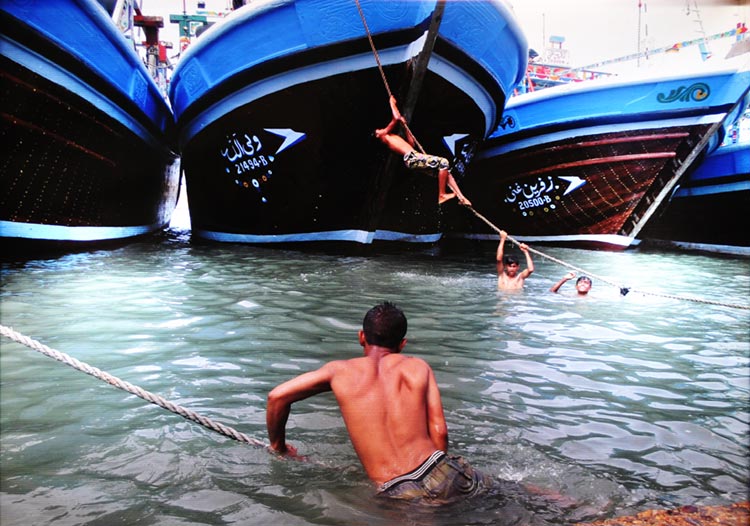 District Korangi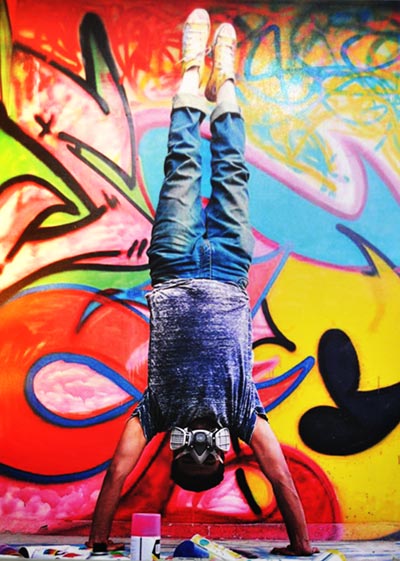 Photograph by Umair Jilani
Speaking at the opening ceremony, Mohsin Tejani, founder and executive director of TSW, said that the organization is launching two publications this year. One will be entirely pictorial, while the other would be devoted to photo essays. The essays displayed in the exhibition involved a series of photos captured by one photographer, focused upon the story of one striking individual. One such story was of Sanki King – Abdullah Ahmed Khan, who is a 27-year-old self-taught graffiti, calligraffiti and street artist. The story was captured by Umair Jilani, and presented in a collage of photos with a written excerpt of his interview. Another story was of Ms. Shabana Rashid, an Islamic Education teacher at Al-Khalil school, who took up teaching when her son, a Hafiz-e-Quran but illiterate otherwise, was denied admission to a school. These photos made me aware of numerous examples of courage and determination, but also made me realize our desensitization to the world around us.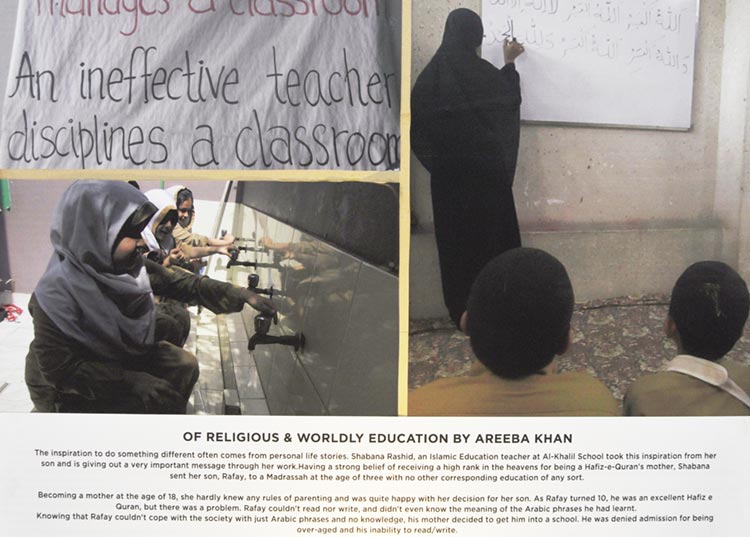 Photo essay by Areeba Khan
This was partly the aim of the exhibition, and the organizers probed further discussion of this aspect, by inviting four esteemed panelists for a talk on, "Activism through Creative Expression." Haya Fatima, Anum Abbas, Farooq Soomro, and Danial Shah spoke about the importance of speaking up and commended the efforts of TSW for empowering the youth. Creative expression could be the key to highlighting grave issues of our society, since it gives voice to the unheard. Students asked them questions about documentary filmmaking, networking and getting recognized. Haya Fatima Iqbal, who worked with Sharmeen Obaid Chinoy as co-producer for the Oscar-winning documentary, 'A Girl in the River,' spoke about her journey from being a Fulbright Scholar at New York University, to roaming the streets of Karachi with HONY photographer, Brandon Stanton.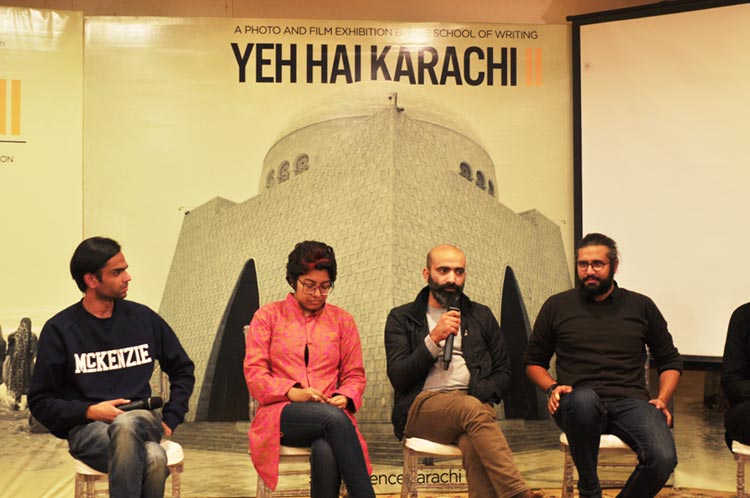 Jahanzeb Hussain (the moderator), Haya Fatima, Farooq Soomro and Danial Shah
On the second day of the exhibition, 10 films created by the students were screened. Even though the students were amateurs, the films were expertly captured. The documentaries were on subjects such as a Dar-ul-Sukoon, a Thalassaemia Center, and a Jail to name a few. Shot over multiple visits, they involved usage of high-end photography equipment, generously provided by the trainers at TSW. The art of getting their subjects to open up, however, belonged solely to the students and they were seen beaming with pride as they watched their work being showcased to an applauding audience. A comedy night had been arranged, with the stand-up comedians Tabish Hashmi, Faheem Azam, Kashif Shahzad and Sana Khan Niazi, to bring the event to a positive conclusion.
Needless to say, the 250 students who participated in the program made up for most of the audience at the exhibition. They developed life-long friendships, polished their skills, and added an incredible experience to their portfolio.
You may also like: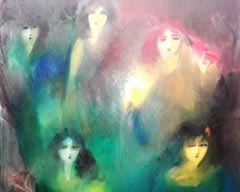 Art Review: Raja Changez Sultan at Tanzara Gallery
(January 19, 2018)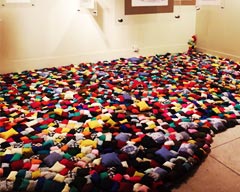 NCA Rawalpindi Degree Show 2017
(January 17, 2018)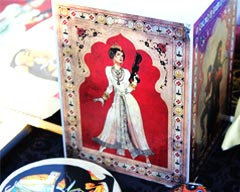 Winter Fete, Islamabad
(January 09, 2018)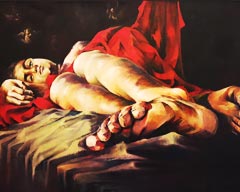 Review: 9th National Exhibition at PNCA
(January 02, 2018)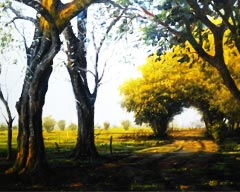 Art Review: Punjab Romanticism by Zulfiqar Ali Zulfi at Tanzara Gallery, Islamabad
(December 18, 2017)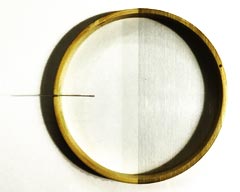 Art Review: Reading Between the Lines at Sanat Initiative, Karachi
(December 05, 2017)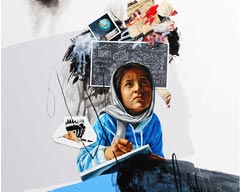 Art Review: The Onrushing 2 at Gallery 6, Islamabad
(December 04, 2017)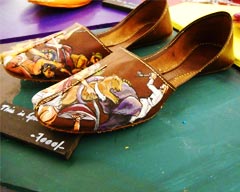 Daachi Arts and Crafts Exhibition 2017
(November 13, 2017)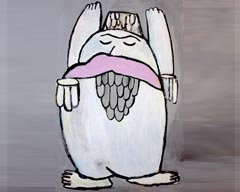 Art Review: 'Loompaland' at Studio Seven, Karachi
(November 09, 2017)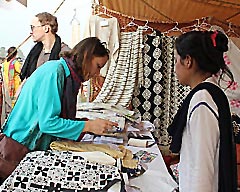 The Behbud Bazaar, Islamabad
(November 07, 2017)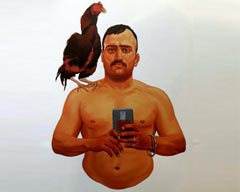 The Karachi Biennale 2017 (KB17)
(October 27, 2017)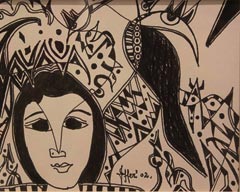 Wahab Jaffer Exhibition Opens at Tanzara Gallery, Islamabad
(October 20, 2017)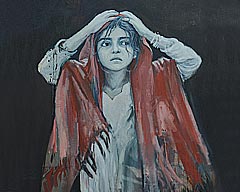 Art Review: Socio-Domestic at O Art Space, Lahore
(October 11, 2017)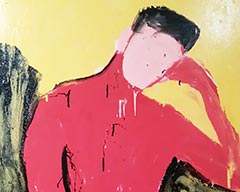 Art Review: 'Insta Loves II,' by Abdullah Qureshi at Satrang Art Gallery
(October 06, 2017)