FOR THE LOVE OF THE GAME
Written by: Maryam Gul - Posted on: August 06, 2013 |

Comments
Google Translation: اُردو | 中文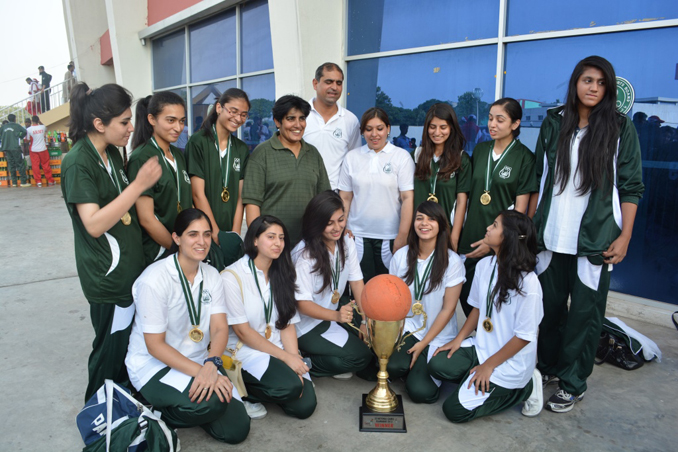 Islamabad's girls team
Islamabad's very own girls' basketball team won the gold at the national games held recently at the capital. Contrary to the expectation that this team would be applauded highly, we were surprised to find out that this win hadn't even been reported in most leading newspapers. Youlin Magazine invited the entire winning team to its office for an interview hoping to get some insight into women's sports in Pakistan.
As we asked the players to introduce themselves, we realized the team comprised of girls aged between 16 and 25. Some were still at school while others had graduated from university. Our initial question was, how were they chosen to play at the national level for Islamabad? The answers were more or less the same: the girls either had a coach, who, having seen their potential, had put them through, or a friend had told them about the trials. It was more or less by word of mouth that the team was put together.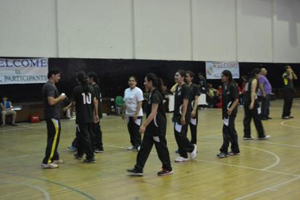 Practicing the game
Sana Mahmood, the most experienced player on the team and also a footballer, explained to us how sports place in Pakistan. Being an accomplished athlete as well as a full time student, she related how tough it was to pursue any sports professionally. Having studied at Beacon House she told how the teachers were at first unwilling to let the students dwell into such extracurricular activities, often getting told off by her administrator.
The older girls tell us that initially it was difficult for them to pursue the sport since it was still relatively new in Islamabad. Also, when they were still at school, they had to persuade their teachers to allow them to play. They recount a story of how they had to hide from the head of their institution to attend a school sporting event, Frolympics. Now, however, there is a measured emphasis on extracurricular activities at most schools and even the most study-oriented institutions are looking to incorporate some sort of sport into their curriculum. More and more schools are helping their students pursue their ambitions in this regard.
We ask the girls about the playing conditions at the national games. They explain that they were given a daily allowance throughout the duration of the event. They tell us about the other teams, such as KPK and Railways., To our surprise, we discover that since the departments keep their teams on a yearly pay roll, the women playing for them are usually much older, often married and with children. There are no camps to hunt for new talent and it's still the same women playing for the money. The situation in the provinces is worse: the teams are made barely 2 weeks before the start of the event and, usually, the girls participate for no more reason than it being an all-expenses paid trip to another city.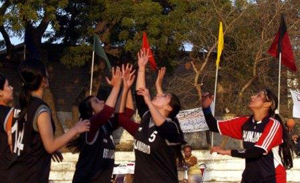 Women's nationals
The girls have been to some international competitions but that has been on a personal level, and no teams have been sent abroad by the basket ball players association. 'In 2011 we won Silver, in 2012 Bronze, now we've won Gold. Where do we go from here?' asked Alizeh, the youngest player on the team. Yusra Shaukat told us about her summer exchange programme in the United States last year, explaining how, despite being shorter than most girls who had participated, she proved an accomplished player. 'I'm not even the best in Islamabad and I was playing against the best players from Lithuania and Russia! We can play on an international level.'
Every year the national games are held and no national level teams are made to represent Pakistan on the international front. This is a major cause for concern since we are depriving these accomplished athletes the chance of competing with other nationalities and perhaps even winning accolades for Pakistan. 'We do get offers,' explains Rooah. 'It's the funding that's an issue.' And foreseeably so, since the association isn't rich enough to fund an entire team's trip abroad; nor are there any companies willing to sponsor a girls team, and that too for a relatively less popular sport like basketball.
We inquire what their motivation to play is, despite the odds they face, such as the lack of government support. 'It's our passion; we don't need incentives to play,' replies Basmah Kamran. They explain how most sports in the country such as tennis and football, are side-lined in favour of cricket.
At the end of the day, these are young girls taking basketball seriously, yet pursuing core studies at full time universities or schools, and the time that they are investing in the sport is completely by choice. If Pakistan is to someday become a part of international sporting events, the government, and in turn the sporting institutions, must focus greater attention on local level sports. Moreover, multinationals need to come up and support this handful of players, not only to uplift their spirits but to attract more athletes into the game.
How incredible would it be to hear of Pakistani women winning a gold or silver medal, or for that matter even representing the country at an international level such as the Commonwealth games, regional games, and some day hopefully the Olympics? For that we need to take adequate and effective steps now, and this starts from the grass roots; as more and more girls come into the playing field, awareness on this count will increase. And if a sizable number of people are playing a sport it cannot remain unrecognised for very long.
You may also like: