KOMAIL AIJAZUDDIN'S RED AND GOLD AT KHAAS
Written by: Alia Bilgrami - Posted on: October 31, 2013 |

Comments | 中国 (Chinese)
Google Translation: اُردو | 中文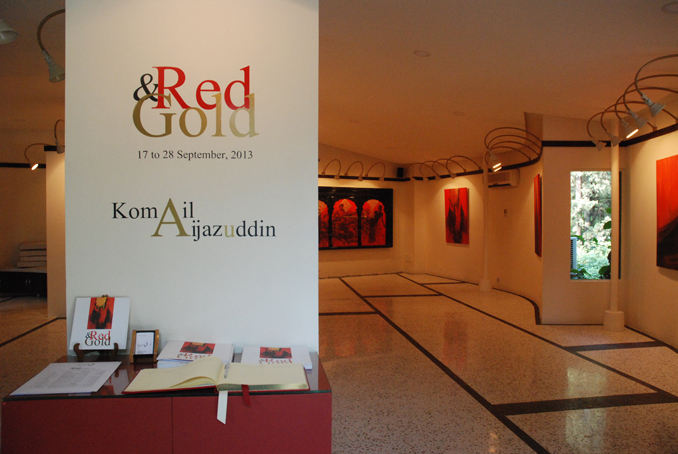 (Image by Alia Bilgrami)
After many months of hard work, intense renovations and several crises, Khaas Art Gallery finally opened its doors to the public on 17 September 2013. Over 200 guests attended the much-anticipated re-opening launch and Komail Aijazuddin's first solo show in Islamabad was a wonderful success. In Red & Gold, Aijazuddin's bold canvases left viewers feeling overwhelmed and provoked all at once. There were fourteen bright, almost florescent red and gold paintings that called out to be considered over and over again. The gold leaf designs and renaissance-inspired compositions accentuated the dramatic feeling evoked by his works. According to Aijazuddin, he discovered that Islamic geometrical patterns signify infinity quite by chance. Pleasantly surprised by this discovery, his paintings contain patterns that he has gilded with gold leaf to perfection, finding that its reflective quality was fun to play with. The drips were also a happy accident that he then deliberately manipulated in this new body of work.
Aijazuddin is refreshingly candid about his art and his sense of humour is quite evident in the collection that was on display at Khaas for an extra ten days due to popular demand. For instance, in State of Affairs, he has painted a Muslim shower in the last panel! A rather unexpected item to find amidst what seems like a work that is torn between love and war. The dichotomy presents itself with great movement as you go from one stage to the next with a couple making love in the first scene to Jinnah standing alone and solemn in the second panel, to a very modern looking woman with a crew-cut using an alam like a spear, aiming for a young man in the last section. This masterpiece contains four beautifully composed panels that are framed by an antique balcony or jharoka. Perhaps this piece, that was definitely the star of the show, viewable from even outside the gallery through a much-improved large window, is an attempt at depicting a modern battle between the forces of good and evil.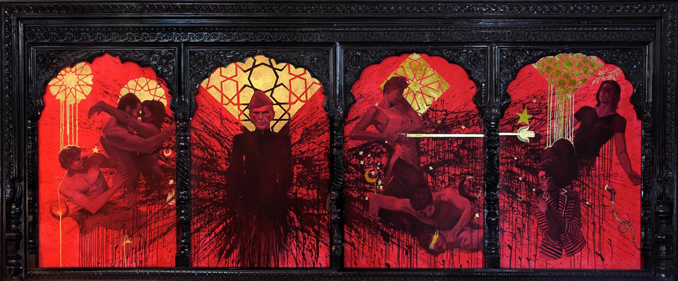 State of Affairs by Komail Aijazuddin 139 x 58 inches - Image by Mudassar Ahmed
To me, the most interesting element in this young and talented artist's work is his seemingly effortless and interchangeable use of Islamic, Christian and Hindu iconography. And the fact that he uses them purely for their visual appeal; there is absolutely no political or religious agenda. For instance in Hijaban Durga, Aijazuddin covers the protagonist with a hijab and gives her eight arms, a feature that many Hindu gods possess to signify a greater power. Each arm usually contains an item of symbolic importance; something that we see in Hijaban Durga as she reveals in each hand what appears to be a holy book signifying knowledge, the lotus flower, a cell phone, playing cards and one empty hand to balance out the composition. This remarkable image is visible as you enter the gallery and is a prominent feature on the left-hand side where the café is going to open in mid-November. Hijaban Durga is a symbol of power; she is dancing and striking a pose for the viewer. She is also special because of her direct interaction with the drips unlike the figures in any of the other pictures. This is an unforgettable painting that reminds us of the goddess inside every woman, worthy of being venerated. She is larger than life.
On the right, the gallery has been slightly expanded in width to give viewers a deeper vantage point. An L-shaped addition as you walk through the right and make your way to the left has transformed the gallery space and Aijazuddin's paintings have worked wonders in highlighting the transformation to viewers at our first show of the season.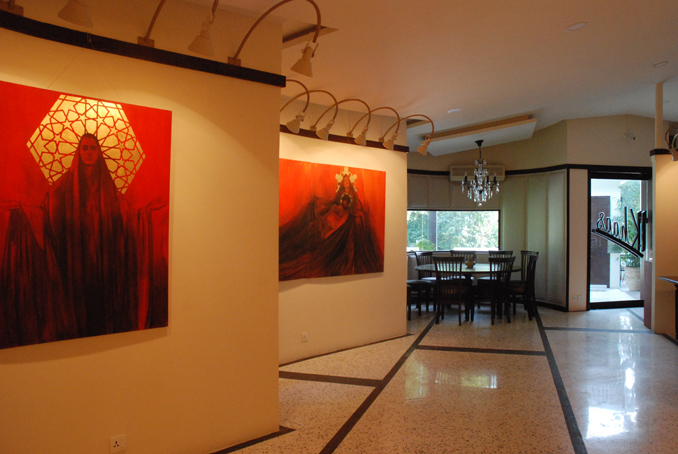 Khaas Art Gallery - Image by Alia Bilgrami
Some of the smaller pieces in the show were portraits of the artist's friends who sat for him. Icon: Sami, Icon: Tala and Icon: Mustafa reminded me a little of pop art, especially since his palette becomes slightly more florescent in these works and veer more towards an orangey-chalky red. The other paintings such as Drips and Splash seem more like posters, and to Aijazuddin, since the palette is monochromatic and not heavily layered and rendered like his previous trajectory of work, they are more like drawings. In fact, it is worth mentioning that the artist is colour blind and has actually trained himself to paint the right colours in when working on a polychromatic painting. He explained that being colour blind affects one's ability to see red in a spectrum of colours. His strong point is contrast, not only does he enjoy painting that way, he is also highly skilled in using harsh, one directional lighting that creates large forms. He doesn't use many gradations of colours and this is in keeping with his desire for theatrical, dramatic canvases that are pleasurable to create and equally exciting to look at. His aim is for something that is bigger than reality, something that is the opposite of real life. According to him they must be 'larger than life, the opulence and veneration must come through.'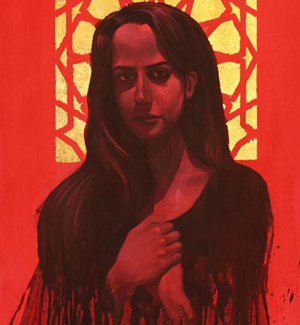 Icon Tala by Komail Aijazuddin 12x18 inches - Image by Mudassar Ahmed
Many artists, writers and thinkers emphasize on the empowerment of women. To Aijazuddin, the strength of a woman is very obvious. In his artwork he is looking beyond that. Rather than finding answers in the west, where he received his graduate and post graduate education in Art, Art History and Journalism, first at New York University, NY (2006) and then at Pratt Institute in Brooklyn (2010), he wants to discover links with the rest of South Asia. He wants to lay claim to the historical narrative that he is part of. In South Asian Art, the body has been used extensively throughout history, mostly through sculptures where the female is portrayed as a deity, often dancing. He wants to invent new ways of looking at and considering the power of women, not based on contemporary politics, or our patriarchal surroundings but rather through our shared visual history. Many of us find it difficult to look objectively at our intertwined past. The artist points out that unlike the linear chronology that connects us to Christianity, theologically there is no intersection between Islam and Hinduism. However, culturally we are more tied in than we are ever willing to admit. Aijazuddin intends on exploring further and expanding on these ideas in his art practice.
You may also like: