30 Years of Colour and Hope with Ajoka
Written by: Salma Chaudhry - Posted on: May 23, 2014 |

Comments | 中国 (Chinese)
Google Translation: اُردو | 中文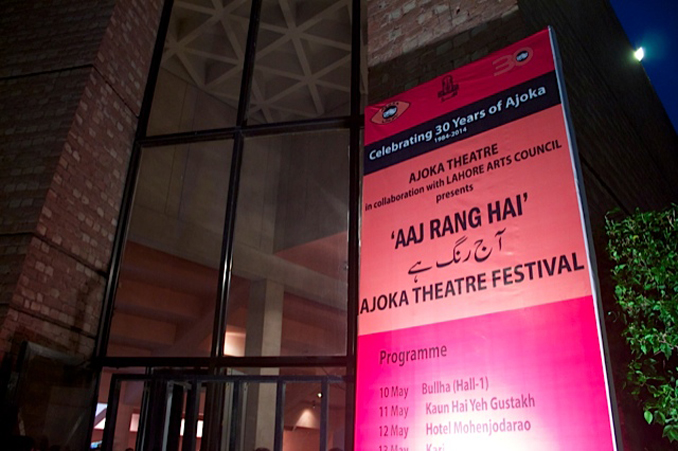 Aaj Rang Hai at Alhamra
With time, Pakistani theatre seems to have lost the glint that political or social plays once used to offer. Plays addressing social issues are few and far between. With the exception of a few, we don't see many dramas that address contemporary issues facing the society. But Ajoka, which is a Punjabi word meaning 'about today' is an extraordinary group of artists whose high plane of dedication to theatre has crystallized them together under the guidance of Madeeha Gauhar and Shahid Nadeem, both of whom have a history of spreading dramatic splendor on stage.
Praise for these high class theatre productions cannot just be for the admirable job of script-writer and director, but also the cast. At the same time, Ajoka is not just a conventional platform where actors play unusual roles but also a prevailing art form of political and provocative theatre where enactors give a social message, and where there's much more to the story than just performing it on stage. From performing their first play in 1984 in a house in Lahore, Ajoka has come a long way, thus maintaining their pledge to stay "relevant and meaningful, responding to the challenges of time." Aaj Rang Hai Theatre Festival, celebrated 30 years of Ajoka's creativity, colours and commitment towards bringing about meaningful change in society through theatre. The festival continued for over a week at Alhamra, staging the most popular plays of the group.
The first play 'Bullah' was based on Bulleh Shah's life with a message of love, peace and tolerance. The play particularly focused on this great Sufi poet's vision, which remains as relevant in contemporary times as it was centuries ago. The message that transcended all religions, incorporating themes of unity and faith, had depth and resonated well with the audience which included people from all strata of society. 'Kaun Hai Ye Gustakh', was based on the life of a progressive, sensitive and extremely creative writer who died a pauper and whose worth was only realised after his demise. The writer was none other than Saadat Hassan Manto and the act relayed Manto's stories, efficiently intertwined with a character playing Manto himself, as the narrator.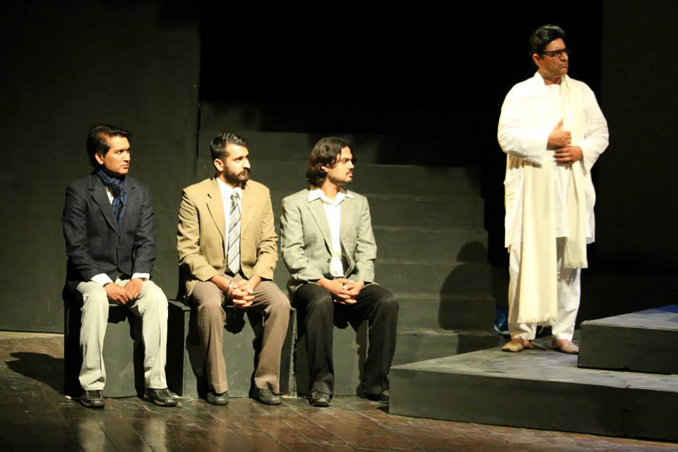 Kaun Hai yeh Gustaakh
Ajoka Theatre's most popular play, 'Mera Rang De Basanti Chola' was a tribute to one of Lahore's greatest sons, Bhagat Singh, a 23 year old revolutionary who was hanged by the British on March 23rd, 1931, and became one of the most influential revolutionaries of the Indian independence movement. The play was performed in a fully packed hall on the fourth day of the festival and got Bhagat's message across; so splendidly was it done that it was small surprise it received a standing ovation from the audience. Celebrations and festivals are an integral part of Lahoris' lives; in the case of Basant, the affection for colours, meeting with relatives, the typical call of 'Aaiiii Bo', the scrumptious food and the whole Basant atmosphere is much missed by all. The festival ended with the play, 'Lo Phirr Basant Aai', directed by Madeeha Gauhar, which was an effort to commemorate this most-celebrated event of the city on the arrival of Spring. Funny, hard-hitting and thought provoking, it was an invigorating break from the customary sensational forms of communicating social messages.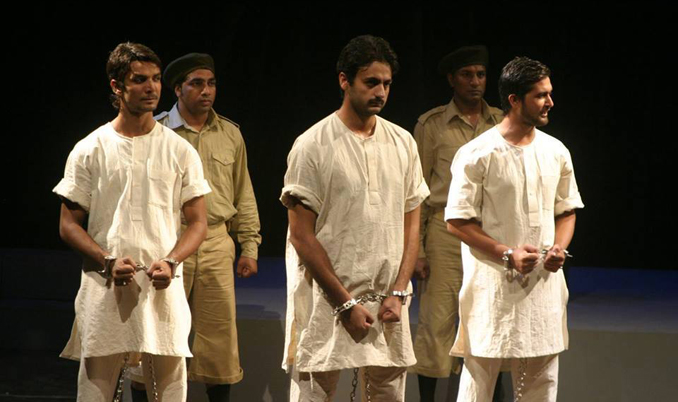 Bhagat Singh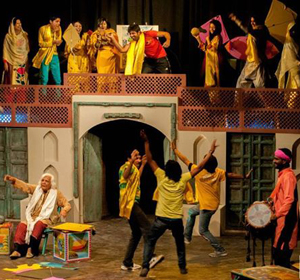 Lo Phirr Basant Aayi
Some other plays performed included Kari, Dekh Tamasha Chalta Ban which was a tribute to Rashid Rahman, and Hotel Mohenjodaro. Ajoka also played a documentary at the beginning of each performance, showing their journey from 1984 till 2014 which included plays addressing the various political and social issues our country has faced over the years.
Ajoka has achieved repute for creating dramas that concentrate on society's most current and contentious subjects in a way that is smart and engaging. The theatre group has struck remarkable steadiness between storytelling and highlighting imperative issues that we normally prefer to shy away from. The productions always come with socially-conscious connotations, native, dramatic ability with profound, splendid and stimulating messages that leave the spectators feeling enthused, conceivably brazened out, and left probing for counters to queries they had never thought of before.
The plays performed at the festival contained assertive truths and one can only hope that productions like these will open up a multitude of other pertinent subjects, thus bringing in more people to create theatre that's inspiring as well as engaging.
Related articles: