For the Love of Noodles
Written by: Salma Chaudhry - Posted on: January 16, 2015 |

Comments | 中国 (Chinese)
Google Translation: اُردو | 中文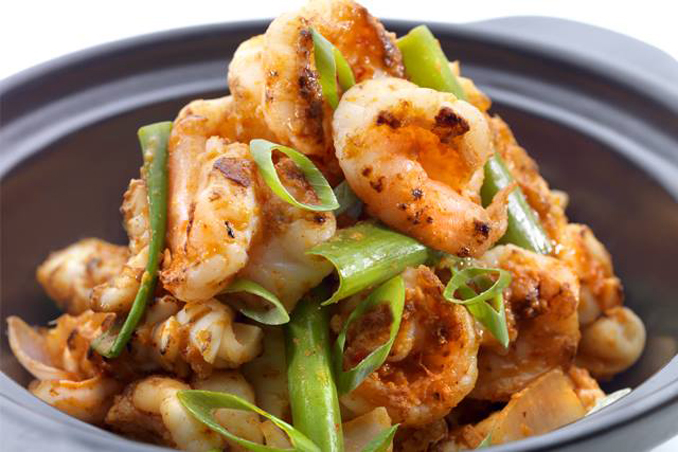 Fried Prawns
The special feature of the newly opened Noodle House on Lahore's famous MM Alam Road, is the live cooking, with chefs preparing your food on an open flame in front of you. The restaurant is part of a chain of Jumeirah Restaurants LLC, which was originally launched in 2002 with many outlets in the United Arab Emirates and other countries including Pakistan. This restaurant with a lively vibe is a desired family spot amongst Lahore's discerning customers. With a classy interior and delightful items on the menu, the Noodle House offers you marvelous service and a great dining experience.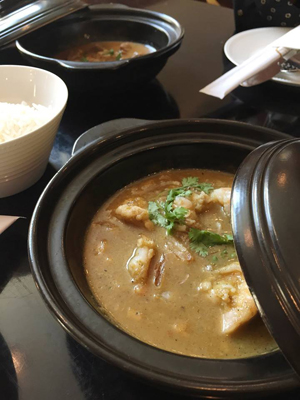 Chicken Curry
The Chinese Spring Festival introduced the delicate but filling spring roll. This dish, brimming with aroma and colourful vegetables, is a typical favourite. Those offered by the Noodle House are particularly fresh, crispy, light and fiery. Thanks to their quick service, healthy and fresh spring rolls can be served at any time of the day and are absolutely free of artificial colors, additives and tastes.
The prawn fritters with the chilli lime sauce are available for those looking for something light. These are not like regular fritters but are syrupy, tender, crusty, herby and might make you place an order for more. For more variety, their Wasabi prawns also offer a unique flavor for prawn lovers. For a person like myself who prefers desi food over all others, the array of items on the menu might seem limited but there are a few mouth-watering choices which all seem scrumptious and make your decision a rather difficult one. As the main course order, the Thai Green Curry with Chicken was a revelation as the chefs choose the day's freshest and tastiest ingredients, mixed in a novel way. The chicken curry is creamy, fragrant and pungent, and so delicious that you'll crave seconds.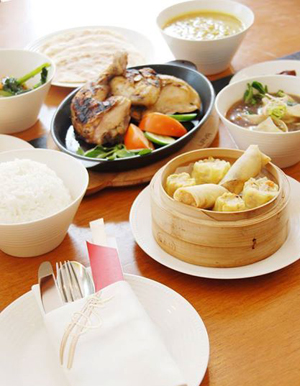 Their Dim Sum and Wet Noodle menu is the favorite for most. Dim Sum offers Crystal Shrimp Dumplings, Chicken Siew Mai, BBQ Mushroom, Shrimp Siew Mai, Kung Boo Chicken dumpling and Kung Boo Chicken Buns. The Singapore Noodles with Chicken Prawns remains their most popular food which will excite your taste buds with its profusion of flavor and texture. This dish, typically Asian, makes for a healthy and energizing meal. The strange sweet-sour combination of flavors along with the soothing blend of chicken and noodles is definitely worth a try. For those suffering from winter cold and looking for some yummy soup, the Noodle House offers appetizing Dam Yam soup.
The location of the restaurant is particularly convenient for working people who like to take occasional lunch breaks from their hectic work life. The restaurant has gained much popularity in a short span of time since it opened up. Lahoris love food but at the same time competing with other restaurant chains in this city is not easy, especially with so many restaurants and cafés already offering a diverse range of food items. At the Noodle House, it's their wonderful menu, a flair for impeccable service with panache and a contemporary décor, that results in an extraordinary dining experience.
You may also like: