Conversation: An Exhibition Organised by La Francophonie
Written by: Dr Dushka H Saiyid - Posted on: March 19, 2014 |

Comments
Google Translation: اُردو | 中文

'The tree of strife' 'Maryam' (Gouache on vasli paper) 'L'estrif de Fortune et Vertu'
The festival organized by the Internationale de la Francophonie at the Pakistan National Council of the Arts (PNCA) from March 16-21, is a rare event. There is an exhibition of paintings from five countries, films from different French-speaking countries every evening, and there were food stalls on the first day of the festival.
There were some paintings, and a larger number of posters on display from Tunisia, Vietnam, France, Czech Republic and Belgium. The half a dozen posters from Tunisia were picturesque and appealing from a tourist's point of view: adobe houses, narrow streets in old town or camels in the desert. Vietnam had just three pieces: an artistic map of Vietnam, an exquisite piece of inlay work displaying a rural scene and another painting. The offerings from France were a number of posters from the nineteenth century, advertisements of things like soap and cigarettes, using such iconic figures from France's historical past as Joan of Arc, Napoleon and another one inspired by Jacque Louis David's famous painting of women leading the revolution. Somewhat unusual was the work of the Austrian artist Renald Deppe, who has expressed his musical ideas through graphics, converting music into visual art form. His work in black and white was fine and intricate, as he uses pen, brush and ink on paper.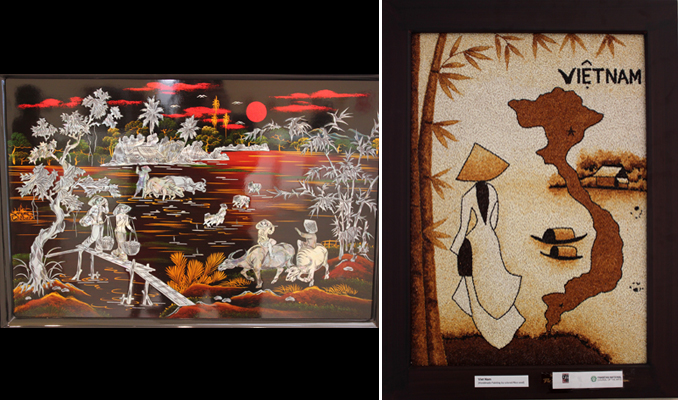 'Vietnam' (handmade painting by colored rice seed)
However, the whole theme of the exhibition "Conversation", applied only to the Belgian exhibition. It is a rare collection of illustrated manuscripts from the medieval period that the embassy seems to have brought from the Royal Library of Belgium. The young students from the National College of Arts had painted miniatures inspired by these illustrations; somewhat similar but modified by the mediation of their own contemporary artistic sensibility. Their miniature work in gouache on vasli paper is exquisite, and a reminder of the kind of talent that is coming out of the NCA, where the tradition of miniature painting has evolved with new techniques and modern influences.
The expectations raised by Quddus Mirza's eloquent write-up about the exhibition, that it is "not only dialogue between ages, but is a discourse between cultures", were not borne out by the exhibition. It left the viewer wanting! If Vietnam and Tunisia represented different cultures, the exhibits of the former were too few, and of the latter, only posters culled from any travel agents office. The French, with their rich heritage of art, had given the exhibition just a smattering of antique posters. But for Renald Deppe and the Belgian offerings of medieval manuscripts, the exhibition would have been a flop.
Click to view picture gallery
You may also like: