Najmi Mansoor's Paintings at Nomad Gallery
Written by: Amna Javed - Posted on: February 19, 2015 |

Comments | 中国 (Chinese)
Google Translation: اُردو | 中文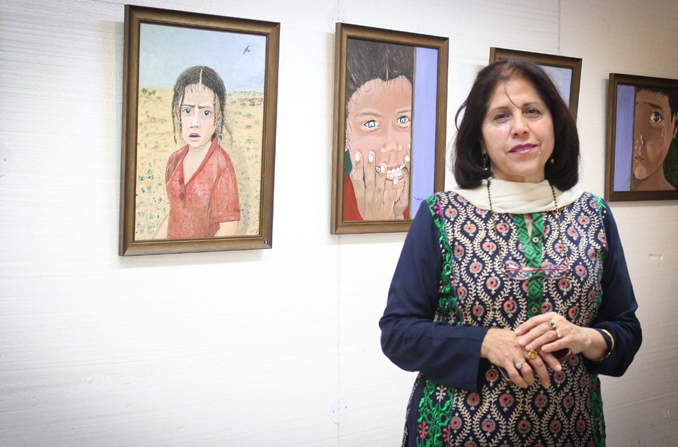 Najmi Mansoor stands next to her masterpieces
A painting exhibition by Najmi Mansoor opened at the Nomad Gallery, Islamabad on Wednesday. The exhibition is part of Nomad's new initiative, titled Shanakht, which aims to promote emerging artists. The show features twenty paintings by Mansoor and covers a range of media and techniques.
"I have spent a lot of time working with children of various ages, which allowed me to share their happy and sad moments. It makes me really happy that I had the opportunity to guide them, so that they could express their emotions and thoughts through colors and art," said the artist, in conversation with Youlin.
A large number of visitors familiar with the artist attended the exhibition and appreciated her efforts. They remarked that Najmi's exhibition was a great display of her talent, and that they were pleasantly surprised to see such versatile work from her. Najmi Mansoor, a self-taught painter, was Principal at the Overseas Pakistanis Foundation (OPF) College for several years, and started painting only after her retirement.
Her work on display at the exhibition consists of paintings in mixed media, oil and acrylic on canvas. The collection features portraits, still-life images, as well as landscapes. Mansoor revealed that she draws inspiration from a variety of things, including photographs, her memories, and her surroundings. She elaborated that her work shows her observations, recreates her memories, and also expresses her unfulfilled desires. She added that she likes to experiment and explore new ideas and media in her art.
Nageen Hayat, curator of Nomad gallery, commended the artist's creations and encouraged her to continue with her passion. "Her work is absolutely wonderful," she exclaimed.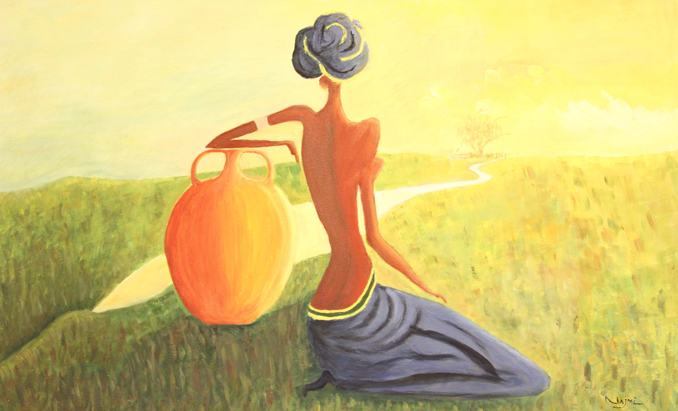 The artist draws inspiration from her observations, memories and unfulfilled desires
Mansoor credited her mentor, Mr. Ahmed Habib, who helped her fine-tune her artistic skills. "I am highly indebted to him for helping me realize my potential," said the artist.
Mansoor further commented that she paints what touches her. For instance, she was fascinated by human expressions, and wanted to capture them on canvas; hence she painted different children's portraits in a village.
The show will continue at the Nomad Gallery till 28th February, 2015.
You may also like: