The International Dance Festival Islamabad

A divine journey
Written by: Dr Dushka H Saiyid - Posted on: January 05, 2015 |

Comments | 中国 (Chinese)
Google Translation: اُردو | 中文
Naheed Siddiqui at her best
Since 1996 the Rafi Peer Theatre Workshop (RPTW) has been collaborating with the Royal Norwegian Embassy to hold an annual dance festival in the country. The December 2014 International Dance Festival, followed on the heels of their Sufi Music Festival just a few days earlier, a reflexion of how RPTW's presence in the world of visual and performing arts has grown in Pakistan. Usman Peerzada, its CEO, opened the dance festival that had an interesting collection of performers, from Adnan Jahangir, Shayma Saiyid, and the Iranian dancer Shahrokh Moshkin Ghalam, to the seasoned maestros, Nahid Siddiqui and Navtej Johar.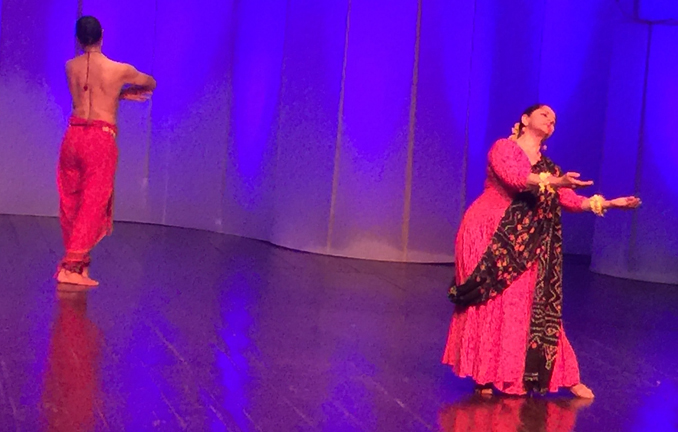 Nahid Siddiqui and Navtej Johar
The evening began with Adnan Jahangir, a graduate from the National College of Arts, Lahore, where he founded the Dance Society. He has been learning Kathak since 1999 from various teachers, including Nahid Siddiqui, and is currently under training from Guru Rajendra Gangani of Delhi, India.
Shayma Saiyid, who learnt modern dance at Grinell and Barnard Colleges in the USA, followed Adnan. Shayma started training at the age of six under Mahraj Ghulam Husain in Lahore, and later with Nighat Chaodry and Sheema Kermani in Karachi, and attended workshops in kathak under various masters. She has been performing in Canada and the USA, and has recently returned, making an addition to the dwindling band of classical dancers in Pakistan. Her natural grace was evident in the two dance pieces she performed: the late Jahanara Akhlaq choreographed the first, and the second was in Raag Rageshri, Ektaal.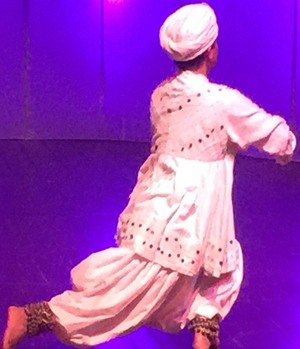 Adnan Jahangir
It was the combined performance of Nahid Siddiqui, the kathak maestro of Pakistan, and Navtej Johar, a Bharatnatyam dancer who is also a choreographer, that had the audience spellbound. Though both the dancers are well past their prime, their gentle, graceful and coordinated movements to a kaafi of Bhulleh Shah was mesmerizing. They complemented each other in their different skills and training. Navtej's expertise in yoga was apparent in his movements and the balance that his dancing displayed; trained in Chennai and the Department of Performing Arts at the New York University, he has performed at many international venues. Nahid Siddiqui's controlled rhythmic footwork and grace was a good complement to Navtej Johar's more fluid style.
The last performance was by the Iranian Shahrokh Moshkin Ghalam, who has been trained in France and who combines in his modern dance form a fusion of his multicultural background.
Unfortunately, the second day of the dance festival had to be cancelled as tragedy struck with the carnage at a Peshawar school. The galaxy of artists that were scheduled to perform included Sheema Kirmani, Wahab Shah, Nighat Chaodry and the flamenco dancer from Spain, Elena Martin.
You may also like: