Welcoming spring - Nawruz Celebrations in Islamabad
Written by: Amna Javed - Posted on: March 29, 2015 |

Comments | 中国 (Chinese)
Google Translation: اُردو | 中文

A glimpse of activities at Lok Virsa
To mark the arrival of spring, daylong Nawruz celebrations kicked off here on Saturday at Lok Virsa Islamabad. According to the Persian calendar, Nawruz is the Iranian/Persian New Year and also marks the first day of spring. Observed during the March equinox, the occasion is celebrated in Iran, Turkey, Central Asian Republics, Iraq as well as Afghanistan.
"The main objective of hosting these celebrations today is to introduce this longstanding and colorful event to the people of Pakistan, especially the younger generation," said Dr. Fauzia Saeed, Executive Director at Lok Virsa.
Lok Virsa has carved a reputation of being a national torchbearer for the advancement and conservation of intangible and tangible cultural heritage of Pakistan. "Our organization firmly supports promoting events which aim to fuse cultural diversity and help bring all communities closer.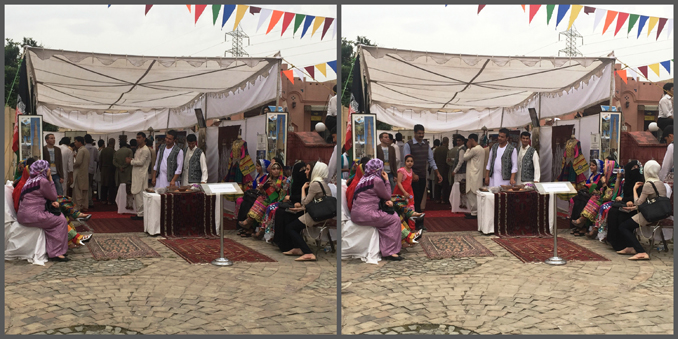 Afghanistan Embassys's stall exhibiting their traditional crafts
The highlights of the celebrations at Lok Virsa included an artisans-at-work display, folkloric performances, Silk Route Caravan and traditional cuisines and clothing. Along with these, there were a few singing and dancing performances as well. Pakistani women from Hunza had also brought traditional food delights from their kitchen to the festival.
The Embassy of Afghanistan enthusiastically participated in the event and had set up a lavish stall exhibiting their traditional crafts, dresses and food items. Besides that, they had a separate enclosure that hosted five Afghan musicians who left the listeners spellbound with their melodious tunes.
A large number of people from different walks of life made their way to Lok Virsa and enjoyed the delightful celebrations of Nowruz. The attendees wholeheartedly applauded the performers and encouraged them. In Pakistan, Nawruz is cleberated in Balti, Shina and Burushaski communities in the Gilgit-Baltistan region as well as by Ismaili, Parsi and Hazara communities all over the country.
This festival was a commendableeffort to showcase different aspects of cultures of other countries that have deep rooted cultural affinities with Pakistan, as this year Pakistan was also part of UNESCO's official list of countries that celebrate Nawruz.
You may also like: