Raqs Revival
- Posted on: March 10, 2014 |

Comments
Google Translation: اُردو | 中文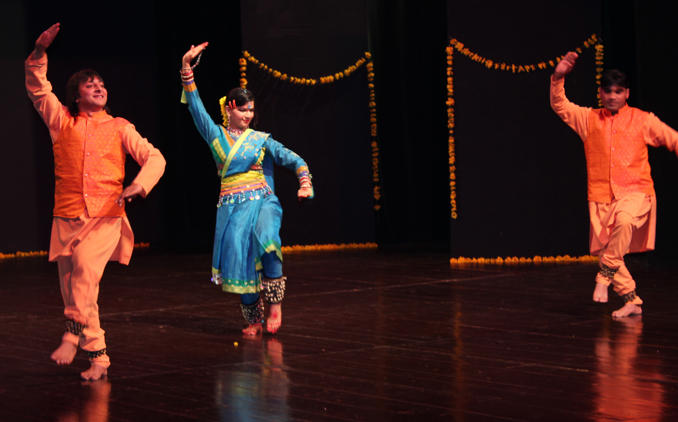 Raqs Revival
What words cannot express, rhythmic, graceful movement of the bodies can. Traditional dance practices of the subcontinent were a means through which spiritual connection was sought with the divine at one hand and the not so divine humans on the other. For instance Manipur dance, considered as most chaste and modest of dances, has been employed through ages to communicate with God, whereas Kathak dance is used to narrate stories of humans to humans
Pakistan National Council of Arts (PNCA) on Friday evening exposed the residents of Islamabad to some of the most exquisite dances, featuring works of Mazmoon e Shauq and Faizan Ahab Choreography and Designs Solutions (F.A.C.D.S) along with PNCA's very own dancers.
Soothing classical music harmonized with the fluid movement of dancers attired in colorful dresses received tremendous appreciation from a massive audience.
The initial dance performances of "Sur Taal" and "Swaram Raag Maala" instilled a mystifying serenity in the audiences. "Kashmir", a performance narrating two stories depicting the division cast between people due to the antagonistic posture of the two nations – India and Pakistan, was a touching display featuring the famous Indu Mitha herself. With plethora of experience under her belt, Indu Mitha made her presence felt on stage even at such an old age with her priceless expression of pain in the act, seeing Kashmir changed after all the years she had been away from it.
Jathi/ Swaram Raag Maala (Mazmoon e Shauq)
The performance that got the audience most animated, however, was "Encounter" performed by three very talented artists from Mazmoon-e-Shauq, mixing up Bharatnatyam, Ballet and Indonesian dance. The synchrony and the flux of the three performers made up for a beautiful display where the dancers interacted with each other in a unique way during the performance, carrying each other's movements forward.
To end the show, were two contemporary dances performed by a young and energetic team of F.A.C.D.S. The highly dramatic, Mirror Mirror, relates the story of a young individual whose vanity consumes him to an extent that it eventually completely isolates him, and perhaps leaves him in shambles. The last dance was on an Indian contemporary song of A.R Rehman, which reminded one of a dance performance at a wedding.
It was a nice mix of dances starting off from the highly traditional and transitioning in to modern, keeping the audience entertained throughout.
You may also like: