Scaling New Heights
Written by: Shahana Shah
Posted on: April 02, 2013 |

Comments | 中文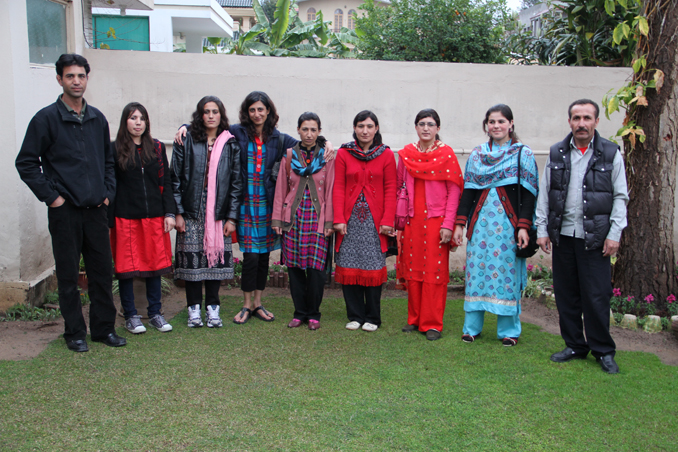 Mountaineer Shehrbano Saiyid with her team from Shimshal Valley
A group of young women tell their story over tea to curious listeners. Some of the girls blush when asked questions, others giggle and one participates more than the others, in an accented but clear voice. Brightly dressed and moderately made up, they seem like ordinary girls, with an inspiring story behind them.
These women are the most accomplished mountaineers in the country who have broken conventional barriers of what Pakistani women can do. It takes little to imagine how challenging it must be for women climbers in a country like Pakistan. Now imagine women from one of the remotest villages doing it, a place where they didn't even have access to more than primary level education until 2003 and where the way of life is such that people acquire basic climbing skills while going about their daily tasks. This is Shimshal, in upper Hunza, the village of the best mountaineers in Pakistan.
Shimshal boasts of a school for mountaineers where these girls have been members since its inception in 2008. The Shimshal Mountaineering School has been running through volunteer collaboration of local and foreign climbers. It was through this institution that Shehrbano Saiyid, an independent documentary maker and amateur mountain climber met her team and led them to set new records in Pakistani mountaineering which she documented and filmed for a project aimed at highlighting the strength and achievements of a hidden community.
Shehrbano, an alumna of the Lahore University of Management Sciences, is an experienced documentary maker with an interest in social issues. Also an enthusiastic climber, she was part of a LUMS expedition in 2008, during which a team member introduced her to the Shimshal Mountaineering School.
She returned to the area in June 2012 to climb Passu peak (7400+ m) with a men's team, where she constituted the only female member of the expedition. Two months later she formed an all women team comprising of students from the Shimshal Moutaineering School – a mountain climbing training school established in Shimshal with the help of an Italian donor and renowned mountaineer Simone Moro. The team comprised of Takhtbika, Shakeela Numa, Nadeema Sahar, Hameeda Bibi, Mehra Jabeen and Hafeeza Bano, who had all successfully done the first high altitude winter summit of Manglik Sar (6050m) – led by their instructors in January 2011. The young women went on to scale three 6000m peaks in six days that September, an experience that Shehrbano has also logged in a documentary film she has directed and produced. The team boasts Pakistan's youngest climber in its number. Hafiza Bano was sixteen on her first expedition and would have been the world's youngest climber but for the delay of a few days in registering her.
Besides offering training and experience in extreme sports to women, the school also aims at forming a professional mountain rescue team and promoting eco-tourism through cleaning expeditions. Instructors Muhammad Abdul and Sajjad Mehdi explain that the school's endeavors are independent of any support from the tourism ministry or the Alpine Club of Pakistan. Given the lack of official assistance, the risks of mountaineering become more pronounced in the absence of insurance and sponsorships.
Despite these risks and obstacles, the men and women of the Shimshal Mountaineering School persevere, reflecting the positivity of their society. Unlike central Hunza, with its more than 90% literacy rate, Shimshal has a lot of catching up to do - and Shimshalis are determined to do it. Climber Nadeema is an undergraduate at the Karakoram International University in Gilgit. But the community understands that formal education, as integral as it may be, is not the only way for progress. There are still opportunities for those left behind in the education system and these are promoted by the older generation that have survived on these naturally developed skill sets. The girls were first motivated to climb after seeing foreign climbers in their area. "If they can do it, why shouldn't we climb our own mountains?" Nadeema asks.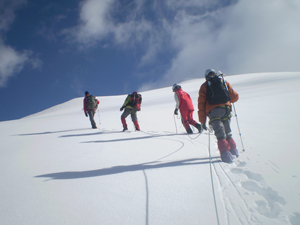 These women have been fortunate to be given the support and encouragement to pursue their ambitions by their community and family members. "Life there is so difficult that it's not possible to survive without both men and women making an effort together," says Sajjad Mehdi. Social inhibitions disappear as economic constraints and their difficult environment have made them realize the worth of each family member contributing to the household income by utilizing the knowledge and skills they have had the opportunity to develop.
Their latest achievement has proved their worth as climbers, which involves more than just the application of physical strength. Shehrbano revealed that it was much easier to climb with an all women team than with men for there was no intra-team competition. The girls understood the concept of sacrifice for the team. The easy friendship that developed from the beginning helped them gel together. "Right from the start we thought of her (Shehrbano) as our sister," one of the girls said. They smilingly recall an instance where Shakeela Numa carried an exhausted Shehrbano on her back to help her cross a fast-flowing river. They taught Shehrbano their native Wakhi and would sing together as they climbed, small things that strengthened their bond as a team.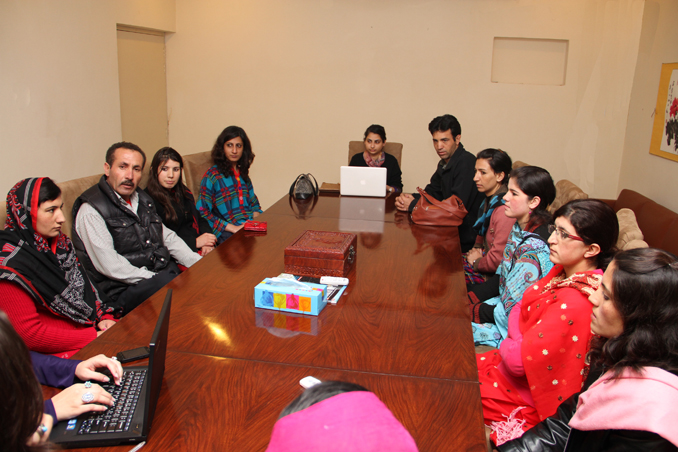 The team being interviewed by Youlin
Shehrbano took her experiences with the dynamic young group of women to the rest of Pakistan and the world when she brought them back home to Karachi. They stayed in her home for 2 months, during which time the team received extensive national and international media coverage, and accolades began to pour in from a country whose women had done it proud. The girls were excited about their first time away from home. One of the highlights of the stay in Karachi was a trip to the sea. But there were also instances that made them long for the quiet serenity of their village, largely the security nightmare that so much of the country has been enveloped in.
It was interesting to know that as the motivation behind the Shimshali girls' climbing had stemmed from personal satisfaction and a strong sense of nationalism, they were initially a little surprised at the overwhelming response from the rest of the country, and only then began to understand the larger significance of what they had achieved, something which had never really featured on the agenda. It had the effect of giving them a deeper sense of appreciation for the worth of their efforts in others' eyes, and also boosted their confidence.
This confidence emanates strongly from them. "Of course we are going to scale Everest!" Nadeema says with conviction. No dream is too big for these adventurers, no matter how deceptively dainty they might look. They are full of plans for themselves and their school. Muhammad Abdul insists they would welcome anyone from anywhere to come and learn climbing.
Shehrbano's upcoming documentary covers the community's dependence on mountaineering and their excellence of skill, with a particular focus on the women. Shehrbano hopes that it will garner sustained public and official interest, while the publicity generated through national and foreign media coverage may generate sponsorship as well as gender awareness. If our women can climb mountains, there can hardly be anything they can't do. That is what Nadeema wants her countrymen to realize, "We are brave, and there are many more like us." They have made the nation proud and will continue to do so. After all, Everest still awaits them.
For more information on the Shimsal Mountaineering School, please visit http://www.shimshalmountaineeringschool.com/
Click to view picture gallery
Click to view related video
RELATED ARTICLES:
You may also like: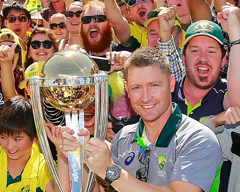 Australia Pulverizes New Zealand to Bag World Cup 2015 Trophy
(March 30, 2015)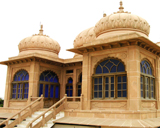 The Undying Grandeur of the Mohatta Palace Museum
(March 29, 2015)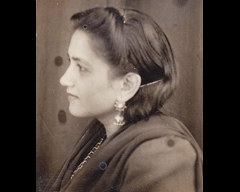 Ada Jafarey: A Tribute
(March 27, 2015)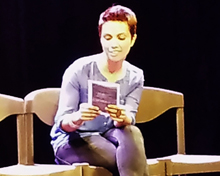 Me, My Mom & Sharmila: Fawzia Mirza and the Brown Woman
(March 26, 2015)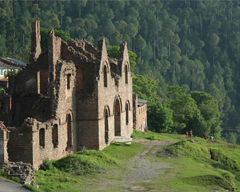 Silk Road: The Picturesque Mansehra and Abbottabad-VI
(March 25, 2015)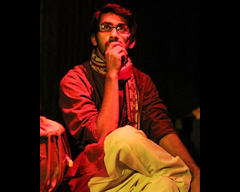 Azeem Hamid and the Independent Theatre Company
(March 25, 2015)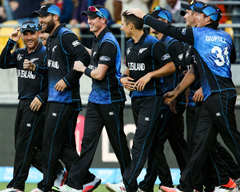 New Zealand to Choke South Africa and India to Overpower Australia?
(March 24, 2015)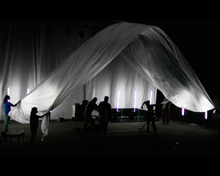 NAPA International Theatre Festival 2015: 'Among Fog'
(March 20, 2015)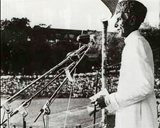 Pakistan Resolution Revisited
(March 20, 2015)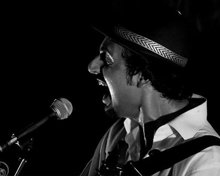 Faizan Tirmizi - The Ideology of an Aspiring Musician
(March 12, 2015)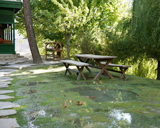 Hunza Valley: A Fine Balance between Tradition and Modernity
(March 10, 2015)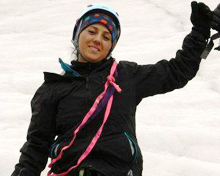 Samina, we are proud of you!
(March 06, 2015)