PFDC L'Oreal Bridal Week (PLBW) Kicks Off in Lahore
Written by: Mahnaz Shujrah
Posted on: September 29, 2016 |

Comments | 中文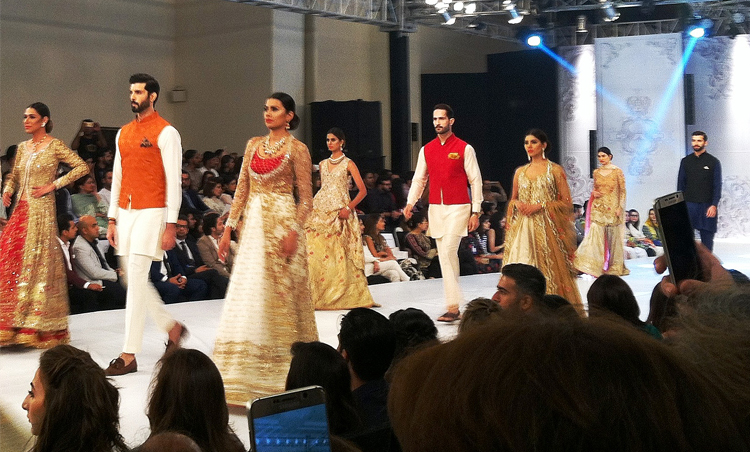 Sania Maskatiya's collection at PLBW 2016
The PFDC L'Oreal Bridal Week (PLBW) is undoubtedly a much-awaited occurrence for fashion enthusiasts all over the country. Consistently improving with every passing year, PLBW has established itself as a major platform for renowned as well as rising fashion designers. We get to witness some of our favorite models such as Mehreen Syed, Cybil Chaudry and Jahaan E Khalid making repeated entrances, and looking increasingly gorgeous every year. The three-day extravaganza began in Lahore last night, setting the tone for what promises to be a grand and exciting event.
Kicking off the evening with his elegant collection, HSY was definitely the man of the show. The dresses featured deep traditional colors, accessorized with some striking jewelry. The large hoop earrings and head dupattas gave a very royal look to the designs. However, as always, HSY took it one step further by adding something unexpected into the mix; the Bane-like masks (yes, from the DC Comics supervillain!) worn by two of the female models were definitely attention-grabbing. The dynamic duo of Mawra and Urwa Hocane were the show-stoppers. Wearing their biggest smiles and standing on either side of HSY, the sisters looked nothing short of dazzling.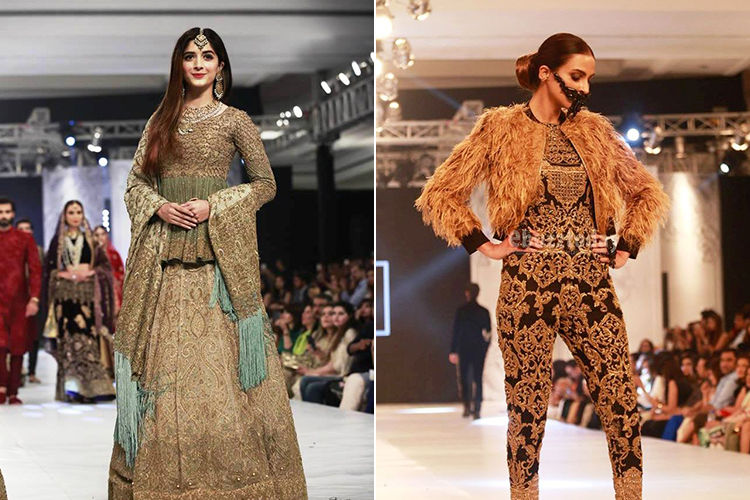 HSY's collection (source: Fashion Central & Ebuzz Today)
Up next, Sania Maskatiya started off her display with a cover of the ever-famous Mera Bichara Yaar by Strings, and continued to have modern adaptations of old songs playing in the background. As if reflecting her new collection, the songs were a fusion of past and present, which is what Sania was playing around with in her designs. Showcasing lighter colors and more avant-garde looks, her work was visibly different than that of HSY. The menswear consisted of light-colored kurtas with bright waistcoats, as compared to HSY's heavily embroidered sherwanis.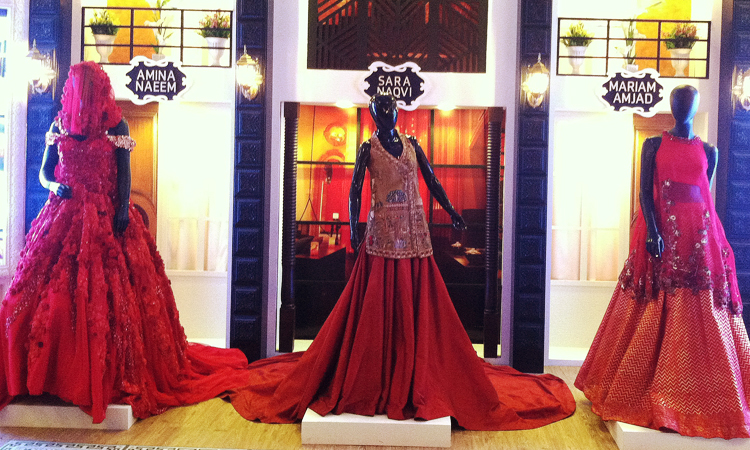 'Rising Talent' - Amina Naeem, Sara Naqvi and
Maryam Amjad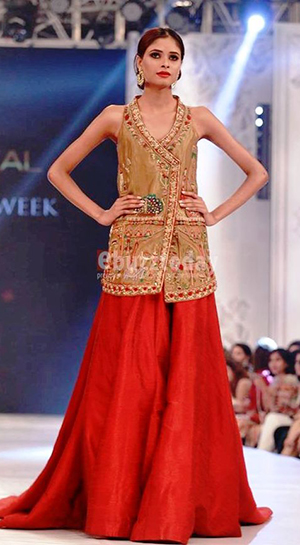 Sara Naqvi's Mughal design (source: Ebuzz Today)
This was followed by three 'Rising Talent' designers sponsored by Bank Alfalah, who managed to add a great deal of variety in style, and received a remarkable reaction from the crowd. First among these was Amina Naeem, whose collection was inspired by a historical French mistress. Featuring imaginative designs and a striking theme of pink, her dresses made heads turn with their depiction of the quintessential western bride. Next was Maryam Amjad whose work stood out for both good and bad reasons. Although her choice of colors – blue, green and white – gave a fresh look, and the motif of grass and sky incorporated in the dresses was innovative, there was still something unappealing about her cuts and lengths. However, the collection certainly had a distinct look. From amongst the rising talent, my favorite was the Raj Kumari collection by Sara Naqvi, inspired by the Mughul era. Boasting intricate patterns painted in deep colors, Sara's work offered a wide variety of designs with great attention to detail. Her masterpiece was a long vest with Mughal scenes heavily embroidered on the fabric, accompanied by a maroon-red long skirt.
Saira Shakira offered the complete entertainment package, starting their show with a music video of Zohra sung by Hadiqa Kiani, who also made a live appearance at the end of the show and won the crowd over. With her charming vocals in the background, the pastel-colored dresses looked even more beautiful and extravagant. Mehreen Syed and Jahaan E Khalid made a stunning appearance together, perfectly complementing the sophisticated designs.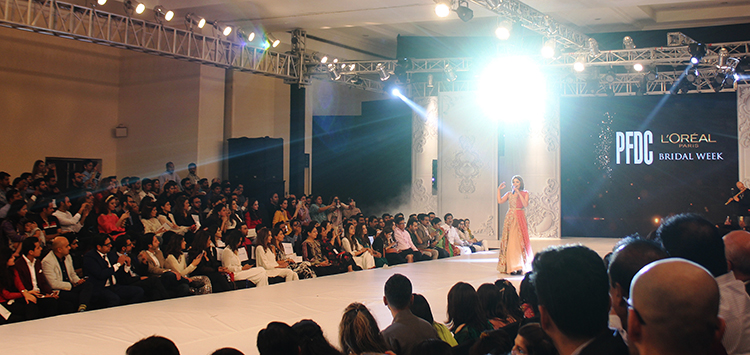 Hadiqa Kiani making her way on the stage
The House of Kamiar Rokhni ended the show on a high note, leaving everyone excited for the next two days. With models rocking classic bun hairstyles and head jewelry, this collection took typical bright mehndi colors to a new level. Presenting heavily embroidered duppatas and hems with motifs of birds and trees, these designs are bound to be the trendsetters of this bridal season.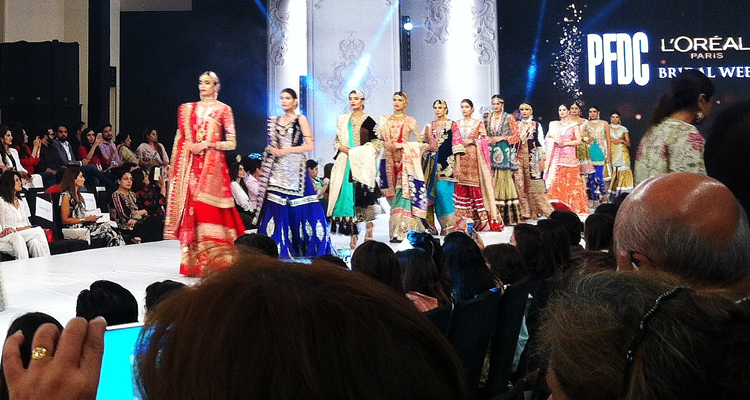 House of Kamiar Rokni's collection
Overall, the opening night was a resounding success. The music and lights were in sync with the designs and the energy of the crowd. In between the exhibits, we saw some imaginative use of videos, in which the main models would first appear on screen and then on the ramp, as if being transported into real life. With a host of gifted designers still to come, expectations are sky-high for day 2 and 3 of PLBW 2016.
RELATED ARTICLES:
You may also like: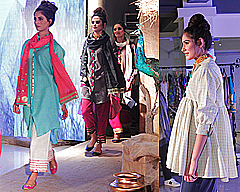 From the Desert to the Ramp: 'Taanka' at PFDC's Fashion Active Show and Exhibition
(November 21, 2016)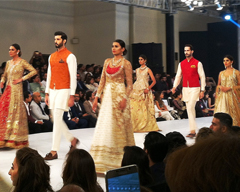 PFDC L'Oreal Bridal Week (PLBW) Kicks Off in Lahore
(September 29, 2016)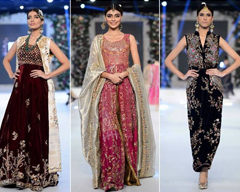 PFDC L'Oréal Bridal Week 2015
(September 22, 2015)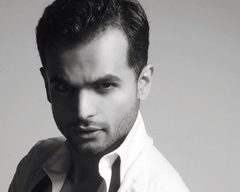 A Fashionista in Pakistan
(August 04, 2015)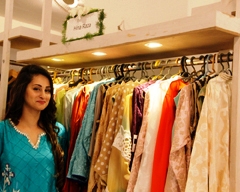 Multi-Designer Eid Exhibition at the Fashion Pakistan Lounge
(July 09, 2015)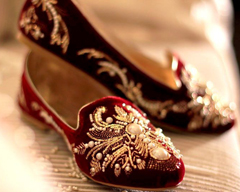 CHAPTER 13: Funky Handcrafted Shoes
(July 08, 2015)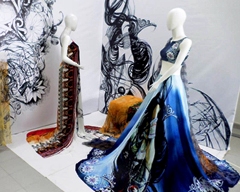 PIFD Thesis Display 2015
(June 16, 2015)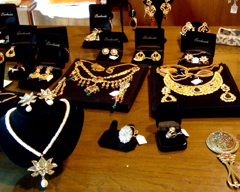 Persian Nights - The Timeless Saga
(June 10, 2015)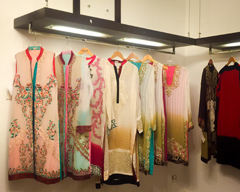 House of Zunn Comes to L'atelier
(May 29, 2015)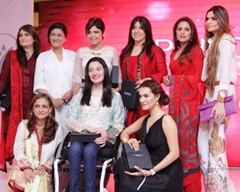 Pond's Miracle Journey 2015 - Redefining Pakistani Women
(May 12, 2015)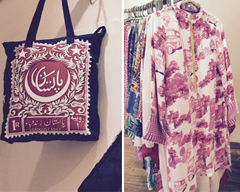 Maheen Khan's Gulabo Fashion Exhibition
(April 20, 2015)

Fashion: Where Traditional Meets Avant-Garde
(July 11, 2012)